POV Holder:
?
Next POV
Aug 31st
POV Used
POV Ceremony
Sep 1st
HOH Winner:
GM
Next HOH:
Sept 5th
Original Nominations:
Current Nominations:
Last Evicted Houseguest
David, Nick, Jeremy, Kaitlin, Howard, Candice, Jessiem, Helen, Aaryn
Have Nots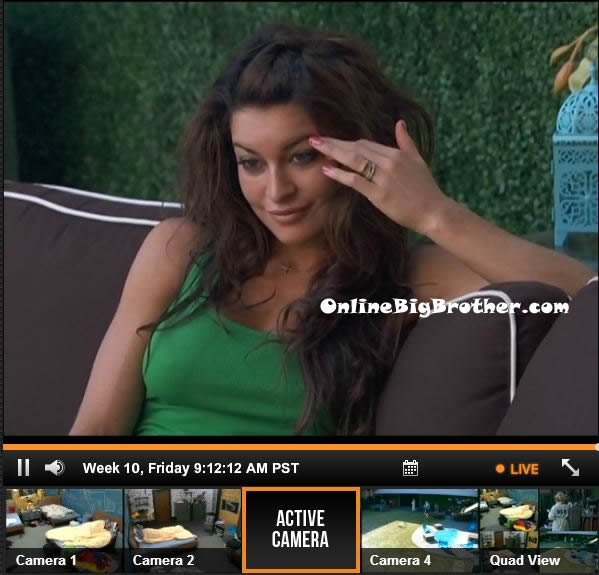 9:10am – 9:30am Big Brother wakes up the house guests. When the live feeds return – Judd, Elissa, Ginamarie and Andy are outside finishing their dance party to the wake up music. Andy and Ginamarie head inside to go back to bed. Judd and Elissa sit on the couch and talk as Judd has a smoke. They talk about hard the chicken wire HOH competition was. Judd says he thought he was doing well until he looked around and saw how well the others were doing. He thought what do you guys have chicken wire at home or something?! He says that he understands how Andy did so well because he has long slender fingers but doesn't understand how Ginamarie did so well. She has the smallest fingers out of all of us. Elissa says don't you think it's the best possible situation that Ginamarie won HOH. Judd says Elissa asks she is 100% going to put them (Amanda and McCrae) up? Judd says probably. Judd asks if Ginamarie was thinking about putting him up? Elissa says yeah she was.. then she tell him just kidding. Elissa says she doesn't understand why everyone buys into Amanda's craziness. Judd says I think everyone tries to just avoid it. Elissa says that's what I tried to do, I didn't say one word to her. I was making the bed to go to bed and she stormed in there and like she did to Jessie, Candice and Kaitlin. Elissa says I can't believe they played the chicken dance music. It was the best ever. She comments on how awesome the chicken costumes are. Elissa says I just wish they made you dance to the chicken music throughout the day. Judd says he is glad they don't have to do that. Elissa and Judd head back inside. Elissa goes back to bed and Judd takes off his chicken suit to take a shower.
Big Brother 15 Live Feeds: FREE 2 DAY TRIAL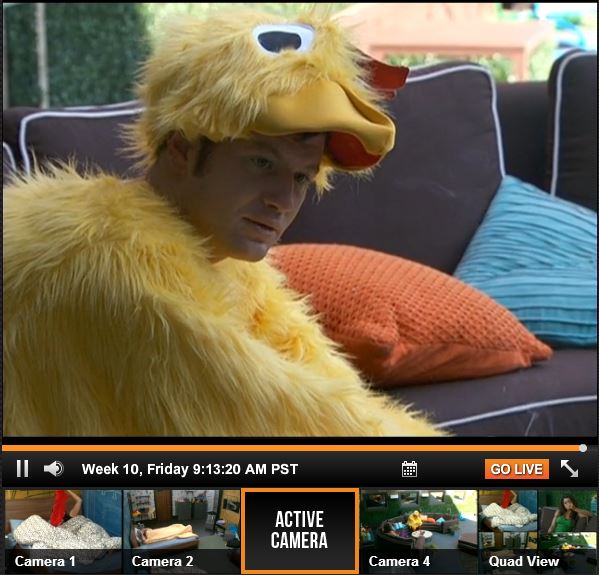 9:40am Amanda wakes up and heads to the bathroom. She asks Judd if he danced to the chicken song. He says yeah. Judd comments on how gross the showers are and says I don't even know how to clean them. Amanda asks if there are flies coming out of it. Judd says yeah. Judd talks about how the chicken suit is already getting old. He says that he will probably sleep all day. I have to at least wear the head though if I am in bed and talking. Amanda says that's got to be hot. Judd says yeah and it's annoying trying to go to the bathroom. Judd says I feel like the veto is going to be crazy tomorrow. If it is the punishment one I don't even know what I am going to do because I have to wear the chicken suit till 9 or 9:30pm tomorrow night. Amanda says I am done, done! Judd asks what speculating. Amanda says yeah. Big Brother call Amanda to the diary room.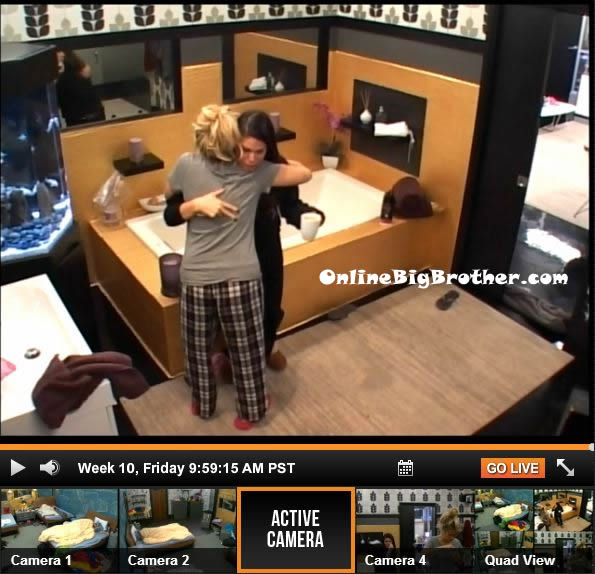 9:55am – 10am Elissa heads up to the HOH room to talk to Ginamaire. She says I am going to give you the heads up that I am going to keep my distance from Elissa. I woke up this morning and I felt miserable! Amanda starts to cry. I love you and want to hang out with you but I am just going to keep my distance so I can just re-cleanse. I feel like Aaryn got it. I am just emotionally spent. Gina says don't get upset and you can come up here any time to talk or hang out. She says I just need to cleanse myself from the negative energy. Gina says yeah no problem. Amanda says I know McCrae will come talk to you today. Ginamaire says yeah absolutely, its nominations today so I know everyone will want to come talk to me. Amanda says just know I love you and I just wanted to give you the heads up. Gina says yeah. Amanda heads back down stairs. Ginamaire motions with her hand that Amanda was being a cry baby.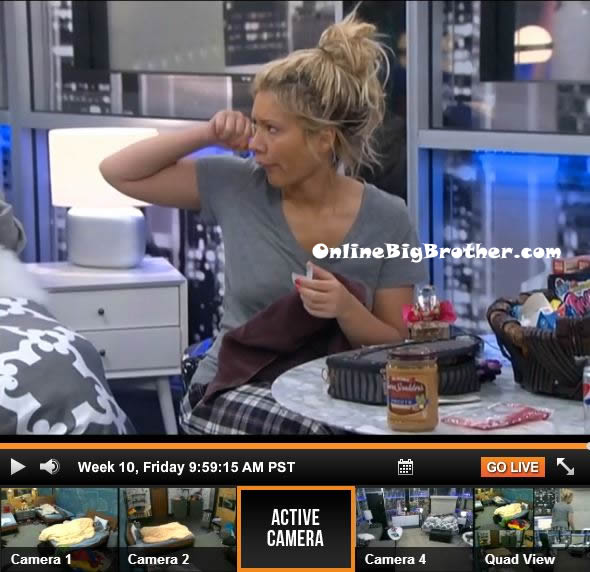 10:05am – 10:15am Ginamarie heads down from the HOH and slips on the HOH stairs. Elissa sees her and asks if she is all right? These stairs are dangerous. Gina says she is okay she hurt her back though. Elissa says these stairs are dangerous in slippers. Gina sits for a moment then gets up and said okay these slipper are going in the garbage. She heads into the diary room and asks what is wrong with me!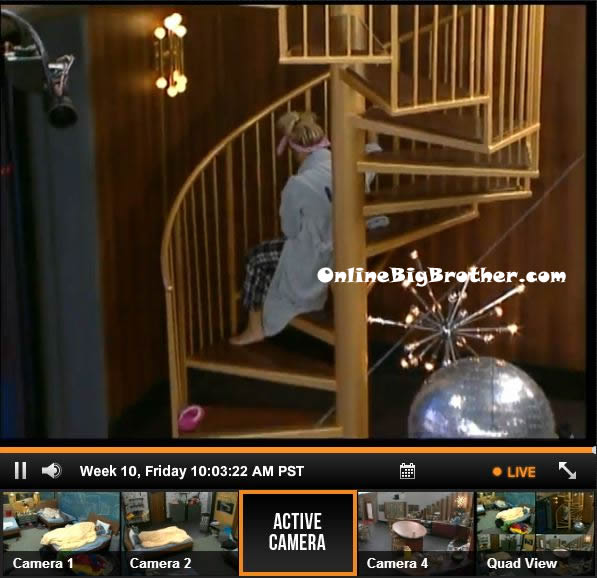 10:15am – 10:30am Ginamarie heads up to the HOH room and asks if Elissa in the kitchen if the Nomination screen is up down stairs on the living room tv. Elissa says that's probably later. Gina says it's weird I just have two arrows on my TV up here. I'll try and just reset it. Elissa checks and says the nomination screen isn't up yet. She says maybe you'll get a pandora's box! I would be so jelly! Judd heads into the kitchen in his chicken suit. Andy joins him. Judd comments how annoying the chicken suit is to wear and go to the bathroom. Andy laugh and says just imagine if you lived your life like that and then I slit your throat, because that's what a chickens life is like. Andy heads out into the backyard and says hi to Amanda. Amanda tells him how she went to bed feeling good but woke up feeling miserable. She says it was like waking up and feeling like you broke up with someone. Andy says yeah. Amanda continues complaining and Andy stops her and says its too hot out here and he heads back inside.
10:35am – 10:40am Judd heads up to the HOH room. When he opens the HOH door he spills coffee down his chicken suit. Spencer joins them. Andy and Elissa come up next. Elissa tells Spencer, Judd and Andy about how she fell down the stairs and hurt her foot. Judd wishes he could just wear the pants and the hat. Ginamarie and Elissa laugh at Judd and Spencer. Judd says it was fun last night but now I am over it.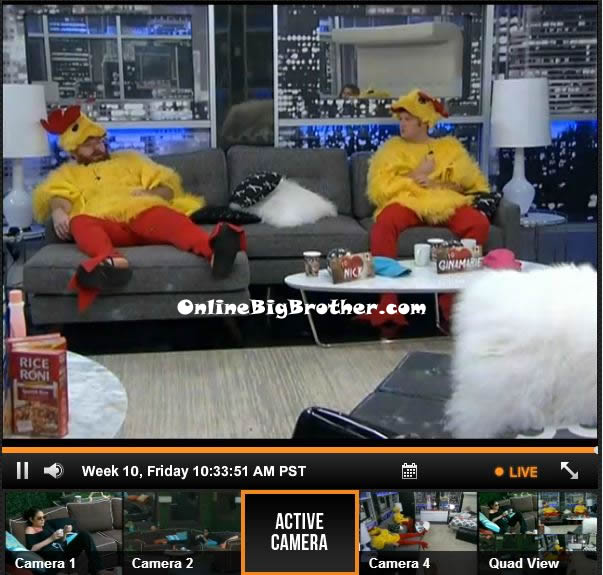 10:40am Big Brother switches the live feeds to the TRIVIA screen…
Use the Big Brother Live Feeds to FLASHBACK to SEE what they can't show you on TV: