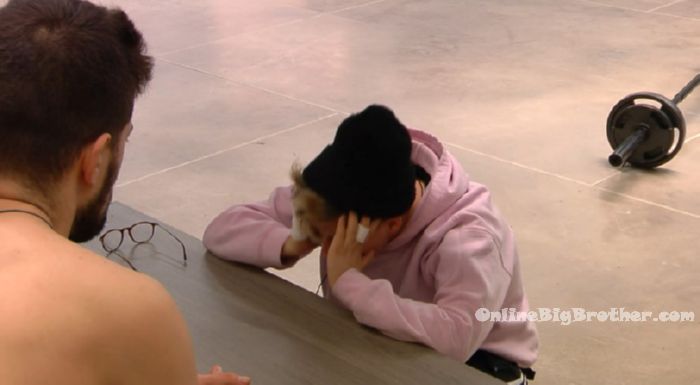 9:15pm Backyard. Damien, Mark and Kyra. Kyra – I am here to campaign. At the end of the day this is just a game. We all know that. Maki is fun and we all love Maki but Maki is a threat and he's showed that is the last three competitions. He was this close to winning the veto. He also would have won the HOH if he had stayed on there. And in that first comp he got to that second round. No one really knows where his head is at because he's never really watched this game before and he is letting other people influence him and that makes him more of a wildcard than I am. And I can tell you honestly.. look me in the eye .. I can promise you on my nieces and nephews neither one of you guys are my target and if you promise me you're on board .. I have enough people. I have 6 with you guys and possibly 7 with another. There are only 3 people that I definitely can't change their mind. Mark – yeah Maki is really strong. We are playing out the scenarios. One minute its one way and then next its another. We simply just don't know. What happens in the end I don't feel it would be fair to leave anyone in the dark. Right now I don't know. I don't know what Dane told you. What did he say to you? Kyra – he is promising me that I am not the target but I know he is lying. I know there is more going on behind the scenes. If you keep Maki in the house.. why are you keeping a bigger threat?! That has proven to be able to win competitions. I don't understand what the reason is to get rid of me? I have proven I am more emotional. My words have been twisted so much in this game and I don't even understand why. Someone realized that I can't be manipulated and put a target on my back very early in this game. Keeping Maki is not the smart move for everyone's game. Like I don't understand why people would. I just want to play this game so badly and I want a chance to redeem myself. Mark – at the end of the day this is a gut game. People just go with their gut. Everyone's gut is different. I guess that's why this game exists because its 14 different guts. Its just literally just the gut. Kyra leaves.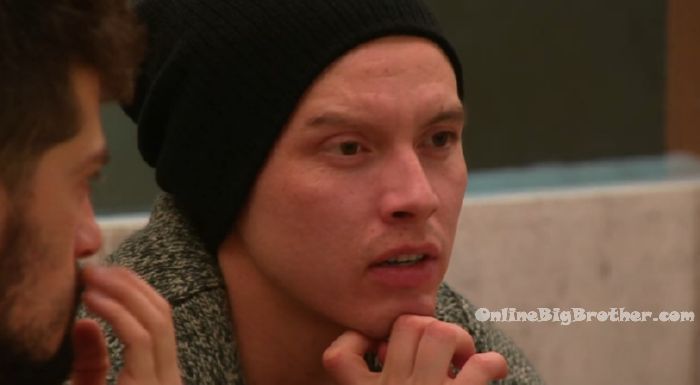 Mark and Damien talk after Kyra leaves. Mark – do you kind of feel like she has a point? Damien – yeah she has a point. Damien – she (Kyra) could be a pawn next week. Mark – not only that she is the kind of person you take to final 2. There is not chance at this point that she is winning this game. Its kind of the people you keep around. You always need that one person. She's dug herself a big hole and she wants to stick herself in it a bit longer. What I am thinking its kind of what Dane wants. He won HOH and called the shots. We will have to have a talk with him. Without saying out loud, I think you're thinking the same thing I am. Damien – MMMmHhhh.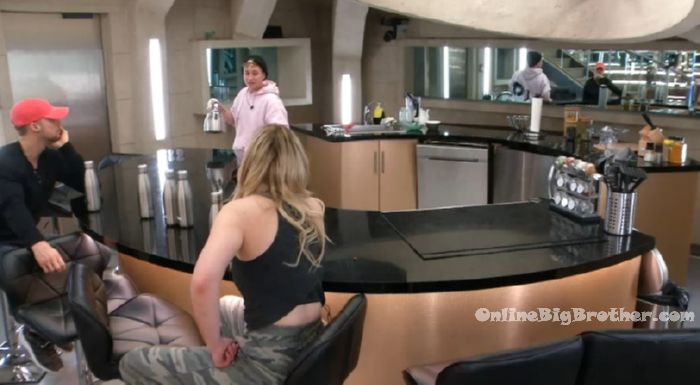 9:35pm Kitchen. Kyra, Chelsea and Adam.
Kyra – he's such a f**king liar! Chelsea – about what? Kyra – Mark and Dane are flip flopping. I think Maki .. I think kiki probably told Maki to sell it that keep me and we all go after Adam. I think that's what it is. Because that's the only think that makes sense as to why they wouldn't want to take out a threat. Because that threat is going to go after another threat. Adam – Mark will vote with us. Whatever Dane wants. Kyra – but apparently Dane wants me to go. Chelsea – but Dane is smart enough to know that he needs to build a resume. It is better for him to get a big player out. Kyra – but I think Dane is lying right to our faces. You need to make sure Dane feels comfortable with you if I am kept this week. We need to think about why the flip flop is happening. We should also try and get Anthony. Adam – yeah, yeah, he will vote with us too. Kyra – she definitely thought this up and said keep me and I'll go after Adam. Kyra – I know if we can't get it … you guys will have to vote with everyone else. I don't want you guys to ruffle feathers to get Maki out. Like if I can't pull it off .. but I am going to have to hustle my a$$ off and be smart. And hopefully they see its much better not to keep him. Like its actually stupid. The only thing I can think of is that he is selling it to go after you (Adam) because now to them we are probably a huge threat. Adam – that's a given. Kyra – but honestly whatever happens happens. If I do stay in this house I am loyal to you guys. Just know that. Adam and Chelsea both say we know that. Kyra leaves to smoke. Chelsea – I just need a break. Like everything is just so intense all the time. Adam – its only day 9. Chelsea – like seriously what does day 60 feel like!?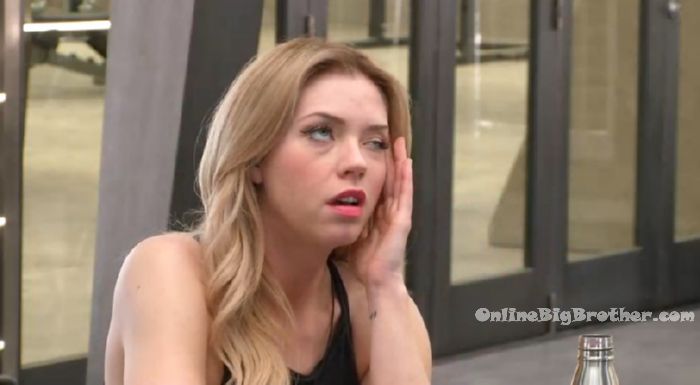 11:15pm Hot Tub time. Almost all the house guests are out in the hot tub room or in the hot tub. Adam asks if anyone has "released" in the house yet? Damien – I'll wait till one of you guys confess. Dane – I want to. Mark – I'll volunteer. Adam to Sam – if you ever wanted kids.. all that build up would be instant pregnant. Big Brother babies! Sam – no ones done it yet. Dane – what about you girls?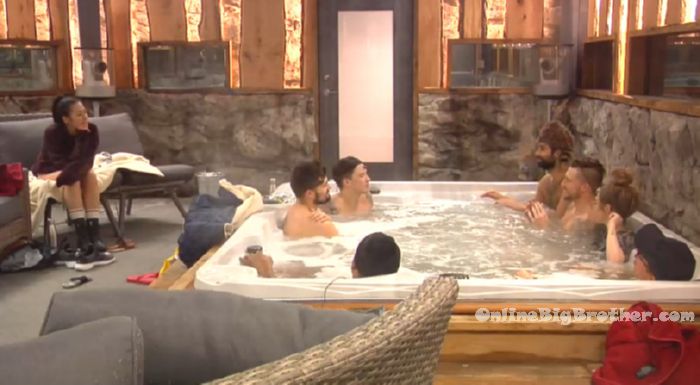 1:50am All the house guests are sleeping.
Support the site and purchase your Amazon goods through our link below. It doesn't cost you anything and we get a percentage of what you buy.
Amazon Canada
Amazon USA