Help support OBB by making your Amazon purchases through our link below. It doesn't cost you anything and we get a percentage of what you buy.
Amazon Canada
Amazon USA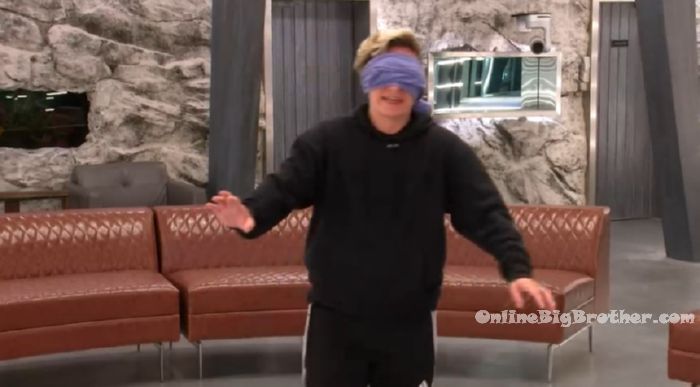 9pm Living room. Kyra is blindfolded and searching for something. Mark – you have to find the door to the backyard. Kyra – I don't want to touch a pen!s. The feeds switch to Damien and Adam in the secret room off of the file room. Damien – I don't think he is into the 5 as much as he says he is. Adam – you don't think? Damien – just about the way I chatted with him… he's about winning the 100k right. So I was like what would you do if you won next week? Would you go for it and try and build your resume? And that's basically what he said. He said he would swing for the fences again because that's the only way I am going to win the 100k. He wants to go up against people he can win against. Adam – did you talk to Dane? Damien – I haven't said anything to anyone except you. Adam – F**k! So he would probably put you and me up again. Damien – MMMhhhhmm. I was like who can you beat? Now between the two? You can beat Este more than Mark right? Because I was like would you put up Kyra? And he started going off about these million scenarios. Who would I win 100k against? Am I going to win against Adam? No. Am I going to win against Dane? No. Adam – maybe he is trying to build with you? So if we do get to the final he is on your side or something. Damien – its good for me but it makes me wonder where his head is at. He is more about the individual but will do what he has to to get to the next level. Adam – f**king Mark. I feel like Dane could get in his ear. Damien – but you guys got in his ear before and it didn't work. Adam – true. Maybe let Dane know. I'll talk to Mark and they report back. Adam leaves.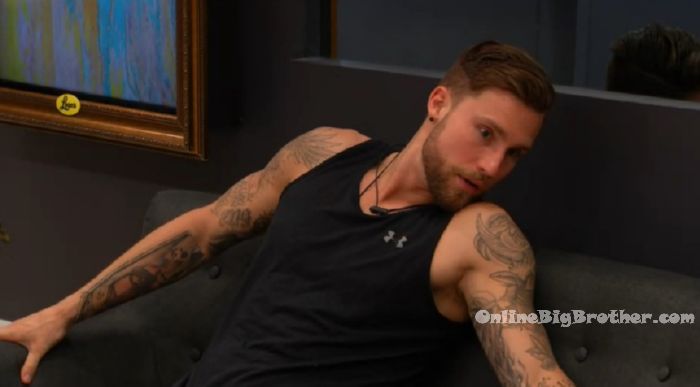 11pm Havenot room. Mark and Anthony.
Mark – they wanted to know what I was going to do. Adam asked me.. the most loyal guy in the group .. what I was going to do next week if it was a double evict. Would I put him up again. Is he a f**king idiot? Anthony – I hope you win it. Mark – honestly I will need you. If its a double .. because there will be three votes. Anthony – were going to be alright. Mark – I can't believe they questioned my f**king loyalty in front of everyone. I am so fired up! Honestly dude! Anthony – you're sick but I love it. Mark – if I send Adam home the people in jury would love it. Kyra joins them.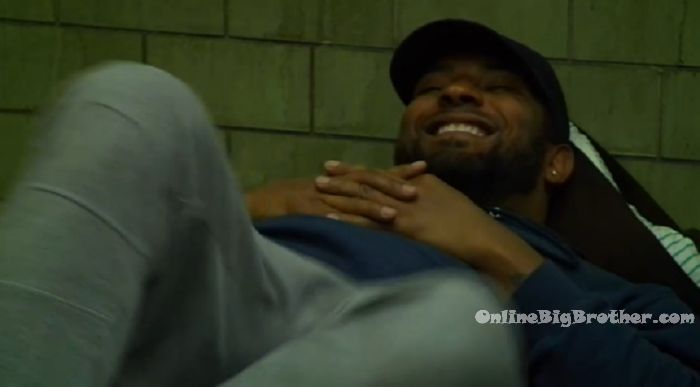 12:23am Bedroom. Kyra and Mark.
Kyra – Its either going to be 3-1 or 2-2 and Adams going to vote to keep you. Mark – I don't know about Damien. We had a conversation and he just walked away. Adam's going to vote to keep you. Kyra – we're going to try and keep you safe. Either way you're safe. Nothing is going to change. We're trying to get Damien. I'm not but Damien is.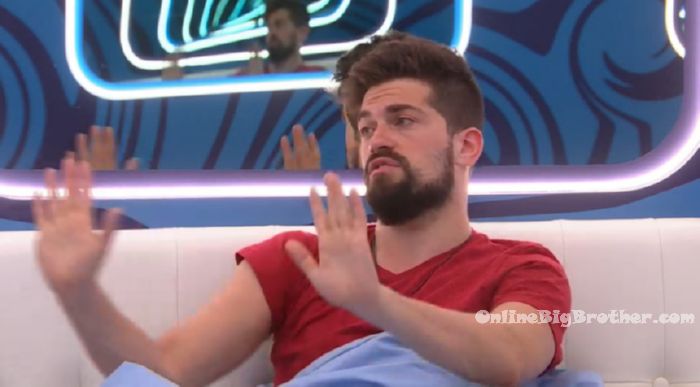 Show your support by making a donation.
Any amount is greatly appreciated! Without your support this website and these updates would not be possible.