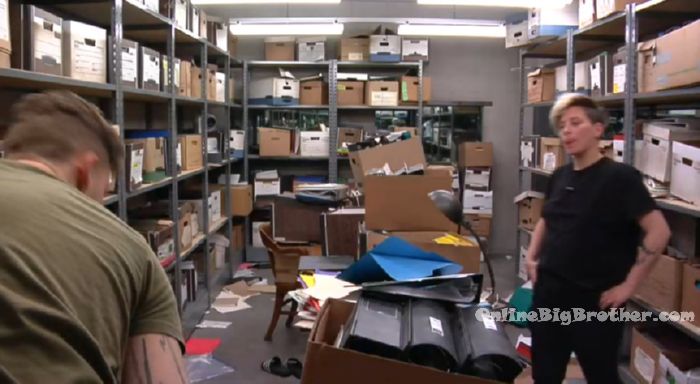 9:20pm File room. Adam and Kyra.
Adam finds another box inside another box. Sneaky f**kers! Guaranteed there's more. That's 254! Unless there's more. Kyra – yeah. Adam – Motherf**kers! Kyra – and we don't know when they hid that right? Adam – I don't know when that was hidden. Day 41 right?! Kyra – yeah. Adam – Sneaky f**ks! Pulled an Adam on an Adam. Probably why Dane left because he knew we were going to start searching. Dane returns. Adam – we just found another one. Did you do that? Dane – no. I wonder why that recorder is gone. Kyra – when did you find it? Dane – yesterday. Day 40. And now its gone. This f**king room is bullsh*t. If this means nothing I am going to lose my biscuit. Adam – nothin' better to do tonight.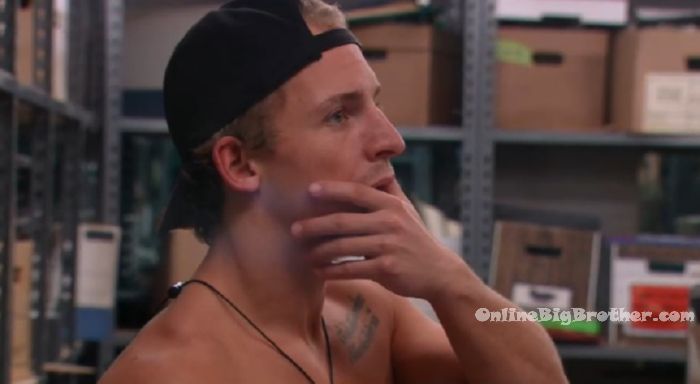 Adam and Dane. Adam – I would like to know what the other house guests are thinking. Has anyone said anything about my speech? Dane – no, Esti thinks its good. Adam – are they like whoa!? Because there is no why they are thinking I'm working with Mark. Dane – there's no way they think there's an alliance. Adam – not a chance in hell after last week when I said you're believing the two best liars in the house… basically called you out. I wonder how Canada sees it, like how they're showing it. They're probably confused, like what the f**k is real?! Dane -they're probably showing it like we're making it all up. Adam – like today when me and Mark were fighting in the kitchen..that was real.. but do they know that. Dane – yeah they see that. Like after the veto ceremony you, me and Anthony were dying laughing. Adam – next person to go up is Anthony. Dane – next person to go up is Anthony. Adam – the next person I call out is Anthony. Adam – if I win triple.. it would be Kyra, Esti, Cory .. and then we decide who stays. Dane – that's how it should have been this week too. Adam- we'll be alright.. better be alright. Dane – and we've got Kyra too. You have kyra, Anthony and me. That's all you need. Adam – I do trust you guys 100% but I am scared ..what if Anthony is like f**k it, get Adam out. He's being a hot head. Dane – I don't think Anthony would do it.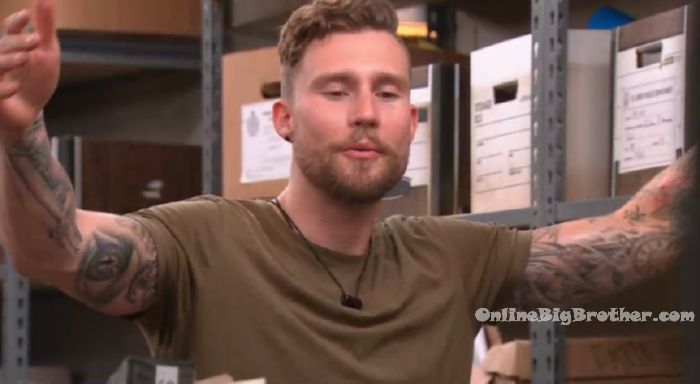 10:55pm Mark, Cory and Anthony studying the days / events of the season.
12:46am HOH room. Mark and Dane.
Mark – I will never forget when you came up here and said that. That was f**king awesome. I want to make a ritual ceremony when we evict the last person … like when it is down to five .. we're all wearing black and holding candles. And we're all like remove the spell in some Maki sh*t and blow out the candles.. you're gone. Dane – absolutely, that would be fun. Mark – this is perfect, he (Mark) is saddling up to Kyra. Kyra loves us. And I need Anthony because he is the good talker. I need to butter them up that the boys are looking out for Kyra. Like Kyra, I really want you in the final 5. Dane – if Adam wins the POV, we should really discuss ..not Esti. Esti is not a strong competitor. And if someone wins triple we are all going to kick ourselves in the nuts. Mark – do not say anything to Adam because he jumps so quickly.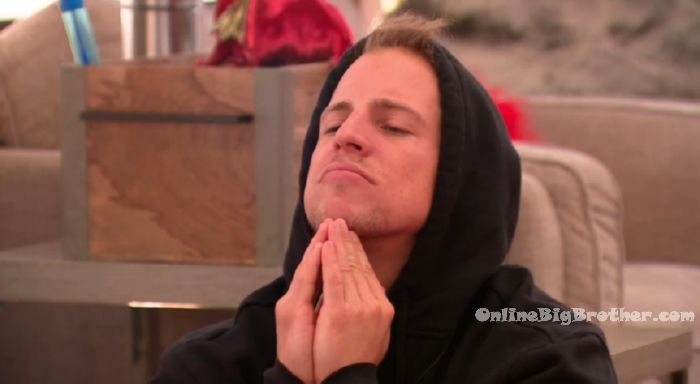 Help support OBB by making your Amazon purchases through our link below. It doesn't cost you anything and we get a percentage of what you buy.
Amazon Canada
Amazon USA