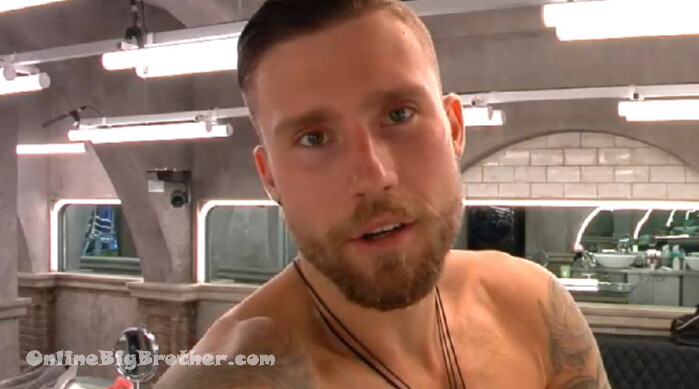 Adam wins the power of veto.
1:07am The live feeds return from being blocked for the power of veto competition.
Bathroom. Adam, Kyra and Esti. Adam – I can't believe I won that! I was actually scared. I was frightened to death that I wasn't going to get that puzzle. Esti – but you were ahead of everyone. Adam – I just always did the boarder first and then it all fit together. Cory joins them. Cory – you were miles ahead. That was a good win! Congrats! Adam – thanks!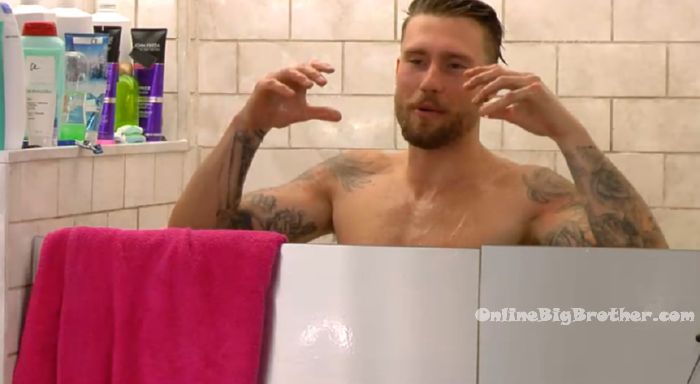 Adam to the camera – we need a party on Tuesday. With alcohol! Lots of alcohol! And more alcohol! And then some more alcohol! And a birthday cake.
1:40am HOH room. Dane and Anthony.
Anthony – here is the thing, we have Damien, Esti, Kyra, Cory. Dane – right. Esti is a number for you. If she somehow pulls out a win… she is putting up two boys. Minus you. Dane – she would put up Adam and Mark. Anthony – Cory swears up and down.. she tells me honestly .. I really think we need to start talking with Dane more. That's our guy. Cory doesn't like Damien. Well she does but she knows that Damien knew about the backdoor plan the whole time and never said anything. And I've been pushing that on Cory. Cory also knows that Esti's been whatever, whatever, whatever. So those are two players whatever. Dane – she wants her to go. Anthony – she wants kyra there for the same reason that everyone wants kyra there. Damien will put up me and Mark. Dane – he isn't putting up you. He would put up Kyra. Anthony – he ain't putting up Kyra. Dane – yeah.. he HATES kyra. Anthony – Esti and Damien have a good relationship ..if Esti sits down with Damien she will convince him to put me up.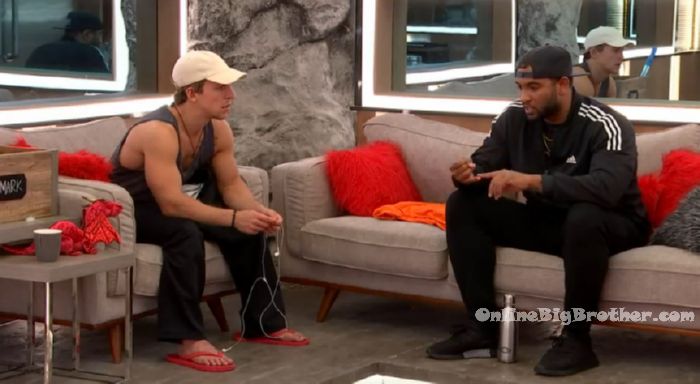 1:45am – 2am HOH room. Adam joins Anthony and Dane.
Anthony – we're just talking about options .. the four options. (for the replacement nom when Adam takes himself off the block) Anthony – who saw you come in here? Dane – kyra? Adam – Kyra is in the red room. No one's seen me come in. Anthony – we have four people .. Cory, Esti, Damien and kyra. Realistically we want Kyra to come with us to the final right? Adam – yeah. Anthony – even though Kyra's shown strength in some areas ..probability wise that is probably our best bed. Dane – yup. Anthony – I know kyra has talked to you ..I just feel like she would put you up. Adam- I was with Sam and kyra a lot last week. And she told Kyra to stick we me and Damien. Damien just proved again that he is not a threat. Anthony – he is a threat. If I am talking from my point of view… I trust Cory the most. I know her very well. She is going to listen the most I know exactly how she feels about you and Mark. I trust kyra second because kyra will just cry her way. Then Esti and Damien last. Dane – on day 48 we need to be in-charge of the triple. Adam – I honestly feel that Cory is a threat for us. Anthony – if Cory pulls off a win I can control her. Big Brother tells them good night. Anthony, Dane and Adam head to bed.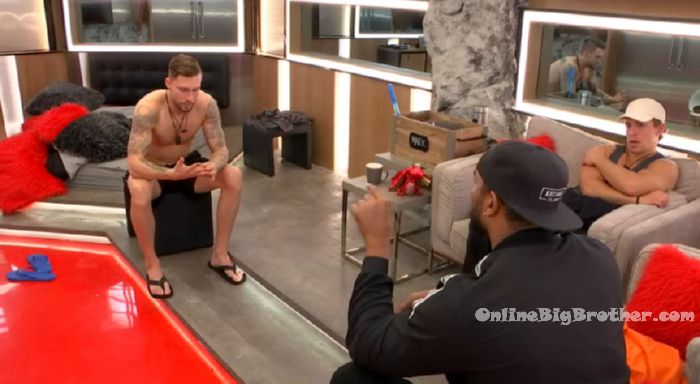 Help support OBB by making your Amazon purchases through our link below. It doesn't cost you anything and we get a percentage of what you buy.
Amazon Canada
Amazon USA