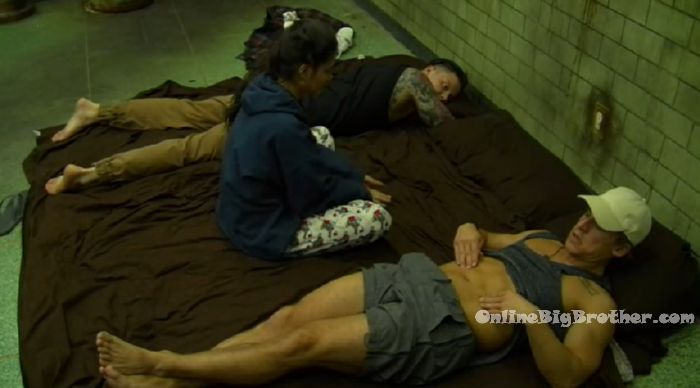 9:30pm Havenot room. Damien, Dane and Esti.
Damien – so what do we go tell Mark to do? Esti – Adam and Kyra. Unless we want to separate someone else but I don't want to bring that up. Dane – I don't want to bring that up either. But getting a big target out before triple eviction would be smart. Esti – this is what I am going to tell him. If you want to get a big target out do it but make sure you don't piss anyone off before the triple. And the way to not piss anyone off is to put up the only target that is alone right now. Which is Adam. He's a huge target. No one is going to get mad. You're going to have the votes to get him out next to Kyra because realistically she is the perfect pawn. So that's all laid out. Adam was right behind Mark in this comp. He is good at mental and physical. So that is the biggest target in this house right now. The biggest competition. And get him out right now because right now he'll have the votes. Who knows what relationship is going to build if he stays here for another week or two. Dane – he'll win the POV. Esti – yeah and if he does we will think about another thing. Right now we all have a very good chance at playing in the POV and you'll give him a run for his money. Dane – I know. Esti – I feel like he (Mark) is going to take Adam or Dane into Wendy's. I don't think he will take me.. and I really want some Wendy's.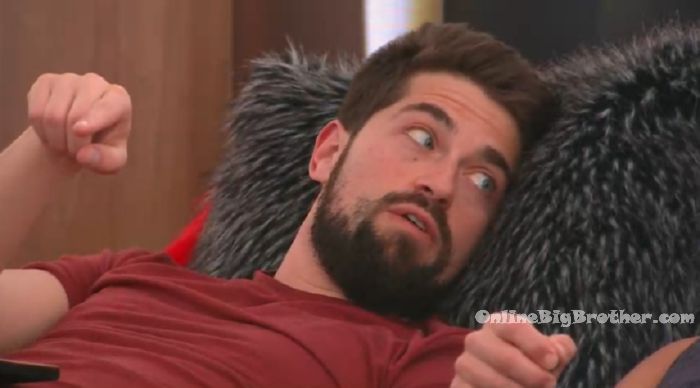 10:07pm HOH room. Mark and Dane.
Dane – everyone keeps asking me what you're going to do. Mark – yeah its good and bad. Like no one really knows what Mark is going to do. Like obviously the idea is Esti or Damien. One of the two will have to go up. I am trying to decide whats the better play. Honestly I think keeping Esti is better in general. Dane – She came up to me and asked Dane why didn't you do better? A) I didn't need to win this one. And B) if I did win this one you guys would probably try and put.. Mark – I don't think I'll put both of them up initially but one of the two will have to go up. I have to think about who the other person is. It's obviously not you. Dane – I don't think you should put up one of the boys. Do you think you should? Mark – yeah, I'm thinking about it. He's (Adam) not going to be happy. Dane – tell him… tell him why. Mark – oh I would and I think he would understand why. Dane – everyone is thinking him. Mark – And Anthony says it goes inline with our story. And we could easily keep him. The way I look at it. Lets say I put up Adam and Damien. And if Adam takes himself off, then we put up Esti. And then we decide who goes, I would prefer Damien. Dane – Damien. Mark – he is just stronger. Dane – we need to keep the weak people here. Mark – exactly. And if Damien wins, then we still put up Esti. And we'll have the three votes. Just please, please don't tell Adam. Dane – I'm not going to tell him. You can tell him. Mark – and I will tell him. He will be upset but I was on the block because of his own girlfriend. And by extension its him. This isn't about me being bitter. This is about showing some character now. You touched the block and you were a man. You went to Cory and said listen buddy, put me up and I will take myself off. And not only that Adam, even if you don't take yourself off we will still vote to keep you. Mark – I was thinking of taking Damien to Wendy's. Dane – he (Adam) is going to come in snapping.
10:40pm – 11:05pm HOH room. Dane, Mark and Adam.
Mark – if I took you (to Wendy's) that would look so silly. Adam – why would that look silly? Mark – because the whole house thinks that you and I have a bone to pick, right!? Adam – why? Oh the whole Sam thing. Mark – Sam was very much you. You guys thought together, ate together, drank together. Adam about noms – I feel like me and Dane have an idea in our heads and you and Anthony. Mark – who are you thinking? Esti and Damien? Adam – did you know, know Chelsea? Mark – they told you, huh?! Mark – they told you, HUH? I don't really know her.