POV Holder:
Jared
Next POV
April 9th
POV Used
Yes
POV Ceremony
April 11th
HOH Winner:

1

Maddy
Next HOH:
April 14th
Original Nominations:
Jared and Kelsey
Current Nominations:
Kelsey and Raul
Last Evicted Houseguest
Paige, Sharry, Christine, Kelsey, Loveita, Dallas, Mitch
Have Nots
Raul, Nikki, Kelsey
Watch the Big Brother Canada 4 Live Feeds anywhere in the world with HideMyAss VPN.
ALLIANCES IN THE HOUSE
There will likely be a lot of alliances during the season – keep track, read our alliance help guide.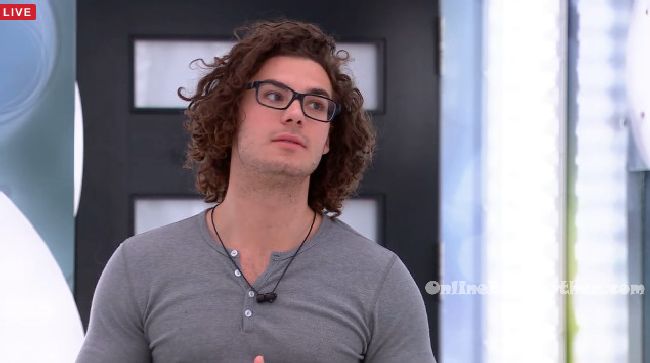 10am Big Brother has ended the havenots and Raul's solitary punishment for eating food is now over as well. Nikki asks Rual how it was? Raul says it was horrible. He learned not to break the big brother rules. He says he could hear them having fun.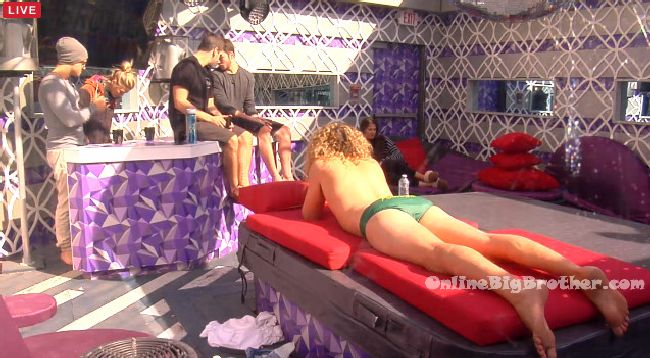 10:25am Hot Tub – Nick, Phil, Cassandra and Tim are talking. Tim comments on how Maddy is the one that could win this with her resume. I don't know if people would vote for her but she is good at speeches. Phil asks if its going to be unanimous tomorrow or not? Tim says I don't know. I don't know if Raul has changed his campaign or not. I don't think Kelsey knows how to campaign. I think Raul has done enough anti-campaigning. Tim says that Raul helped Jared win the veto. Did he not know he might go up if Jared won it? Phil says he had an idea. Tim says if Raul had tried to make Jared not win it, Jared would be going home and Rual would could win this. That would have been a big move.
In the bathroom –
Jared tells Raul and Kelsey that this morning Tim said he is going after the brothers. Kelsey says I feel like we've been a shield for everyone in this game. Everyone hides behind us. Kelsey says Jared and I are going to study really hard today. Yesterday we wrote a list of everything but it got taken away. Jared says I was thinking of making a deal with the brothers. Kelsey says you should.
10:50am In the bedroom – Nikki asks Tim who would you go after Maddy or the brothers. Tim says the brothers. I'm not too concerned with like this is my target, you work with what you've got. Tim says that Kelsey told him the brothers are wanting to put me and you up. I don't know if she was telling me that so that I would save Jared. We just have to watch because people are going to try and turn people against each other to get the votes. Nikki says that Maddy was quite sour that we got off slop a day early. Tim says the brothers have gotten to a point where they can't hide any more. Nikki says Maddy shared her Rye with the brothers. Tim says yeah that was quite revealing. Nikki says and she is just hanging out with Joel to use him. She never hangs out with Joel. Tim says I wouldn't mind if Joel won it (HOH). Nikki says well I'm glad it was you and Cassandra that took my vodka because if it was one of the others I would have lost it. Like if the brothers had taken it. Nikki says how good would it be if it was a double eviction and Maddy got backdoored.

11:15am Hot Tub room – Joel says that at first he thought a good idea in a triple would be to get rid of one person from each side but now thinks it would be better to get Maddy and Ramsey out. Jared will always be a bigger target in front of us. Everyone is threatened by Jared but for me once Raul is out he's not. Kelsey is not a threat at all. Cass says we need to get Maddy or Ramsey out. Or if Jared or Kelsey win they'll go after them. Joel says I was happy when Jared won the POV. I don't want them to go too too far but… Cass says yeah eventually we'll get them out. Cass says I don't think mathematically it won't be a triple, it will be two doubles. Joel agrees. Maddy joins them. Cass asks her how she's feeling. Maddy says she's feeling annoyed because I had to do 6 days on slop with no breaks while these f**k heads cheat, steal and lie.. and get only 3 days on slop. Mind blowing to me. Cassandra says he (Raul) came out here with cookies. Maddy says yeah because he stole them. He walks around this house like he owns it.
11:50am – 1pm Big Brother tells the house guests they'll be on a backyard lockdown. They think they'll be outside for a while so they've packed day bags and they're bringing food. Most of the house guests are in the hot tub room relaxing. Kelsey and Jared are studying days/competitions. Tim and Nikki are in the backyard working out.
1:10pm – 1:35pm In the backyard – Nikki is telling Tim if she won HOH he could make the decision. She just wants the bed and the letter. Tim says I don't really want the decision. Nikki says we could do it together.
2:10pm Tim, Nikki, Ramsey and Maddy are talking about the goofing around last night that woke up Nikki. Nikki says it sounded like the fridge was picked up and slammed on the floor. It shook whole house. Tim tells them about how he poured water and a bit of nail polish remover in the cup to make it smell like alcohol. Nikki says the next time we get alcohol Tim and Cass are going to give me half of each of theirs. And this morning the melons were replaced … so everyone is happy.
3pm – 3:40pm Big Brother blocks the live feeds. Cassandra comes out and asks you guys know what I'm doing right? I'm pretending to hate you. Jared says yeah. Cass says next week we're getting Maddy out and then the brothers. Okay. Cass heads back inside. Jared and Kelsey start studying dates/comps.

4pm – 5:05pm Big Brother blocks the feeds.
Want to watch the rest of big brother Canada 4 & all of Big Brother 18?
Sign up for the 6 month plan with HideMyAss VPN.
[polldaddy poll=9383586]
[polldaddy poll=9383597]