POV Holder:
?
Next POV
April 9th
POV Used
?
POV Ceremony
April 11th
HOH Winner:
Maddy
Next HOH:
April 14th
Original Nominations:
? and ?
Current Nominations:
? and ?
Last Evicted Houseguest
Paige, Sharry, Christine, Kelsey, Loveita, Dallas, Mitch
Have Nots
Raul, Kelsey and Niki
Watch the Big Brother Canada 4 Live Feeds anywhere in the world with HideMyAss VPN.
ALLIANCES IN THE HOUSE
There will likely be a lot of alliances during the season – keep track, read our alliance help guide.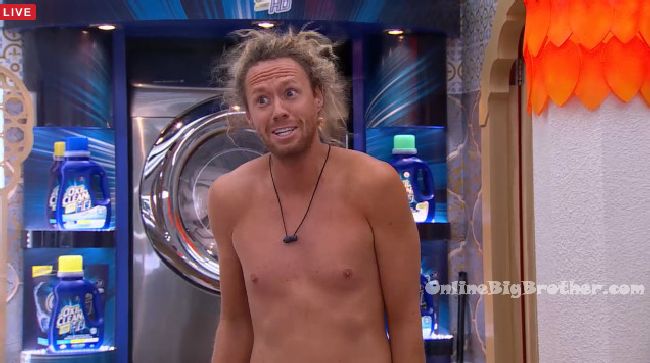 9am Big Brother wakes up the house guests. In the bathroom – Tim, Nikki, Jared and Kelsey are talking. Nikki comments on how the nomination notification is up on the living room tv. They wonder why since the have / havenot competition is usually first. Nikki says I would rather go home, than be a havenot.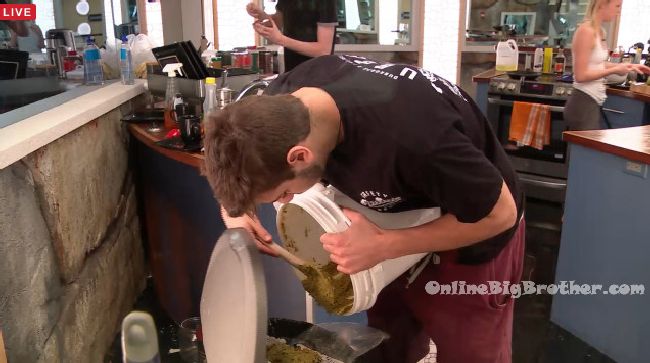 In the bathroom – Tim, Jared, Kelsey, Joel and Cassandra are talking about the HOH competition last night. They discuss how they think the question was worded wrong and how they were right and Maddy was actually wrong. Tim says the question was did the jackpot go off before or after Joel won the task to get a toast master. Kelsey says ..on day 15. Tim says it is correct that the jackpot went off before Joel won the task to get a toast master. Jared says because the jackot went off on day 12 or day 10 or something. Maddy answered After and they all answered before. Tim explains that they were right because the jackpot went off before day 15. The question should have been worded on day 15 did the jackpot go off before or after Joel won the task toast masters. Tim says they all should have complained right after but now its too late.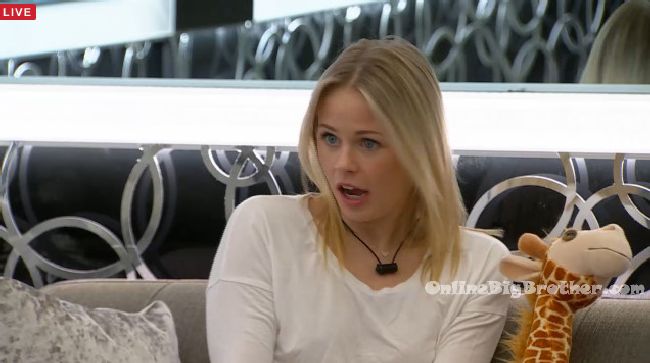 10:20am – 10:50am In the HOH room –
Maddy says I want to minimize the casualties and I want to minimize the retaliation. There are two options in my head. Do I put up Nikki and Kelsey and say good luck in the veto. But if anyone else wins veto then I put Jared up. Tim says unless Jared wins veto. Maddy says exactly then they're both off the block. Maddy asks how do I get Jared out of the house? I want to put up Nikki and the brothers. Its Phil's week to play and he's not a very good competitor. Tim thinks we haven't seen them at their full power yet because they haven't had to fight yet. They discuss putting up Jared & Kelsey. Tim tells Maddy that it would almost be doing Jared a favour by giving him a reason to campaign against Kelsey. And Kelsey would still go. Maddy says and Jared was happier with her gone. Raul knows I wouldn't put him up. I just want him to know that I'm here to break up the three. Tim says if the three is broken up, they will have to reinvent themselves. Maddy says I just have to come up with reasons why. I have a reason for the whole just not individually. Tim says well say that. If you do defeat the three, you have a good chance to win the show. You got rid of Loveita, Dallas and now the three. Maddy says I don't want to be seen as making a stupid move .. but if I show the rest of the house that this is what I came here to do and the three must be broken up. Tim says and you've always got Nikki as the pawn if the veto is won. Maddy asks if Nikki would be mad. Tim says no. Maddy says if she did go then she would be happy to be with Mitch… people would be stupid to vote out Nikki over Jared or Kelsey though. Tim says I think you do need to put two people from the same alliance because then they have no negotiating power. You won't get the lies and fake final four agreements. They can't offer a false deal when both of them are on the block because one of them will go home.
11am The house guests are waiting around for nominations or the have/havenot competition to start.
11:15am In the bathroom –
Tim tells Nikki that there are 3 options. Obviously if you're in the mix, you're not the target at all. If she does do that its not because of anything about you, its actually because she likes you. I would be surprised if she does do that because that's the easiest move and that's not what she does.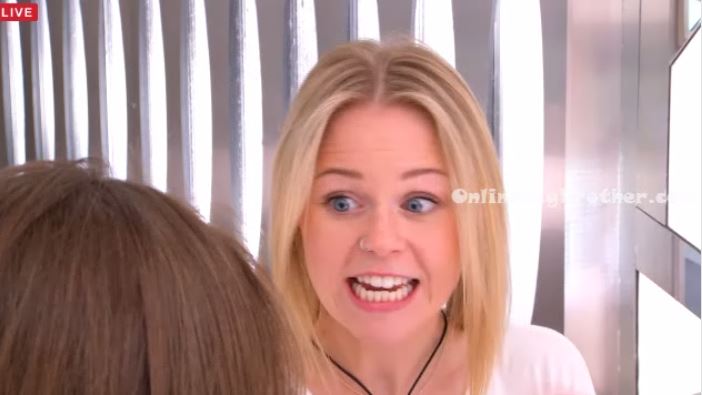 11:25am Nikki asks Maddy if she is going up. Maddy says I don't even know what I'm going to do, I might try to get the brothers out. Nikki says I'm just so surprised. Maddy says no, no you're not. Who told you that? Nikki says Jared. (It wasn't, Tim just told her in the bathroom) Maddy says no, he doesn't know sh*t. You'll see what happens and then you'll understand what I'm going to do. Nikki says just please don't put me up. I don't want to go up next to Kelsey. Maddy says the only way you go up, would be to put up a pawn. It would be you or Tim because you guys wouldn't leave. Nikki says I just don't want to go home over Kelsey. Maddy says say someone wins veto and takes off my second nomination.. this is only if Jared or Kelsey are alone on the block. And then I'll put up Tim, You or Joel. Because I NEED THEM TO LEAVE!! If someone wins the veto and takes one of them off ..I have to have the other one leave. There is no room for movement. And if I put up Tim, they might campaign and Tim might leave … and I can't have that! Nikki says yeah I'm happy for you to put me up then.

11:50pm – 12:15pm Tim talking to Cassandra.

Share it YO!!
Tweet