POV Holder:
?
Next POV
April 16th
POV Used
?
POV Ceremony
April 18th
HOH Winner:
The Brothers
Next HOH:
April 21st
Original Nominations:
? and ?
Current Nominations:
? and ?
Last Evicted Houseguest
Paige, Sharry, Christine, Kelsey, Loveita, Dallas, Mitch, Raul
Have Nots
Tim, Cassandra, Kelsey
Watch the Big Brother Canada 4 Live Feeds anywhere in the world with HideMyAss VPN.
ALLIANCES IN THE HOUSE
There will likely be a lot of alliances during the season – keep track, read our alliance help guide.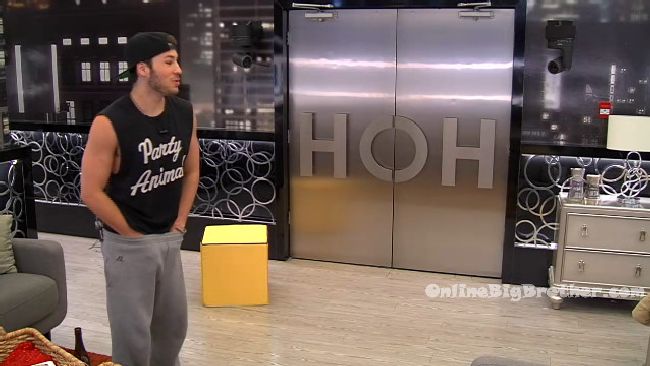 Tim and Phil head up to the HOH room to listen to music. Tim asks if he can lay on the bed. Phil says you can do whatever you want, you can move in if you want.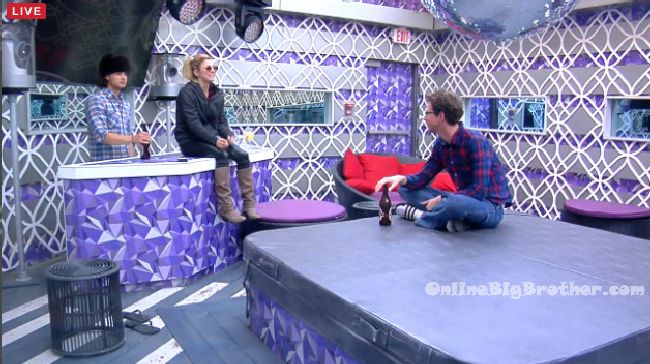 2:45pm The house guests are out in the hot tub room after their poutine and beer reward for Nikki & Tim correctly answering trivia questions about Canada. Kelsey, Jared and Joel are talking in the hot tub room. Kelsey tells Joel that one of the conditions with Loveita was that if I came back into the house I would keep you safe. I said I might put you up as a pawn though. Joel says that's fair. Jared tells Joel they have his back. Joel says it bugs me that Nikki and Maddy have a thing against you. You're the most real kind hearted girl in here. Kelsey says thank you.. my goal coming in here was to be nice, have fun and make friends. Cassandra joins them. Jared says I think we'll be okay and if worst comes to worst we'll figure something out. Joel says even if one of you guys were up, then we would have four to back you up.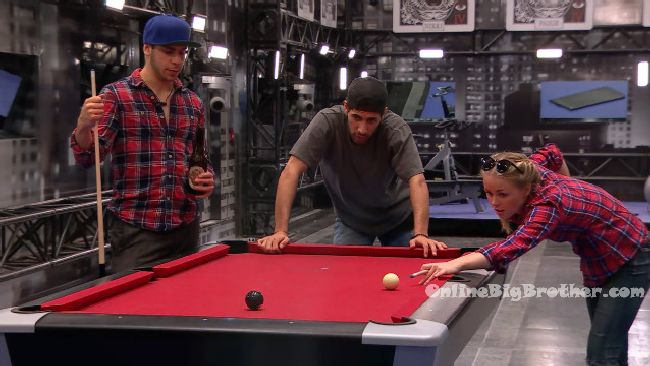 3pm By the pool table – Nick tells Maddy and Ramsey that no matter what happens whether you guys go up or not we'll let you know before hand. Ramsey asks do we need to have another chat because they were up there talking to you all morning. Nick says its quality over quantity.
Tim dancing up a storm in HOH room@bigbspoilers #bbcan4 @timdormer pic.twitter.com/5I7ycfdyD5

— Dawg (@DawgsBigBrother) April 15, 2016
The dance party continues..@timdormer @bigbspoilers #bbcan4 pic.twitter.com/NsgWDdYRy4

— Dawg (@DawgsBigBrother) April 15, 2016
3:30pm Jared and Kelsey are out in the hot tub room. Kelsey says I just hope we're not up on the block and I don't have to play in the POV. Jared says no we want to play in the POV. I wouldn't doubt there plan is to put Maddy and Ramsey up and then try and backdoor us. Jared tells Kelsey about his conversation with the brothers. I was just trying to pump their tires.
3:45pm Havenot room – Cassandra asks Kelsey if Jared and her kiss. Kelsey says no, it would be nice to do other stuff though but not in here. Cass asks you will when you get out of here though right? Kelsey says oh definitely. Cass says that will be a very quick ordeal. Kelsey agrees.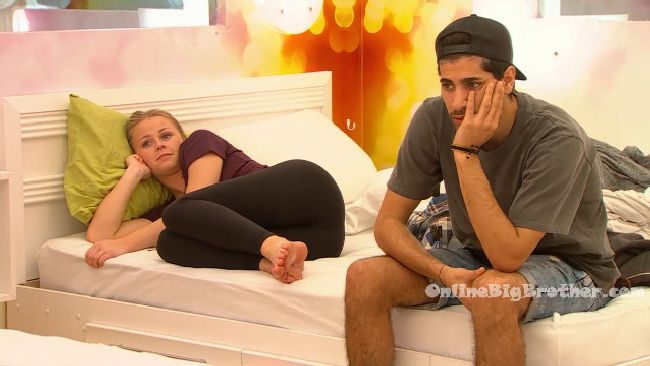 In the bedroom –
Phil tells Ramsey and Maddy that either way we're going to get shat on. Maddy says honestly I think you will have more backlash if you put us up on the block. I just did it to them and I was the only person they were mad at. Honestly just tell me if you're going to put me up. Phil says I don't want to put up Ramsey. Maddy says fine put me up. I don't care. Ramsey asks everyone has come in there and said they want us up? Phil says you know in the hot tub area if we do that the line is drawn. Maddy says do whatever you want Phil honestly. Ramsey says we respect you enough to not do that (threaten). I don't know about Maddy but I am really hurt. Maddy says me too. If anything you're losing a number on your side. And if I am on the block I will rebel! Maddy says I just did the same thing and no one was mad at me. Phil says if I do it there are 5 or 6 after me. Maddy asks so the whole house hates me?! Maddy storms out of the room. Ramsey asks so the whole house wants me up? Phil says not you. Ramsey says if it was my HOH we wouldn't even be having this conversation because I thought we were good. Ramsey says I know your heart is telling you 110% to put up Jared and Kelsey and you're scared to do it. Phil says I am. Ramsey says some times when you stand up for what you believe in people will respect you. Phil says because they have numbers. Ramsey says numbers are an illusion.
4pm Maddy tells Tim that apparently Phil is being told by every single person in the house that they want me and Ramsey up. Tim says the brothers can do whatever they want because I think the plan is to backdoor the other. I don't know if its necessarily good to have Jared and Kelsey up. Tim says the problem is they're not willing to make the decision because they're afraid of the backlash. They're trying to get me to say something so they can pin it back on me. Maddy asks do you think if I go up next to Jared .. I would have a chance? Tim says yeah.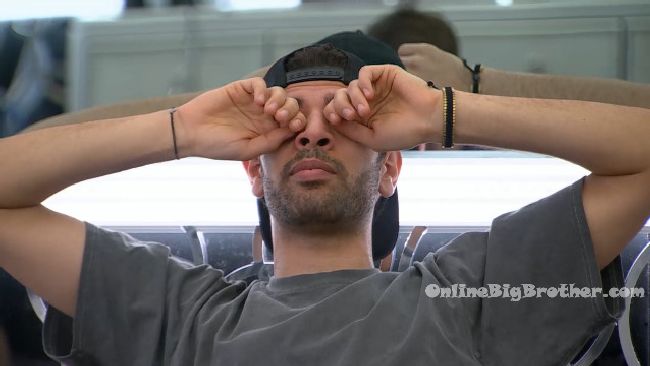 4pm
Ramsey & Phil head to the HOH room. Phil and Nick tell Ramsey about how they walked into a shark tank this morning in the hot tub room. If we don't put you up we'll have 6 people after us. They tell Ramsey he's not going home. Nick says I hate being strong armed. Phil says we're not being strong armed. Ramsey says you are. It shouldn't be me and Maddy up, it should just be one of us. Phil says then you could win the veto and take her off. Tim joins them. Tim says for me I don't care what you guys do .. but those guys will turn against you ..Kelsey, Jared and the you've got the Cass and the Joel. Phil says it breaks my heart to have to put you up .. its just how close you are to Maddy. Tim says whoever you put up .. the veto will probably get played because there is a backdoor option. I think being on the block is safer. Tim leaves.
Havenot room – Tim comes and tells Jared/Kelsey/Cass that Phil & Nick don't want to make a decision. They're going around in circles. Tough t*tties, that's the game!
4:35pm – 4:45pm HOH room – Phil asks what does your heart say? Nick says Who do I like more, Maddy and Ramsey. Phil says If Ramsey goes up and Maddy leaves… Ramsey will still be loyal to us. He'll have no one. I would rather show loyalty to 6 than to 2. Nick and Phil start practicing their speech for nominating Maddy and Ramsey. Maddy you're a strong mental and physical competitor and for to dinguses like us that's bad news bears. They think they'll beat anyone in the final 2 and by keeping the house happy it help them make it to the end. Ramsey you're a stand up guy and guilty by association. Nick says Jared has no social skills. We have so much in common he just sucks socially. Nick says lets just do it. (Put up Maddy & Ramsey) Nick says I would rather see Jared win than Maddy.
In the storage room – Jared promises Ramsey two votes. Myself and Kelsey.
5pm HOH room – Tim comes up to the HOH room and says I've got an idea to end all this bullsh*t. What if I volunteer as a pawn and who is the target is next to me. If the veto is used I stay up on the block regardless. Phil says I wanted to use you as a pawn because Maddy said if you put me up just don't put Ramsey up. Phil says we already know what we're doing. Tim says Okay good, then we don't need to do that but if the veto is used put me on the block. Phil says its a good idea but if I'm going to do the move I'm going to do the full move. Jared tells Tim its never a good idea to do that in this game (Volunteer as a pawn). Phil says it would be good if all of you tell Ramsey he is good and Maddy is the target. Jared says I already told him that in the pantry.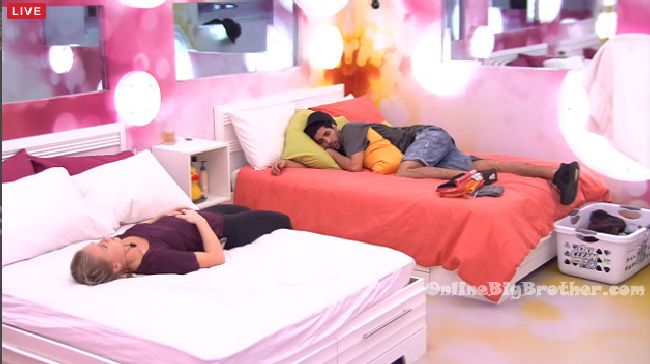 Jared seals the deal with a double hand shake @bigbspoilers #bbcan4 pic.twitter.com/rlIGIO50m8

— Dawg (@DawgsBigBrother) April 15, 2016
5:05pm Maddy tells Ramsey I think we should work alone. Ramsey asks why because I suggested that Tim maybe isn't honest with us? Maddy says no, do you think one comment would make me do that. Ramsey says I still want to work with you and people can't break us. Maddy says I just think if the brothers put me up then you would still respect them. I just think that I am going to get f**ked and you're going to continue being friends with everyone. That's not what allies do. Ramsey says we should go talk to them one more time. Maddy says I am done talking to Phil. I feel so betrayed. I could have sent his a$$ home last week.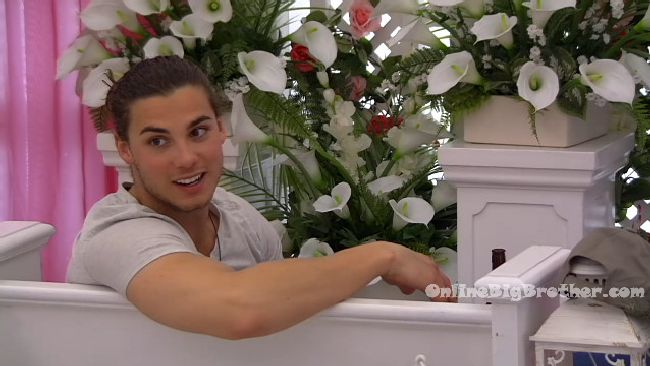 Havenot room – Jared tells Kelsey that they're good. He says that Tim almost messed it up though. Jared says that they're not going up and the brothers won't back door him either. Jared says I don't even have it in me to go against them next week.
5:55pm Nikki says that she can't wait to get the fat wench (Cassandra) out.
Where's "Jealous Jared" when you need him?!!@bigbspoilers #bbcan4 pic.twitter.com/Jnk0u5dRIl

— Dawg (@DawgsBigBrother) April 15, 2016
Kelsey Cassandra and Phil ALL LOOK at TIM's Pierced D!CK@bigbspoilers #bbcan4 pic.twitter.com/iRAaBtCNP4

— Dawg (@DawgsBigBrother) April 15, 2016

6:15pm – 6:25pm Kelsey, Cassandar and Phil all look at Tim's pierced pen!s in the shower. Cassandra says she's impressed. Cassandra asks to see Phil and Joel's pen!s. They both say no. Cassandra says don't make me go down on you. Kelsey says I liked it! It looked like a blonde guys d!ck. I think you should get an erection and then show us. Cass says she thought it would be small but its not.
6:50pm Joel is telling Cass, Tim and Nikki about his idol audition. Meanwhile in the kitchen, Kelsey is cooking for the boys.
Want to watch the rest of big brother Canada 4 & all of Big Brother 18?
Sign up for the 6 month plan with HideMyAss VPN.
[polldaddy poll=9383597]
Share it YO!!
Tweet