POV Holder:
?
Next POV
April 16th
POV Used
?
POV Ceremony
April 18th
HOH Winner:
The Brothers
Next HOH:
April 21st
Original Nominations:
? and ?
Current Nominations:
? and ?
Last Evicted Houseguest
Paige, Sharry, Christine, Kelsey, Loveita, Dallas, Mitch, Raul
Have Nots
Tim, Cassandra and Kelsey
Watch the Big Brother Canada 4 Live Feeds anywhere in the world with HideMyAss VPN.
ALLIANCES IN THE HOUSE
There will likely be a lot of alliances during the season – keep track, read our alliance help guide.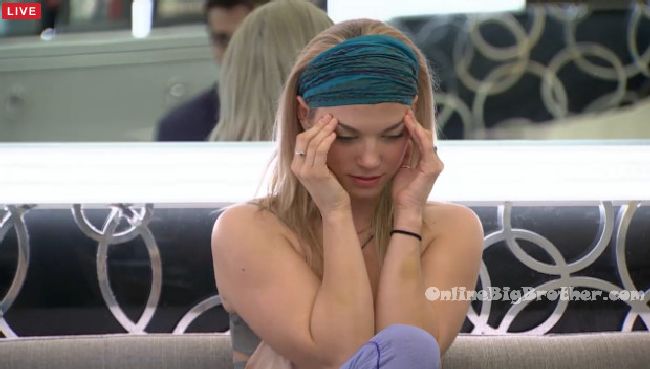 9:10am – 10am Kelsey comes into the HOH room and asks do you guys want to talk now or later? I did some thinking and thought some thoughts that I wanted to share with you. Just that you boys know that I love you and would always be there for you. And when anyone would talk about you I would sway them. If you put me and Jared up, then I couldn't continue to trust you. If its getting near the end, who could I beat? Nick comments that she couldn't beat Jared. Kelsey says it depends on what you say. Phil says either way, I just wish people had opened up their relationships sooner. Nick says we literally saved Jared from going home… and nothing came of it. Jared's name has never come up as a nominee or a backdoor plan .. until now. Kelsey says If I go up, I would go home. Jared has people that will keep him. And if I don't go home, am I supposed to still trust you? Phil says yes. Nick says there have been so many moments for him to come to us and he hasn't, he's spent his time with you. Phil says if you go on the block and you stay, if you start acting like you hate us… you will go home next week. Nick says you've had a second life in this house and you'll never win in a final two, that's why people would want to bring you to the end. Kelsey says you need to stop saying I could never win this game, that's mean. Phil says you're trying to strong arm us and its not a good idea. Nick says its nothing personal, we love you as a person. We've told you, you're not the target this week. Kelsey says you need to understand why Jared has trouble trusting you guys. He's heard every week not to trust you. Phil says that's exactly why we should put him up because he doesn't trust us. Kelsey says I'm the one that brought you and Jared together. Phil and Nick both say we're not together though. We saved him from going home.. it was a moment to build trust and he didn't. Kelsey says I saved your guys's life, can't you owe me one?! Phil tells Kelsey you're so emotional and catty. Kelsey sasy Jared will come talk to you. Phil says you're like his wife… oh he'll come .. he's late in traffic.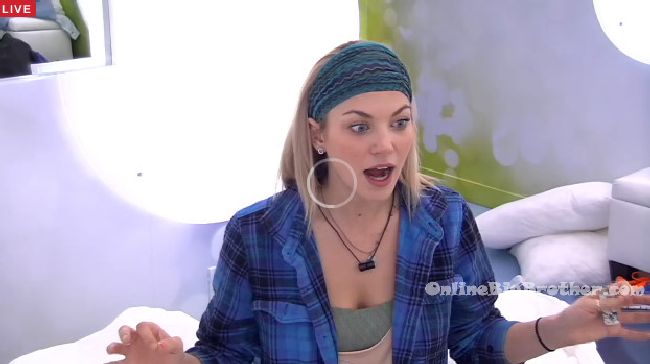 10am – 10:30am In the bedroom –
Jared says I don't know what is going to happen. It will probably be me and you. Nikki tells Jared I'm happy for that to happy .. I just don't want to pack. I'm not packing again, to then just unpack again. Nikki leaves and Kelsey joins Jared. She tells him the conversation with the brothers didn't go well. We're going up. They're saying they don't know but we're going up. Jared says I don't get what people facination is with me. People have been trying this for four weeks now. Kelsey says you need to talk to them. Jared says I don't know how to talk to those imbeciles. Kelsey says you haven't even tried to pretend to work with them. Jared says I've tried, we had that brilliant game plan. Kelsey asks who had that brilliant game plan. Jared tells Kelsey you weren't in this house so watch her mouth, you were out of this house! Kelsey says I understand why you did it but you needed to move forward with them. Jared says I just hate that I have no control over this. Big Brother has literally handed them everything in this game. And I told them that… Big Brother blocks the feeds. Kelsey says your only last shot is to give them some security for next week. Its your only option. Its your last chance. You need to go talk to them. On a game level. At this point its messing with my game as well. You need to go do something. I'm sorry we're in this spot, they have been handed everything on a silver plater. Jared says I can't stand people like that.
10:30am – 11am Kelsey and Jared head out to the Hot Tub room and ask Tim if he will go up with Jared to talk to the brothers because Jareds not good at talking to them. Tim says you need to tell them that if they just put you up it will be a copy cat move and they'll look dumb. Maddy and Ramsey are becoming a powerful force. Tim says I just don't want this to be used against me ..like f**k Tim can change anything. I'll try but..

11:15am Tim asks are you going to just pull the same the same move that Maddy and Ramsey did last week. The power is in your hands to take over both groups or use one group to take over another. Phil says nothing is set in stone. Jared says I'm pretty sure when Tim was HOH we had a set game plan. Tim says if you do want to change the direction there will be consequences.. Tim says Jared's not going to work against you. Nick says except for that one week when you tried to turn a whole room against us. Tim says that Mitch was a big part of that. Nick asks if you guys are all on board with a certain move then we'll do it. Jared says we're not trying to strong arm you. Tim says if Jared goes home I don't think Kelsey will work with you.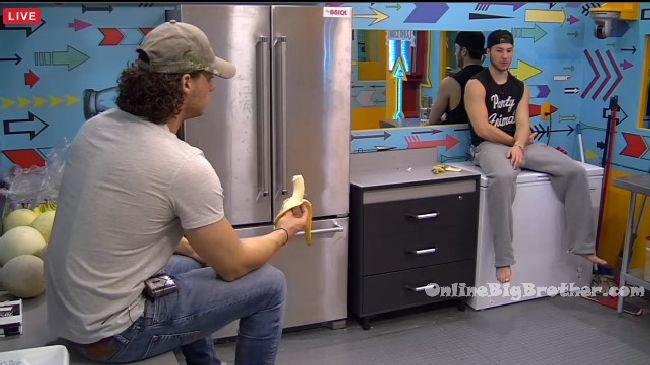 11:30am – 11:45am Jared talks to the brothers in the storage room. Jared asks what can I do for you? Phil says that they've wanted to work with him. Jared says he doesn't talk game with anyone but Kelsey. Phil says I can protect you, if you can protect me. I don't want people to think that if we keep them (Maddy & Ramsey) safe that we're working together because that's bad for our game. Phil says we pulled you off the block, we do want to work with you. Jared says its like the totem poles where the people at the bottom want us to keep knocking ourselves off at the top. Phil says why don't we just do the opposite. Jared says exactly. Phil says I think game so much. Jared says don't turn into Loveita. Phil says I would be honoured to go to the end with you. Jared says same with me. The end is near if we play our cards right. I would hate for the internationals to be in the final 2. I want to take them far but its our game. You don't have to worry about me. People sitting there and laugh at us. Phil says I just have to do some damage control with Ramsey. Jared says Ramsey knows he's not the target. Phil says Maddy went after you guys and.. Jared says she went after you guys. Phil says I know Joel wants this done. Jared says and Cass. We just need to keep playing nice with Tim. He's been good to us. Phil says if I have full on trust with you, I will open up to you. There's no reason for us to go against each other or the group. They hug and leave the room.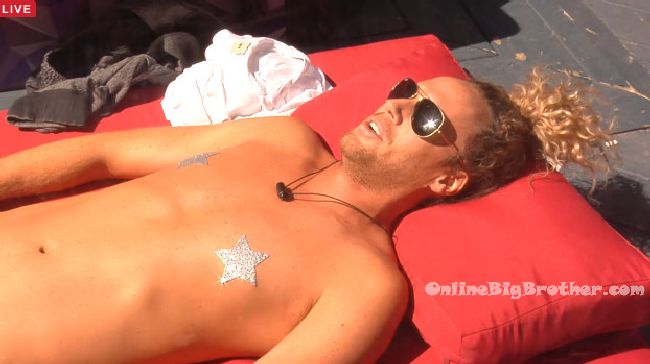 11:50am – 12:20pm In the HOH room – Phil tells Nick that he's going to tells Ramsey and Maddy that they're going to have to put them up because that what the group wants. Phil says they'll tell Maddy & Ramsey there's no support for Jared & Kelsey to go up. Nikki joins them. Kelsey comes in and apologizes for getting excited earlier. Phil asks Kelsey if she has a final 3 with Cass. Kelsey says I have no final 3 with her. I would not want that. Phil tells Kelsey no matter what she thinks there's support for either duo going up, no matter what people tell her. Kelsey says that Ramsey wanted to go after them. Phil then wanted to bring Ramsey up to ask him. Kelsey says you're HOH, he's not going to tell you wanted you up. Phil says Ramsey is a honest and loyal guy. He has had their back in the game. Kelsey tells Phil that there's another duo in the house. Cassandra and Tim are good with both sides. Cassandra joins them and Kelsey leaves. Phil asks if you or Tim won HOH would you put us up? More so Tim? Cass says we trust you and wouldn't put you up. Phil says so you, Tim and Joel want Maddy & Ramsey up? Cassandra says yes, everyone wants them up. Phil says I just hope it doesn't come to bite us in the a$$. Cass says if you put them up, there will only be one left here next week. Cass says if I had won HOH I would have put up Maddy & Ramsey.
12:40pm Big Brother blocks the feeds.
The Plan for Nominations
As of right now, the Brothers had planned to nominated Jared & Kelsey but have now switch to targeting Maddy & Ramsey.
12:40pm – 2pm Big Brother blocks the live feeds and when the feeds return, we learn that Tim and Nikki had a task that they won. In the HOH room – Tim asks when do you reckon we'll get this poutine. No one would have been able to spell Saskatchewan, except for you. That was so cool we got a task today. It keeps us on our toes. It gets so boring and repetitive. Me and Nikki feel so much like a part of Canada now. The Nikki and Tim answered trivia questions about Canada. They won and will get Poutine as their reward. In the bedroom – Nikki comments on how she wouldn't have been able to do it without their help. Big Brother then blocks the feeds again..

2:05pm – 2:40pm Big Brother blocked the live feeds and when they return the house guests are eating their poutine and beer. Nikki says I'm so glad there's no havenots.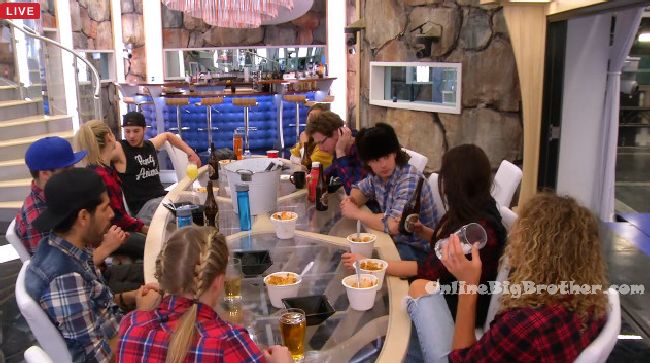 Want to watch the rest of big brother Canada 4 & all of Big Brother 18?
Sign up for the 6 month plan with HideMyAss VPN.
[polldaddy poll=9383597]
Share it YO!!
Tweet