Quick Big Brother Spoilers
Head of Household:  Reilly
Nominees: Corey, Felicia, Kirsten, Jared
POV Players: Cirie is host, Reilly, Bowie, Kirsten, Felicia, Hisam
POV Winner: Hisam
Veto Ceremony: Veto wasn't used
Havenots: Luke, Jared, Corey, Hisam,
Lock your ranks in before midnight
The situation Luke is gone. Last night on the feeds at 1am Luke used the N word to Jared, Hisam and Corey mid sentence. No idea if the eviction will be cancelled tomorrow or not. We may get another week of Kirsten in a bikini which is a win. Lots of opinions about this going on. Lets try and keep the comments angled towards who in the house this benefits and how Luke being expelled will impact the power blocks moving into next week. I'm going to speculate the feeds will be down until tomorrow.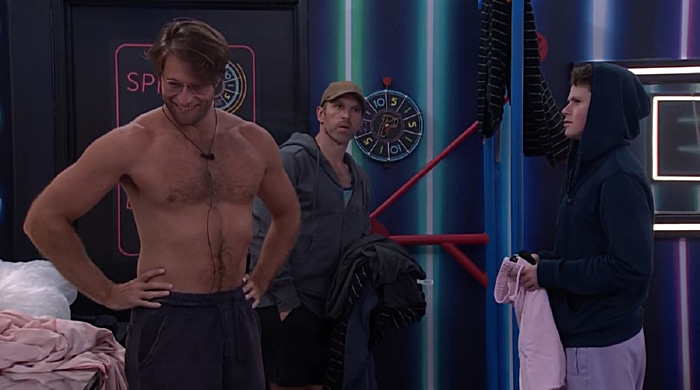 1:01 am Wednesday August 9th Luke, Jared, Hisam and Corey
Feeds were cut when they come back luke is telling a story.
Luke- we were in the cheese room n***… err dude..
Jared – yo.. you're off the f***In legs..
Corey – you go to bed.
HIsam and Corey leave.
Luke – I was going to call him a narwhale
Jared goes back to chatting about talking with a microphone to your mouth.
Luke about Hisam "he got more made about that than you"
Jared – yeah.. I don't give a f*** bro..
Jared – I should have made you feel uncomfortable real quick like YO BRO WHAT DID YOU SAY?
Luke – shit Jesus Christ
Jared – I don't give a f*** they don't don't know how to handle it. Which is so funny for me. In situations that should be uncomfortable for a black man white people get more uncomfortable. I use to always tell my girl that.. I dated a white girl. and I was like yo I hope when I say this it doesn't make you feel uncomfortable.
Luke says hisam probably ran downstairs and was like "You can't believe what Luke just said"
Jared – literally
Luke – I'm in trouble now.. well I've been in worse trouble
They start talking about how Luke was being targeted by Reilly.
Current time August 8 4:00 pm
Feeds on pound puppies
Statement from production
#bb25
STATEMENT FROM CBS AND THE PRODUCERS:

"Luke violated the BIG BROTHER code of conduct and there is zero tolerance in the house for using a racial slur. He has been removed from the house. His departure will be addressed in Thursday night's show."

— Sharon Tharp (@sharontharp) August 9, 2023
8:11pm Still blocked..
9:57pm Still blocked..
Support the sites efforts
If you enjoy OnlineBigBrother, please consider donating to keep the madness going. Thank You!