Quick Big Brother Spoilers
Head of Household:  Reilly
Nominees: Corey, Felicia, Kirsten, Jared
POV Players: Cirie is host, Reilly, Bowie, Kirsten, Felicia, Hisam
POV Winner: Hisam
Veto Ceremony: Veto wasn't used
Havenots: Luke, Jared, Corey, Hisam,
Lock your ranks in before midnight
The situation Veto won't be used.
Alliances:
The handful = Reilly, Cameron, Jag, Blue, Matt
Family Style = Reilly, Cameron, Jag, Blue, Matt, Corey, Jared
The Bye Bye Bitches = Felicia, Cirie, Izzy, Mecole, Bowie (Red+Jared+Hisam)
The Brown sugar babes = Jared, Felicia, Cirie, meme
8:20pm
All the house guests are still playing "Zip, Zap Zop". Felicia messes it up a couple times and then says I don't want to play, I'm stupid. They play a few rounds and then start brainstorming what other games they can play. Jag – HUGE late mid night party happening tonight! I'm putting the sparkling in the fridge.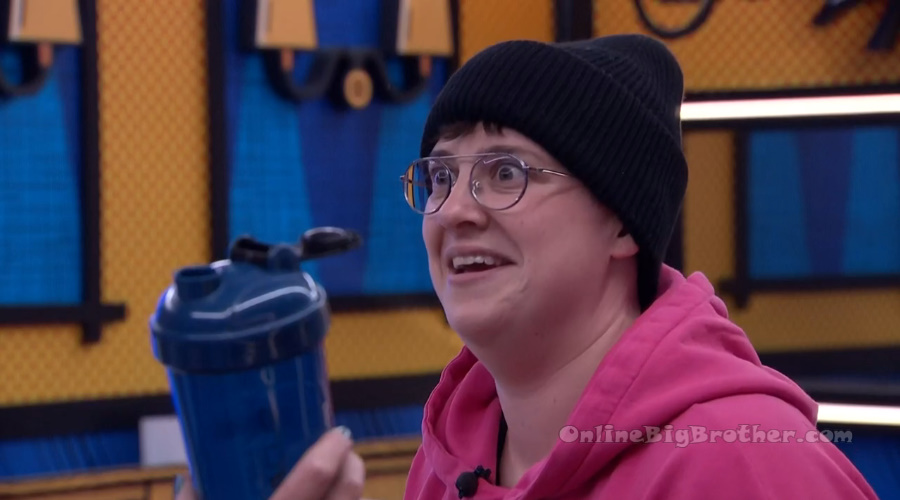 Comic Bedroom – Izzy and Bowie
Bowie – Seven, he is not in the seven. We've got the eight with him and then we bring someone.. He thinks there should be someone else as well. But then we'll give it another name. So I said, Cameron is not in it right, and Hisam said that's correct. Izzy – Okay, yeah great. I just don't know if it needs to be all that serious. Bowie – no I know but just so that they think they're in something. Izzy – oh okay, yeah. Bowie – because otherwise it seems fake. Izzy – okay, yeah lets chat about it. Also is Red going to continue sharing stuff that he talks about with the rest of us? Like I feel he has not been doing that and that is unnerving. Do you feel that way too? Bowie – I don't know if he knows anything.. does he? Izzy – right, I don't know. I just feel like when I have a conversation with people I am like .. you know.. I always fill you in and fill in Hisam. I feel like that is the same with us.. I don't know. Bowie – that's something to keep in mind. Izzy – I had a conversation with Cory and I think at least this week he is going to vote with us (lol you mean vote with the whole house?!) Luke is definitely going to vote with us. I think he wants revenge or something. We have way more people fighting for HOH than the other side currently. I do think we're in good shape. Are you getting a sense of how Red feels about Reilly? I get the sense that Cameron is still going to bat for Reilly. Bowie – I think Reilly has been upset all day. Izzy – why now? Bowie – I think she is a sensitive person. Izzy – I am not trying to be insensitive but I heard her talking about me having a little moment and it being such a big deal. I find her to be a bit self centered.. and its hard. Izzy talks about how she thinks the next multiverse will be scary-verse. Its the one we haven't had yet, they wouldn't double up on one before first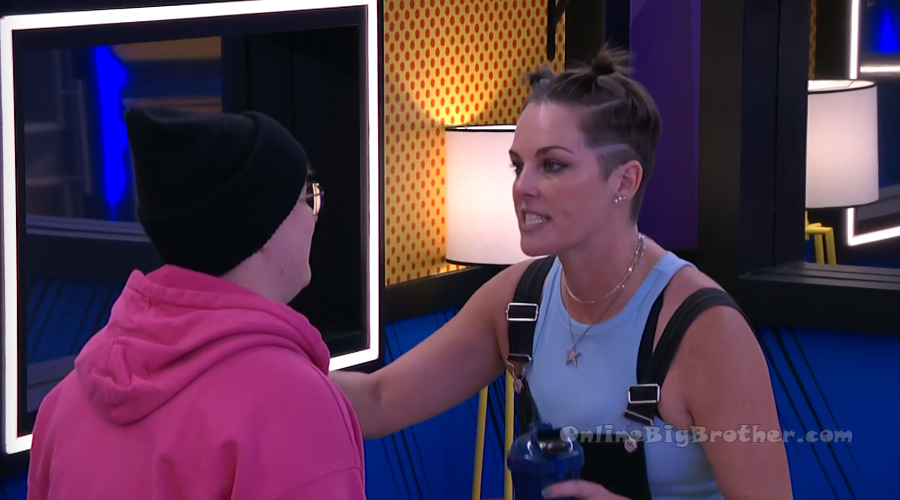 8:50pm – 9:35pm HOH room – Reilly
Reilly – I just feel like …I basically just told her what I told you. Like I am this evil ring leader that is not inclusive and like I created this alliance to destroy the people downstairs. Like that is literally how I feel and like I just know .. Deep down in my heart I know I wasn't raised to be like that and if that's what people are getting from that ..like game a side, F**K IT send me home but like I hope they don't think of me like that. And I just feel like I was put in a position where it looks like that and all we did was feel good about each other and started an alliance because like why wouldn't we. And now I just look bad because I'm sitting pretty up here in this room. Like people are coming to see me and I am not able to bond with everyone else right now. I just feel like a big jerk! Like I don't want them to feel like I don't like them or that I don't want to get to know them. And me being like we should get rid of them is just me trying to protect myself because I feel like I am in danger. Its not like yeah they suck lets go get them. What is going on with me right now. I never cry like this. I feel like I am acting out of character. Cameron – no you are acting within your character and that's why I wanted you to talk with her to show her.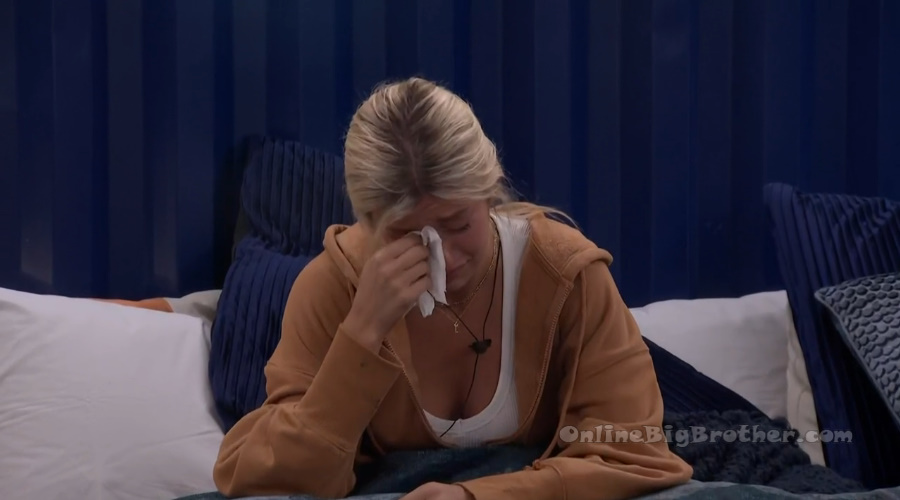 Reilly – I am very proud of who I am and how I was raised and how I treat people. Its hard to separate that here. I just feel like there's this image of me right now and its just not true and I hate that. And its too late now because someone told Hisam that specific thing. Like where would he have gotten that from? I am not even an HOH. I can't even compete next week.
I just went from feeling really good, to everything we've built here is going to fall a part. I feel like I am blaming myself for this divide in the house. Like I don't want you to look at me and be like oh Reilly is a ticking time bomb. Cameron – nothing that you're thinking is concrete. You have the ability to change the perception. Reilly – I thought I wanted it. I thought it would be simple. I will tell you, its really nice to have you here. I am lucky to have you. I don't have my dad, he passed when I was really young. I just means a lot that you care so much for me and want me to figure it out. And I really really appreciate you. I know we've only know each other for a week .. you mean so much to me so thank you. Cameron – I will be here. You mean a lot to me too. I am not going anywhere. I am not going anywhere. You're stronger than you think.
9:45pm Hammock – Hisam and Cirie.
Hisam – That was her choice, right?! Like rewind the tapes. And rewind the conversation I had with her. Every conversation I had with her was always very positive. Always very caring and supportive. Always encouraging. Like rewind the tape. And she is like I have my alliance of people.. great. Target is going to be Hisam and Izzy.. great. That's how you're playing the game.. great. That's how it is. Okay I get it, I'm not stupid. But at the same time, then there are going to be consequences when that comes to light but I am not going to let her hurt. I am not going to let her suffer. I actually think she is a good person. I think she is a sweet person. Cirie – I do too. I think she got caught up and made a foolish decision. A fast foolish decision. Hisam – which I am sure was supported by the other people she is working with. Cirie – Including Cameron. Hisam – right. I don't want her to hurt like this though. Cirie – me neither. Hisam – maybe we let her chill tonight. Also I need something in my stomach. Tomorrow I will come to her and start a conversation. We will make this better. We will fix this. I don't want to win because someone broke down.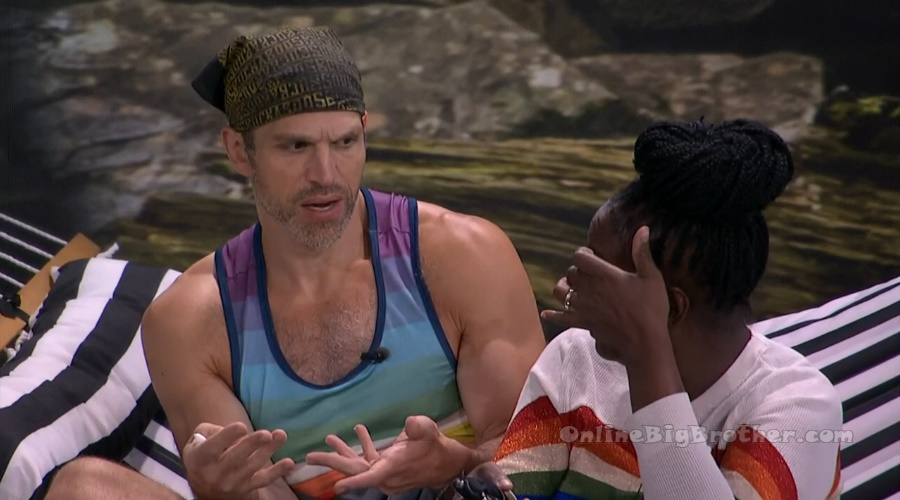 10pm Kitchen – Reilly and Jag.
Jag – I guess Izzy talked to America and told its chill with you and she said that you're not our target however I am pretty sure I am Izzy's target. Reilly – what? Jag – yeah. Reilly – what?! Jag – yeah.. I mean this is just me theorizing. Reilly – what do you mean? Why you? Jag – This is just me theorizing. Just because at first we were like we're solid. And the second comvo we were susing it out. And then the third convo was I was like things are weird and she was like yeah. But I was like I want to know more about you.. and she was acting super weird about it when I was asking about her and she was like no you go first.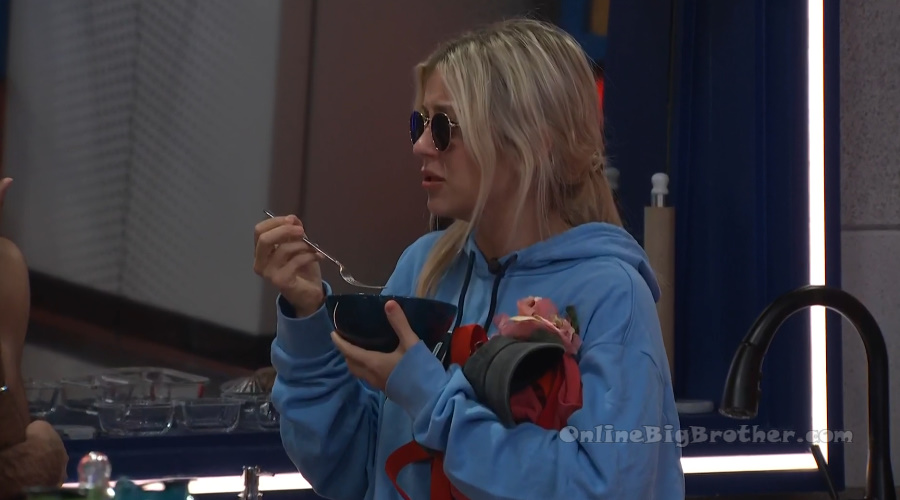 10:40pm – 11pm Bumper Pool room – Meme and Cory.
Cory – who do you feel best about downstairs? Meme – who do I feel best about? The people I have talked the most with are Miss Felicia and Cirie. Everybody else, I don't know. Cory – so here is what I think .. if you're able to talk to them and vouch for me because I feel good about both of them but I think Cirie is a little hesitant because she knows I'm a fan of hers. Its got to be nerve racking. I could help you out with a Blue, Luke or Cameron. Because I like don't want it to be obvious that we're a thing but like what is the point of this whole thing if we're not backing each other up. MeMe – yeah for sure. For sure, for sure. Cory – And right now, my thought is if these guys up here win. I feel like it is going to be a Hisam thing. Because I think Reilly is terrified that Hisam is going after her. Which I think he might. I think its possible. I don't feel great about Hisam. Meme – I don't know about Hisam. He will give you an ear but.. Cory – Hisam doesn't give you sh*t! I asked him what his favourite job was and he said I don't know. I asked him what his favourite food is and he said you know the thing about food is its all so different. I think if Bowie or Red win, I should be okay. I think Cirie, Izzy, Felicia, and you obviously. Do you have any idea what you would do? Meme – I don't know. Cory – I think for you its all about making connections that you didn't make this week. Meme – In terms of who I would like to see go home.. Cory – they're going to push for Reilly to go up. Obviously I don't want that but its hard to make the argument against that. That is why I am going to try really hard to win it. But I don't know if I want that smoke right now.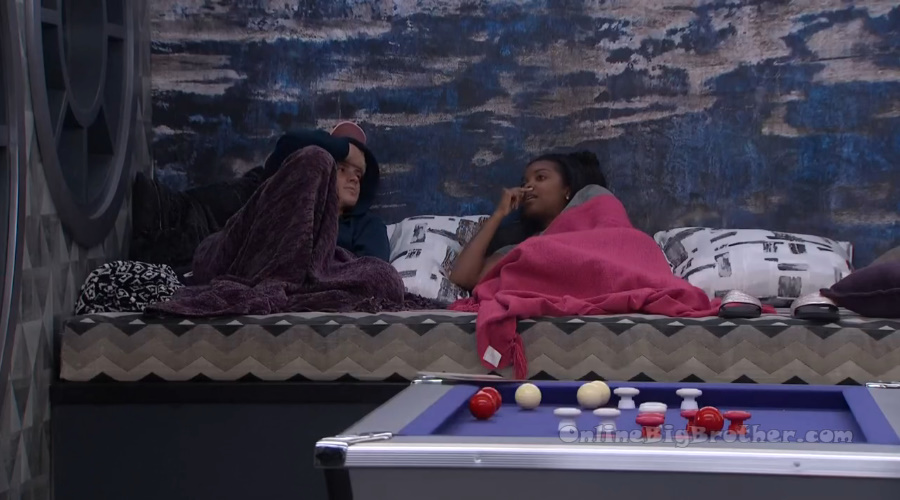 11:30pm Backyard – The house guests are in the backyard chatting and handing out.

11:45pm Comic Bedroom – Jag and Cirie.
Cirie – I like you and Reilly. You know what I mean? I've been like you and Reilly. Its going to be based on this HOH. No one has said your name or Reilly. Jag – No one has said your name either. Cirie – We good. We good means that I am aways willing to work with you.

12:05am Kitchen – The havenots get to eat real food again.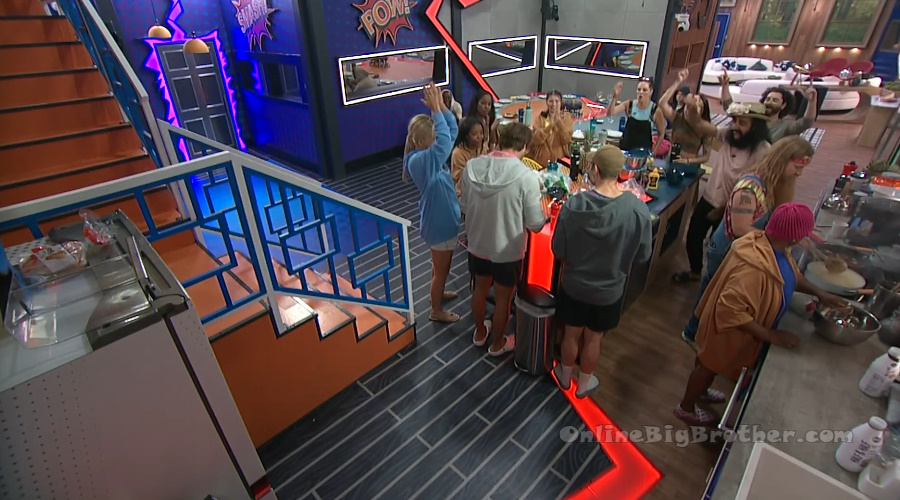 1:20am Havenot Room – Jared and Luke.
Jared – if we could win, we could put up either .. out of the four Reilly, Blue, Jag or Matt. No, out of the three.. Jag, Matt and America and Blue. No excuse me the four. Put up either of the four. They all have a great chance of winning the veto. They take themselves down. You put Reilly up and get her out. Luke – oh that was the plan I was thinking too. Backdoor her a$$! Give her a send off. And that's what I was told her was going to do to me. And I believe that. I know you didn't hear about that. I tried ringing her doorbell so that I could ask her what's going on. Then she tried to confront me downstairs. Jared – you need to stop being so irrational. You need to stop showing them your cards so easy. Luke – I know. I will be nice to the ones that .. I'll be nice to them. Jared – in this game, be nice to your enemies.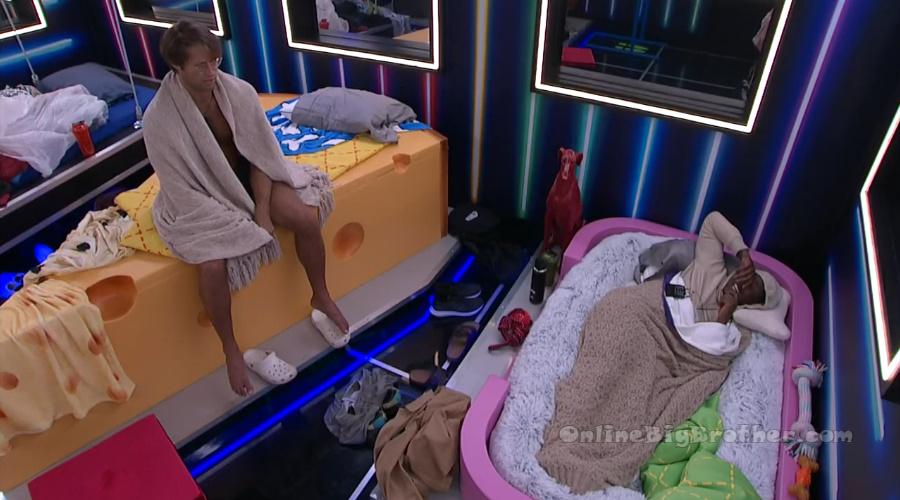 1:47am Backyard Pool..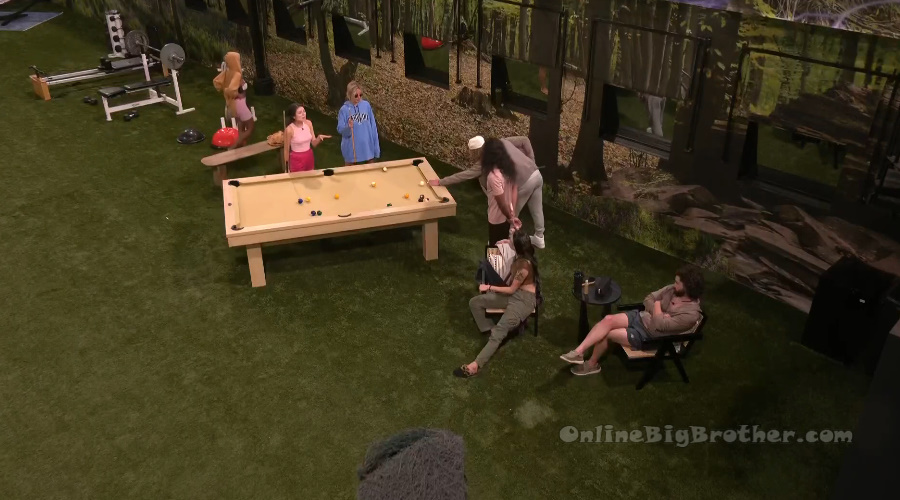 Support the sites efforts
If you enjoy OnlineBigBrother, please consider donating to keep the madness going. Thank You!