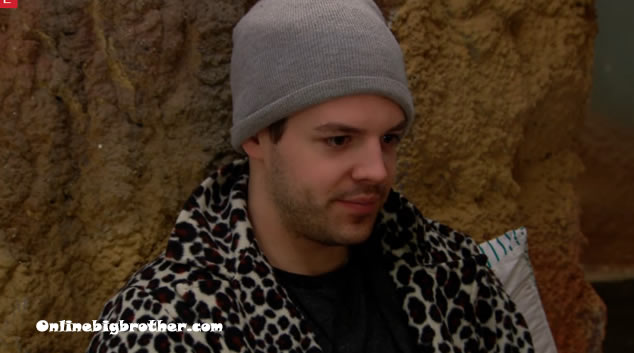 Watch the feeds for free from the US using a VPN we recommend HMA https://www.hidemyass.com/vpn/r16399/
(FYI videos take time to upload)
Sindy and Ika red room
Ika says she's at peace with going up.
11:40am Ika and Dre
Ika says Dillon is going to put her and Demetres on the block for sure.
Ika says Bruno doesn't have her back.
Ika – that Sindy thing.. If it wasn't Neda it would have been me.
Ika – they think you hate me which is good.
Ika – you thought I was safe
Dre – ya
Ika – no i'm going on the block with Demetres probably
Ika says Sindy, Kevin and bruno are all working together.
Ika says Jackie is now in with Dillon.
Dre says she's annoyed by William.
Sounds like Dre threw the competition last night. Dre says she thought Bruno had Ika's back.
Ika says Dillon is not putting karen and Jackie on the block.
Ika points out how fast Jackie ran to Dillon.
Dre says she has a better pull on Dillon than Bruno.
Ika goes on about how Dre screwed her because she threw that competition.
11:46am Have nots Kevin and Bruno
They talk about how they should have been more forceful to Sindy during the double to prevent her from putting Neda up. Neither of them thought Sindy was going to do it.
Kevin – Losing Neda was disastrous
They agree it was Ika vs neda the battle of the queens.
Bruno saying that Neda exposing the six was good and bad.
They talk about scooping Dre and William up because now they don't trust Ika/Demetres.
They agree Sindy winning the HOH was not good for her game. She was on nobody's Radar now she is.
Bruno says Ika has her claws in Sindy, Sindy is intimidated by Ika whatever Ika says Sindy does it.
They say Ika is taking credit for Sindy's move. "She literally said I got Neda out"
Bruno – Neda was never going after Sindy..
They agree Dillon winning the HOH went as good as it could go for them.
Kevin says Demetres is a idiot to go out first in the HOH.
Kevin – Ika sucks at comps..
Bruno – she's good at endurance.
Bruno says Dillon will take a shot at Demetres and Ika which is good because he doesn't trust Demetres for the life of him.
Bruno – if we wants Demetres to go that's huge.. She'll have nobody ..
Bruno says only 1 season 2 left and all the season 3's are left.
Kevin says Sindy won't go after them.
They are going to focus on how to keep William/Dre going back to Ika.
Kevin – I can see them running back.
Bruno – Dre and William are f***g good
Kevin says William is top in all the comps, "He's a genius and a physical beast"
Kevin says he underestimated the french connection from the start.
They talk about Jackie flipping to the other side already and how she does it every time.
Kevin – if she wanted to go with that group why did she vote EMily out
Bruno says if he had won the HOH he would have put up Dre and William with Demetres being the backdoor
Kevin – Neda was a shield to have in front of us
Bruno – who was going to fire first
Kevin – they got it
Jackie comes in.
11:54am Dillon and Demetres
Demetres says he knew Jackie was coming after him but isn't sure about Dillon. Dillon says Demetre and Ika are in his head but so is Sindy.
11:57am Kevin and Bruno
Kevin talks about someone telling Dillon that Kevin had said he's playing the best social game of his life. Explains how jit came from Karen.
12:16pm Dillon gets his HOH room
12:20pm Dre tells Ika she's going to push for Jackie

12:45pm Sindy and Ika Bathroom

Bruno Dillon and Kevin HOH

Demetres and Sindy Kitchen

Dre and Demetres Red Room

1:48pm Bruno and Kevin Have nots

1:52pm William Dre Kevin and Bruno

Sounds like Dillon is putting up Demetres and Jackie with the backdoor plan being Kevin.
[polldaddy poll=9723834]