POV Holder:
?
Next POV
July 18th
POV Used
?
POV Ceremony
July 20th
HOH Winner Team 1:
Liz
HOH Winner Team 2:
Shelli
Nominations 1 :
?
Nominations 2:
?
Battle of the Block Winner
?
Next HOH/ Next BOB
July 23rd / July17th
Original Nominations:
?
Current Nominations:
?
Have Nots
?
8:24pm Vanessa and Liz
Telling her not to slip up make deals and keep her head in the game.
Liz saying she wants to target Jackie she knows If JAckie had won the HOH she would have put liz up.
Liz says austin doesn't want jackie nominated
Vanessa thinks Austin is too easily manipulated by girls. liz agrees.
Austin comes in says it got back to Jeff that Vanessa was thinking Audrey was America's player and wanted to get her out.
Vanessa – I never said that (I'm 90% sure you did)
Audrey joins them says the energy in the house has changed now that Jeff is gone.
Audrey says the other side of the house is more pissed that Shelli won because they think That Shelli is going to save her, 'It's so mean"
Vanessa – it's perfect.. let them think you are still the number one target it's a smoke thing a beautiful smoke screen
Audrey – keep creating musicals (Please no)
Vanessa – yes.. (thanks ;) )
They comment how the other side makes it so obvious how pissed they are.
8:31pm JOHNNYMAC and Clay
Clay wonder who the votes were asks him if he thinks it was Steve and Becky
Jmac says he's tight with them and they never told him
Clay says Becky and Steve both promised Vanessa they are voting out Jeff
Vanessa – I have a very good liar compass
Audrey says steve will give them a tell , 'i've seen him crack under pressure with Da"
Austin says jeff told him he had 3 votes. Becky, johnnyMAC and jackie. Jeff thought he had a chance to get a fourth vote wouldn't tell him who. Jeff corned Austin right before the vote and told him he and Liz were the swing votes "That was his last ditch efforts"
Audrey mentions She's seen Becky with steve in the Storage room spending a lot of time together
Austin can't believe Becky lied about it
Austin says he was worried about the vote 'Especially when he tried that last minute flip.. he was right he had four
Audrey – Jeff was working hard on Meg last night
Liz – it made my decision easier.
Steve comes in
Vanessa Asks him who he thinks voted for Jeff
Steve doesn't know
Vanessa is surprised ask him if he has any theories or guesses
Steve has no clue "It doesn't make sense there wasn't enough people to win it over"
Austin – no one wants to be on the short of a 7-3 week three
Steve says they've had a strange vote every week and now they have a second one, "One person been doing it and one person is new"
Liz says he has no deals she could put up anybody.
Austin's says James threw the HOH and when he got out he said ":YES"
Vanessa says James made so many deals he didn't want to win HOH.
Vanessa says everyone but JohnnyMAc and Jackie looked her in the eye and gave her their word they are voting out Jeff (90%)
Austin – WOW
Steve keeps saying that it doesn't make sense because the person that voted would have known they weren't in the majority
Vanesa know some vote is America's player the other one she knows who they are.
Steve asks what was this person hoping to gain
Austin and vanessa says it was just loyalty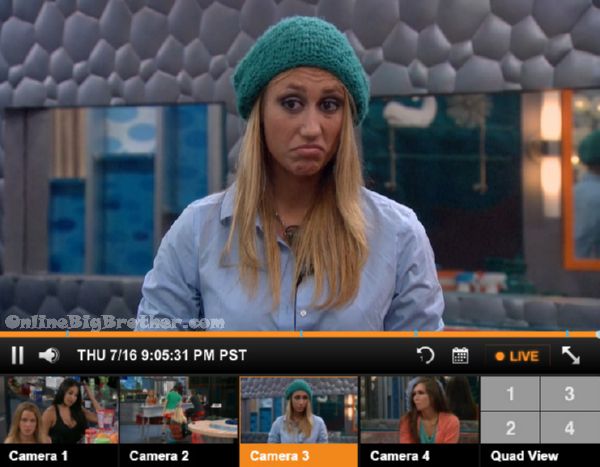 9:02pm Bathroom Audrey and Vanessa
Vanessa is certain it's Becky.
Audrey – I want to know why everyone thinks it's me I think because I'm transgender America is going to vote for me because of caitlyn Jenner and I feel like that's really ftucked up
Audrey asks her why everyone think she's America's player
Vanessa says she's the person everyone in the house blames. She adds that Audrey doesn't have to worry this week she's safe.
Audrey – Do you think she'll stay in power .. cause I don't know who Shelli will target
Vanessa – not you in a million years
Audrey wonders if Shelli will want to keep power and get more blood on her hands.
Audrey – I'm going to be a have not with Becky, jackie and John so you Can watch them like a hawk
Vanessa says she trusts her instincts and Becky is lying to her ..
Vanessa thinks Becky had a loyalty to Jeff that went back far.
Audrey asks her if she's going to make becky come clean
Vanessa will try begins up how Becky lied to her face about the vote. (I'm 90% sure she didn't lie to you)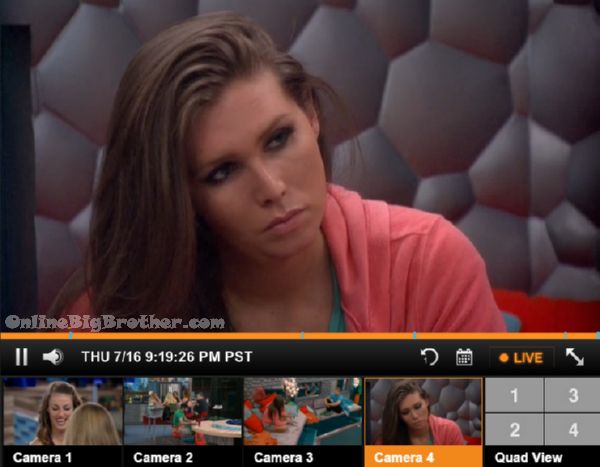 9:17pm Bathroom Audrey and Clay
Audrey thinks the vote is Steve says he's super sketch and is always in the storage room
She mentions how Vanessa is certain it wasn't him.
Audrey points out that Vanessa hink it wasn't steve because he campaigning ed to get jeff out of the hose
Audrey will put her life on it that Steve voted out JAmes.
Audrey says she's been right this entire game, "james was sabotaging me" (Week 1)
Clay says he needs facts
Audrey – that is a fact he admitted it. I've been right more than I've been wrong
Audrey says Clay is working both sides that is why he's saying sheli should be dethroned.
Clay says he thinks it's Becky or steve he doubts it Meg or Jason.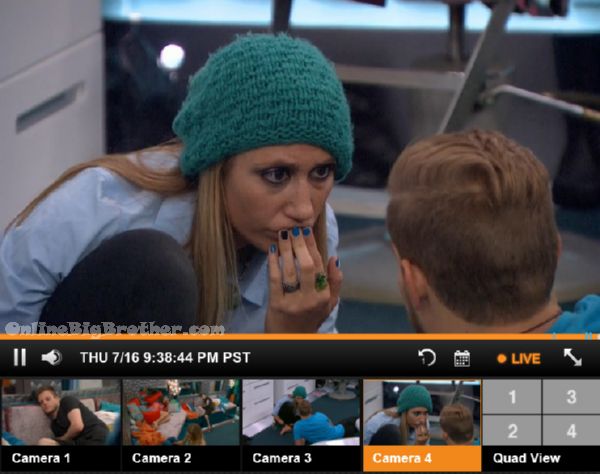 9:28pm Have Nots Clay and Vanessa
Vanessa says they cannot control the vote anymore they have to put two targets up.
Vanesa – I'm 100% it was Becky I have evidence
Becky told her she was telling Jeff she's voting for him but she told Vanessa she's not.
Becky was also trying to convince Vanessa to convince James to not campaign, "She won't look me in the eye now.. I was a professional f*** gambler I feel very strongly it's her"
Clay says Audrey is America's Player the way she deflects it makes him too suspicious, "always always deflects it
Vanessa is certain Audrey is America's player. She thinks she could convince Liz to backdoor her but for now they might want to keep Audrey around.
Clay says Shelli won't backdoor Audrey
Clay- We need to get rid of Meg, Jason and James.
Vanessa – I think we can work with her for a little awhile she's america's player she doesn't have control of her vote
Vanessa says that Liz can put up Meg and Jackie she has no connection with them.
Clay and Vanessa agree they don't trust Jackie
Vanessa says she's (Jackie) Scorpio she the vindictive type
They Agree Audrey is a number for them. (even though they believe they can't control her vote.. LOL)
Vanessa says that Julia comes into the game tomorrow Liz is panicking because Julia is going to miss out on all the conversations.
Vanessa – best case scenario Liz stays in power she'll backdoor somebody
Clay says there's bigger threats than Steve right now.
Clay says the insiders still think they are with them. (insiders = Meg, Jason and James)
Clay wants the main target to be Jason.
Clay tells her that Audrey thinks she's lying about Steve. (Vanessa changed her story about Steve telling her about his vote)
[envira-gallery id="121929″]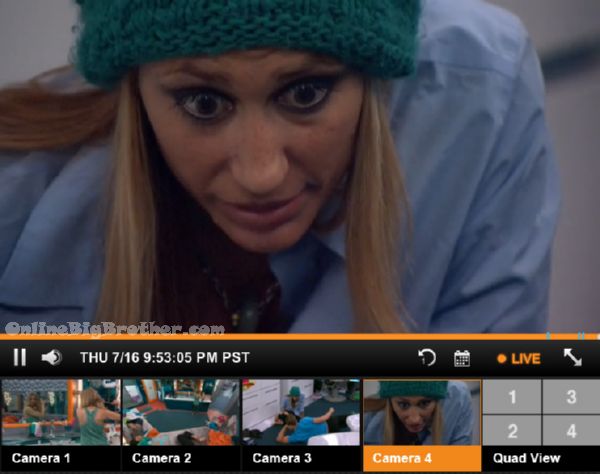 (Somebody Slipped Vanessa some crack)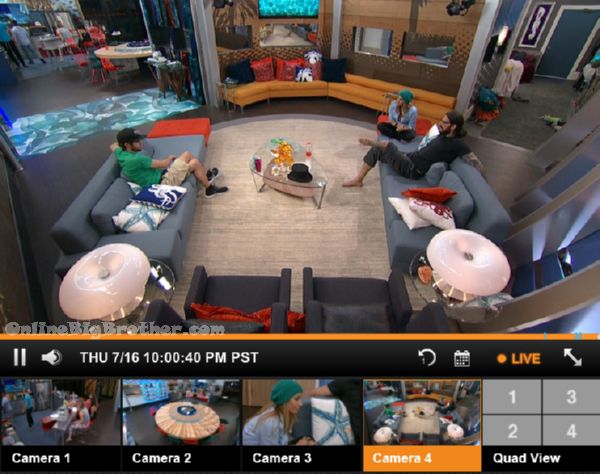 10:01pm Steve, Austin and Vanessa Talking about the 2 unknown votes.
Austin call is a huge error on someone's part.
Steve says it's very usually to have 2 people voting against the majority s usually it's been just one.
Live Feed subscription gives you CBS All Access thousands of archived shows. Live Shows like Big Brother, all the Big Brother Seasons, and 24/7 coverage of what is happening inside the Big Brother House. Plus there's flashback that lets you go back to any second of the feeds and rewatch what happened. Simon and Dawg will index the season just watch the parts worth watching. All this for $5.99 a month try it out 1 week free. Support our efforts and get your feeds via a link on this site. Live feed subscription Sign up
[polldaddy poll=8983592]
Share it YO!!
Tweet