POV Holder:
?
POV Competition
Sept 12th
POV Used
?
POV Ceremony
Sept 14th
HOH
Vanessa
Next HOH
?
Original Nominations:
? and ?
After POV Nominations:
? and ?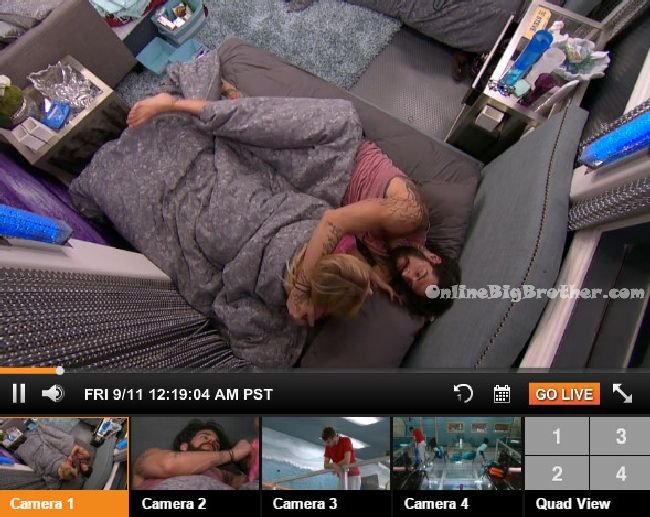 12:15am Bedroom – Austin tells Liz we should be good, but you never know with her. Austin says if the Julia stuff comes up, we have no idea but if it did happen Vanessa she was probably just trying to make me not a target because she was afraid I was going to be the big target. Liz says we have no idea she was probably making it up. Austin says she would have told you if she was going to.. Liz says yeah, I don't even fathom that. It has nothing to do with you, it has to do with me. Liz starts talking about the HOH competition. She says she dropped a lot. I dropped one right at the end too. Austin says he got bored after 2 and wanted to stop. Liz tells him he was good at it. Vanessa joins them. Vanessa comments on how her HOH will be 2 days shorter than normal. Austin asks if its port wine time? Liz says I hear them in the havenot room. There better not be a reset button again. As a viewer would you want them to do a reset button? Austin says I guess it would depend if I was on the block or not. Liz says I've taken out two of her enemies, what the hell has Johnny Mac done for her? Austin says I know. Liz says he (Johnny Mac) squeals about everything. Austin says all I can tell her is next week there are 4 people and she is guaranteed final 4 with us if we're still in the game. If Steve and Johnny Mac are still in the game she isn't guaranteed anything. Liz says I feel like she wants me out because I'm her biggest competition and she probably wants you all to herself for final 4. Austin says but it would be better for her if we're both there in the final 4. Austin heads up to the HOH room.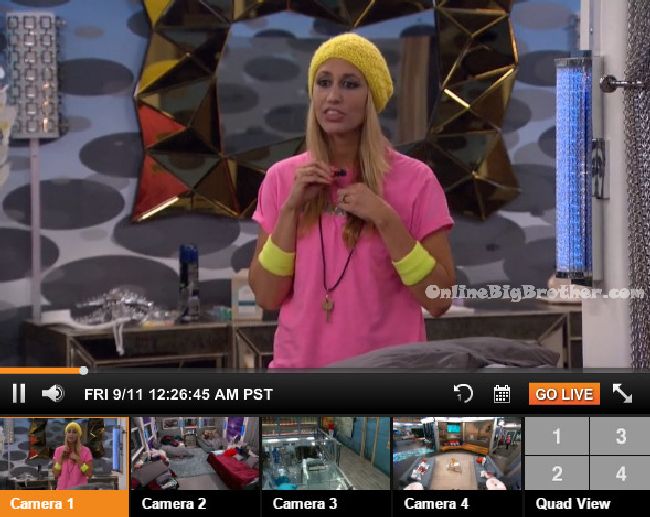 Watch the NEXT WEEK of the Live Feeds for FREE! Click here for your: 1 Week Trial
12:47am HOH room – Austin heads up to the HOH to talk to Vanessa. Vanessa says I don't want to go against you in this game.. even though it is asinine even having this conversation. Its stupid. Austin says I don't think it is though, when I look at final 4 like honestly Steve and Johnny Mac in a final 4 … I'm here with Steve, Johnny Mac and you. Lets say I win HOH, you've got to beat them in that veto. Right!? Vanessa says if you're here yeah. Austin says if Liz wins HOH, you've got to beat them in that veto. If its me, Liz and one of them… neither me nor you have to win that veto. We're in final 3 because if Steve of Johnny Mac win we would probably cut Liz out of that equation. And Liz and I are always going to take you over one of them. Vanessa says but I am sure they would promise me they would take me. Austin says of course. Like you said they're not incentivized. Vanessa says that's the reason why this doesn't work is if Johnny Mac wins the veto. If he wins the veto it f**ks sh!t up for me. Austin says we'll cross that bridge when we get there. Vanessa says I would love to be in final 2 with you but you know I would love to be in final 3, 4 with you. I have had your back in this game and so has Liz. If Liz brings up the people she has sent home for me she is right. She sent home Becky the week she was gunning for me and James the week he was gunning for me. And I forgot to mention how thankful I am for that. More than anyone else she did me some favours. It was good for her game too but I benefited from it a great deal. Austin says she asked me what to do too in all of that. Vanessa says yeah you should take credit where credit is due. I don't want to go against her even though I don't have the same deal with her as I have with you. Austin says if we are in the final 2 and something like this happens I will stand up in front of the jury and take blame that is thrown at you, I will take the same blame. I will try my hardest that he (Johnny Mac) doesn't win veto. Vanessa says because more than anyone, I believe you and I deserve to be in finals. Austin says I believe it too, this has been our game. Vanessa says we've played this game so hard and made more moves than anyone else …against people who aren't even playing really. You're a huge big brother fan and I'm a huge game fan.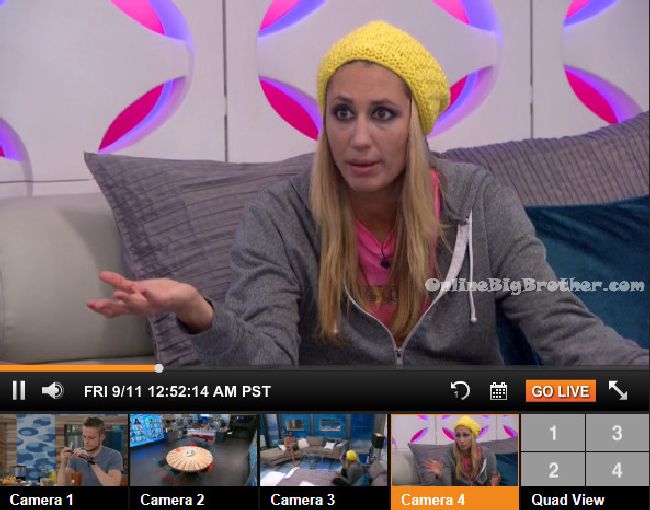 Vanessa says what I need is you guys vote the way I want this week. Austin says I will. Vanessa says I believe you because you have incentives. You know that rush of paranoia that happens if you flip that vote on me right before I win that veto. And I will guarantee you I will win it. Austin says it won't happen. NO flip. Austin and Judas give you our word. Vanessa says Johnny mac needs to go up on the block, if he wins veto I will cross that bridge later. If Steve wins the veto you guys could pick who goes up I could care less. You know I'm not going to quit my plan half way through. He is the best person to go because with my comp record he is my biggest threat getting to final 3. Everyone is going to take him over me. Austin agrees. Vanessa says the first thing is the vote, the second thing is in the veto …if you win it you don't use it. The third thing is next week win that HOH please. Austin says I will try to. If everything goes to plan it doesn't matter for us its Liz that's in danger. Vanessa says its Liz versus Steve. The HOH I want you to try for but the veto its actually best if you don't win it because it puts you in an awkward spot and its bad for your game. Austin says I would take Steve out though. Vanessa says but what you don't understand is that I know you think a final 3 with Liz is the best for you .. its actually for your game not. Austin says right, because if she goes to the finals with me .. she has more votes. Vanessa says its a fact you're going to lose to her. I would have to single handedly have to flip that whole jury. I would try but she's a big f**king favourite. With Me and Steve, Steve is always taking you over me. Austin asks you think? Vanessa says I have 6 comp wins .. you have 3! Same reason he would take you over Liz. You're in a great spot. Austin says so I should just bow out for my game. Vanessa says bowing out is your smartest play. You're going to make the final 3 no matter what happens but if you win you're going to have to take Liz and that is lower odds of you actually winning. If you're against Steve I am voting for you. I will guarantee you win if you're up against Steve. Vanessa says I would go to finals with you and if I win 50K I would be happy with that. We both give each other our word we would take each other over Steve in finals and if I end up there with you and Liz .. then you throw round 1. (Part 1 of the 3 Part HOH) Austin agrees. Vanessa says so that it at least makes it f**king fair and I still have to win the finals. I can trust that deal because even if Steve or John offered me that deal I wouldn't trust them. Vanessa says my instict is that you're close with Steve but why would you target him. Austin says him being close to me is more what he thinks. I generally wanted him out a number of weeks. Its convenient with me to be close with him right now when he is winning HOH. I am not as close as he might think I am. I've never fully trusted him because he's been so awkward.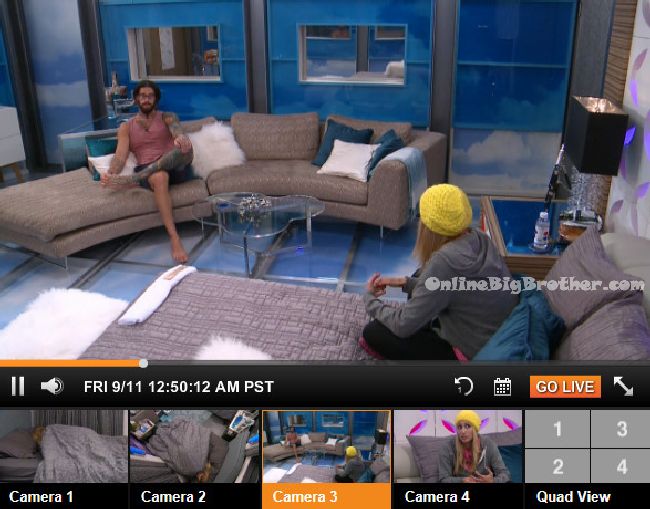 Vanessa says Steve has to go up because he could win and take down Johnny. I can't risk it. I will tell him no matter what he won't go home this week. Johnny is the only other person standing in my way of the first part HOH. He won't know that you're dropping out in that one. If you drop out in the first round and I win the second part against Liz then I get to decide and take you. That way you don't have to decide. Austin tells Vanessa the strategy they could use to win part 3 because some people try to throw it but win it. He says we could just keep both picking A until the tie breaker and then I could write down 0. Vanessa says I am a happy camper winning 50 grand! Like are you kidding me I'll take 50 Grand! I would be blown away if I won that. Austin says it would be zero either way if you don't watch me in the casino. Vanessa says no I would teach you a few things in poker. Vanessa says she wants to sleep on it because she could change her mind by the morning. Austin says I'll give you my word right now. Austin says Austin and Judas formally want to let you know that we swear on my love for Liz and my family name and everything I hold dear that what you've asked of me in here will be honoured. Vanessa gets up and shakes his hand on that. Austin talks about how Johnny Mac has slept through this game. Vanessa says the only thing she is worried about is Liz not agreeing to drop during the first part of the HOH. Austin says I can tell her that he doing this for us and agreeing to take a couple this is something we need to do for you. Vanessa says I am not going to tell Liz I will take her because I won't. I'm taking you. In the future I would owe her like maybe she wants to start a business and needs a backer or wants a loan. I could do that for her. I know you and her have careers in the public eye you with wrestling and her with wanting to model.. so I know you two wouldn't scum bag me. Austin leaves.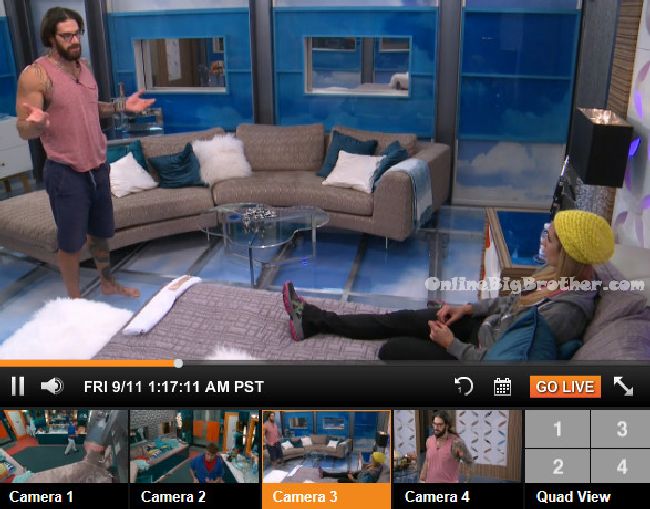 1:20am – 1:35pm HOH room – Liz comes up to talk to Vanessa. Vanessa tells Liz she better be in good shape tomorrow to win this veto because I need you to keep noms the same. So here is the deal what got me nervous when I saw Johnny Mac's family do that rockstar sh!t. Everyone wants me to think the easy target is Liz and Austin because they're a couple and always going to take each other but I'm a damn fool if I don't look at rockstars like a couple too (Steve and Johnny Mac). At least with you guys I've been working with you two for 70 days. Liz says with Steve he made me swear on my family to keep him and then he put me and Julia up the next week. I want him out of here more than anything. I want to be the one to send him out. Vanessa says If you win veto next week you could be the one to send him out. That's my ideal scenario. I can't win against Johnny mac because everyone is going to want to take him. Getting rid of Johnny Mac is good for both of us. We have to not have Johnny mac in final 4. Liz says and Johnny Mac almost won this HOH if you would have dropped it. Vanessa says the only thing I need from you is .. the vote I need you to vote how I want. I actually believe as much as you want revenge for your sister ..its better next week (to take out Steve). Vanessa says I've actually always had your best interest at heart. And I know you have too.. thank you for getting rid of Becky and James. Vanessa says so the vote thing is simple .. if it comes down to Johnny Mac and Steve just please vote the way I ask you which at this point will be to vote out Johnny Mac. Liz says I will offer you if one of them does come down, I will go up as a pawn. Because it would be Austin and whoever came down and then you're the deciding vote. Vanessa says I am not sending you home. You have nothing to worry about this week. Vanessa says there's 3 parts to the deal .. Part 1 vote the way I ask. Part 2 If you win the final 4 veto and you get to pick who comes with you, I come with you to final 3. Liz says and part 3 throw the first part (Part 1 of the 3 part HOH). Vanessa says that's it. Liz says that's not too much to ask. If Austin goes home for some reason I have no one but you. Vanessa says I know its a lot to ask but you two will always take each other .. so to throw me that bone of the first part at least makes it fair. Liz says you have my word. Liz says I have the luxury prize and if I get to take a second person I will take you. I promised whoever won HOH I would take them. Liz says that veto is mine! Vanessa says please win.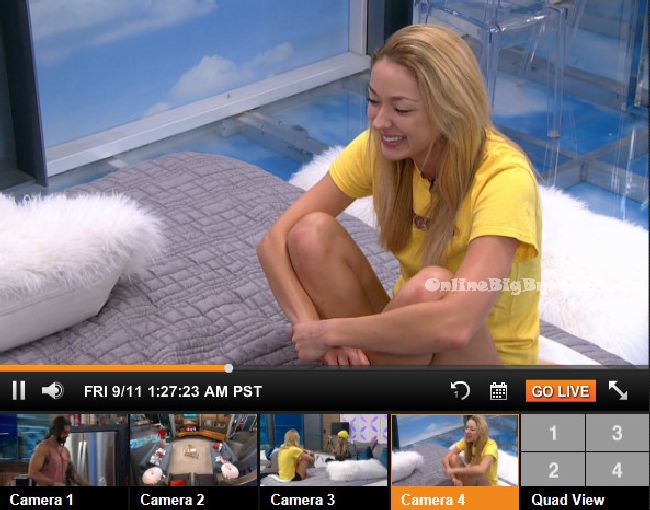 1:40am Austin and Liz comment on how their conversations went well with Vanessa. Austin says we just need to win the veto to put the fear in her nominations. Austin says its only 12 more days after tomorrow. We're so close to being done with this sh*t. Liz tells Austin that she is going to take Vanessa on the luxury trip. Austin asks why she isn't taking him. She says he never took her on anything.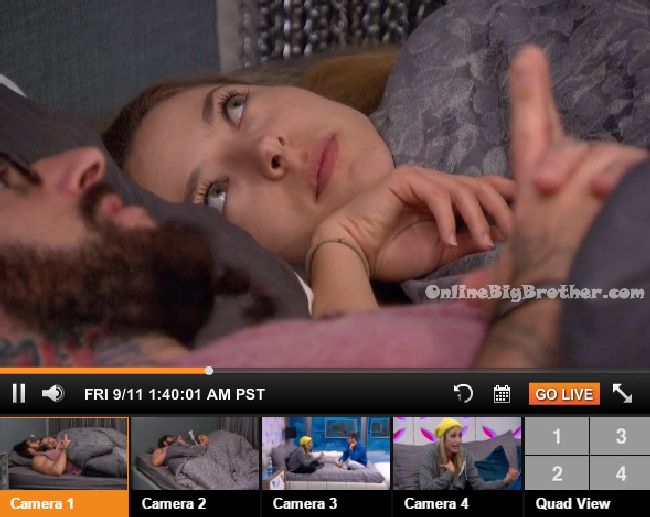 FLASHBACK and watch everything you missed: Live Feed 7 day FREE Trial!
1:40am – 2:35am HOH room – Steve comes up to talk to Vanessa. Vanessa says to have Liztin on one side and the Rockstars on the other side is a scary f**king thing for me. That lit a fire under my a$$ to win HOH. I know the obvious play is to go for Austin and Liz because they're a couple but on this side I would be foolish to think you would ever take me over Johnny. You would take him. He hasn't won HOH and I've won 4. Incentive wise it doesn't make sense. Steve says you think I would have a better chance at beating Johnny Mac than you? Vanessa says yes. What is standing in my way to getting to the finals. People are more likely to take Johnny mac because he hasn't won anything. Its my smartest play to go for Johnny Mac. If I leave you off the block what are you going to do, you would use it on him. However if he wins veto, that changes everything and I cannot have you go for the same reason why I need Johnny to go. If he wins I don't know what the f**k I will do but I can tell you, you won't go. Fight for the veto and win it. He is the target. Steve asks if Johnny and I are on the block at eviction what happens. Vanessa says I already have Liztin's word they will vote out Johnny Mac. Austin understands that his best chance at winning is you, me and him in final 3 .. and not with Liz. She has her sister in jury, she's won more and she has friends in jury. Austin will give you his word he will throw the veto next week. Steve asks you're afraid Johnny is going to be Victoria? Vanessa says right… he is effectively with all these strong players left in the game. Steve says hes won things just not HOH. Vanessa says he's never won anything to make any decisions. Steve says they (liztin) schmoozed you well. Vanessa says no, I decided that myself. You must think I am highly manipulatable if you think that which I'm not. Steve says I don't see what you're saying he's loved in jury and you're not. Vanessa says there is that but I can't beat him in the first part of the 3 part HOH. Steve says if you make this move .. then we HAVE to win veto next week. Its puttting a lot of pressure on me next week. Vanessa says but we have Austin throwing the veto. And you can never bring that up to Liz, she can't know that. Steve says yeah I need her vote this week. Vanessa says I got their word on both their families. Steve asks why was she so pissed when I asked for that? Vanessa says because they offered it to me, I didn't ask. Steve says you don't trust my word so you want to incentivize me to take you to finals. Vanessa says I do trust you just not when you're incentives line up with with the other way. Steve asks why does Austin want a final 3 with you, me and him? Vanessa says because he can't beat Liz and his options are limited at this point. Steve asks what if Liz wins HOH next week. Then we have to beat Austin in the veto next week. Vanessa says he still isn't going to try. Steve asks even if Liz is still HOH? Vanessa says oh right because he is going to think we have to take her. Steve says Austin is going to fight his a$$ of if Liz is HOH. If we don't win veto.. In that scenario we're f**ked! Would you rather have Liz or Johnny Mac in final 3. Vanessa says Liz will throw the veto, especially after I talk to her. Steve says she won't they're already talking about marriage .. she won't throw it. Liz wants to go to finals with Austin. Steve tells Vanessa I am not with Johnny as much as I am with you. I am not picking Johnny over you. Vanessa says I would love to believe you but I am going with the less risky option. Steve says I just don't like that we're losing the numbers advantage. Vanessa says I don't believe we have an alliance with Johnny mac.