POV Holder:
?
POV Competition
Sept 12th
POV Used
?
POV Ceremony
Sept 14th
HOH
Vanessa
Next HOH
?
Original Nominations:
? and ?
After POV Nominations:
? and ?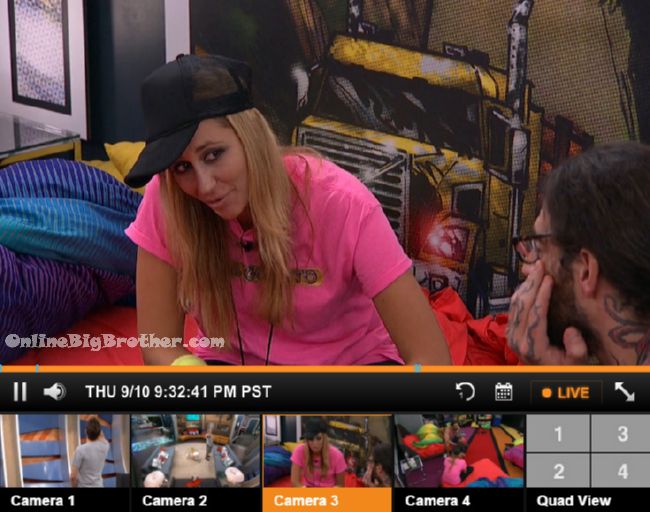 9:15pm Vanessa and Austin
Vanessa says incentives 45.5 times in an attempt to "Speak her language" Austin starts throwing incentive around
Adds that Austin has incentives to throw the final HOH because Vanessa and Liz will both take him.
Vanessa – I do feel Steve is being a rat and I don't have any loyalties with Johnny Mac
Vanessa – you gotta look at incentives and that looks good for you
Vanessa – if I keep you off the block you will have to vote the way I want you to.. It's terrible to have Johnnymac in the game
Austin – if you want Johnnymac gone it's going to happen. i have no loyalty to either of them I don't care
Austin – If Steve won Veto in the final 4 he would take out Liz.. that's his incentive he took out her twin
Vanessa says Steve and Johnnymac have incentives to take each other
Austin says him and Liz will agree to throw the first part of the HOH to canessa, they will compete in the second part and he'll throw the last part to Vanessa.
Austin says he cannot win the final HOH.
Vanessa – If incentives are equal I'll go with people I like.. I love the girls I do.. I treasure their friendship I really do.
Austin – just because we're a physical couple doesn't me Steve and Johnnymac aren't a mental couple
Vanessa – you're a genius I wouldn't describe you as the physical couple
Vanessa says she can't win the game if she brought a couple to final 3, people will think she's stupid, "I would think i'm stupid.. Vanessa you're a dumb ass"
Vanessa – i know how you felt in the bowling thing.. I get it.. I was going to be the replacement nomination.. the POV is always used final 5.
Austin says there's incentives for him not to compete in the final 3 Johnnymac and Steve have incentives to compete.
Vanessa – you will win the second round and I'll win the first round.. I'll take you
Vanessa – OK, i'll have to put some people on the block and test loyalties
Vanessa wants him to throw the veto this week and if he doesn't "I will win that final 4 veto out of spite and take you out"
Vanessa says she will put up one from each pair. Liz and Johnnymac.
Austin – you want me to throw the veto to test my loyalty..
Vanessa – we have to hide it
Austin now suggesting he wins the Veto and not use it. This way it reduces the chances of Jmac winning it.
Austin – that can be a test to you not using the veto in that situation
Vanessa – what if Johnny Mac wins.. we would have to send Steve home.
Vanessa Says if jmac goes to final 4 with them he'll take out Liz and take the two of them.
Vanessa says she'll tell Steve and Jmac that liz is the target
Vanessa say if Austin doesn't honour the deal it's the biggest scumbag.
Vanessa- i'm probably cursed in finals but at least I get 50k
Austin – I'm taking the casino route
Vanessa says the only way to win is to take johnny mac
Vanessa points out her and austin have been doing everything in this game and nobody knows about it.
Austin – I don't know if you want to risk both off the block.. because if one of them wins veto well there you go
Vanessa says incentive wise she should have let Johnnymac win the HOH. He would put Austin and Liz up.
Austin – put them up let's take them out.. f*** it
Austin – you're not in a bad spot.. if one of them goes everyone is incentivized to take you to final 3.
Vanessa is worried America won't understand it they'll think she's stupid for not splitting up a showmance.
Vanessa – I'm, wondering what's best for me if Johnny Mac wins the veto.. the only way I have control of that if I put Steve next to him
Austin – i'm only one vote.. not matter what I'm not against you
[envira-gallery id="133084″]

Liz comes in. Vanessa says she's trying really hard to make them work, "I don't want to go against you guys I don't… I blindly went for the HOH"
Vanessa – I'm thinking about staying true to scamper.. doing what Steve should have done last week
Vanessa says she hasn't had many alliances all she had was her "People"
Vanessa says the deal for them to stay off the block will be.
1) If you win final 4 POV take Vanessa
3) final 3 throw the first part to her
Austin and Liz agree to the deal
Vanessa says Steve is usually really scampy before a HOH but he was calm. She got paranoid during the HOH kinda like Austin did last week in the POV.
Vanessa says she wants johnnymac to go this week.
Vanessa – I can guarantee you guys anything I really want this to work
They contemplate telling Jmac they've been in an alliance since the beginning.
Vanessa says she's not stupid if she makes this move she'll put Steve and Johnnymac up
Vanessa – I have a 33% chance if I go with them I have a 50% chance to win if I go with you
Vanessa- Steve will never take me he's not stupid.. Jmac will take Steve.
Vanessa- points out Jmac's parents doign the rockstar thing
Austin – Steve and Jmac are rockstars
Vanessa starts giving them boundaries around the house, "Don't scamper, Talk loud" if they don't she will get paranoid.
Vanessa – I'm letting you both stay in the game and fight for it.
Vanessa called into the diary room.. she tells them they have to look pissed.
Austin – hospice style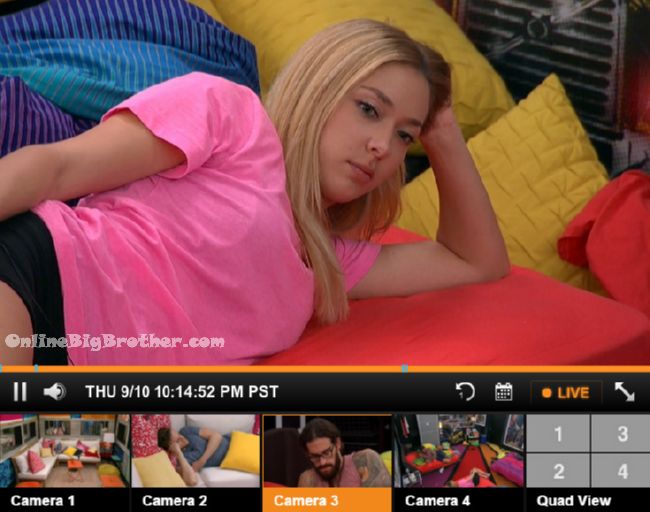 10:15pm Austin and Liz
Austin cannot believe that jmac told Vanessa Austin was goign to put Steve and her up.
Austin – I think we'll be OK..
They're worried about what Jmac will say "He's such a rat"
Austin – he's already lied to me
Liz – I want him to be taken out so bad
Austin – lets just work on not getting taken out ourselves.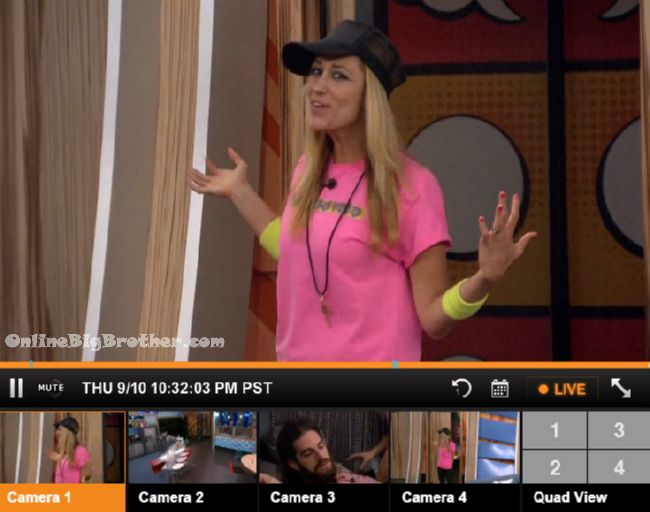 10:32pm
Vanessa – Who wants to see my HOH room
Vanessa – "everything is getting moved up we have to be ready by 9:45 tomorrow morning"
(Confirmed Feeds are off tomorrow from 9:30am to 11:30pm) must be for Nominations and POV.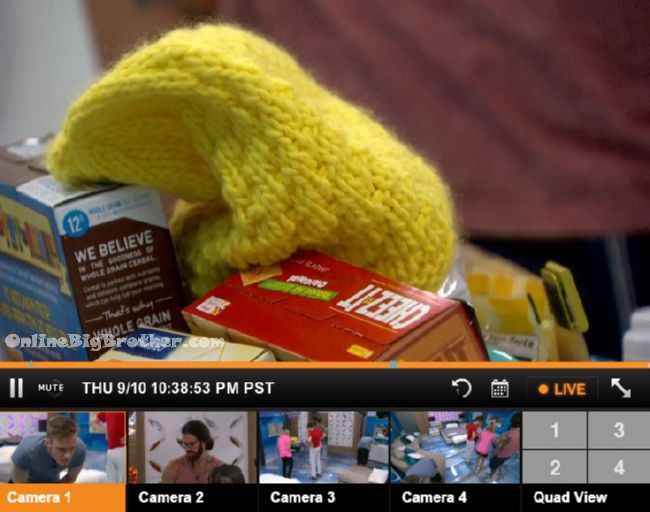 10:40pm Vanessa HOH room includes a yellow beanie and a letter from a friend Trish.
[envira-gallery id="133094″]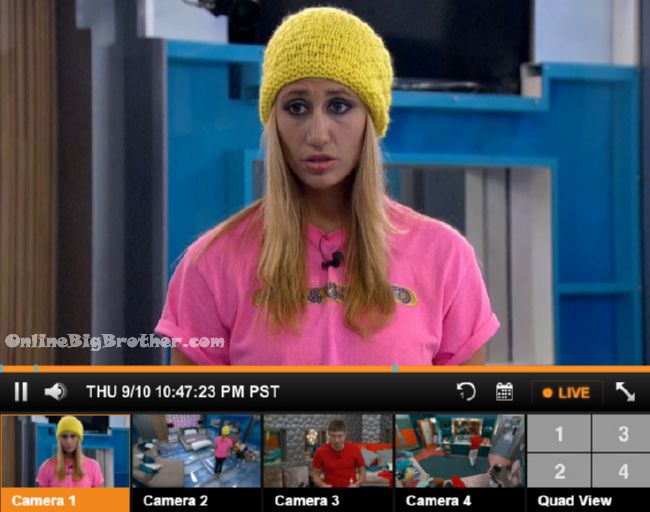 10:47pm HOH Vanessa and Austin
Vanessa – did you make Steve the deal.. if you went final 3 you would throw it to him
Austin – there's been no talk at all
Vanessa – Integrity is a big thing I've always had your back..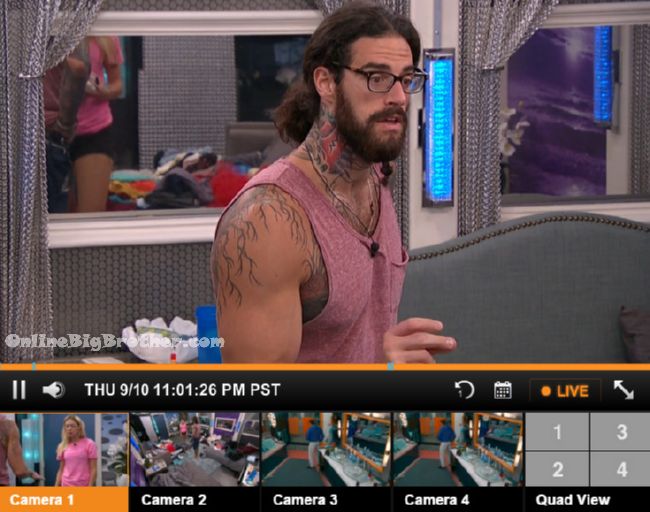 11:02pm Austin tells Liz every little thing is goign to make Vanessa paranoid. She shouldn't be nice to Steve.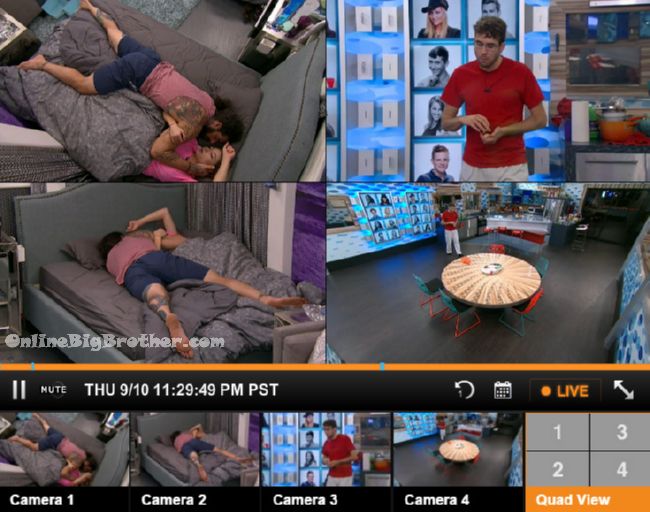 11:31pm Steve scampering.. Austin and liz cuddling
11:56pm Steve continues to mutter to himself while pacing around, sounds like he's practicing what he'll say to Vanessa. Liz and Austin sleeping..
If you've enjoyed the spoilers please consider a donation using the drop down box below. Simon and I work 24/7 all season long to keep you updated on everything that happens inside the Big Brother house.
[polldaddy poll=9063299]