POV Holder:
James
Next POV
Aug 1st
POV Used
No
POV Ceremony
Aug 3rd
HOH
James
Next HOH
Aug 6th
Original Nominations:
Shelli and Clay
After POV Nominations:
Shelli and Clay
Have Nots
Austin, Liz, Julia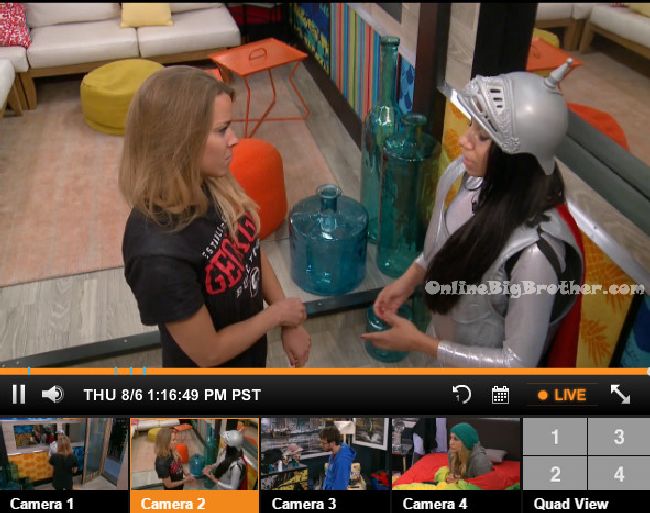 Confirmed Endurance competition tonight. Watch it on the live feeds first week free $5.99 a month
TRY the Big Brother 17 Live Feeds FREE for 1 WEEK:
Click here to ensure your live feed subscription supports OnlineBigBrother.com at no extra cost to you.
1:15pm In the cabana room – Jackie tell Shelli that she wants her to know that she will always be there for her as a friend. I know a lot of things have happened last week, this week but I am always here for you. Shelli says thank you, I really needed that. Jackie says I know I have been distant but I wanted you two to enjoy your time together. And I don't want you to think that I thought you had leprosy. Its been hard to watch. It makes me sick. Its not even fun any more. I know this is just a game, it doesn't need to be all stupid. I never said anything about you. I have your back in this situation.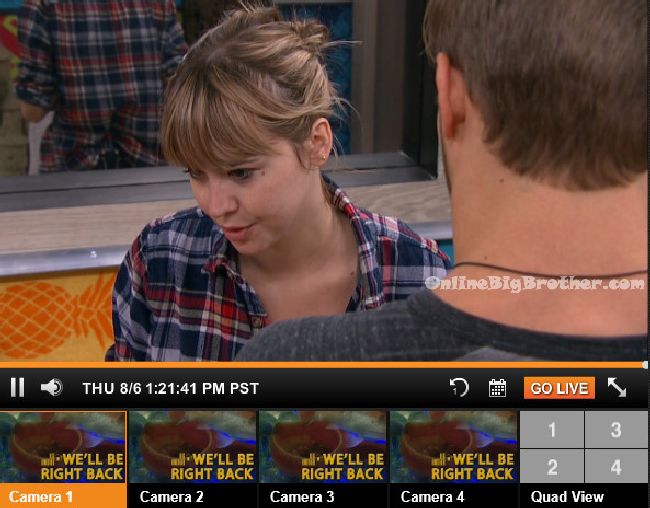 1:20pm Clay talks to Meg in next. He says that he is just waiting to see what happens. Meg says I know you asked for people to keep her to stay. I want you to do what you want to do but I don't want to vote against you. Clay says I want you to vote me out. Meg says I don't want you to go out with any votes. Clay says I'll have votes. She really wants this and doesn't deserve to leave yet. I know you want her gone. Meg says I don't. Clay says I know James and Jackie want her gone. Meg says out of the two of you I connected with you more. Clay sasy htis means a lot to her to stay. I had my shot, I'll be okay. Meg says it goes against everything I believe it. It seems like you're giving up. Clay says this isn't me giving up. We're both on the block. I have respect for her and I believe in her. Clay says if you want to be loyal to me you will vote for her.

1:15pm In the bedroom –
Vanessa tells Steve that Clay came in and said you need to act like you're going along with the plan. Steve says to evict him? Vanessa says yes. Steve says so Johnny Mac is going to vote to evict Shelli? Vanessa nods. Steve says I think they're trying to hide how close Johnny Mac and clay are. His campaigning for himself to go home just doesn't make sense. I think they're hiding a relationship which is why freaks and geeks need to do what we're doing. Vanessa says you've voting out Clay tonight right? Steve says yes! Vanessa asks why are we not allowed to wear long sleeve shirts (for the HOH comp)? Steve says because its not athletic. Vanessa asks why shorts, why not athletic pants? Steve says he doesn't know.
In the bathroom – Clay tells Shelli that Meg is trying to jump ship because she knows she (Shelli) is staying. Shelli says they're all going to kiss my ass now. Steve tells Shelli that he is going to tell Johnny Mac he is getting rid of Clay because he lied to me.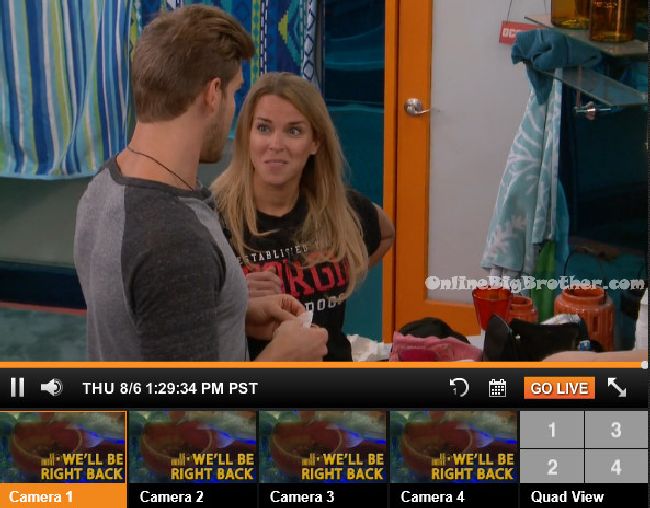 1:30pm Austin and Meg talk in the cabana room. Austin says that Clay came to him last night and gave an hour long emotional speech about wanting to be voted out. Meg says I saw this coming. Austin says he asked for a favour to vote him out. As a fan of the show I don't want someone to be here who doesn't want to be here. Meg says I heard through the grapevine that Johnny Mac and Steve aren't voting that way. Austin says I don't want to do this to James but I'm caught in the middle. Next week is still the same and want to go along with the plan (to get out Shelli next week). Austin says he was begging me to not put me in that jury alone without her. I just didn't want you to be worried about us. Meg says I'm not. Even if James freaks out I don't want you to think that I am too.

1:40pm Vanessa tells Jackie that she thinks its really important to vote the way they want. It comes off really bad if you try to force or bully people into voting a certain way. Jackie says you're fine to do whatever you want.
1:40pm Meg talks to Shelli in the cabana room. Meg says that she's tried to stay out of the vote situation. I talked to him today. Its so hard to vote him out but if that's what he wants. Shelli says I won't have hard feelings for you how ever you want to vote. Shelli says I find it comical that everyone is scampering around. Meg says voting between you guys is so freaking hard. I just want to make sure he has votes. Shelli says then vote for him. Meg says I want to vote for you but its against Clay.. I probably will though. Shelli says now that ya'll know I'm going to stay now you're all scampering. Just vote however you want to vote. You can play the game but to walk around and bully people …not you but .. I've been really surprised. Its really eye opening. I get its an eye for an eye I get that just not to this extent.
1:45pm Liz tells Vanessa and Julia that everyone knows that Shelli is going to stay so now they're trying to do damage control. Like Meg is talking to Shelli.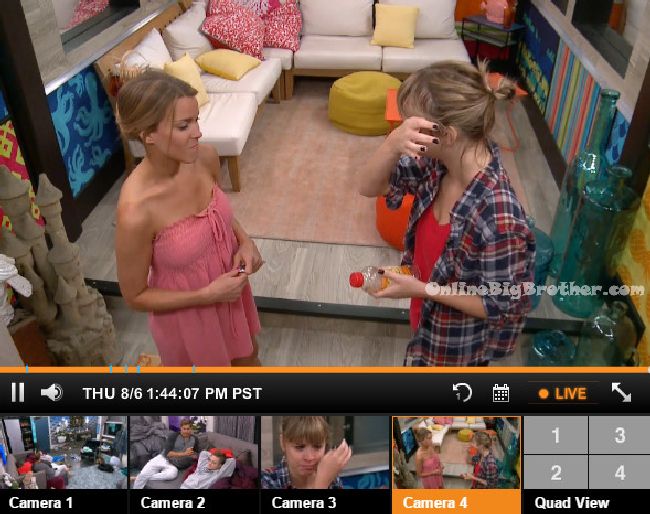 1:45pm Johnny tells Clay that he will vote him out but that it isn't best for his game. Johnny tells Clay that if this is a double eviction I am sending Vanessa right after. Clay says Shelli would be okay with that.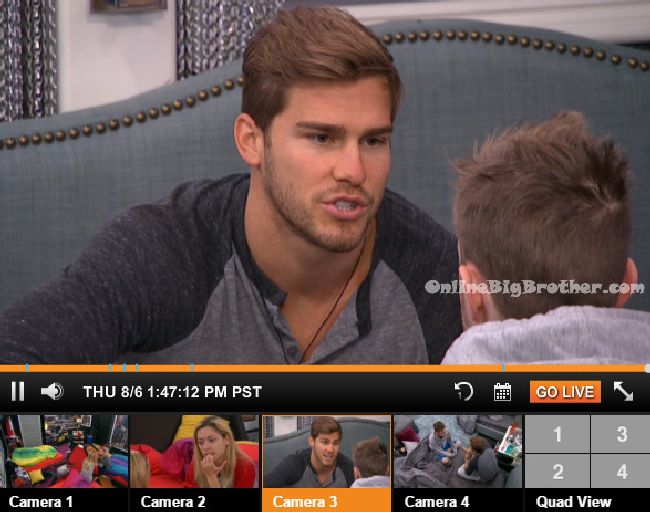 1:55pm – 2pm Austin, Meg and Jackie are talking about Shelli staying now. Austin says for me to keep her here after what she said is hard for me. But Clay made me promise him I would vote him out. Everything is still the same for us. Next week for double eviction the plan is still the same to put up Shelli and Johnny Mac. Austin tells Meg and Jackie they have nothing to worry about from him. He will not put them up. Austin says this is about a guy wanting to leave the game and I have to grant it to him. Meg says the only thing I am worried about is if SHelli wins .. she is going to put us up. James joins them. He says there is a lot of weird talk going on right now. I just want to make sure I'm not getting blindsided. Austin says you're not getting blindsided. Austin tells James about how Clay pleaded with him to vote him out. Its hard to vote to keep Shelli after what she said about me. I'm going to try really hard to win this HOH and put up Shelli and Johnny Mac to just end this. James says the house can do what it wants but my whole HOH was to protect the house. He does not have to stay here .. he can walk right out the front door. (Self-evict) No one is keeping him here.
James says I'm not going to be pissed at you guys but I am just pissed that I could have taken the 5K. Jackie says too many people are changing their minds. If any of us go home because of this I am going to be really pissed. Meg says that Clay and SHelli are saying that people are being bullied into their votes. It's just making James look really bad. Austin says I have no problem going up to Shelli telling her I'm coming after her. Jackie says I just don't want to be portrayed as an a$$hole or a bully.
Watch the NEXT WEEK of the Live Feeds for FREE! Click here for your: FREE Trial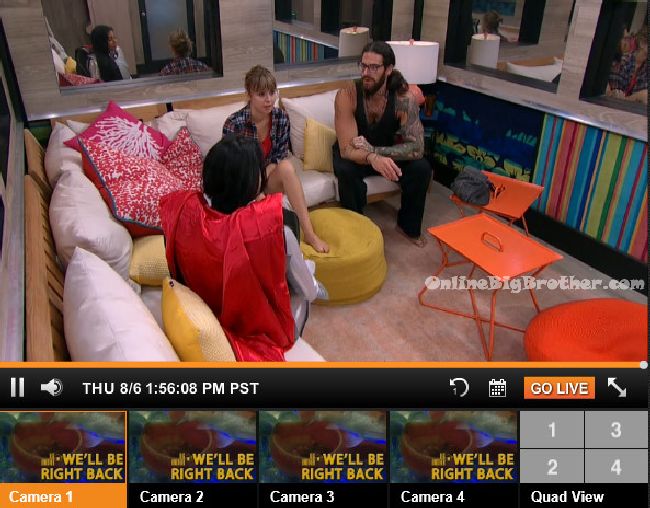 2:15pm Havenot room – Liz and Julia talk to Shelli about Clay pleading with them to vote him out. Shelli asks why is James so terrified. Clay has just as much a chance of winning as I do. Liz says we were on board with this before he came to us.
Bedroom – Meg tells Johnny I don't want to look like the one a$$hole that doesn't go along with what everyone else is doing. Johnny asks house meeting!? Meg laughs. I never thought someone would ask me to vote them out.
2:25pm James comes up to Clay in the bedroom and confronts him. Clay tells James he'll be walking out that door too. GET THE F**K OUT OF MY FACE! James says you and Shelli thought that I told Austin some sh*t! When she's the one that told him herself. Clay asks oh really!!? Walk the f**K away from me dude!! James asks what are you going to hit me or something!?!?! Meg says calm down. Clay rushes up and gets in James's face. Clay says I will!! Don't come at me like that! I'm telling you right now!! Don't come at me like that again. Big Brother blocks the feeds.
James "Are you going to HIT ME OR SOMETHING??!!" CLAY "I WILL! DON'T COME AT ME LIKE THAT!" @bigbspoilers #bb17 pic.twitter.com/ZqjoI2k95K

— Dawg (@DawgsBigBrother) August 6, 2015
Watch it all using FLASHBACK: Big Brother 17 live feed FREE Trial
2:30pm The feeds return to James saying I'm sorry. Vanessa asks Johnny you didn't tell me that james told you that? Johnny says no. Vanessa asks then why did you tell me it came from James? Vanessa tells Clay that she can see through this. Its not cool for him to do this. Clay says Vanessa, Vanessa I am telling you right now. Johnny says I said it. Vanessa asks so you said that I am gunning for you. Johnny says I do. Vanessa says its not possible for you to come up with that in your head. I don't believe it for a second. Johnny says I did! Vanessa says that lie came from you Clay.. to backup the fact that the information didn't come from you. Vanessa says I am not controlling Shelli. SHe is a grown a$$ woman. I am alone in this house. Vanessa asks where did you come up with it that it cames from James?? Clay says I'm not getting into this. Maybe I came up with it in my head. I'm not lying. Vanessa says it seems like you're lying, you're lying!! Clay says okay well then I'm lying! I told you the truth I'm not going to tell you over and over again. Shelli asks what just happened. Vanessa says that Clay came to her in the bathroom and said that Johnny Mac told Clay that Johnny Mac to James.. that I'm in your (Shelli) ear and we're both gunning for Johnny and therefore he needs to vote you out. Shelli asks that you and me are gunning for John?!!? Vanessa says correct!! Shelli says then they made that up because Clay would not say that. Vanessa says that Clay must have made that up. Johnny says I just put it together in my head. I'm just freaking out. Vanessa says it sounds like JOhnny is just backing up Clay to not make him look bad! James says I didn't say none of that bullsh*t!! Vanessa says I believe that. Vanessa asks Johnny why he would think I'm coming after you.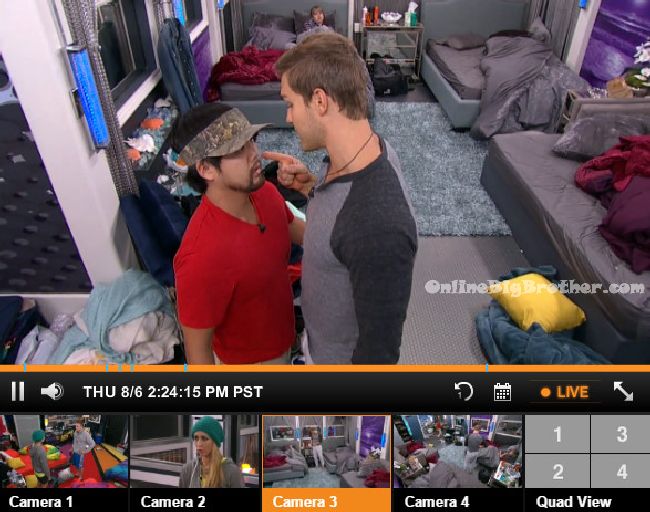 Johnny says I made it up in my head. Clay says I made it up. Vanessa tells Clay its so confusing to me why you would say that? Why would you lie?! If you wanted to stay why wouldn't you just tell me? Clay asks you think I would say that to try and stay!?! Vanessa asks Johnny over and over again did you say that yes or no!?!?!!?!?! Johnny doesn't say anything. Vanessa says it doesn't make any sense why you would say that! I respect you for trying to cover for someone .. I just need ot know where the source of this came from! I don't want you to get in this crossfire. For your own game tell me it didn't come from you. Clay says it came from me! I already told you. Vanessa says but the last words out of Johnny's mouth were that it was him. Vanessa leaves.
Clay tells Shelli that Johnny couldn't say that James said that. I don't know why he couldn't say it. He doesn't have the social game to defend himself. That's why I said that I said it.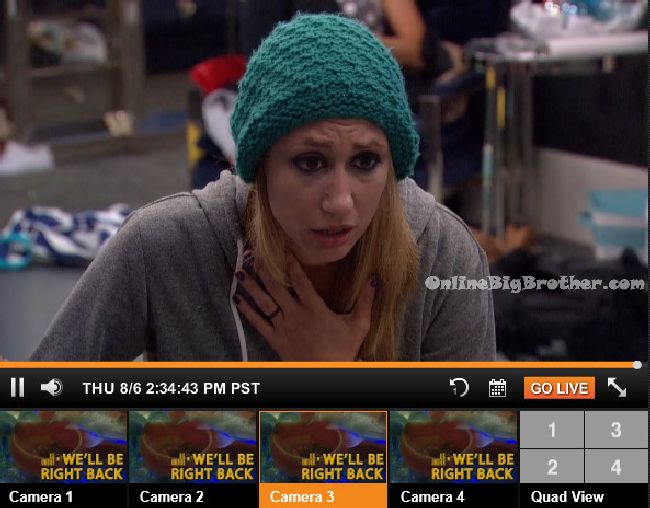 2:55pm Clay tells Johnny I will keep telling people that I made that up. Johnny says you have to be careful with information. Johnny tells SHelli she (Vanessa) has her claws in you. She's protected by everyone. Johnny says she (Vanessa) comes out of things looking clean. She is going to take out us to save herself every time.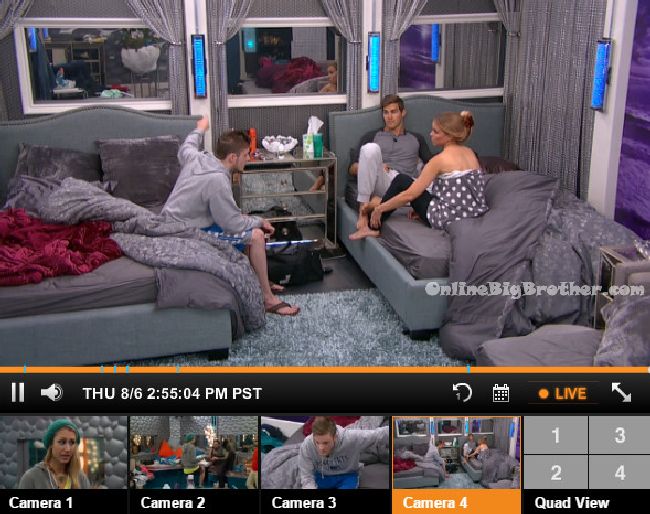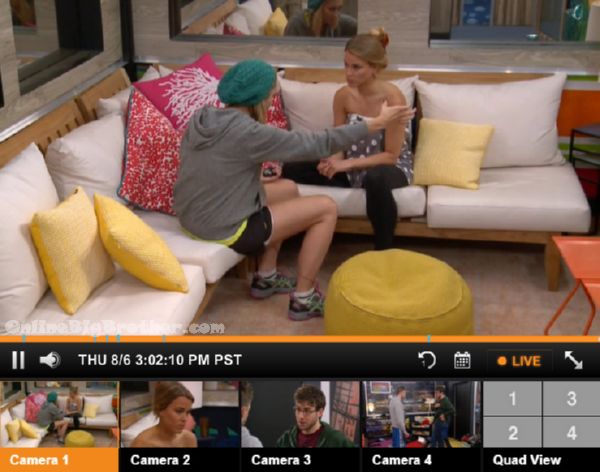 3:01pm Vanessa and Sheli hammock room
(I'm finding it difficult to understand this blow up)
Vanessa says that Clay and Jmac are related or lovers because that is the only thing that would make sense for Jmac to stand in a room poof people and lie for Clay.
Vanessa – why was clay setting it up that we were gunning for johnnymac
Shelli thinks there's a lot of scrambling going on
Shelli – I'm being moppy because Clay is leaving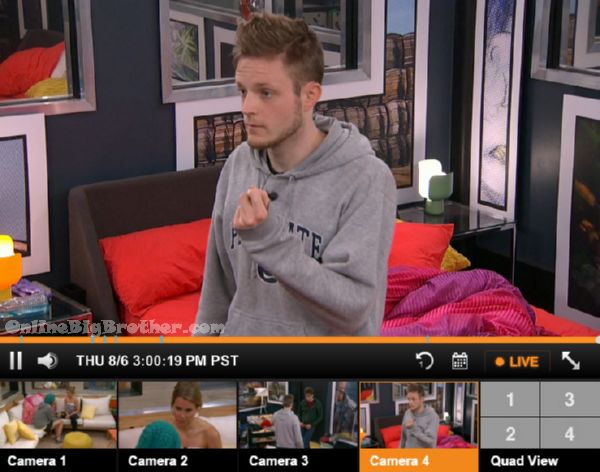 3:01pm Bedroom Jmac and Steve
Jmac – I want Vanessa out
Steve – why did she lie to you
Jmac – she's getting all these people out and no blood on her hands
Steve – She's won HOH twice she got Jeff out
Jmac says he's getting a feeling that Vanessa is telling people to get him out, "She's coming after me next.. I am coming after her I want Vanessa"
Steve – All that came from this is you and Vanessa rea mad at each other
Jmac – Clay is out they're taking the heat because he wants to go home.. Vanessa is still gunning for me
Jmac says he was thinking of voting out Shelli at first because she was so close to Vanessa.
Steve – I feel like I have no idea what happened
Jmac – if it's an elimination HOH throw it to me I'll do it
Steve – and you want to get out Vanessa
Jmac – ya
Steve – OK
Jmac – she's good
Steve – she does talk to a lot of people
Steve – you still voting out Clay
Jmac – ya
Jmac thinks Vanessa has been lying to them but he has no way to confirm it.
Steve – I told you to wait a couple weeks than we play.. this is the 6th evictions.. we're just adding to Jury.
Steve – welcome to big brother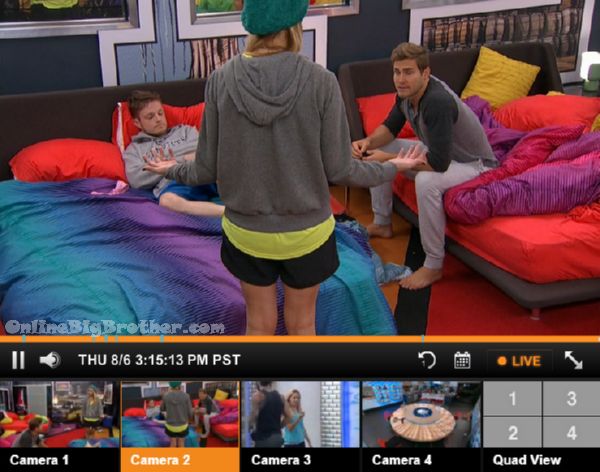 3:13pm bedroom Jmac and Clay
Clay – you alright
jmac – we'll find out I might be the first in Jury
Clay tells him when he leaves push it all on him. Points out that Shelli likes Jmac she can convince Vanessa to not target him in the case Vanessa wins the HOH.
VAnessa comes in
Clay – I made it up I made the whole thing up
Vanessa – why are you doing this you are ruining my game right now.. you said I was targeting him
Clay says there was a big misunderstanding
Vanessa says her and johnny mac are on very good terms
Clay wants them to work together to get that other side of the house out.
Clay – I wanted to make sure y'all come together
Vanessa tells jmac she's still loyal to their final 9 deal "If anything I told you he's someone I was considering making longer term moves with"
Vanessa – what about the part of me being i2
Feeds are now on Jeff they probably won't come back until after the live show. They will be showing the endurance contest so grad you feeds now
Confirmed Endurance competition tonight. Watch it on the live feeds first week free $5.99 a month
[polldaddy poll=9004995]