| | | | |
| --- | --- | --- | --- |
| POV: | ? | Next POV: | Aug 25th |
| POV Used | ? | POV Ceremony | Aug 27th |
| HOH: | ANGELA | Next HOH: | Aug 30th |
| Noms: | Fes & Haleigh | Have Not | ? |
Power of Veto players picked: Haleigh, Fes, Angela, JC, Kaycee. Tyler Host
Big Brother Spoilers Fes is the target. Haleigh picked Sam for Veto under instructions from FEs.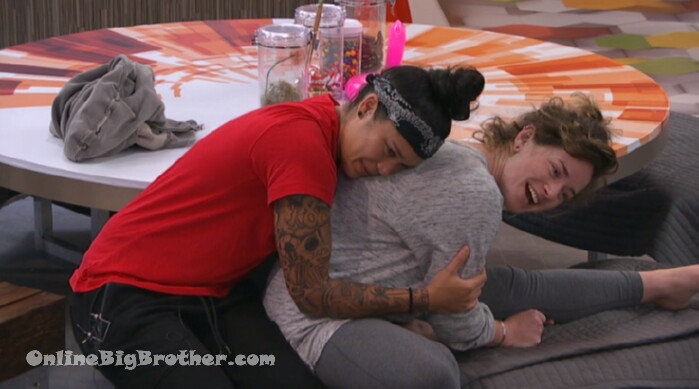 8:43am Early wake up today… Sam is up first.
Sam talking to herself.. "No scary dreams.. that's good"
Kaycee now up..
Sam – good morning peanut.. I love you ..
Sam – we might have a host.. I did our floor just in case. WE're ready for company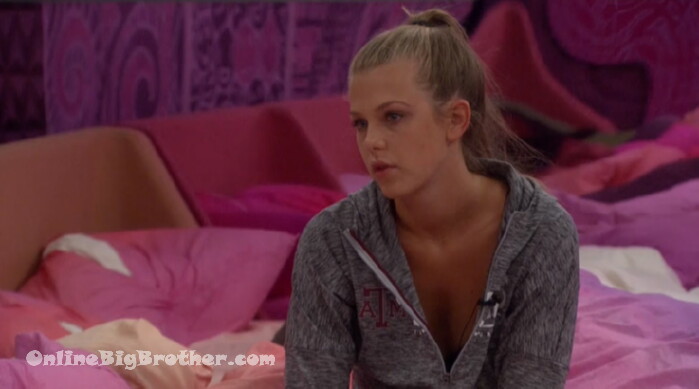 10:05am Fes, Haleigh and Brett
Brett wishes them good luck
Speculation on what type of Veto competition will it be..
FEs says it's fun being on the block this late in teh game. adds it's stressfule though.
Brett – me I'm the only spectator..
10:16am Angela and Kaycee
They talk about Haleigh picking Sam to play in the Veto. They bring up Fes telling Haleigh not to pick Brett
Angela – what a selfish mother f*er … damn
Angela doesn't think JC is going to try
KAycee – I don't think Sam is going to try either
Angela says SAm might try because she knows she's the replacement nomination.
Angels says if Haleigh or Fes win HOH next week they'll put her up. Angela doesn't really care which one goes.
They suspect Fes thinks he's got Sam and JC.
Angela – but he doesn't have you and me ..
JC comes in,…. "she's so stupid"
JC – one of my pet peeves is someone stupid.. he is such a bully..
Angela – that's what we said he's such a bully.. PICK SAM.. why because you have a relationship with Sam
Kaycee points out Fes didn't want to compete with FES so he told her to pick Sam
JC – he walked into the kitchen laughing..
Angela – just like I have this in the bag.. he's so arrogant
KAycee – so in considerate
A – he's a bully (alright Angela cool you jets.. _)
K – I can't believe Haleigh picked Sam they hate each other.. he knew he could say something and she would be like Sam
A – Sam doesn't even want to play.. that pisses her off even more
K – Haleigh thought if she picked Brett he would be mad..
A – does she realize the mistake she made..
JC says he's going to fire her up during work outs saying "I can't believe you picked Sam"
A – say that was F* up that he did that..
Kaycee says Fes is super confident right now
JC complains about being on Slop. Angela says she'll make him slop cookies, "Real sugar"
They scoff and Fes walking by on the HOH spy screen. Pointing out how he's walking around so confident.
Angela – I have so much anger towards him.. he's such a bully. bully your girlfriend that's f*ed up
JC leaves..
K – I can't wait when he loses that veto..
A – Karma is a b1tch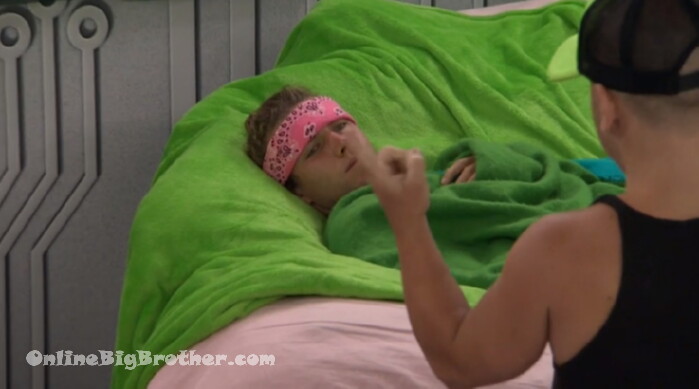 10:16am Tyler and JC
TYler says if Fes wins the veto Sam goes up and they send HAleigh home.
They talk about FEs telling HAleigh to pick Sam as POv player. \
JC – he's being such a brat.. walking into the bathroom laughing .. a big brat/.
T – he thinks he's going to win easily.. you better go hard for it..
JC says people taht are really "f*ing stupid" throw him off
T – who else would she pick
JC – Brett.. he wins it leaves it the same .. (Fes goes home)
T – she's stupid
JC – Stupid as F* ..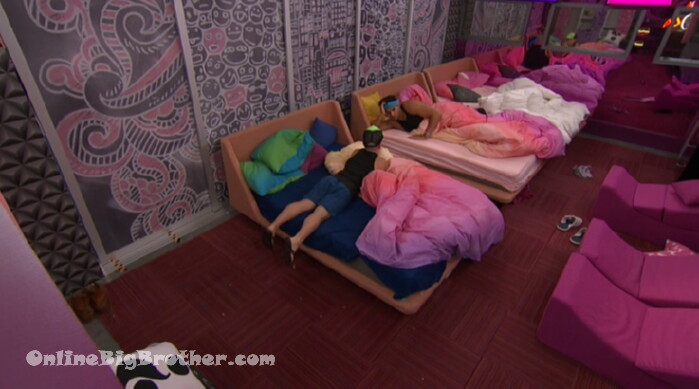 10:42am JC and Fes
FEs – I probably won't win it'll be some stupid a$$ veto..
FEs – what does Angela want to happen.. noms stay the same..
JC thinks all HOH's want the noms to stay the same because it's less blood on their hands.
FES thought the plan was to get Sam out.
JC – haleigh's so stupid..
Fes – what do you mean.. that's good for her game too BRett's not taking you down
JC – if she stays up with you she has more chances to campaign
FEs asks if He wins veto who goes up
JC – probably me
Brett making McGriddles for people..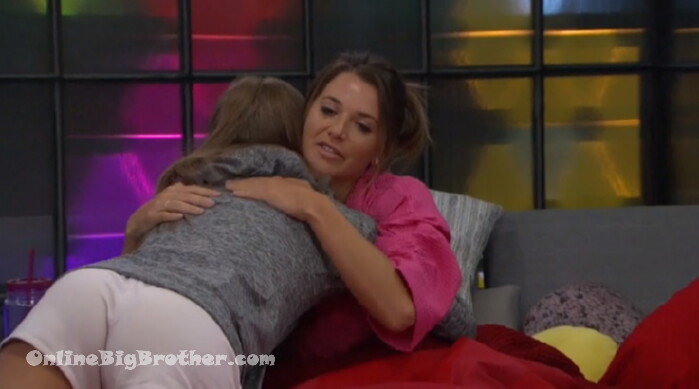 10:58am Angela and Haleigh
H – I wanted to talk to you I don't want things to be weird
Angela – I just felt that this was the move I have to make in order to get myself the furthest and I think Fes can beat me in a competition hands down.. and I'm scared of him as a competitor he was the one I wanted to not be competing with
H – were you every really considering..
A – Sam, Yeah I totally was
H – I'm not upset it's a game I don't want us to be weird at all
Brett has made mcgriddles for everyone delivers one to the HOH
H – best cause scenario is Sam doesn't win and Fes doesn't win..
A – I will leave noms the same
H – I respect that.. HAve you talked to Sam
A – Fes is a very good competitor he can win some F*ing comps.. scares me if he stays
H – Yeah.. yeah .. I can understand that completely
H – You're playing an amazing game.. your move is justified.. I put you on the block so you put me back.. I remember how we were fine I want to go back to that
A – yeah
H – I was in the mindset that I can beat Sam over Brett..
A – everyone sees FEs as a freak athlete
H – because he is
A – I can't beat FES in anything athletic..
H – me neither.. I wish I would have come to you before that and Picked Brett..
A – alright hails love ya
11:11am Angela, Kaycee, BRett and Tyler
A – I just told HAleigh she made a really bad move she was like F* you are right
A – she just realized it
Angela adds that Sam has a better relationship with Fes Haleigh didn't think of that.
A – just told her if you are sitting next too fes on eviction night you're staying
Angela adds that Halegih thought she was the target after Angela's Nominations speech
Kaycee goes on about how Fes isn't going to look good on TV telling Haleigh to pick Sam .
Tyler mentions his conversation with Sam last night where he told there there was no backdoor plan.
T – she thinks Haleigh is coming after her..
Tyler says Sam definitely likes Brett. She told him this morning that her boyfriends back home will be getting jealous because she was chatting with Brett last night for an hour.
Brett – still got it
They laugh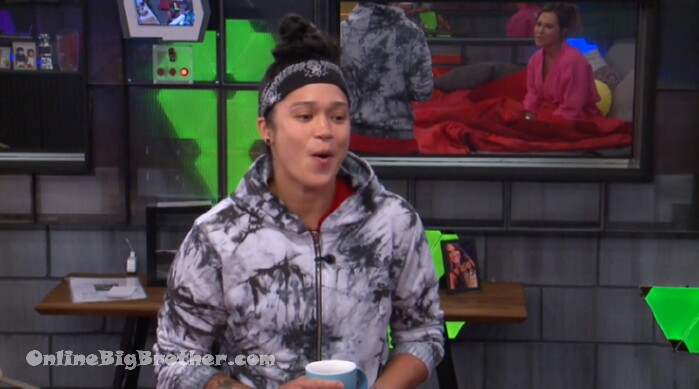 Kaycee – He didn't want to compete against you (Brett). Sam is not really that big of a competitor and he knows she will probably save him. For him to Literally out loud say Pick Sam. That makes him look like a complete a$$hole.. He's selfish
Brett – makes her look like a idiot for listening
Kaycee – laughing like he's got it in teh bag walking around like he's just got it in the bag
T – he thinks it's going to be easy now.. he was like OH OH it's going to be fun
Tyler brings up that Sam ask him if Kaycee thinks Sam and Tyler are in a showmance.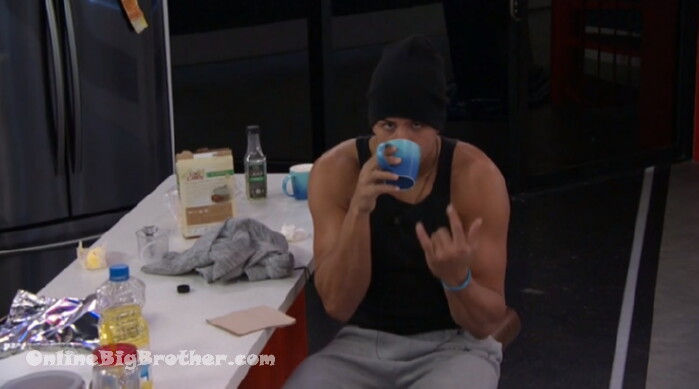 11:38am FEs and Haleigh in the kitchen. Not doing much talking right now.. .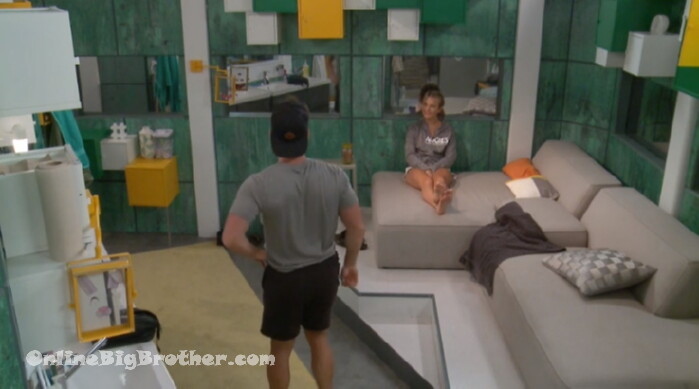 11:41am Haleigh and BRett
Haleigh asks him if Sam wins the veto will she use it on fes
B – 100%
H – I just picked her because I thought I could beat her
B – that's also a valid point..
B – you're going to go out there you are going to kick a$$
Brett – I hoep this is the shaving head comp..
H – that's not funny.. I will shave my f*ing head to get off the block..
B – prove it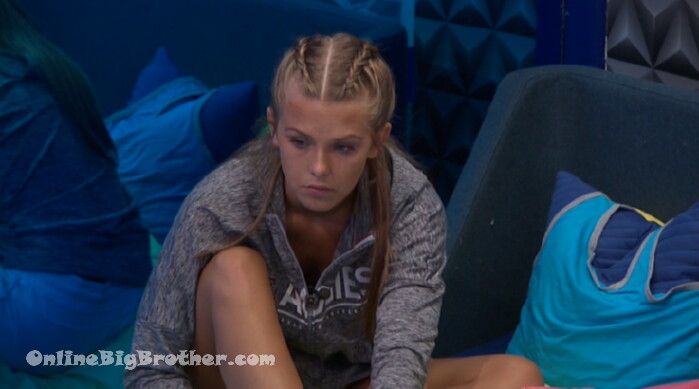 12:24pm Halegih and Kaycee
Haleigh says she feels stupid she wishes she had talked to Angela last night. Haleigh thought she was the target so she picked Sam thinking she can easily beat Sam. Haleigh says she would have picked Tyler. Kaycee wonders that maybe Sam won't use the veto.
Haleigh says she was convinced if she stays on the block she's going home.
Haleigh says she can't f*ing stand Sam but she thinks she can beat her.
Haleigh – everyone coming up to me saying I'm not the target why the f* wouldn't you tell me yesterday
Haleigh points out that Angela's entire speech was at her and saying Fes was guilty by association.
Haleigh called into the Diary room
1:00am just a lot of chit chat and horse play.
JC attacks Brett with "Angela's tities" #BB20 @DawgsBigBrother pic.twitter.com/lXk0GvI6e9

— OnlineBigBrother.com (@bigbspoilers) August 25, 2018
1:02pm Feeds cut to reruns.. it's time for the POV
3:40pm Still blocked..
4:42pm Still nothing..
5:10pm No feeds for you..
6pm Still BB re-runs
6:40pm Still not back yet
7:10pm You thought the feeds would be back .. .NOPE!
8:05pm Nothing yet.. 7 hours its been blocked now..
8:50pm Still Brenchel on the BB re-runs :(
9:27pm The live feeds are still blocked, however After Dark is showing the HOH room with the two house guests not playing in the veto. Brett and Tyler agree and shake on a final two deal. (Whether or not they both will actually take each other remains to be seen.) They agree that no one would suspect it. Tyler thinks everyone would assume they would go after one another. They both agree that JC is a "sneaky motherf**ker". Tyler says that JC is making sure Tyler knows that Angela and Kaycee have a final 2 deal.

9:46pm
Still blocked..
10:26pm
More BB re-runs..
If you enjoy the content please consider a donation.
Rank the houseguests!
Easiest way to Rank the house guests use link below