Head of Household Winner – Holly
Have note are: Cliff, Nicole, and Jess get punishments
America's Prankster – Nick
Nominations are: Christie & Nick
Power of Veto Players are – Christie, Holly, Nick, Jackson, Jessica, Cliff
Power of Veto holder – Jackson
Power of Veto Ceremony – Jackson did not use the power of veto
Grab your live feeds —-> BB21 Live Feeds Subscription Link
Rank your houseguests —-> Big Brother 21 Ranking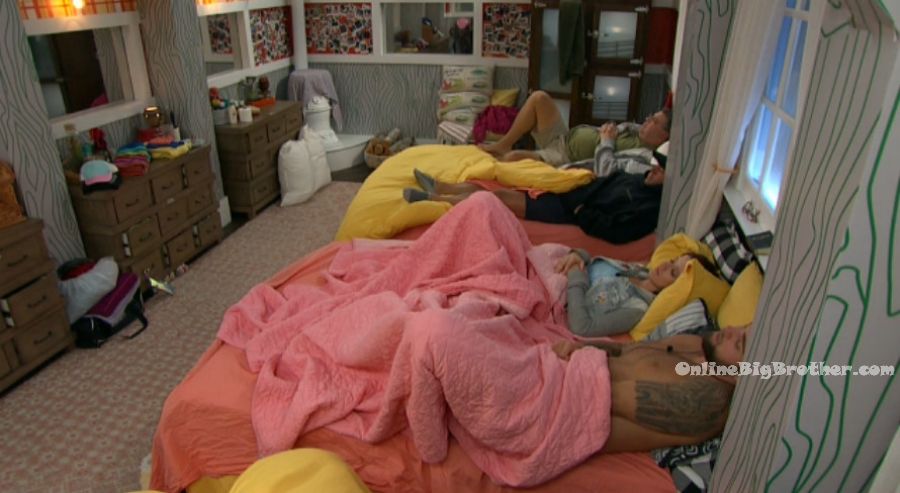 8pm Tommy, Nick, Nicole, Cliff are hanging out chatting about random things like Woodstock, Nick's motorcycle, etc. Tommy goes to get the backgammon board. He and Nick play against each other on the bedroom floor.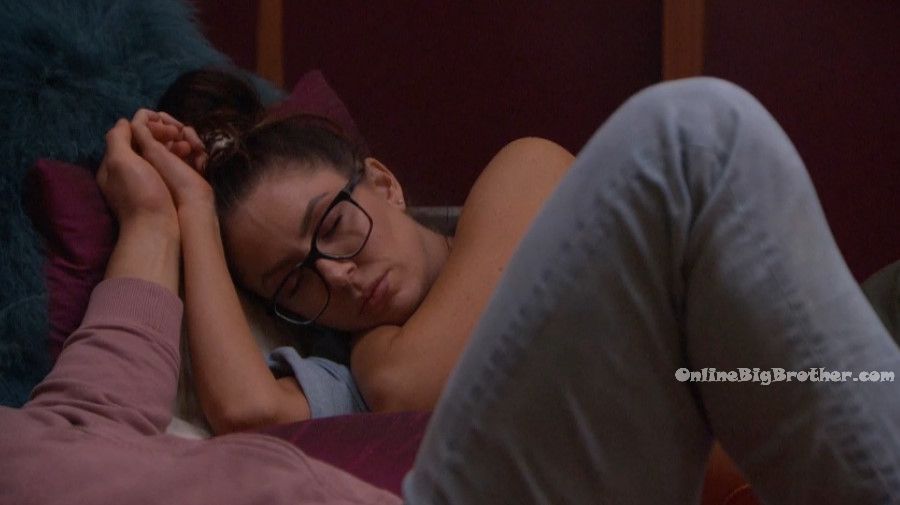 8:30pm – 8:45pm HOH room. Jess and Holly.
Holly – If he (Nick) stays he will win! Jess – he will win. Holly – He frickin scares me dude. He has things I have and things I don't. Listening to his campaign and being like wow, yeah! You don't need to leave .. and then I was like this is why you need to leave. This is why! Jess – do you think that the consensus is that everyone is sending him (Nick) home? Holly – I am guessing 4 – 1 or 5 – 0. Guessing .. but I don't know. It could be 3 – 2 or I could be surprised. Ummm.. I believe Nicole is deciding whether to throw a sympathy vote or not. The only person to worry about is about to walk into this room. He (Tommy) would be the only other person that I would be worried about. Jess – I would be very, very, very surprised if he did that. Holly – I think he wants to .. well I know he wants to. I know he wants to keep Nick but doesn't want to go against the majority. He voted Jack out. Jess – yeah, I couldn't imagine him doing that on your HOH.. out of anybody's HOH. I would not assume he would do that on yours. Holly – I wouldn't either but he was one of the two that spearheaded hijacking my HOH and send Kat home ..which he apologized for. That was an isolated case. I think he is just morally and personally conflicted which is respectable. I don't fault him for it.. at all. I am really not sure what's in his head at the moment. Jess – its win HOH or bust. Know who you're good with and trying to figure out the rest.
9pm – 10pm Bedroom. The house guests are sitting around chatting about past events of the season.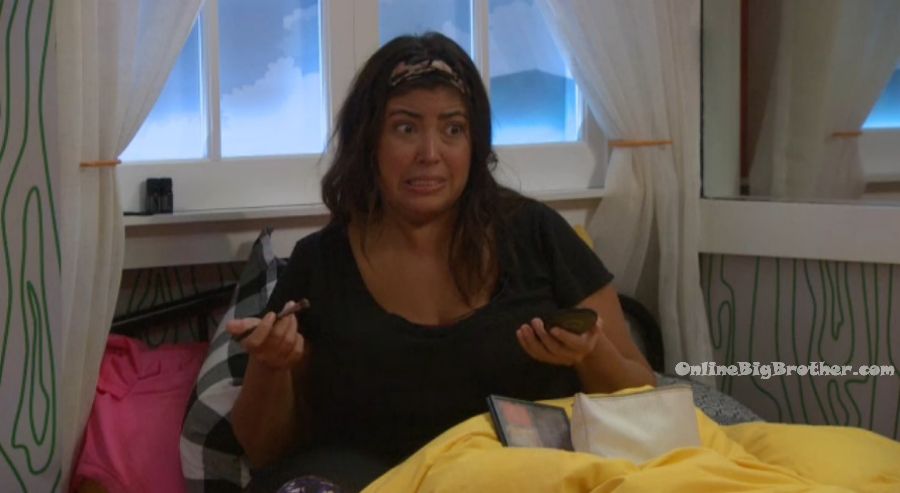 10:20pm Bedroom. Jess, Tommy and Nicole.
Tommy – something is going to happen tomorrow. Me and Nicole think something is going to happen tomorrow. Do you think so or no? Jess – I don't think so. I don't think they would have the camp comeback and a battle back. Tommy – we only have a month left and there are 8 people. Nicole – how are we at day 70 and there are still 8 of us? Tommy – there are three people on finale night. Nicole – so 5 more have to go out in four weeks. Jess – that means if anything next week would be a double eviction .. or tomorrow.. is a double eviction and not someone coming back. I could see a double eviction more so than someone coming back. Tommy – I don't think they would do a double eviction right after prank week. I could see it being the next week. Nicole thinks no one will be evicted and then they'll go out side to play HOH and then have an eviction. Like it was a double but no one goes home in the first eviction.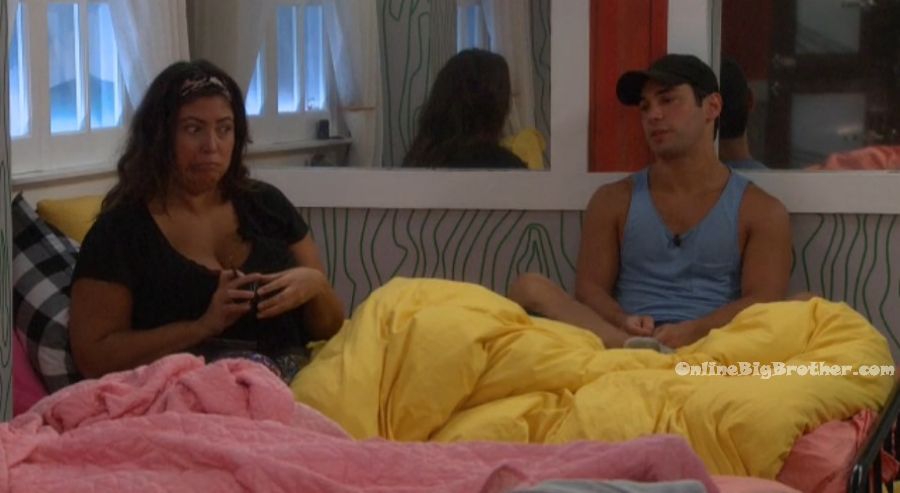 10:30pm – 11pm Kitchen. Jackson, Cliff, Holly, Christie and Nick are eating and chatting.
11pm – 11:22pm Bedroom. Nicole and Cliff.
Nicole – I am assuming that I am assuming correct. (That Nick is going) Cliff – I think you're assuming correct. But I haven't actually talked to Michie or Holly. If I get a chance I will try to tonight. If you want to .. then talk. It sounds like Tommy is ready to send him out. I know Jess is and Michie is. Cliff – I don't know if you want to throw a vote to Nick or go with the house. Nicole – I want us to be a collective. I feel like it looks sketchy. Cliff – if you did it I would suggest you talking to Michie and Holly. Nicole – even way back when with Kemi .. I refused to put my game in jeopardy. Cliff – then don't. Of all people Nick would understand. Nick would not want you to do anything to jeopardize anything about your game. Cliff – if I was ever on the block and I knew I was going home. I would not want you to put yourself in jeopardy.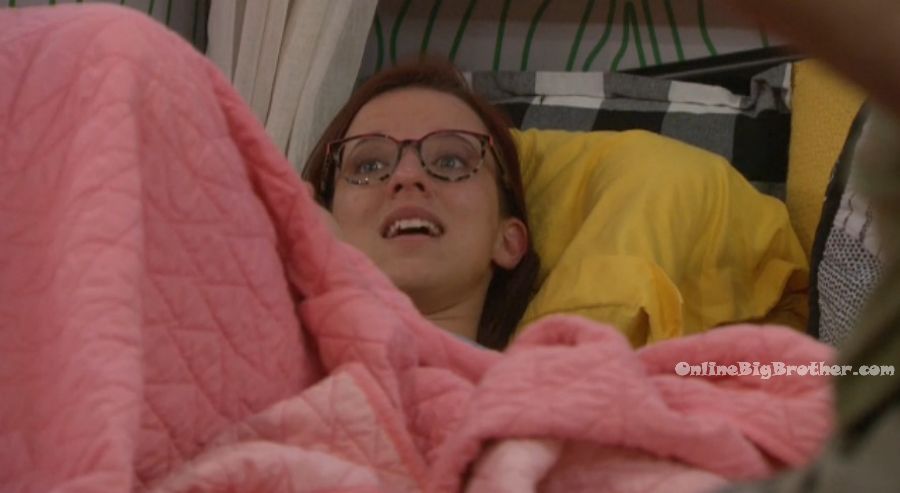 11:44pm Bedroom. Nicole and Nick.
Nicole – Nicole is trying to think ahead and say hypothetically if tomorrow rolls around and everyone is voting you out.. Nick – you can go ahead and vote me out. Nicole – are you sure? Nick – yeah. Is that what it seems like? Nicole – I don't know. Nick – are you lying to me? Nicole – maybe.. Nick – it doesn't seem good? Nicole shakes her head no. Nick – why?! Nicole – Christie spoke to me and Michie promised her his vote. It doesn't matter who she was sitting next to… he already decided. Nicole – so I was going to ask you hypothetically but.. Nick – no do it. I'm not going to be upset with you.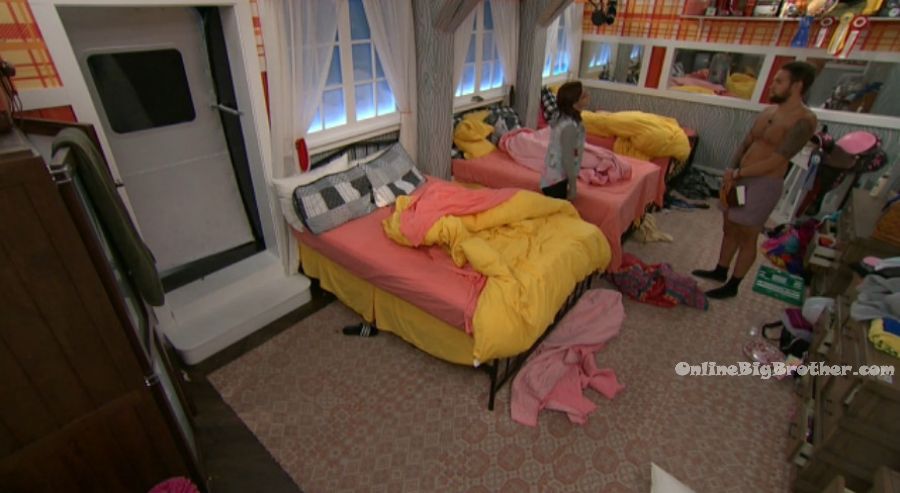 Bedroom. Nick all alone.
Nick – I literally just offered them a body shield for next week and you're going to keep her?! Your biggest enemy in the game. WOW!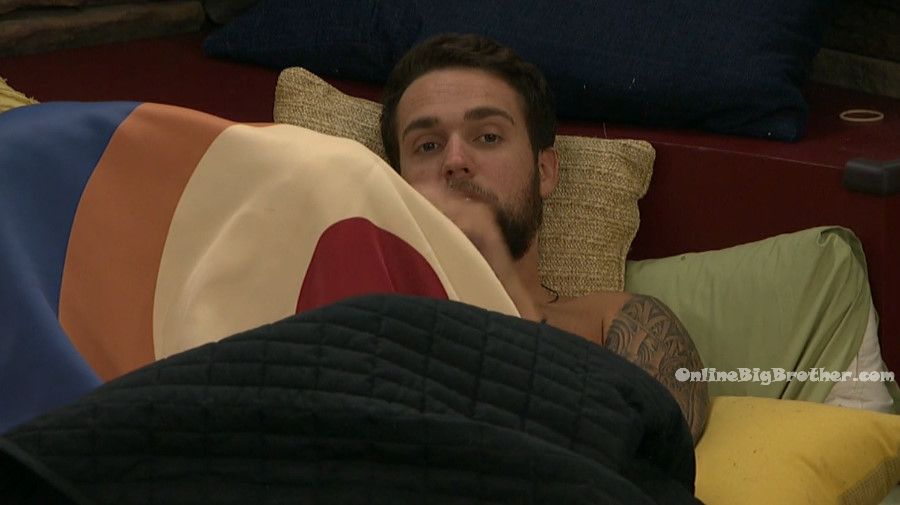 12:06am HOH room. Nicole, Jackson and Holly.
Nicole – with a couple people asking me what a sympathy vote is and why you would want to do it. I know what is best to do for Nicole's game and what I am going to do for Nicole's game but it doesn't take away from the fact that I feel bad. And some times me articulating that makes people think that I am not on the same page. I know the people that I am loyal to and want to be on the same page with but it doesn't mean that I'm still going to feel bad. Holly – don't feel bad or question bringing emotion into it either. Nicole – and I'm going to get into the DR and cast my vote and hear the audience say AWWWW.. and I am going to lose it. Jackson – it has nothing to do with their opinion of you… those (audience reactions) are cued. The only person I would give a sympathy vote to is her (Holly) because I would never vote against her. Nicole – Jess said that a sympathy vote doesn't make sense. But then she gave a sympathy vote to Kat and she says that was different. Jackson and Holly – that makes zero sense. Nicole – she said that Kat never wronged me in the game and she was trustworthy. Holly – vote how you feel. I will never tell you what to do. Nicole – the other day outside Jess told me .. Big Brother switches the feeds. Nicole – obviously Jess doesn't like Nick and so she was advocating strongly against Nick. And she kept saying she is not putting up girls, you're fine. That is great for me but because I love you and Cliff so much its not good for you. She was saying that Christie was going after guys.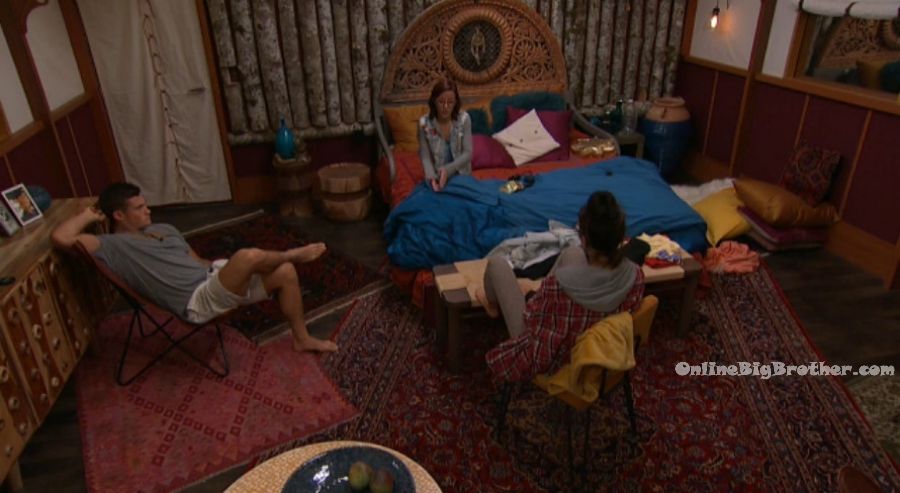 2am All the house guests are sleeping..
If you've enjoyed our live feed updates this season, please consider donating.