Head of Household Winner – Holly
Have note are: Cliff, Nicole, and Jess get punishments
America's Prankster – Nick
Nominations are: Christie & Nick
Power of Veto Players are – Christie, Holly, Nick, Jackson, Jessica, Cliff
Power of Veto holder – Jackson
Power of Veto Ceremony – Jackson did not use the power of veto
Grab your live feeds —-> BB21 Live Feeds Subscription Link
Rank your houseguests —-> Big Brother 21 Ranking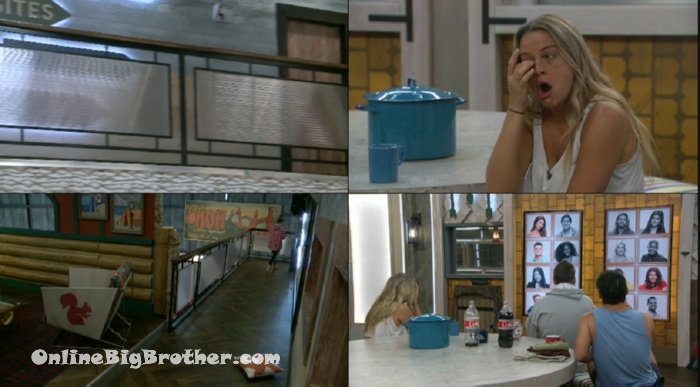 11:00 am Studying memory wall chit chat..
12:30 pm Nick and Tommy
Nick reading the bible Tommy organizing his things.
T – how do you feel
N – Chill .. I feel fine whatever is meant to be is meant to be.
T – AS far as my vote goes I know I told you like, where like.. my head was at in the beginning and you know I'm in a tough place because how the beginning of the week went but. I just want to say to you anything can f*ing happen just still campaign to me
N – OHH I am, I'm campaigning to everyone
T – anything can f*ing happen
N – I'm campaigning to everyone as if I can get their votes. I have points I'm going to hit even with Jessica. Even if she doesn't go with it they are all points that are valid. I'm going to hit you with points that are valid. I'm going to hit Cliff with points that are valid and I'm going to hit Holly and Jackson with points that are valid and Nicole. Whatever happens from there happens.
N – I have valid points really with everyone besides really Jessica. I do have points but not enough to get her to flip. I feel even with you I still have points
N – I still feel like I have points with Cliff, Holy and Jackson
T – I did give my word in the beginning of the week but if I am pressured enough if something is happening I would have to make a decision and I could see my self going in another direction
T – I'm like really against breaking my word but if stuff is happening I might have to
N – I'm down. I will campaign to you as hard as anyone. I'm not in a rush I have 5 people to hit.
Nick says he's confident that he can stay
T – great I f*ing love that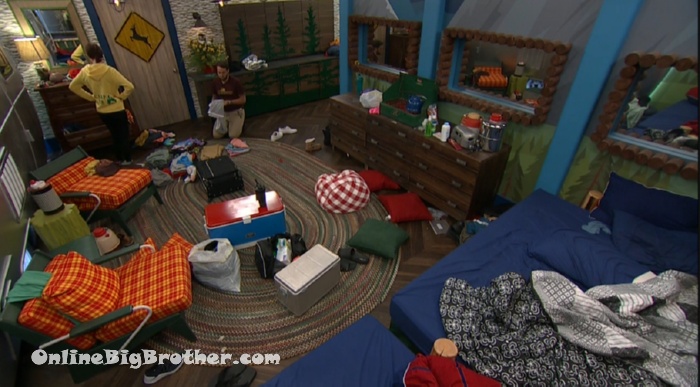 1:02 pm Nicole and Nick
Nick brings up he just talked to Tommy and he said he still wants Nick to campaign to him. "he said there is a lot that still can happen"
Nicole – looks good that's what I like to hear
Nick – after I'm done packing I'm going to practice and talk to you. I'll campaign to you first but it really won't be a campaign
Nicole – ok I got you
Nick – it'll be me going over everything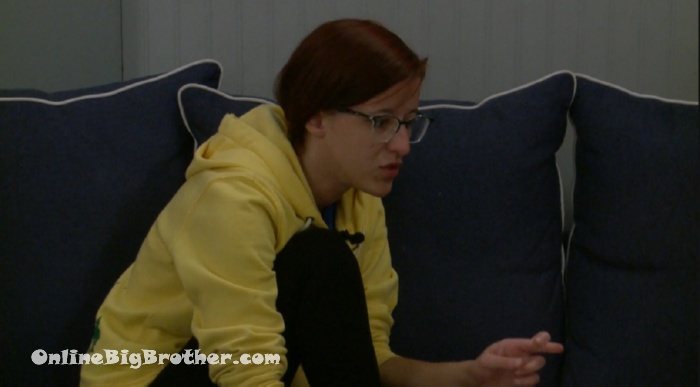 1:08 pm Cliff and Nicole
Cliff saying that Michie and Holly are tough but they can beat them in mental competitions "I'm not sure that's the case with Tommy or nick" (OR Christie!!!!!)
Cliff – if we send Nick out as much as I hate it. It leaves Tommy out on his own
Nicole points out that Tommy promised his vote to Christie. "I think those two have been" (She crosses her fingers)
Cliff – that worries me too
Cliff – one of the things I want to do when I talk to Christie gets her to reconfirm that if we went that way that she swears up and down that we aren't nominees or votes.
Nicole doesn't see Christie putting up Jess or Tommy "that's what Scares me"
Cliff – I know
Nicole – my whole thing is the devil you know vs the devil you don't (Nick vs Christie)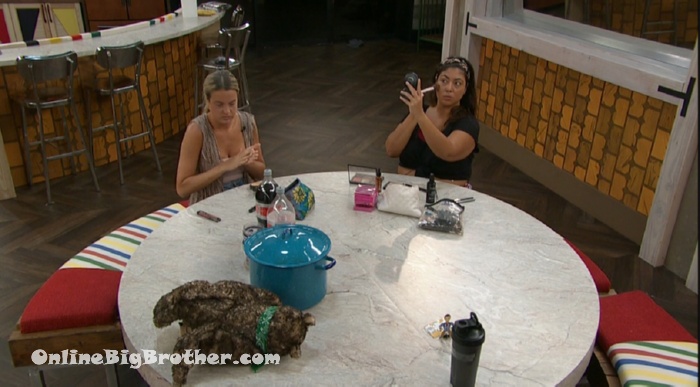 1:15 pm dumping on the makeup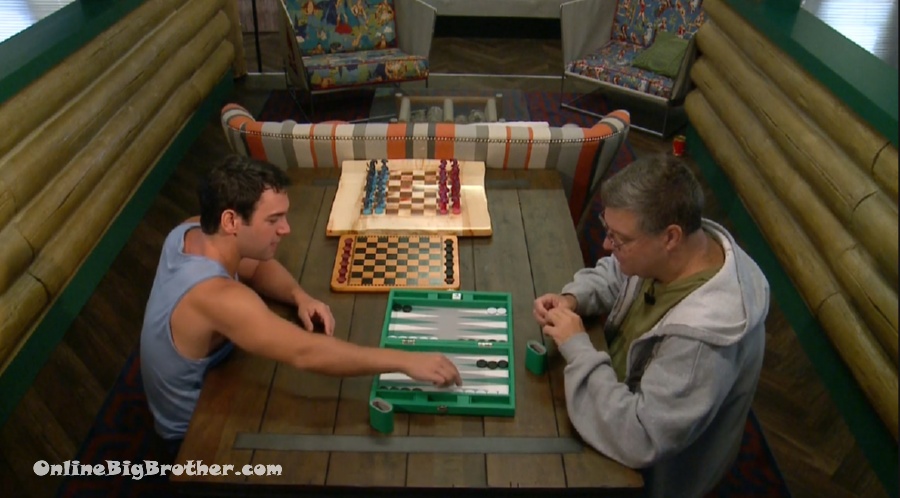 1:19 pm Someone lit a match cause these feeds are on fire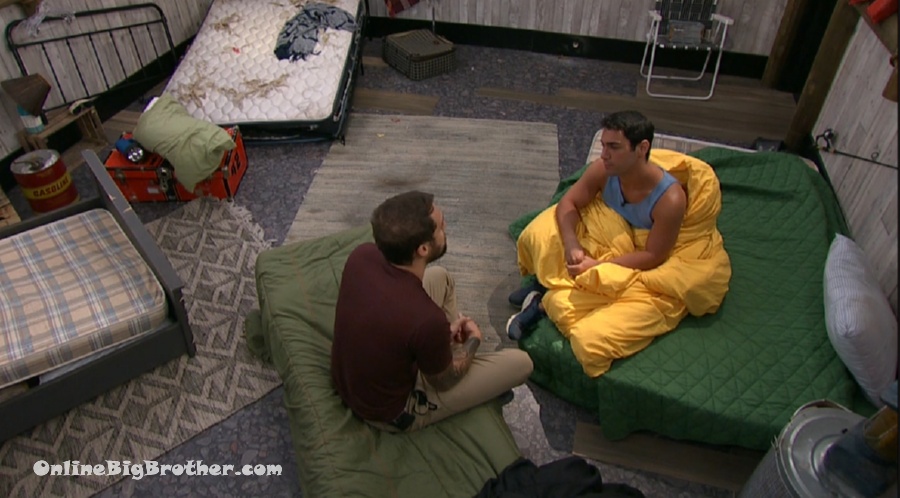 2:00 pm Nick and Tommy
T – I hate this week
N – Last week you told me that you wanted Christie out because she's volatile and you don't know where her heads at. You said if I was sitting next to her you would most likely but you didn't promise me anything but you said that you would probably vote her out over me
T – hold on back up … what
N – In the RV you had said if I was sitting next to her that you would be more inclined to vote her out over me. Which is why I made the nominations as the prankster to put Christie up because I didn't feel like I didn't have any other option. I knew I had Nicole, and Cliff told me that was his target. So there's three votes and that's all I would need.
N – you felt that it was the best thing to make a promise with Christie.. which was great. so now
Nick – point number 2, I want you to remember what happened last week. Last week when her back was up against the wall she didn't have our backs. I thought I had Christie's back I thought that she had ours. I thought she had all of ours.
N – I don't really feel like she did. when her back was up against the wall she blew up my game. she blew up your game, she blew up Sis' game. She made it seem like we were all working together and painted BIG targets on us just so she could stay. To make it worse when I talked to Jackson in the storage room why he was keeping Christie over Sis one of the reason was because Sis wouldn't say who her targets were which is fine. the other reason was he said people were telling him how Sis reacted when she was a pawn and whether you believe it or not he told me that Christie told him how SIS was acting while she was a pawn.
N – which is one of the reason
T – Sis went home
N – correct, so is that someone you want to work with. Someone that says she won't bury people her best friend and she not only told them what Sis was doing she also Blew up Sis' gam, and IN turn yours and MINE
T – and Nicole's
N – Is that something you can see going forward Changing because when her back's against the wall she will do what she has to do to stay in the game.
N – with me you know I am undyingly loyal. I knew Sis was going and I still voted to keep her
Nick – number three, if I leave you will have not voted out Jack, Sis and me. I'm not saying what people will do in jury .. You do have to think of two things. One you were super loyal to each one of them when it comes down to the vote when you need it the most you haven't followed through.
Nick – You could technically be down 3 (jury votes) because you didn't give the vote when they needed it. Two, if you do vote me out and you are loyal to someone out how do they know to trust you that they have your vote going forward
Nick explains that maybe this next person that trust him will wonder if he'll back them up with a vote because the last 3 people he was loyal to he didn't back them up with a vote.
Tomm y- people will understand in those cases my vote wouldn't matter if I voted with Jack wouldn't have change anything if I vote SIs It wouldn't have changed anything
T – I agree with everything you are f*ing saying
Nick – If I stay in this game I am undyingly loyal to you I will never f* you over. It's been 70 days I have been loyal to
Nick – I am a target in this house. If I leave not only will you not be protected by me Christie's target will change. not saying it's you, jess's target will change and Cliff's targets will change.
Nick – I am a target and I have your back.
Nick – Christie told Jessica she's not putting up girls did she mean. I don't know but it makes me wonder what else is she telling people.
Tommy – I'm in a tough Spot. I really do think game-wise and Nicole and I talked about this for 2 seconds on the hammock. I really do think Game-wise you are better for my game. But I f*ing gave my word. .(GROAN)
T – and I was in front of people when I gave my word.
T – I'm ready for you to stay longer. I don't want this to be over.. I want to talk it over.. I am F*ing loyal I am f*ing loyal (T sucks)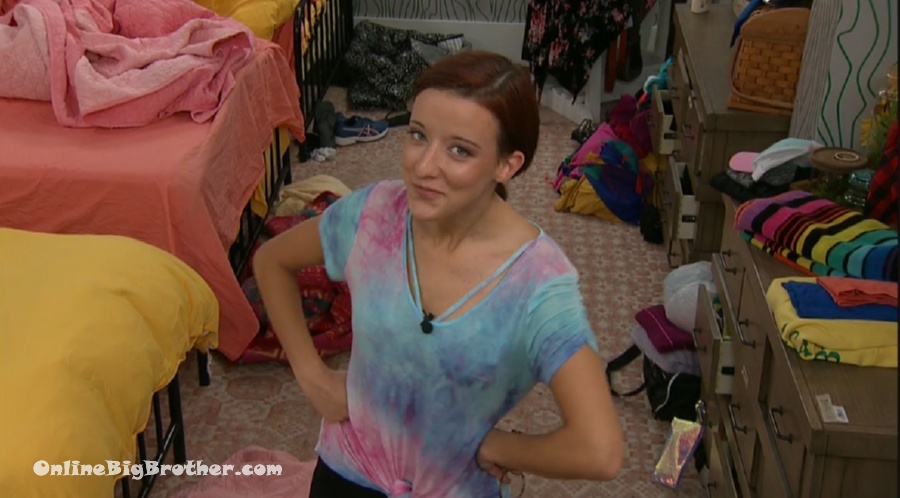 2:17 pm Cam 3 Nicole is getting a makeover.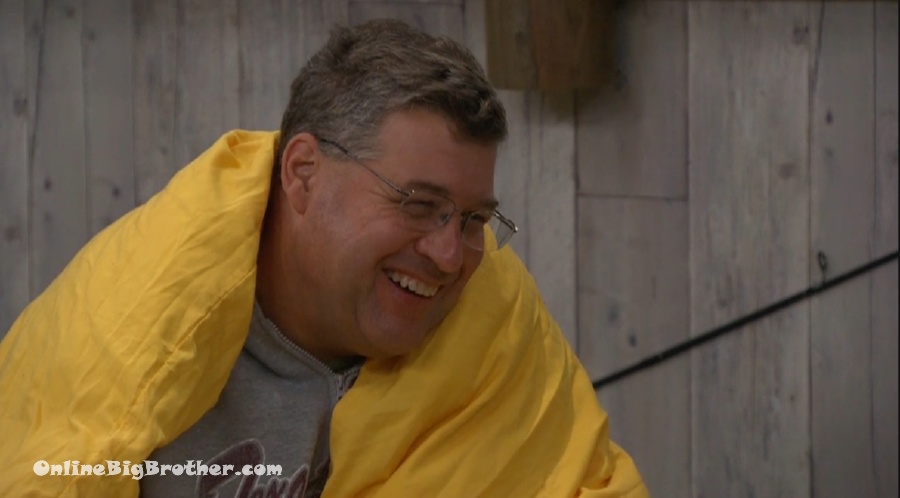 2:42 pm Nick and Cliff
Cliff – whatever I do rest assured I'm doing whatever benefits my game
Nick – if not voting for me is what's best for your game I'll respect the hell out of it
Nick's first point "I did put yo iup[ but I didn't want you to go"
Cliff – so did Christie and Tommy so it balances out
Nick – 2 weeks ago I orchestrated a deal to not only keep you safe that week but to keep you safe going further in the game
Clif f- I know
N – This week Cliff. I'm America's prankster
C – I know
N – I didn't put you up. I could have gone to 3 other people and been like Hey I promise not to put you up if yo keep me safe. I didn't do that some of the reasons was based on conversations that me and you had before the last HOH competition.
Nick says he told Cliff he had him and he meant it brings up winning America's prankster and how it would have gone to the person that is "being honest but is being accused of stuff he didn't always do. She was lying her way through that"
Cliff – I know she is
Nick – if Christie survives this week it will be the third week in a row that she has survived which mean she's amazing at campaigning and 2 she is going to stay in the game and three if she does get to the end she can use that as a big thing. Guess what guys I survived the block 3 times in a row
Nick – If I do leave there is no big Alpha male targets beside Jackson, K. additionally Jessica and Christie have both vocalized that I am their targets. THat's 2 I know of. If I am gone this week their targets will change. I'm not saying they will change to you I have no idea. All I am saying them two guaranteed would put me up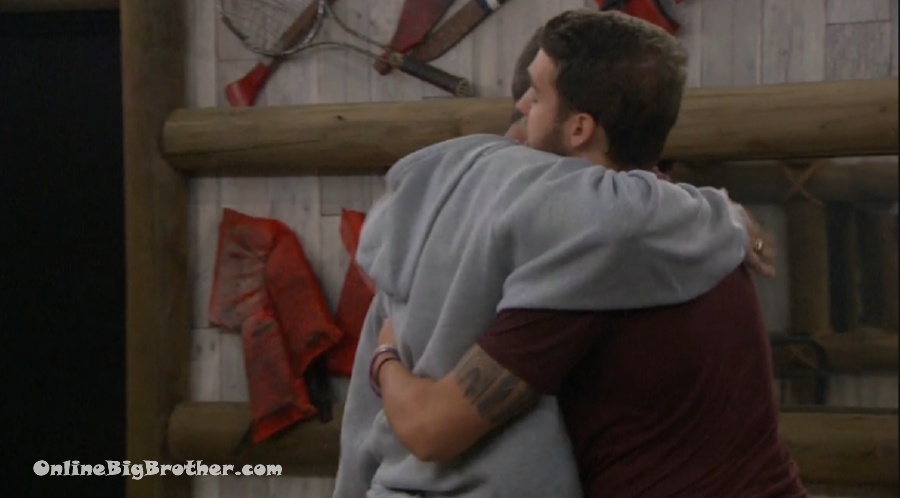 Cliff – I haven't decided yet.
They hug it out.
Cliff tells him a big part will be Miochie and Holly "work on them"
2:58 pm Nicole's Makeover is all done "I've been glamified , I've been feminized"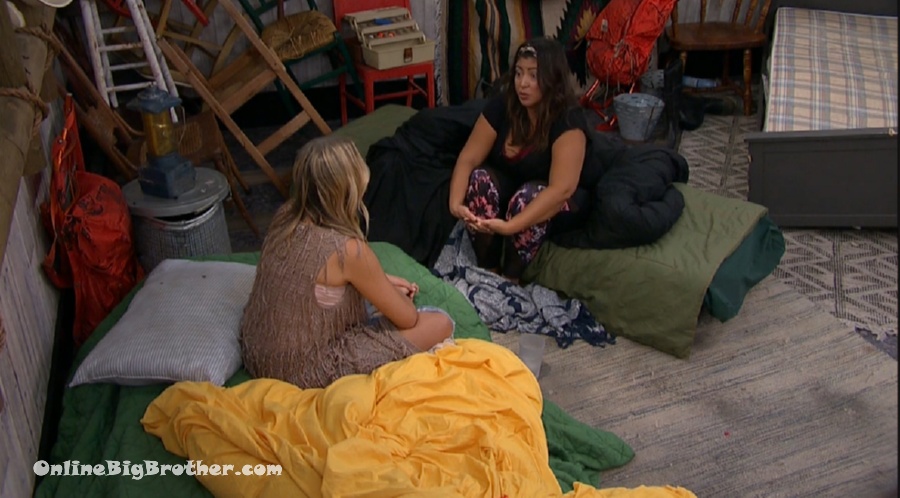 3:18 pm Christie campaigns to Jess.. Offers her final 3 but not final 2 that would be too bold.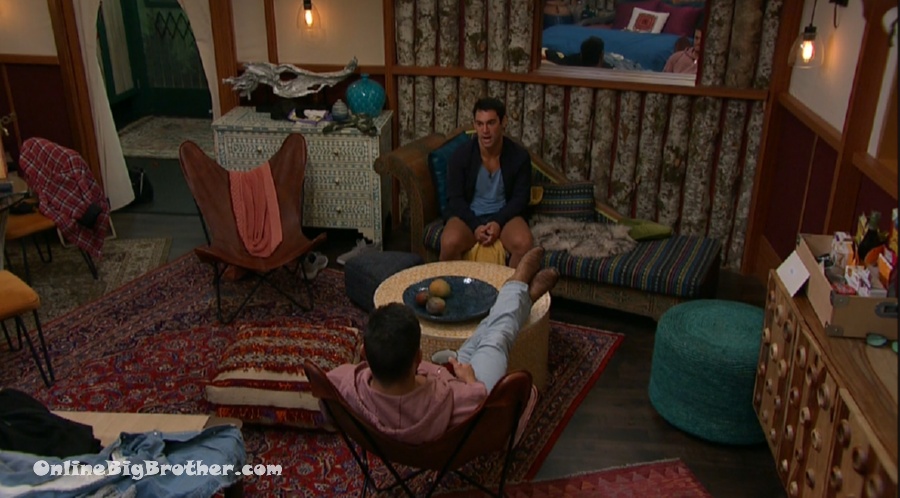 3:22 pm Tommy and Jackson
Tommy saying how Christie's game scares him. What she did during taco Tuesday put Nicole, Tommy, Sis, Nick all in bad positions. He believes she's still very loyal though.
Jackson – she's loyal when she's pushed into a corner .. when she's FORCED to be loyal. when she's free she likes to try and work the house.
Tommy – we all saw that in the middle of the game. when we were in gr8tful and six-shooters we were all vocal.
Tommy says late last week when Sis was on the block it became clear why she had to go.
Jackson says that getting Sis out only benefited his game "it f*ed Holly's game, Your game, Christie's game"
T – true
Holly joins them.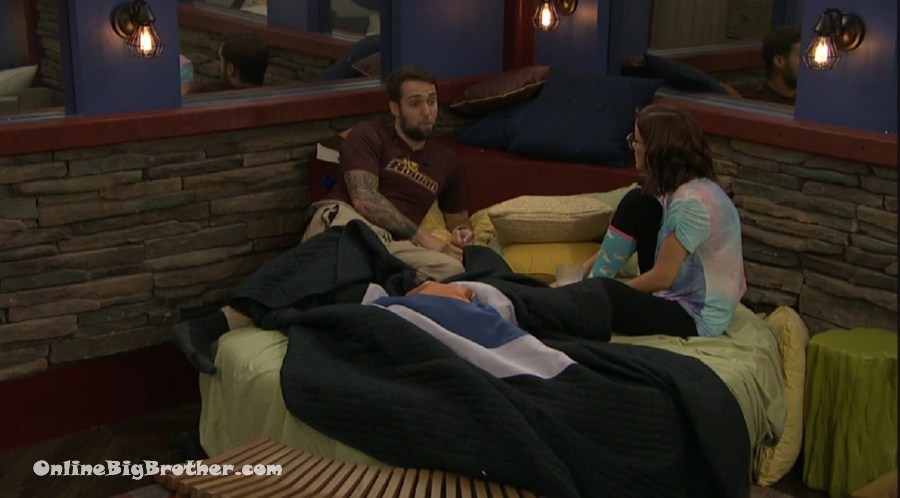 3:25 pm Nick and Nicole
Nick going over his points before he goes up to the HOH to pitch to Jackson and Holly.
3:38 pm
Nick and Jessica
Nick with a straight face says – I respect you so much in a personal and game level
Nick tells her he's her target and everyone knows that with him gone she'll need to pick a new target and that in itself will make her a target. if he stays and she wins HOH she can just put him up.
Jessica talks… after she's done I turn mute off. They hug it out.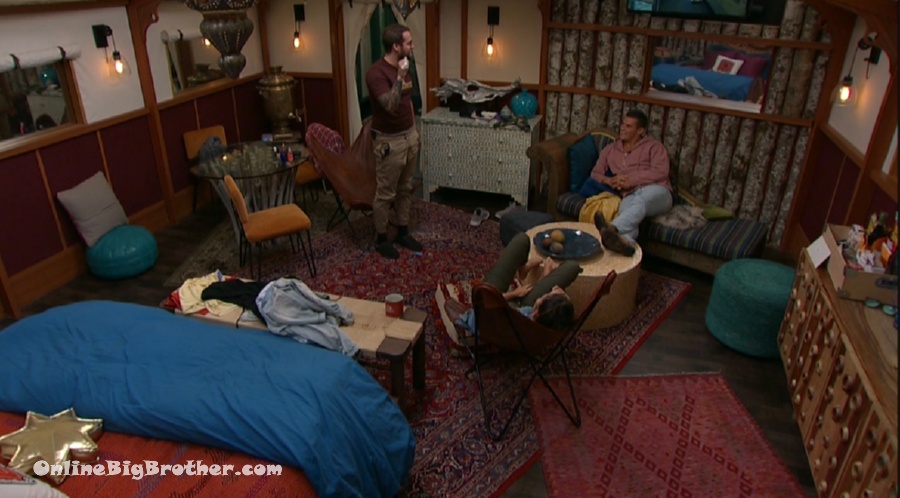 3:50 pm Nick, Jackson and Tommy
Nick says he doesn't want to know where the votes are going. Says he's not making deals.
N – I have 5 points they are very good and funny
Nick's first point is he didn't put Holly up this week.
Nick – I can be an upgrade. You do not owe Christie anything.. you can now upgrade. it's like upgrading from a baby horse to a male stallion
Nick points out that he can be loyal to them and they don't have to be loyal back to him. Says even if jit's him up with one of them and he wins the veto he'll use it on them.
Nick – even if jit's me and Jackson on the block I'll go Ok Holly you're both safe..
Nick highlights how he's always been loyal to his people
N – are we really going to allow Christie to survive the block three times in a row.
Nick points out that Christie's back was against the wall last week and she blew her two best friends games Sis/Tommy.
Nick pulls out condoms "I am your protection"
Nick – this blocks Michie and Holly from going up
The condom breaks.. "when you're done with your protection you dispose of it"
Nick – my game is over.. I am working for you you owe me nothing you don't need to keep me.
Nick promises essentially everything.
Jackson – if Jess/Nicole win HOH put up me and Tommy. both of us stay up who edo you vote for
Nick – I have to vote for you because that's my promise
Nick points out how Tommy didn't vote to keep Sis, Jack he was undying loyal to them. he was undyingly loyal to him and Nick doesn't think he has Tommy's vote.
Nick says if Nicole wins HOH he's pretty sure they won't be going up she sees who's loyal. Hints that he told her to stay with Michie and Holly if he goes, "She's so f*ing loayl.. if I go you guys would be so f*ing smart to grab her"
Nick – If I go please please keep her safe. She will be loyal to you guys. Based on conversations she loves you guys I would bet a lot of Lasanga she's not going after you guys
Jackson – I like your pitch
Nick – if you truly believe voting me out is the best for your game then please do it seriously. But if you don't believe that and yo think getting rid of Christie is best for your game then do it. Now you have my WORD no pawns, no replacement nominees, I don't give a f* I am literally saying I will f*ing take you off the block if I am sitting next to you
Nick mentions that Christie said things about her best friends (SIS) imagine what she's saying about them.
Nick leaves..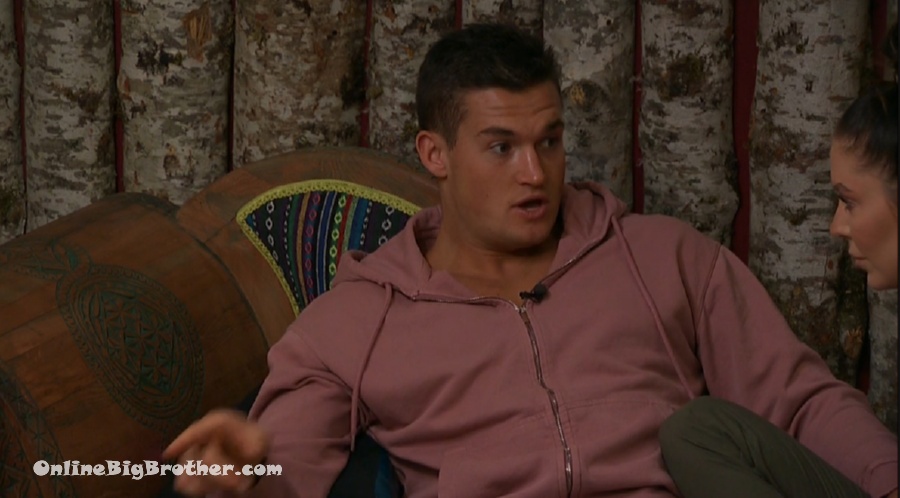 Jackson – he should have spoke less.. all the points he made are points why he should win this game. Those are things that will win him half a million
Jackson – the fact that he's willing to flip on Tommy, Scary. I can't it's way too risky
Holly – it's a great pitch only because of my uncertainty with Christie.
Jackson – Did you hear Tommy? we're good with Ortmmy, We're good with Nicole we're good with Jess
Jackson – we have Cliff and Nicole final 4, Christie isn't coming after us Tommy just said we're good.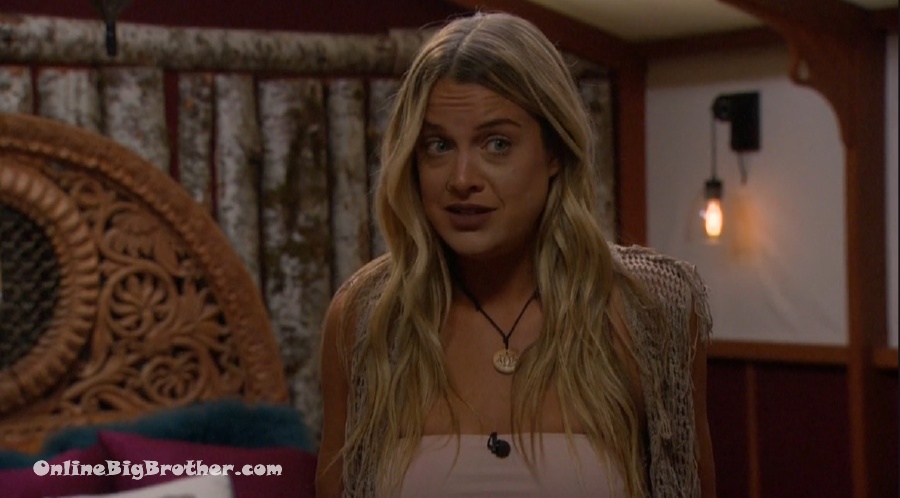 4:25 pm Christie, Holly and Jackson
Christie – as long as me, you, jess or Tommy win HOH I think we're good
Jackson – as long as Cliff and Nicole don't win we're good.

4:28 pm Jackson and Holly
Holly – we're walking around with bullseye but somehow we are able to cover them up (Winning back to back HOH's and POV's can do that)
Jackson – If I can get through this week with me not winning HOH and if me and you survive and we're in the final 6 and both of us are competing in the HOH ..
Jackson – we can do this we can do THIS. we have got to be smart. I'm seeing the light at the end of the tunnel
Jackson lists off all the deals they have.
Jackson – I can't win this HOH after hearing Tommy, Christie, and Jess. I'm throwing it
Holly – I still do slightly worry about Tomm y
Jackson – if Nick is gone we have Tommy, Nicole, Christie, and Jess (ZOMG)
Jackson – we are set up for success.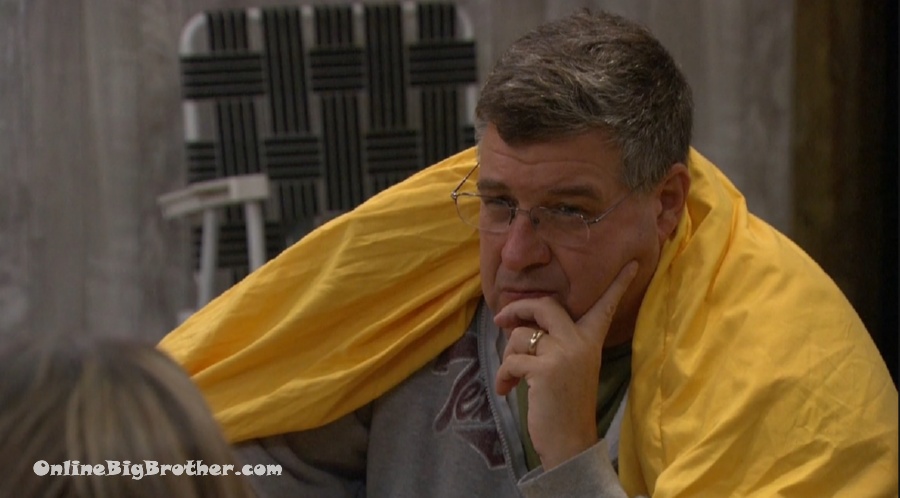 4:40 pm Cliff and Christie
Christie campaigning talks about final 4
Cliff – do you know where you would go next week if you won HOH
Christie – It really scares me to say out loud. I'm not married to people that I may have implied I made a deal with. I see where the threat lays.
Christie – I'm scared to even say their names. Holly would not be my target but I know the only way to get someone else out is to put them up together
Cliff – Cross my heart I swear I won't say anything about it. Cutting to the chase would I be safe
Christie says he wouldn't go up
Cliff tells her she's got his vote. Says that Nick wants to be surprised tomorrow.
5:10 pm
Christie and Nicole
Christie decides to eat while campaigning to Nicole.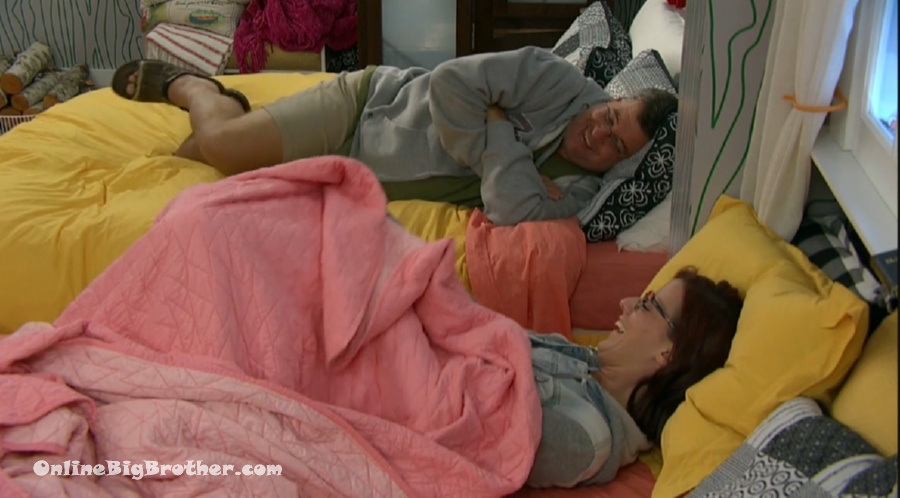 6:03 pm Cliff and Nicole
N – how are you feeling Cliff?
C – Like I want both of them to go home
C – I trust Nick a lot more than I trust Christie. But Nick is such a competitor and with Tommy.
C – I was told once we heard about the American prankster twist he ran to Holly and promised her his vote. He was afraid he was going to be targeted as a result of that.
C – they got that vote and Michie's vote and Jess' vote it's a done deal
Jess walks in and the real deep game talk begins..
C – if we can survive this next vote we're three we're 1/2 the house
J – after this week all we need is 2 votes.
They talk about how the gr8tful 8 had no chance to stay together. Nicole mentions how Nick is saying they "could have" made final 8 and she would say "but it didn't"
Cliff says he tried to take the lynchpin out but jess did it.
Jess- without the numbers that wouldn't have happened.
Cliff – Jack offered me 3 weeks of safety and Jack offered me an additional week.. Three weeks runs out tomorrow.
Cliff goes on about if he had accepted the deal when Jack was a nomination he would have been safe but "all y'all" would be taken out
Jess goes on about how for her it's an even playing field for mental comps so she's looking at who can beat her in physical comps (which is everybody) Jess concludes that she can't beat Nick "you saw how he wrangled those sheep"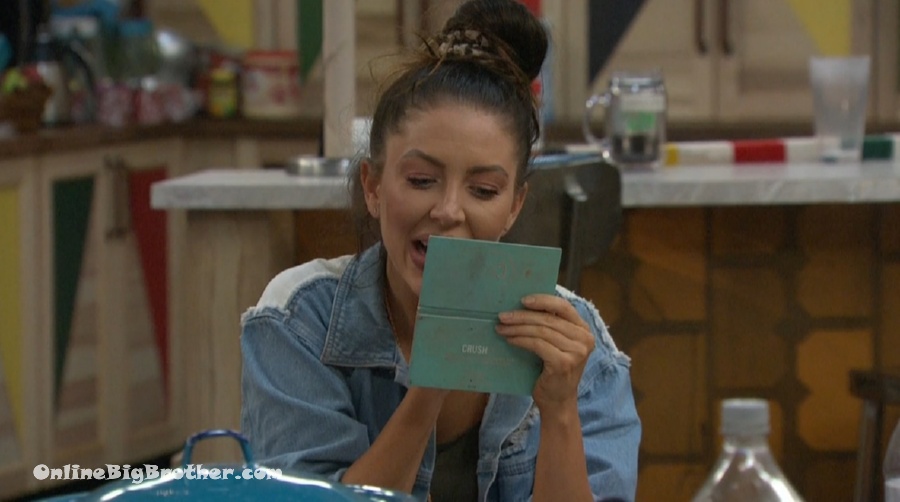 6:46 pm MAKEUP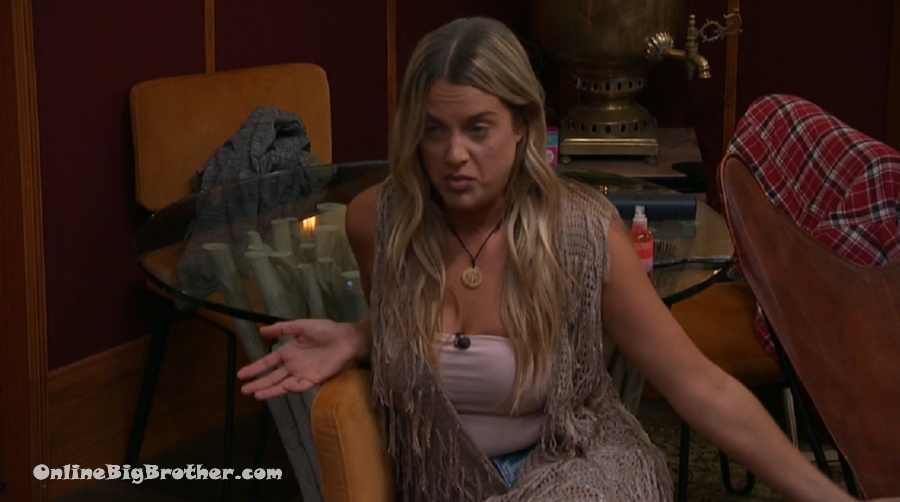 7:25 pm Christie, Jackson, and Holly
Christie says her campaigning went well.
Christie saying that Nicole was the most generic.
Christie is pretty sure she has Cliff and Tommy's vote.
C – Cliff and Nicole I see as a strong duo like you two.
Christie says with Nick gone they have Tommy. the four of them can go to the end.
C – it's exciting I could shake thinking about it
Christie says going into this next HOH is Her, Jess, Tommy, Michie Vs Cliff, and Nicole
Jackson – I'm gunning for it (HOH)
Christie – me too. I want it bad I want it so bad. I also want to start building a resume if I get to final 2. I want to get this moving.
Holly – it's so crazy
Jackson – we're so close. we are guaranteed final 7
Christie says Sis and Jack LOVE Tommy she never sees them not voting for him in the finale. She mentions that Jack had a final 2 with Tommy.
Jackson – Jack had a final 2 with everyone. We did day 1
Christie says Nick is going to "FEAR Nicole to give him a sympathy vote"
Jackson confirms that he's voting for her.
holly says Jackson, Cliff, and Jess for Christie "For sure"
Christie – Tommy is very team us four going forward. (BARF)
Christie – let's get the team back together
"Tommy is very team us four going forward. let's get the team back together" #BB21 pic.twitter.com/ExKcGpocX3

— OnlineBigBrother.com (@bigbspoilers) August 29, 2019
7:40 pm
Still in the HOH talking about the 6 shooters was the more serious alliance. They still have 4 of them left and the other 2 made it to Jury. "we're going strong"
If you've enjoyed our live feed updates this season, please consider donating.