Head of Household Winner – Cody
Have nots – Kevin and Enzo
Nominations – Kevin & David
Power of Veto Players are – Cody, Kevin, David, Tyler, Enzo, Nicole
POV Host: – Memphis
Power of Veto holder – Cody
Power of Veto Ceremony – Veto was not used. Noms stay the same.
Live feeds —-> Grab your Live feeds here. Try it free.
Rank the houseguests —-> Big Brother 22 Ranking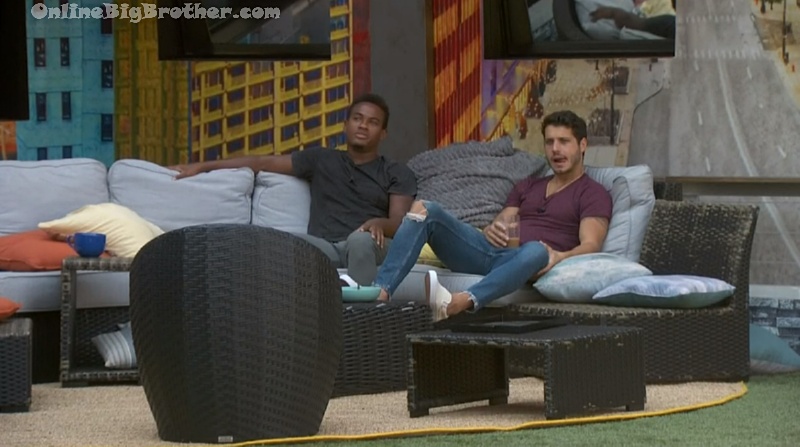 11:34 am Cody and David
Cody – I'm using the veto today who should I put up GO fast you have 10 seconds.. 10, 9, 8, 7, 6,
David – Whoever is best for your game
Cody – Alright I'm not using it you stay on the block. You failed miserably there
David – I would have something biased for whats best for my game.
Cody – David, I'm just kidding ..
Noon – Feeds cut for Power of Veto Ceremony
1:00 pm Feeds return.. Cody does not use the power of veto. Nominations stay the same. Kevin is still expected to be the first of 3 people leaving on Thursday.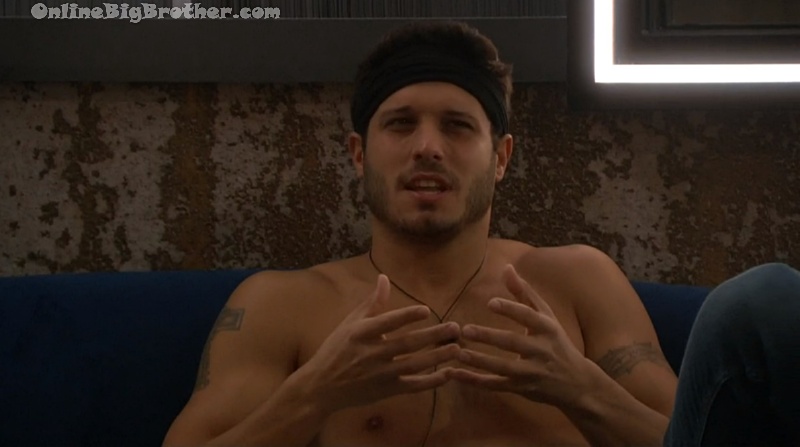 1:01 pm Christmas and Cody
Cody – I don't think like think three weeks down the line
Christmas – it's a little arrogant
Cody (might have missed some likes) – Like.. If I'm being honest like, like if you put me three weeks ago like and said like and like asked me like Dani wouldn't be somebody like that I like am like all of a sudden like YO I don't like your game.. like. you… aw.. like as being somebody like.. I've been in an alliance like.. like you don't seem like .. You don't seem like we're like connected like that.. like granted like I have a personal relationship with everybody like on a personal level but like that is a very different thing for me than the game. I didn't come into.. My first time personal sh1t always was affecting me.. this time it isn't in tje slightest bit.
They continue Complaining about Dani. Cody continues to use his favorite word LIKE
Cody going on about 100% Kevin's got to go this week.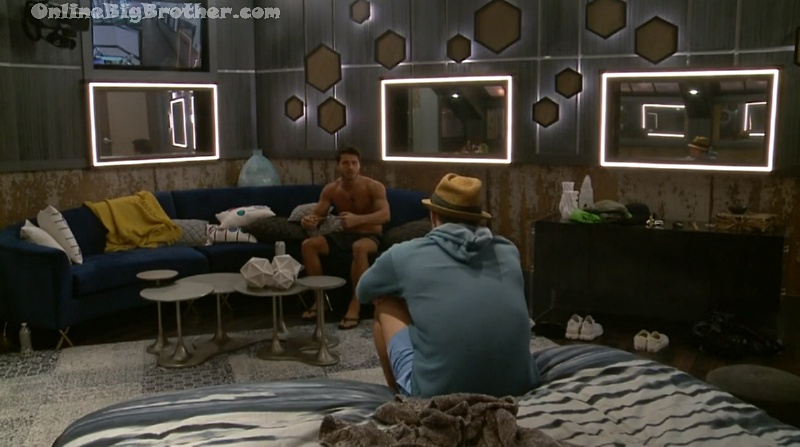 1:40 pm Cody and Enzo
Enzo – I have to what the f*** YO.. He's not going after Dave his two targets are Dani and Nicole.
Cody – At first I was like we'll carry Dave as a floater easy nominee it'll be your death sentence if you are sitting next to Dave you are going home it will also put us in the situation if someone wants to take a shot at one of our other relationships maybe it'll save us because he'll go.
Cody – Dude it happened to me on my season if we got to final 5 and then I was on the block next to Victoria which was the person that would go up next to whoever was going home. They were going to keep me because they had her.. Caleb wasn't voting me out ..
Enzo – after this week we're going to have the votes to keep ..
Cody – that's why we have David up there if someone wants to be cute and be like you're a pawn don't worry then puts up next to David and tries to Rally the votes
Enzo – we got the vote.
Cody – I just want to make sure we are in the right position so no matter what people are targeting..
Enzo – YO this next week is going to be nuts YO
Cody – I don't trust Dani and Tyler I just want them to shut up .. Why would I put up a Christmas to help out although I know In your head you want to get BLOOD all over the place. Why would I put up a Christmas and send her home when she is going after a Dani. She'll go after maybe a Nicole. Dani will go after her I'm not pulling that person out of the pull you people go after each other after my HOH
Enzo says if Dani is on the block and he wins VETO he won't use it on her "You're going home"
Cody – why would I pull any of these players our of the pool when they are all going to cannibalize each other
Enzo – I just hope they don't make a move on us that's all I hope .. this was your HOH we could have made a move gotten somebody out big here and that's it. whatever you want to do man.
Cody – Bro going for the big move is always like more like an ego thing
Enzo – Kevin was coming after you so getting rid of him is a good thing
Cody – he's not a threat though.. KEVIN?
Enzo – I really want Nicole to win this HOH
Cody – she'll go after Memphis and possibly Tyler
Enzo – it's good for you and me to get Memphis the f*** outta here BRO. HE's really smart and he's really good at these comps YO.. I love the dude I really do. I didn't like him on his season I thought he was an a$$hole .. I mean he's still a little douche but I do like him. I do like him YO.. he doesn't break my balls he's straight up with me.
Enzo – he's never said anything bad about me at all ..
Enzo suspects Memphis and Christmas had conversations about breaking up Cody and him.
Enzo goes on about being tired of the talking "I'm tired of Dani"
Enzo says every copy of minutes Christmas is coming in talking game. She cornered him in teh bathroom saying show she's making a move next week she's not going after Dave.
Cody – she's over Dani
Enzo – She's going after Dani good.
Enzo says if they get rid of Memphis and Tyler they have Christmas to themselves. "She's tight with Tyler and Memphis"
Cody – I would rather go after her then we have both Tyler and Memphis.
Enzo – yeah I'm down with that
Cody says if it comes down to him and Tyler on the block Christmas will keep Tyler.
Enzo – Dani she's funny as f** I love her but she's not making it to the final 2 no way. She's gotten too messy she's all over the place I did want to work with her.. we were working with her
Cody points out how close he was with Dani earlier in the season.
Enzo – I wanted to go after Nicole because she's a champion. I f***ing love Nicole the way she's playing this game and the way she treats me. I just want her to start winning sh1t
Cody goes on about how Nicole will never go after them, Step over them. Adds that Dani might not come after them but will throw them under the bus.
They bring up Dani telling Tyler about the sly5 and Nicole about the slick6
Enzo says he's dying on the house "I got an itchy a$$ I'm breaking out" blames it on the OTEV the "gunk" on the slide.
Enzo says they are good things coming week "YO"
Enzo – lets some sh1t fall into place let people go after each other.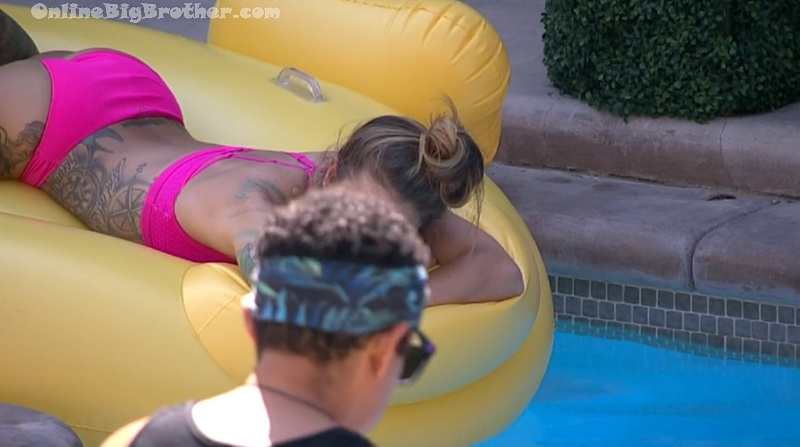 2:20 pm Nothing Happening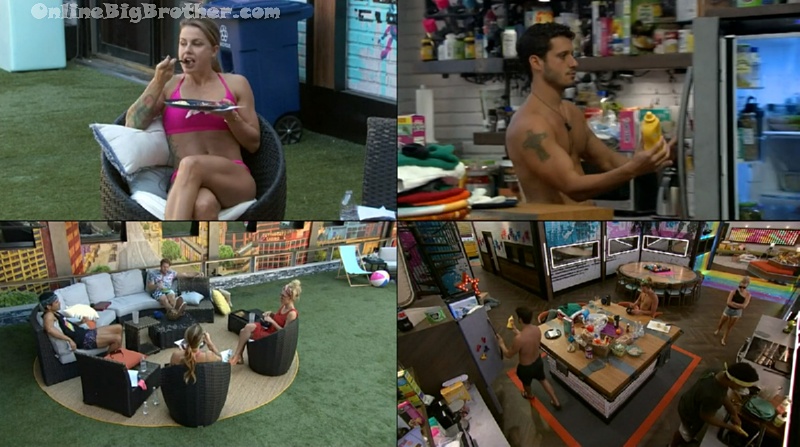 3:00 pm Nothing happening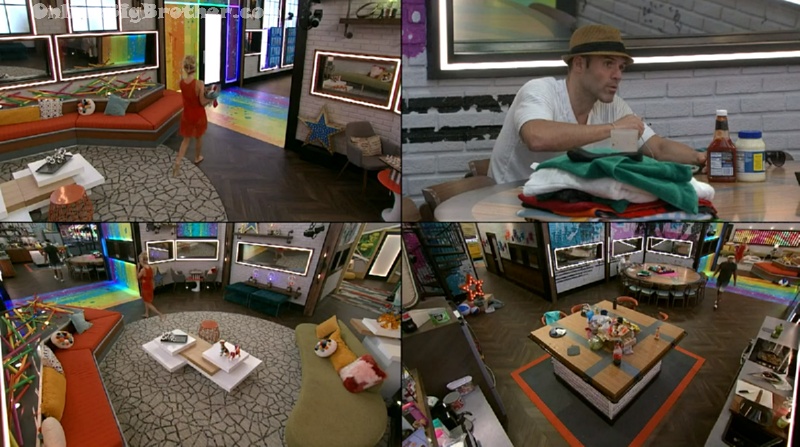 4:20 pm Nothing happening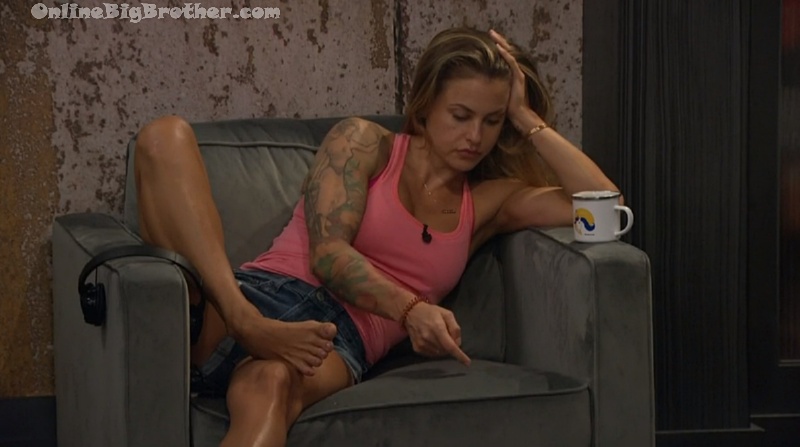 5:12 pm Christmas Studying days alone.
(They use the HOH room because you can write on the upholstery of the furniture with your finger)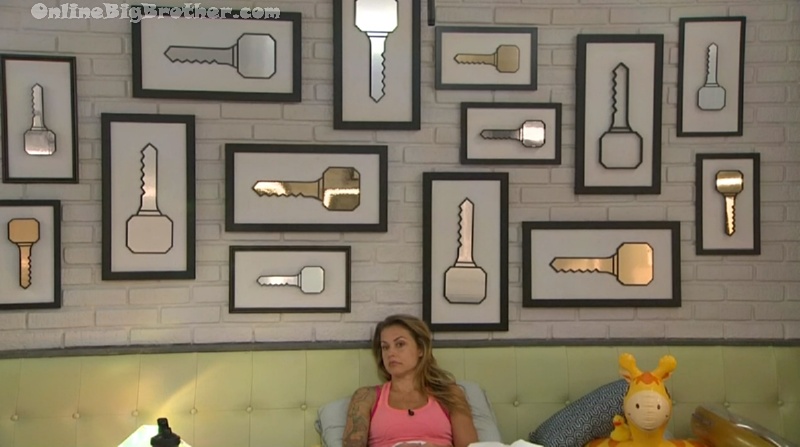 5:48 pm Christmas and Memphis
Memphis – if we got three people.. there's going to be 8 F***ing people here those are good odds.
Christmas – three of us are going into the next HOH to play
Christmas whispers that Dani was telling her "can you believe we're almost down to final six we're the greatest alliance of all time, not one of us. not one of us leaves"
Christmas – except for one… (Dani)
Memphis – it's so funny
Christmas – dude I'm surprised Cody didn't .. I'm a little surprised. It's because she's not coming after him
Memphis – the longer you can keep it together. If he pulled that trigger and missed.
Christmas – I'm ready to play and win some stuff.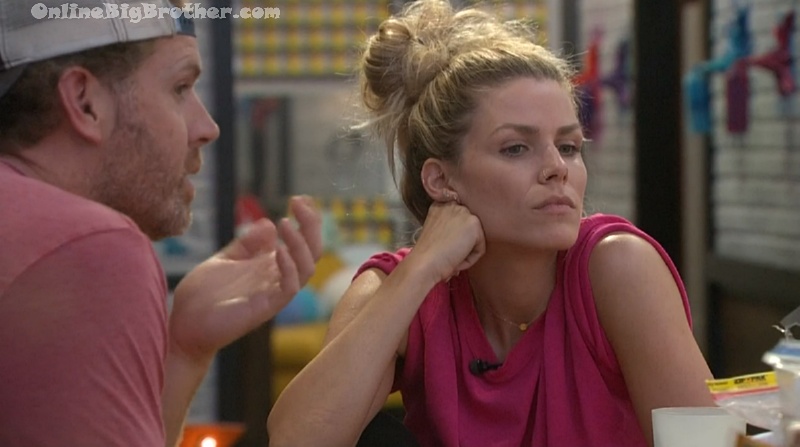 5:58 pm Dani and Memphis
Memphis talking about everyone keeping with the committee and how if they all stick to that it'll be easier for them.
Dani points out the guy Tyler says was his BFF on his season. Tyler got him out during the double "Out of nowhere"
Memphis – that's interesting
They agree the double is always the best time "There's no repercussions"
Talking about wanting David out next week id it's a normal week. Dani isn't sure the other guys in the house will go after David.
Memphis – if you force their hands. If I have HOH you force their hands..
Memphis says David is not a good player "Give me an hour I'll bend this dudes head over backwards you can really mind F*** him.. he will break under pressure "
Dani – if he gets HOH its me and you up there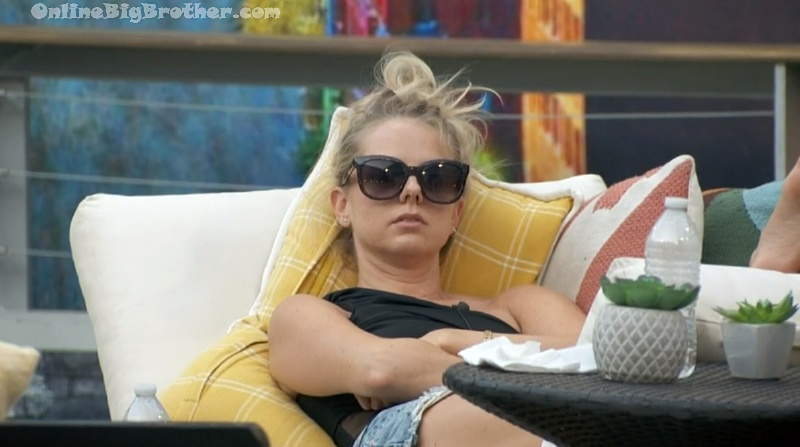 6:08 pm Nicole chilling while the guys play Pool.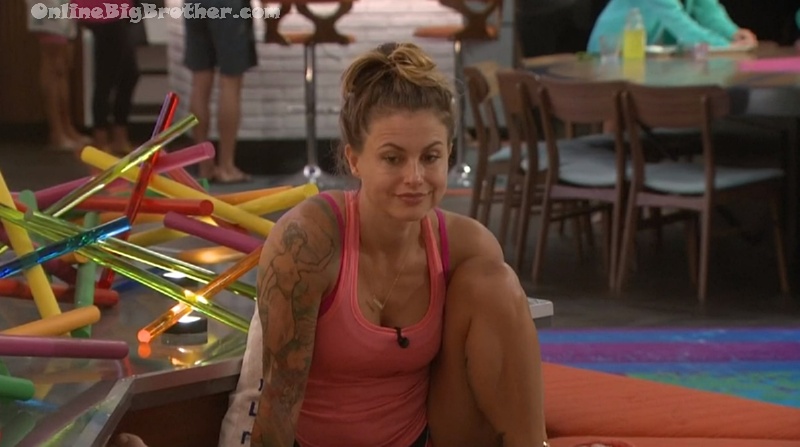 6:30 pm Christmas and Enzo
Christmas – Dani's won 2 things which I think the wall was thrown to her
Enzo – Yeah
Christmas – as soon as Nicole fell. I don't think Cody wanted it
Enzo – once Cody saw her fall he fell right after.
Christmas – Nicole hasn't won any.. nothing but the .. like the next bunch of comps are questions. She's already got it in all her head.
Enzo – she knows to turn it on
Christmas – David I'm not worried about he doesn't know what the f*** is going on
Enzo – if he wins you're good
Christmas – he has the same targets we do. I think Tyler is good with us. Memphis is good with us
Enzo -that what I'm saying
Christmas – these next two I think we'll be okay unless Dani..
Christmas doesn't think Dani will win it she doesn't want to take the first shot.
Enzo – I don't care what order they all gotta go.. Kevin gotta go.. I'm tired..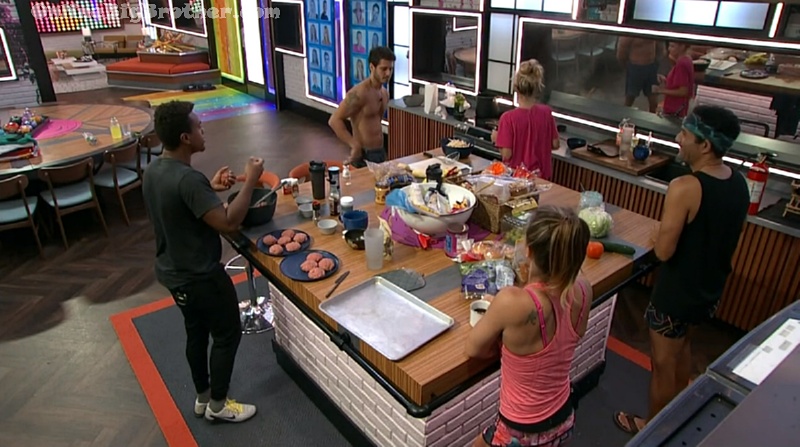 6:54 pm Hosueguests roaming around cooking.. Feeds are cutting in and out. Nothing happening.
7:15pm – 8:25pm Big Brother gives the house guests wine and beer.
Kitchen – Nicole, Cody, Kevin, David.
The house guests are making more fries. (Hopefully David doesn't try to burn the house down again.) Nicole talks about how she and Victor were out for dinner and he ordered a bottle of wine thinking it was the price per glass. When the bill came he was surprised but Nicole said its okay I can pay I just won Big Brother. Cody – well he won America's Favorite. Nicole – well he spent that in two days. Big Brother cuts the feeds. Nicole tells Cody – I've been in the house longer than any other person. Cody – you passed Paul? Nicole nods yes. Cody – Oh you've got to go! I'm going to start telling people that. Nicole – no! Don't! Big Brother cuts the feeds.
8:25pm Big Brother blocks the feeds.
8:55pm Feeds come back for less than an minute and then are blocked again..
9:25pm Still blocked.
9:37pm The feeds return..
10:18pm Still blocked.
10:56pm The live feeds return to Nicole and Christmas talking about their vision and wearing glasses / contacts.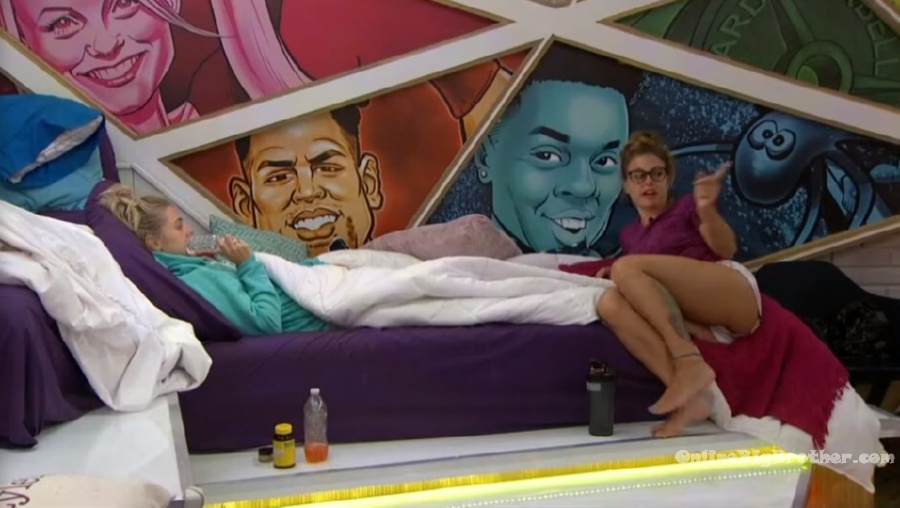 11:09pm Big Brother blocks the feeds again…
1:30am All the house guests are sleeping..