Head of Household Winner – Cody
Have nots – Kevin and Enzo
Nominations – Kevin & David
Power of Veto Players are – Cody, Kevin, David, Tyler, Enzo, Nicole
POV Host: – Memphis
Power of Veto holder – Cody
Power of Veto Ceremony – Veto was not used. Noms stay the same.
Live feeds —-> Grab your Live feeds here. Try it free.
Rank the houseguests —-> Big Brother 22 Ranking
(I've left out a lot of Kevin campaigning because it really doesn't matter)
(They've been shown clips of DR will. the script Dr Will read made them all think three people leaving this week. )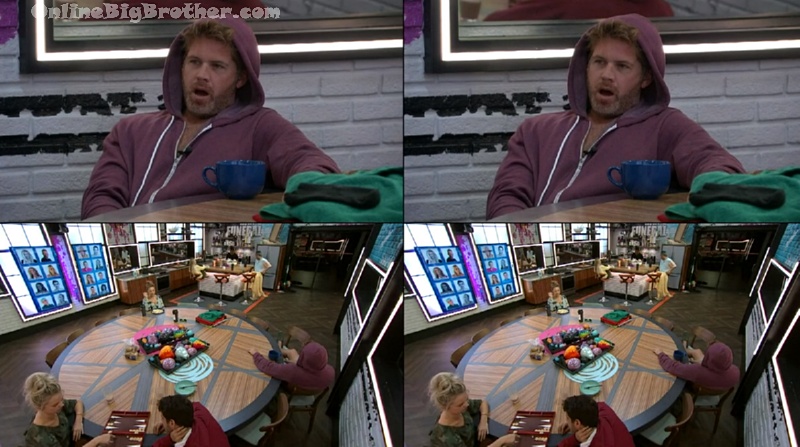 11:50 am slow start
12:00 pm – 12:40 pm Dr. Will video feeds on puppies.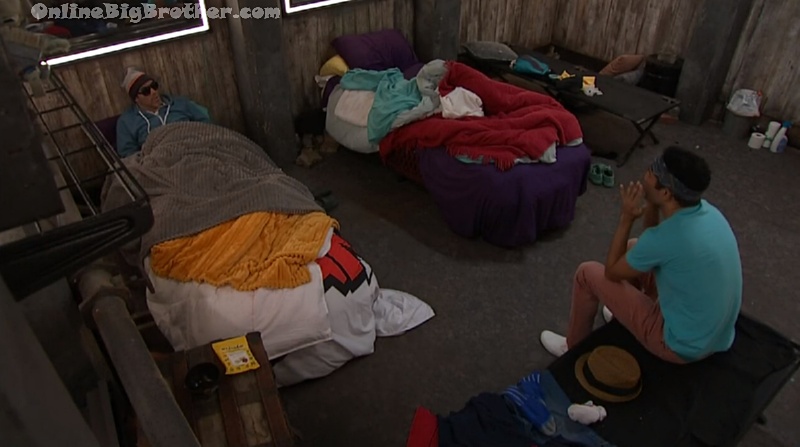 1:00 pm Kevin and Enzo
Kevin – If this is a fast forward week for me if I have a chance to stay I want to make you an offer. I have literally no one now. Essentially if you vote to keep me to stay I know it would take a lot for you to consider it. that basically for me it would be the equalivalent.. and you don't need to reciprocate this.. I would never nominate you if I were to stay. If you were to find yourself on the block you have a vote from me. If I were to win houseguest choice in vetos because I think Vetos are going to be important and if you are not being picked I would pick you.
Kevin – let me know if there is anything else I can offer you. I'm going to need four votes.
Kevin says he's officially starting to campaign right now because he's worried it's a fast forward.
Enzo – if it gets to 3-3 Cody's voting you out.. I'm being straight up with you bro
Kevin – I really need four.. I'm hoping that as Allstars players we can say hey YO.. David giving up safety is not something we can respect as Allstar players
Enzo points out that David went for the money "in the first round"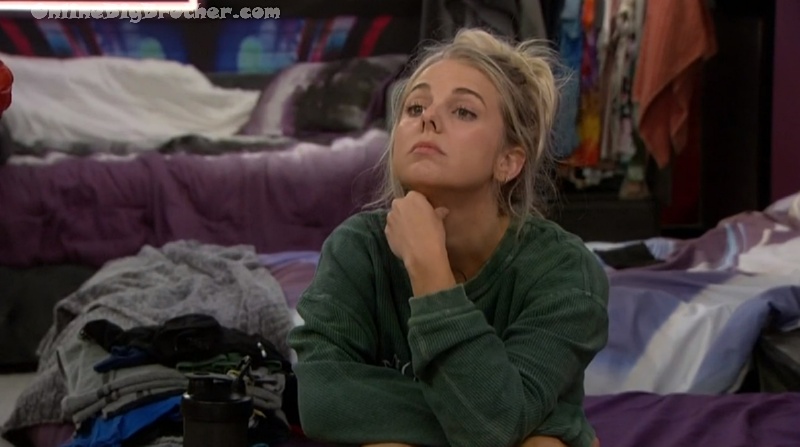 1:13 pm Dani and Coins
Dani points out that within their group nobody says anything anymore.
Dani – have you heard anyone say of course enzo will go up… No
Nicole – no
Dani – that should say something to all of us
N – it does
D – I talked To Memphis and he's like.. I was like do you think someone will try and strike early he said no I don't he said I think everyone is on the same page he goes it could be me being naive but I just think you can't go against the numbers.
Dani – I'm like you're stupid
Dani – him and Christmas have gotten so close the past week or two it worries me a lot
Dani – I'm stressed..
Nicole – I just feel sick I hate when stuff happens so fast you can't do anything about it
Dani – even Doubles
N – I have the worst PTSD from the double on 16. We were totally blindsided..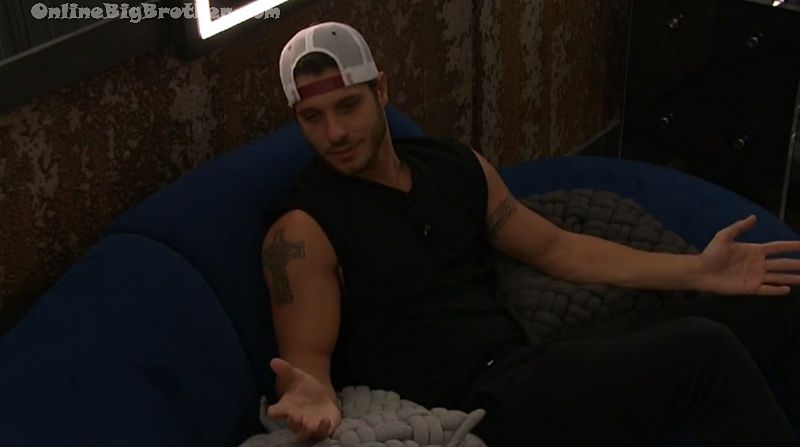 1:16 pm Cody and Memphis
Talking about letting Christmas and Dani go after each other.
Memphis mentions how great it is they have Dani, Tyler, and Christmas all after each other.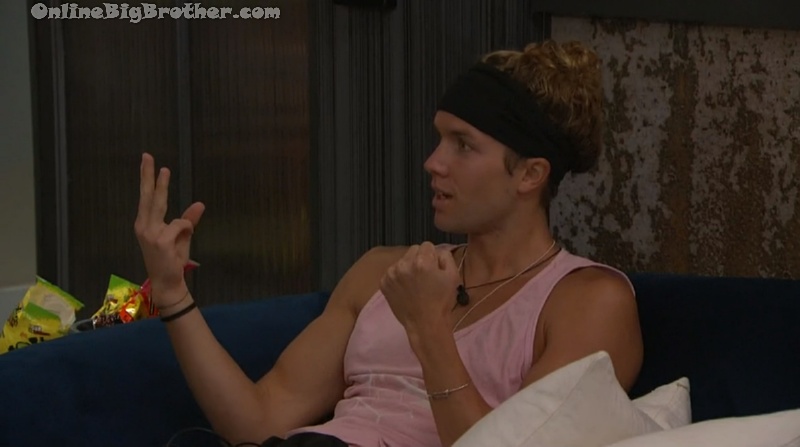 3:13 pm Tyler and Enzo
Enzo – I hope it's a double eviction tonight
Tyler – why would he say not one step, not two steps three steps .. if three people leave this week
Enzo – bro that will be f***ing crazy..
Tyler – Oct 1st is this Thursday we would be at 6. Oct 7th we would go down to 5, Oct 13 we would go down to 4, Oct 21st we would go down to 3 and Oct 28 is the finale.
Enzo – it's the calm before the storm it's too quiet in this house yo
Enzo – If I win HOH I'm making a big move.. just respect what I do I'm not going to f** any of your games up
Tyler – I think Dani is sensing it. She' f**ing pulling me into rooms left or right out of nowhere.. she knows people are coming after her
Enzo – she knows
Enzo – I'm done talking game with her. I'm done I don't tell her an inkling… I don't trust her worth sh1t yo. Christmas is good yo she keeps her mouth shut yo.. I like her
Tyler says that David told Dani that Tyler was going after him.
Enzo says Dave will be his pawn.
Tyler says David might go as the pawn "Then it's a waste"
Enzo – I know man. A lot of people are pissed at him for what he did
Enzo – Memphis feels like he's running the whole house and sh1t. To think that whatever.
Tyler – let him think that
Enzo – Christmas is aligned with ever guy in the house
Tyler – Christmas talks to every single person. Out in the open too
Enzo says that Da'Vonne f***ed up his relationship with Christmas a little bit
Enzo goes on about how getting rid of Da'Vonne was good for all their game.
Enzo – you think Memphis will take a shot at Dani
Tyle r- Cody says he wants to sit back and I think so too.
Enzo – he thinks he's running the whole house he's in a good spot
Tyler says Nicole has got to go too, man
Enzo – Hell yeah
Enzo complains that Nicole isn't winning anything
Enzo – they know everything to.. they know you me and Cody are tight as f** because of the slick 6 YO they know that sh1t
Tyle r- they are also close with Cody
Enzo – You and me are on the outs with that
Tyler – in theory, they will come after us to get closer to Cody
Tyler says if they get a quick chance to get the two girls out, "We gotta get one"
Enzo – BOOM .. I'm with you get them out.. let's do three people this week.. let's go
Tyler – it's gotta go Kevin Today, Nicole then Dani on Thursday
Enzo – three gone.. we're down to 6
Tyler – we're 1/2 the house. David and Memphis will still go after each other
Enzo – Christmas will go after Dave and maybe Cody.
Enzo goes on about how they need to start taking people out and he's down for it.
Enzo about Kevin's campaigning "He went heavy yo.. he's like I'll be your pawn.. I'll pick you for Veto"
Enzo – first of all Veto after this week we all play in the veto.. relax..
Enzo says he told Kevin straight up he's the target.
They talk about how Dani and Nicole were the ones that concocted the entire plan to lie to Da'Vonne about the Ian vote and Da'Vonne still believed them. They were trying to secure Jury votes.
Enzo – it doesn' matter Dani and Nicole aren't making it to the end.. that's why I want Kevin gone to tell Da'vonne
Tyler – she already knows..
Enzo says Da'vonne side never won sh1t "they got picked apart. YO if you don't win sh1t and you're three people out in the open like that you got to win sh1t"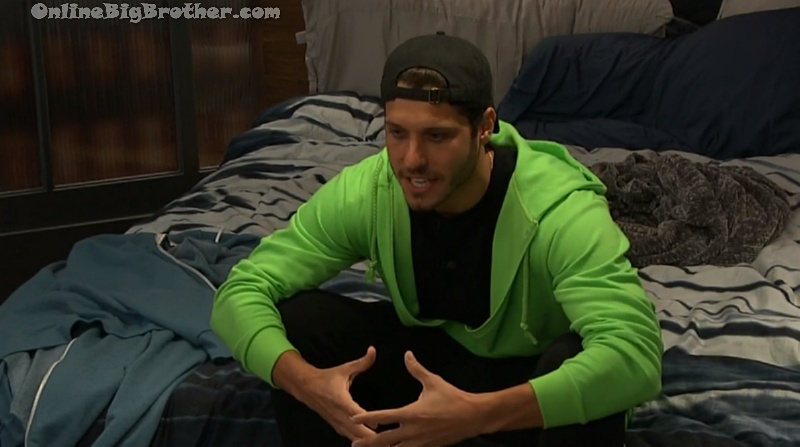 Cody joins them.
Enzo – Kevin is giving me everything to stay
Cody – I respect it but it shows he's trying to play up he's a weak player.
Enzo – you haven't won YO you've been on the block 5 times
Cody – he's not a sh1t player he got put in with solid competitors in the comps that made him. he gets the game. David.. is so clueless.. look at his campaign
They agree that Kevin's campaign shows experience whereas David is clueless.
Enzo – this better be a 6 nothing vote YO
Cody goes on about being sorry for Kevin because he's trying to stay whereas David went for the 10K in the veto.
Tyler thinks David is going after Dani. mentions how David told Dani that he thinks Tyler is coming after him "because I voted him out"
Tyler – 2 seconds later Dani pulled me into a room and didn't mention that. She wants David to come after me
Cody says Christmas is getting rubbed the wrong way (by dani)
Tyler – she's buggin
Cody says Christmas tries to push wedges between people.
They talk about how Christmas is always tight with guys they mention her during BB19. Tyler remembers when this season started both him and Cody had a conversation that Christmas and Dani will butt heads their personalities don't mix.
Tyler brings up that David came clean about voting him out because he wanted to force Dani's hand because he thought Nicole was voting him out so the total would have been 4-4
Tyler – they wanted to see where Dani would go.. Dani would have voted me out. You can't be risking my sh1t..
Cody – that is why I was bent on Nicole you are not. You better not do a pitty thing with him (Ian)
Tyler brings up Dr.Will saying not one step, Not two steps but three steps. If we did an eviction tonight and HOH tonight., Veto tomorrow and double eviction this Thursday.
Tyler – Thursday or maybe Sunday we have a double eviction
Cody – I don't think I follow
Tyler explains again
Cody – that all makes sense..
Cody asks who Christmas would go after "She terrifies me"
Tyler – I don't thin kit's us three
Enzo – she gotta win HOH YO
Cody – just like they can win we can win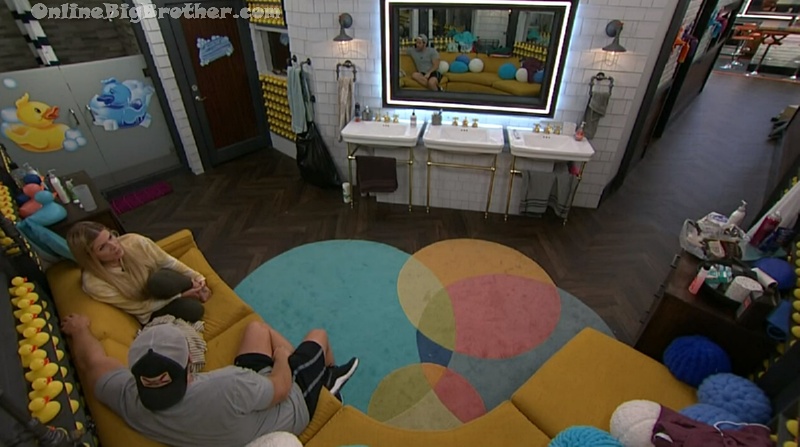 4:00 pm Dani and Memphis
Speculating about there being some combinations of double and an eviction tonight
Memphis says the best scenario is that Kevin, David, Enzo leaving the committee left in the house
Memphis – can you imagine if that happens it would be crazy
Memphis – I don't want Enzo to go we need the vote
Dani says she feels like Christmas will put her up. Wonders if it would her and Cody
Memphis – I wouldn't want to be sitting next to Cody
Dani – he's got all the guys
Memphis says if Tyler wins HOH he's going up for sure
Memphis goes on about them keeping the committee to the final 6
4:09 pm Christmas and Memphis
Laughing that Nicole asked her if she picked Christmas for veto and Christmas won veto she would take her off the block..
M- these people are crazy
Christmas – I'm like yeah
They talk about Dani and Nicole being freaked out now that they think theirs 3 evictions this week.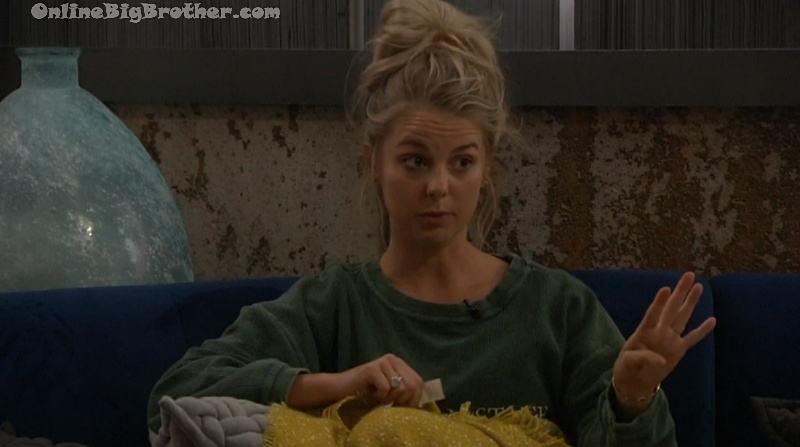 4:10 pm Cody, Nicole, and Enzo
Nicole – David came to me and said he's not putting me on the block.. good awesome great I don't care. But.. you know how we're kinda like short of numbers right now like you think you have David I think Tyler has David, I think others have David. If we make Kevin .. if we kept Kevin and said you cannot come after us four.. like he's desperate.
Nicole – what do you think about that. I would make him say his targets vocally
Cody – do who?
Nicole – If my back is against the wall and I'm coming after you and you I would say these are my targets. Why don't you want to keep him?
Cody – because of everything that has led up to this
Nicole – I don't want to keep him but I just talked to him
Cody – Kevin is good at the game David is not. Kevin just had an incredible pitch to me
Nicole – I don't trust David at all I'm sorry.. I know he's your boy..
Cody – David is clueless in this game not my boy.. he's not my boy.. he's clueless. he went for 10 grand on the block. He's lost.
Nicole – I wanted to at least try because I thin we need another number going into the week. He said you can put me up every time.
Cody says he said the same thing to him
Nicole says Kevin has told that to four people, Dani, Enzo, Cody, and her.
Cody says Kevin is saying the same thing to Memphis and Christmas
Enzo – David is not winning an HOH C'mon
Nicole – Okay we'll keep David
Nicole – Cody I'm trying to figure out how we'll survive the next week
Cody – Win HOH you haven't done that all season
Nicole – it's not that Simple
Nicole says it will be obvious who her target is.
They debate how many times did Dr.Will "wink" in the tape segments they watched.
they start studying the Dr'Will video and days
Nicole – see Cody's not stupid in the least bit let them keep thinking that you're stupid
Cody – Ohh I play it up in the DR that I'm stupid I love it gives me TV time. TV time equals Followers, Followers equal Money
Cody – I don't play to get followers I just know the more TV time you get you get followers (hate new school )
Cody – David gets TV time for picking 10 thousand dollars..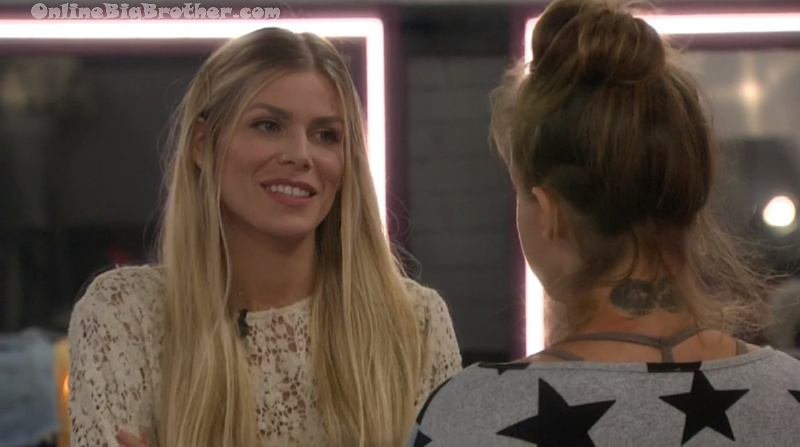 4:35 pm Christmas and Dani
Dani – I'm so stressed out Christmas if it's everything they say.. it's stressful
Dani – are they voting out Kevin?
Christmas – I don't know he has an entirely different take in the last hour
Dani – who, Kevin?
Christmas – Yeah
Dani – what did he say?
Christmas – he said Cody is neutral
Dani – since when .. maybe in his mind. He hasn't even talked to Cody.
Christmas – he did an hour ago
Dani – what would you want to do if it was just you
Christmas – I don't know David is just lost he doesn't know what is going on
Christmas – I don't know it's annoying … it's annoying.. I'm going to check in with Cody. Personally what I want doesn't matter if I don't have the numbers on my side.. Where are you?
Dani – it doesn't matter. If I have my choice I would want him out first (David)
Dani – I don't trust either of them
Christmas – where is Nicole on all this
Dani – I don't think she cares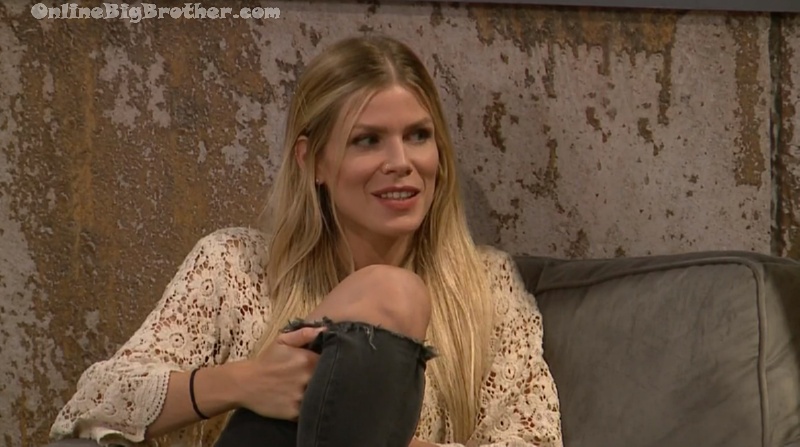 5:13- 5:30 pm Dani and Cody (Lotsa stars)
Dani brings up talking to Christmas and she told her Kevin is saying told him he's neutral about the eviction.
Dani saying that she's stressed out but Nicole is being Panicky "She's stressing me out sometimes"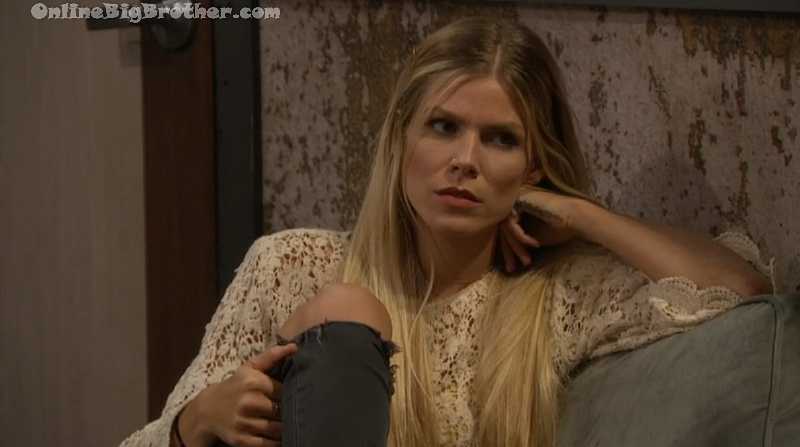 6:00 pm Dani and Cody
Mostly talking about past events this season. Lotsa chit chat about family.. etc…etc..
Dani says growing up at her Grandma's they never had any money "Everything I have I worked my butt off for.. I feel so guilty all the time not helping and contributing.. Dom is always saying don't think that way I never want you to think this way .. I don't care "
Dani – not that we're struggling we're doing fine it affects me because I feel so guilty all the time I want to come here to make money so I can feel like I'm contributing
Dani – just to take some of the heat off him you know
Cody – yeah .. yeah without a doubt. God I feel like we're all so let down.. ( They thought there was an eviction tonight)
Dani – Especially David and Kevin
Dani – did David pitch to you or anything
Cody – hasn't talked to me
Dani says she feels like she's never talking game with Enzo anymore.
Dani – I feel like he doesn't have much to say
Cody – he takes everything in
Dani – he's not a planner
Cody – no no
Dani says she misses Da'Vonne. Cody says he misses Bayleigh.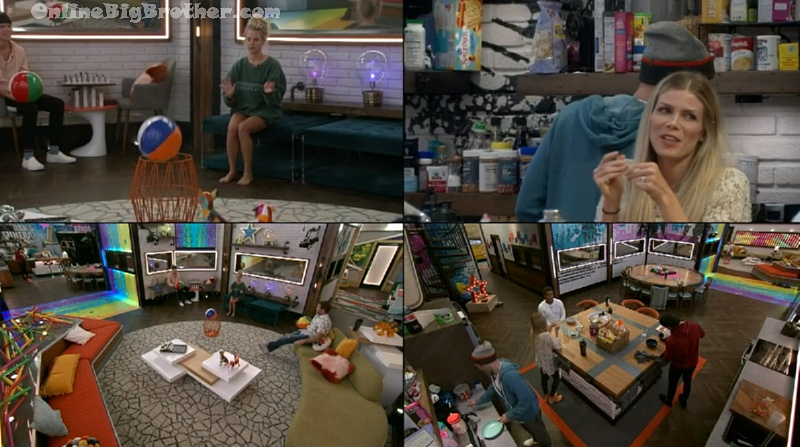 6:42 pm Back to snoozeville.. Dani asks if they are still planning on doing charades tonight.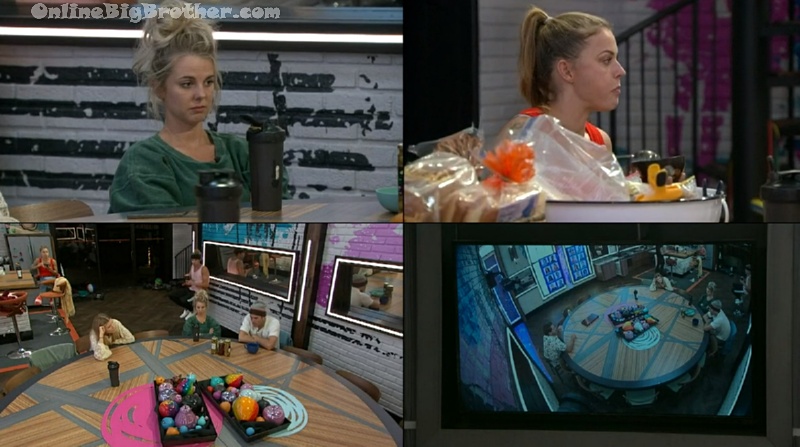 7:00 pm It's clear to the house now there won't be an eviction and HOH tonight. More theories about possible triple eviction can be developed and of course charades has been talked about.