POV Holder:
?
Next POV
April 26th
POV Used
?
POV Ceremony
April 28th
HOH Winner:
Jon
Next HOH:
May 1st
Original Nominations:
?
Current Nominations:
?
Have Nots
?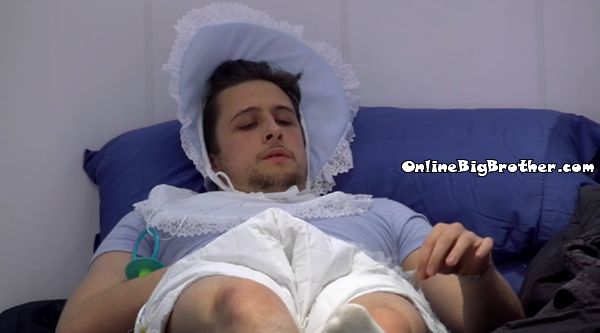 7:40pm HOH JOn and Neda
Neda says Heather is so worried about going up, Neda thinks it's very important that they don;t let Heather know she's not the pawn. If Heather think she's the target she'll have more fire in her belly.
Neda – "Is this the best plan for us to take Adel over Heather"
JOn thinks it is says if Adel had won the HOH they would have been safe but if Heather had won there was real chance of them going up
Jon – "Adel will take us to final three Heather will not"
Neda – "You think Adel will choose you over sabrian.. look at how easy it was for him to turn on HEather.
Neda says she's worried about Adel's abilities being greater in competitions than Heathers. Jon doesn't think so says that
Heather rolls in "Is everything OK"
JOn and Neda says yes, Jon starts complaining about his diaper.
Adel joins them.. It's obvious that heather knows something is up, Check out the picture below. (Is turning on Heather a smart thing for JOn and Neda?)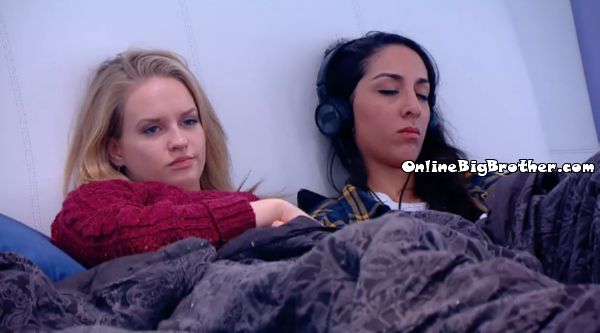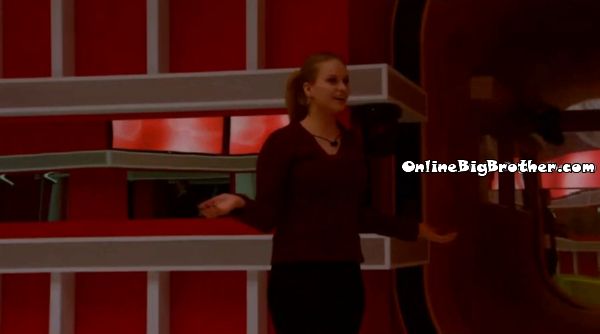 8:13pm Heather Living room
The lights starts flashing on and off.. Houseguests collect around the living room trying to figure it out
Big Brother Starts talking over the speakers.
Big Brother – "Paul please fix your microphone"
Big Brother -"IKA Please put on your microphone"
Sabrina – "OH MY GOD OH MY GOD"
Big Brother -"IKA Please put on your microphone"
Big Brother -"Paul please fix your microphone"
Sabrina says she's going to have a heart attack.
Adel – "Someone's coming.. I hear feet"
Neda – "What the f** is happening"
Sabrina – "I TOLD YOU I SAW HER"
Neda – "She saw IKA"
Heather – "I Hear footsteps again"
They start freaking out Adel screams that Paul is coming back. Neda wonders if IKA is coming back. Sabrina had thought she saw IKA in the mirror earlier today says she was looking right at her. Jon thinks it's crazy to suggest Big Brother had all the evicted houseguests sequestered for the last 9 weeks.
Adel – "If it's high heels it's a girl if it's thumps it's Paul"
Sabrina – "I hope it's Paul"
Jon laughs at the idea of Paul coming back into the game.
Adel – "I would fall down the stairs"
Neda says maybe someone is coming back for the weekend not to play the game but to talk to them.
Jon says he was in the Diary room at the time and everything had shut off.
Neda – "I think a lot of things happen to f** with us but that seems a little extreme"
Adel wonders if Canada got a chance to vote a past evicted houseguest into the house.
Neda wonders maybe nothing is going to happen.
Sabrina says Big Brother Never does anything for nothing.
Jon points out how they have to pack all their clothes up and that turned out to be nothing.
Lights flash off again and we hear a loud screeching sound. Sabrina – "Oh my god"
(Watch the videos)

8:47pm Feeds off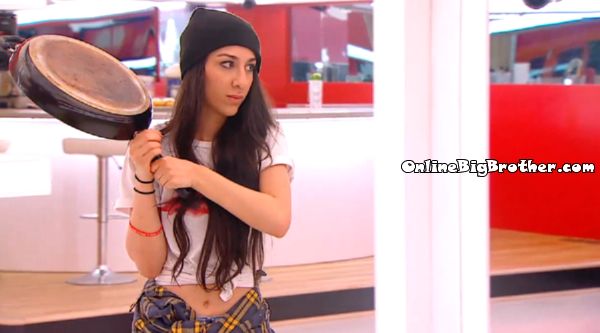 8:55pm Feeds come back
Jon is out of the diaper. Everyone but Adel say a video clip that showed footage from Andrew's nominations ceremony. Adel was in the bathtub at the time. Sounds like they were visited by "ghosts" and a "Ninja"
Big Brother Calls Sabrina to the Diary room. Sabrina says she's too scared.
Jon – "Just expect them to bang on the windows"
Sabrina – "I'm so scared"
Sabrina comes out says it was about the rash on her hands.
Neda wonders if it's over.
Heather doesn't think it's over says they are waiting for them to get relaxed.
All sorts of different theories start going around about what the video they saw was all about. They agree a old houseguest is not coming back. Other than that they are just randomly guessing. Neda thinks the evicted houseguests will get to decide who the nominees are.
Neda – "There's two weeks left someone has to get out of here soon"
Sabrina – "Why Andrew though.. Why that week over any other.. there was one before and 8 after"
Adel – "Who cares.. it's a whole bunch of nothing"