POV Holder:
?
Next POV
April 26th
POV Used
?
POV Ceremony
April 28th
HOH Winner:
Jon
Next HOH:
May 1st
Original Nominations:
?
Current Nominations:
?
Have Nots
?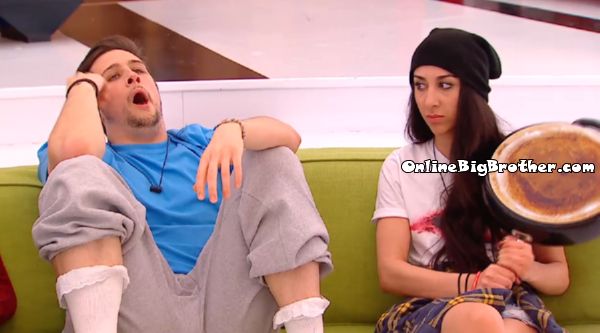 9:23pm Heather – "So obviously something is happening with nominations"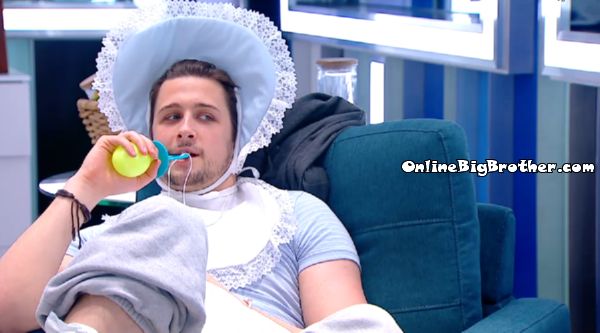 9:33pm HOH Jon and Adel
Talking about how f***d Sabrina is thinking she saw IKA. Adel – "They (Production) play to her hallucinations"
Jon says Neda did nothing for her baby it's such "Horse Sh1t"
Adel thinks it's too late in the game for Big Brother to do something too drastic with the twists.
Adel proposes that he'll bring Heather and Neda up into the HOH and he'll tell them he was the pawn last time one of them needs to be the pawn this time. Adel will tell Heather that now is her time to be the pawn so they can get out Sabrina.
Adel will make sure he talks to Neda well before so she doesn't think they are up to something.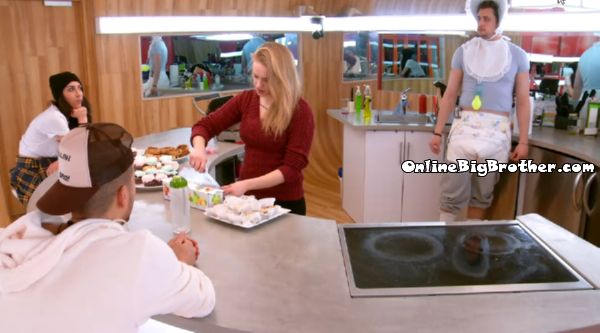 10:00pm
Heather is packing up the cup cakes. Feeds go to hush hush
10:06pm HOH Adel, Jon and Neda
Adel says he's going to get Heather and the rest of them together and tell them all he went up as the pawn once as the sloppy seconds it's time for someone else to.
Neda tells them to not bring anything up to Heather its best that heather just finds out she's nominated and bam right after has to play in the POV. Neda doesn't want Heather to have time to think about it.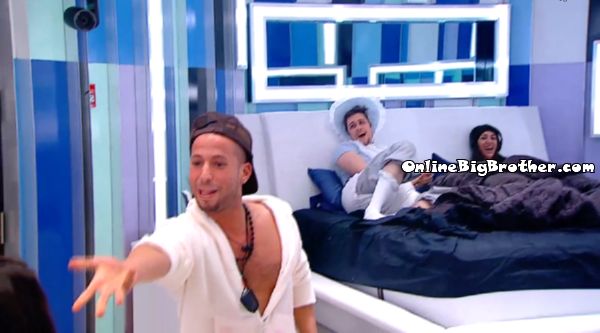 10:21pm HOH Lockdown
Adel breaks into song
"You thought you could sing broadway"
"I don't know what to do but eat ice cream and go poo" (Watch the 33 second youtube to see just his performance)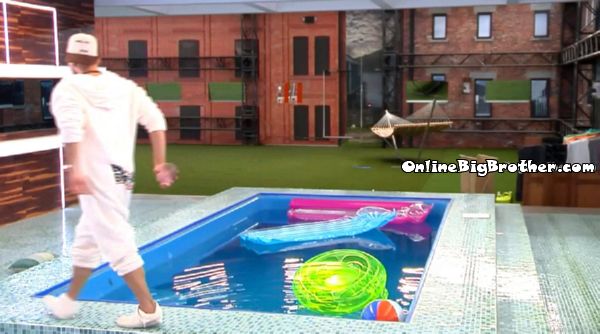 10:30pm Adel finds a baby head in the pool. The house guests collect in the backyard and pass the baby head around. (See video)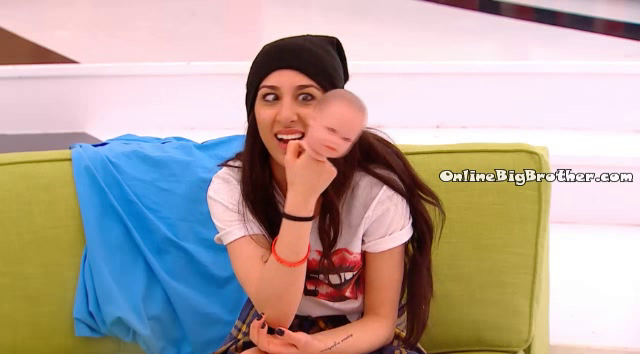 10:45pm Living room
Passing around the baby head playing baby head hot potato. Adel asks them – "What do you think about Aliens.. Do you believe in Aliens.. you guys watch District 9? I can't wait until District 10"
Neda says Allison using the veto on Sabrina was what ruined her game. Sabrina says the original plan was for them to keep Arlie but in the end they voted him out.
11:16pm Bedroom Sabrina and Neda
Neda tells Sabrina the plan is to take out Heather. Sabrina asks if Heather wins Veto who goes home her or Adel. Neda says it hasn't been discussed.
11:42pm Living room everyone but Neda
Jon says Kenny was the leader of the gremlins.
Sabrina – "You're joking right.. I never ever had a conversation with him as gremlins.. how is he the leader.. no he was never the leader"
Adel asks Heather who the leader of the gremlins was. Heather says Kenny.
Sabrina _ "I am the ULTIMATE decision.. I hold Power in the jury house"
Neda joins them, they ask her who was the leader of the gremlins after Kenny left. Neda says Allison. Everyone laughing. Sabrina says She was the leader of the gremlins.
11:58pm Bedroom Sabrina and Adel
Sabrina says Adel is so weird.
Adel laughs says he cannot wait to see the story they built around the two of them.
Sabrina says their story would be a lot better if he stopped being mean to her.
Adel "I'm not looking for Romeo and Juliet Story BUD.."
Sabrina laughs says she's not looking for that either wants a normal relationship in the house, "You're mean"
Adel – "You're mean… you're a bully"
Sabrain – "I'm a bully OK .. thorn in my side.. "
Adel – "Thorn in my a$$"
Sabrina – "I don't understand why you don't want to be friends… no answer OK."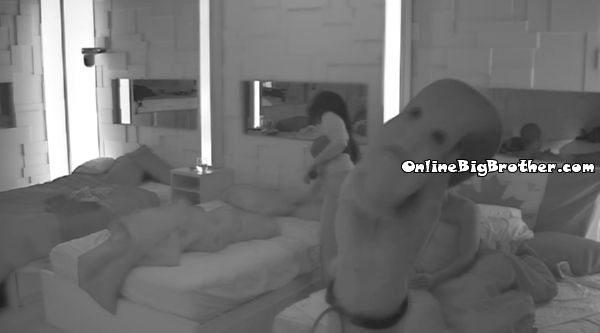 12:11AM They find the baby head in Sabrina's bed..
12:30AM