POV Holder:
Liz
POV Competition
Aug 15th
POV Used
?
POV Ceremony
Aug 10th
HOH
Liz
Next HOH
Aug 20th
Original Nominations:
Johnny Mac and Becky
After POV Nominations:
? and ?
Have Nots
Vanessa, Johnny Mac, Steve
7:54pm Hammock Vanessa and Steve
Vanessa – I'm in an sad mood
Steve – Why are you sad
Vanessa – I don't have anyone, I can't do this anymore I'm so miserable
Vanessa is crying "I'm feeling lonely… don't make a big scene"
Steve – tell me what's on your mind
vanessa – I'm super lonely I feel like i'm on the block again I walked in a room everyone leaves.. am I going up tell me steve
Vanessa – I'm so lonely here
Vanessa basically breaks down.. says she can't take much more of the isolation she breaking.
Steve suggests they go play a game of chess.
7:57pm HOh Austin and the twins
Julia – She's the most annoying b1ch ever
Liz – I'm worried if we keep her here 1 week longer she's taking Austin Out
Austin – that's scary what if she decides to flip the script
Liz Goes on about Vanessa freaking out. 'Shew said I could just tell there's something up"
Austin is scared "What if she flip the script, Could she?"
Austin recommends they talk to Vanessa to calm her down "Nothing is wrong we're with you till the end don't let the paranoia get to you"
Austin goes on about Keeping Vaneesa close they need her around in case she wins HOH.
Julia says she's going to break up the steve/Vanessa conversations.
LIz – she never comes here.. she said I can tell he's avoiding me..
Austin – She's never up here
They agree Vanessa has been acting weird above and beyond the norm.
Austin – we have to calm her down
Austin – we're supposed to be a team
Liz – she's buggin out and i'm sick of it
Austin "you need to tell her this STOP THIS there's nothing wrong
Julia laughs "Stop this"
Liz leaves to break up Vanessa and Steve
Julia – everyone knows she's f*** crazy
Austin- what if she wins HOH and does something crazy
Julia says if vanessa comes after Austin her and LIz are going to take her out.
Austin – Ya…
8:02pm Hammock Julia and Vanessa
Vanessa Cries says Austin never talks to her anymore she tries to hang out with them she feel like the 4th wheel "It's terrible I can't take it anymore I'm lonley as shit "
Vanessa – I have friends in real life I'm sleep deprived from that Dentist chair .
Vanessa – I need to be able to create and write..
Steve and Austin comes by "what's wrong":
Vanessa cries "I can't sleep well, I obviously haven't been sleeping well.. I'm super lonely"
Vanessa – I'm losing my sh1t I'm over tired
Julia – She is feeling lonely because we have us three
Austin – than come hang out
Vanessa – it's just it's just I just miss Mel I guess
Steve – I miss my mother as well, I don't know if people know that
Julia says she's lucky she has Liz it makes it easier
Steve asks Vanessa to come play
Austin – Lets have Fun conversation this is our safest week ever
Vanessa – I'm lonely because there's not so many people here right no9w the options are limited.
Vanessa – I'm always the odd man out , This place sucks for loneliness..
Vanessa wants to makes sure that they all don't think she was the one that started the "8 person alliance"
They tell her everyone knows Becky was making that up.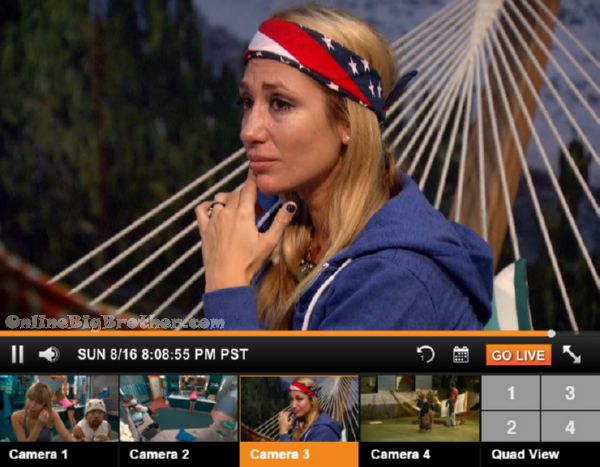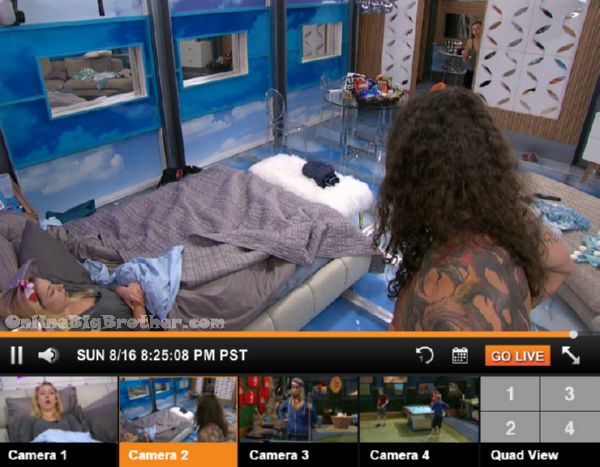 8:24pm HOH Twins and Austin
Liz going on about Vanessa saying how lonely she misses Mel.
Austin telling them they have to bit the bullet be the best friends to Vanessa tell her whatever she needs to hear. "This is the time we have to act"
Liz – I'm just really scared if she wins HOH
Julia – Look … if she goes after Austin that is the stupidest move in big brother history, even more than what Jeff did alright.. (ZING ZONG)
LIz – Meh
Austin says Vanessa doesn't have Meg and James she has nobody. "And she really doesn't have Steve or Johnnymac so it's like … It's scary though
Julia – it's scary she would be stupid not to go after Johnny Mac
Liz says Vanessa is trying to tell them all that Steve was the one that made up the 8 person group
Austin – you mean the one she started
Liz – she's literally off her rocker she's all like I'm sorry I miss mel
LIz goes on about how Steve was telling them they all have someone they miss back home.
Austin – And I made a great point too.. I miss you in the Diary room
Juli a- -OH my GOD
Liz continues retelling what Vanessa said when she was complaining about the stresses of the Big Brother House
Austin – We'll you can always press the button and leave
Liz – No one feels sorry for you we're all in the same boat here
Julia – In know
Austin – I know, We all have people we miss
9:15pm they get a dribble of alcohol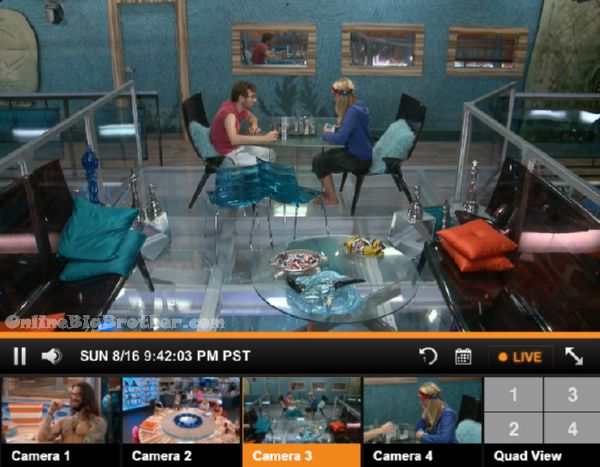 9:24pm Chess Steve and Vanessa
9:50pm having a meal.
Twins – We're going to go to the pot bowl party
James- there's going to be some hotties there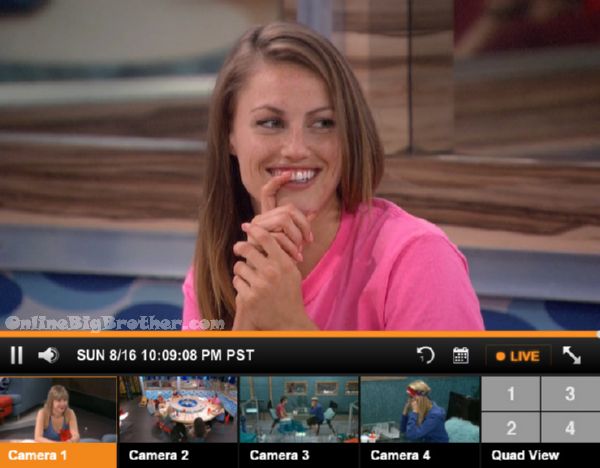 10:09pm getting ready for POT Ball
Pot Ball, Pot Ball, POT BALL.. POT BALL.. POT BALL #BB17 @DawgsBigBrother pic.twitter.com/V5BCDSJmkt

— OnlineBigBrother.com (@bigbspoilers) August 17, 2015
ALLIANCES:
Goblins/Gremlins = James and Meg
Generals = anyone allied with Becky
SOS = Steve and Vanessa
Rockstars = Steve and Jmac
AUS-Twins = Austin, Julia and Liz
"Brass Tacks"  Gobins and Austwins
The new "Brass Tacks" = Aus-Twins, Meg, James + Vanessa
"Freaks and Geeks" "The Scamper Squad" – Aus-Twins, Vanessa, Steve
[polldaddy poll=9025485]
Share it YO!!
Tweet