POV Holder:
McCrae
Next POV
Aug 31st
POV Used
POV Ceremony
Sep 2nd
HOH Winner:
GM
Next HOH:
Sept 5th
Original Nominations:
Amanda and McCrae
Current Nominations:
Last Evicted Houseguest
Aaryn
Have Nots
3:00pm Backyard Amanda and McCrae
Working through scenarios where they can both stay this week.
Amanda says if Kaitlin had used the veto on Jeremy she had a chance to stay that week.
Amand says that the entire house does not want McCrae to go. Amanda wonders if McCrae can make a deal with GM by telling her if he uses the veto on Amanda she would not put ELissa up.
(Amanda and McCrae are running through every scenario possible.. At this point McCrae will be using the veto on himself. THis is just one of three angles they are exploring to both stay in the game)
3:06pm random conversations in the kitchen
ELissa saying Aaryn's dream was to see the playboy mansion, GM told her she was going to hook her up.
Amanda asks if they get to keep their Big Brother Keys. Elissa and Andy tell her you can. Elissa adds that Janelle was selling her's.
AManda – 'How much'
Elissa – 'like 5 bucks'
Andy thinks she sold her last key were she only made it to 12th place. Andy says he was a big Janelle fan. Spencer liked her more in Season 6 than Season 7
You can re-watch ever second on the feeds using the flashback feature.. It's just like a DVR and is super easy to use. click this link for a Free Trial —> Subscribe to the Big Brother Live Feeds
3:08pm Backyard JUDD and McCrae
JUDD says he's been trying to brainstorm and think of things..
MC – 'What are you thinking'
JUDD – 'I thought of different things..' JUDD mumbles out he thinks if McCrae uses the veto to save Amanda and GM puts ELissa up both AManda and MCCrae could stay.
MC – 'YA'
3:25pm Cockpit Andy and MC
Andy isn't sure GM will fall for that (MC using the veto on Amanda to have LEissa put up). Andy says he has trouble figuring out what GM will do. PArt of him think she's so dead set on splitting the couple up.
ANdy – 'I'm trying to distance myself from you because if Elissa wins HOH I don't want her to put up you and me up'
Andy says he wants to get ELissa out, but he wants her to think he's going after McCrae so she doesn't feel threatened. To Andy the most important thing is to keep McCrae and Spencer safe.
Andy – 'If it's a double eviction Elissa will be going if i win HOH'
Andy asks if it's better to put ELissa up or backdoor her/ McCrae doesn't know for sure thinks at this point it's not as crucial.. Andy thinks when ELissa life is on the line she will fight harder to win a veto.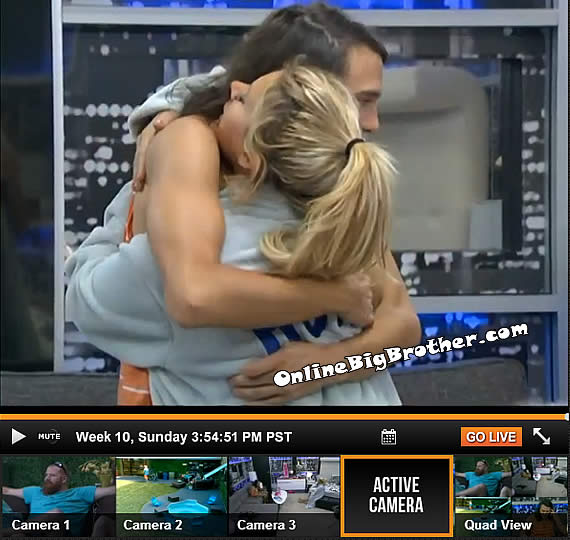 3:30pm HOH GM and MC
GM says she's going to have a decision about who she will put up tonight.
GM- I'm not talking to anybody because they will tell me what they want and what's not best for my game
GM says she's making this decision 100% on her own.
MC – "ya yup ya'
GM – 'I don't want Amanda out.. But if I had to pick for a tie breaker I would pick you.. you are kinda like me you are a free person and you are happy.. and I know you are such a big fan of the show'
GM says if JUDD goes up and it's a tie breaker she'll vote out JUDD.
MC – 'I've been thinking about using the veto on Amanda.. what do you think about that'
GM – 'you do what's best for you but in past Big Brother that was one of the biggest mistakes in Big Brother history.. you do what you want to do.. it you think she can continue farther.'
GM – 'if you use it for her and you went home would you be pissed off'
MC says he would be but he would never use it on her if he wasn't sure he had the votes.
MC – 'It's risky for me but I think I have the votes'
GM – 'you don't want to f*** yourself in the a$$ MCrae.. I don't want your friends back home to be like.. McCrae you are a f**** idiot'
GM brings up her broken toe and how she's worried about upcoming competitions.
MC points out that the POV competition during the double eviction is running back and forth. It's one of the more physical competitions in the game. GM doesn't know. MC bring up the clown shoe, Jeff and Big Brother 13. GM remembers that.
MC – 'I just want to know If Elissa will go up.'
GM – 'I'll give you a time thing.. what is a good time frame'
MC – 'whenever..'
GM – 'MAybe… 10.. 11.. nay.. make it 10'
GM – 'be smart trust in who you think you can trust in… it's a tricky move dude.. to be honest with you.. if it was me and Nick .. nick would tell me to save myself bro'
3:58pm JUDD and McCrae
JUDD – 'you think i'm going up'
MC – 'no way'
JUDD – 'If I don't go up.. I don't want to be a even bigger target if it's just me'
MC – you mean voting Amanda '
JUDD – ya'
Spencer rolls in tells them the pool is nasty as hell.
4:05pm Kitchen McCrae and Amanda
McCrae goes over his conversation with GM says she will let them know at 10 if Elissa goes up. If GM puts up Elissa he will not use the veto on Amanda but if she doesn't he would consider it. MC adds that he told GM he has the votes to stay and GM told him to not make a move he would regret. MC doesn't think Elissa is going up.
Amanda thinks she will put up Spencer or Andy. MC says JUDD alludes that he would vote to keep Amanda. Amanda says that is all she needs to stay in the game is JUDD's vote. Amanda really questions if JUDD is serious about voting to keep her or if he's just bullsh!ting them.
McCrae says GM did talk about putting JUDD up. AManda – 'don't tell that to anyone' MC – 'That would be the best'
4:19pm backyard ANdy and GM
GM brings up MC mentioning he has the votes to stay if he uses the veto on Amanda, "You need 75% of the votes bro'
GM asks him who he would rather keep in the house MC or Amanda.
Andy isn't sure he thinks McCrae is probably the better of the two, "It's your HOH I'm cool with whatever you want'
GM – 'It would be a lot nicer if he's around than if she's around'
They agree that McCrae will target Elissa and Elissa will target McCrae. GM mentions how Amanda has the possibility of weaseling herself back into a group.
GM – ' I just don't want Amanda to get in good graces with ELissa.. that is a power couple'
Gm – 'what do you think'
Andy – 'Theres no chance in hell he will use the veto on her.. '
GM – 'I don't know bro'
4:30 Chillin everyone else is chit chatting inside
4:48pm Backyard JUDD and McCrae JUDD tells him if Amanda goes they need to work together it's their only chance. McCrae agrees says he's not even close to Andy anymore. JUDD gets the feeling that Andy only talks to him to get information.
Share it YO!!
Tweet