Help support OBB by making your Amazon purchases through our link below. It doesn't cost you anything and we get a percentage of what you buy.
Amazon Canada
Amazon USA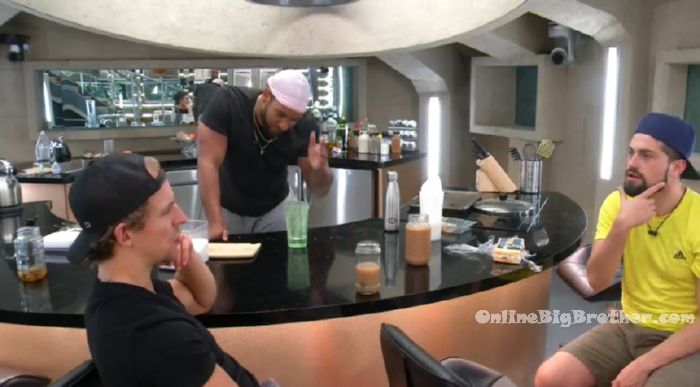 10:22pm Adam, Dane, Anthony and Mark.
Mark – Even Este said there can't be (a guys alliance). Este came over to me and Dane half way through the season and said so we were told there was a boys alliance. Mark does the pretty boys check mark sign. Dane – yeah Este crawled into my bed at midnight and asked what does this mean to you? (doing the check mark sign) I was like you look like an idiot. Mark – we think its Dane, Adam, Anthony, Mark, maybe Damien but it is probably just you four. And I was like that's so silly. Dane – before she left this week she was like Anthony, you and Adam are for sure working together. I was like no. Mark – hey, what about me?! Don't I get cred!? Dane – Este was the least competitor the whole season.. over and over again she proved that one. Big Brother blocks the feeds.

12am HOH room. Kyra, Dane and Adam.
Dane – Mark just went to the diary room so its a perfect time to talk. Kyra – I am not going to put up Adam. That leaves you and Anthony. I still might put up Anthony. Mark is obviously the goal. I hope that we can all respect that. Dane – can't let him win (veto). Kyra – he is not going to win. He's not. He's not. All of us are playing, he is not going to win. Dane – you saw how he buckled under pressure. Kyra – I was thinking .. I might take Anthony to Wendy's to see where his head is at. I don't want him to .. because already he asked me if we are working together. And I was like Dane doesn't trust me for sh*t. I don't want him to know that we made a final 3. Dane – I know that. Kyra – because that's bad. Adam – what did you tell him about me? Kyra – he knows I have your back. I am not going to put you up. There is zero chance I am going to put you up. If someone comes down, you're still not going up. Either way Mark is going home. Mark is to me a huge mental threat. Adam – if Mark leaves you're (kyra) the smarted in house. If Mark leaves we have this hands down. Kyra – I feel like Anthony is more likely to hold it against me. I haven't decided for sure but in terms of damage control. Dane – I feel very good about the three. If you need to put me up, put me up. I will be a man about it.