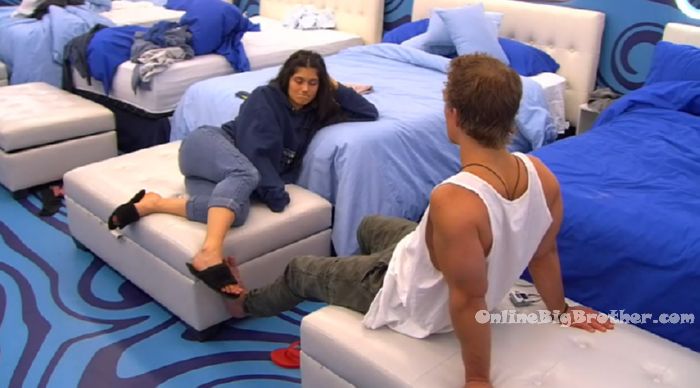 9:10pm Bedroom. Dane and Esti.
Dane – I just want to get Sam out of here so f**king badly. Like she is sitting in her room just chilling all day. Just because you're in power 1 week, doesn't mean you're powerful! I mean you need to be out listening, watching .. not sitting in your penthouse suite just chilling. Yo.. Chelsea did the same thing. It was you Chelea, Adam and Kyra always in her penthouse suite while us peasants were planning to get you guys out. And you guys didn't even see it coming. You were shocked when I put up Chelsea. And now she is doing the exact same thing. And now they're sleeping together. Esti – I mean everyone already know. Est – how do you know what you're saying to him, doesn't get back to Sam.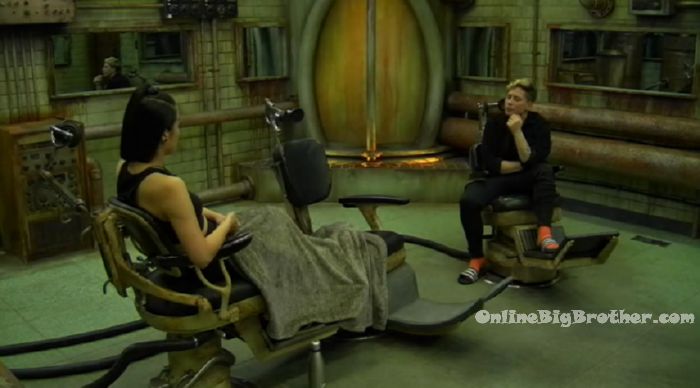 10:10pm Havenot room. Kiki and Kyra.
Kyra – why do you run to Dane after ever conversation we have? Kiki – I talk to Dane and we just have a really good relationship. We talk game but not all the time. Kyra – but literally right after every conversation we have. Kiki – this is my back against the wall and I have no reason to lie. Me staying in this game benefits you because i am not gunning for you. Kiki – I need Esti in this game. Dane's had my back. Sam has saved me with the POV. Kyra – this is a very risky game and I only play with people that I think I can really trust. And I don't think I can trust you, I don't. I also don't think I can trust Mark but Mark isn't really a threat to me. So we will see where the house lies.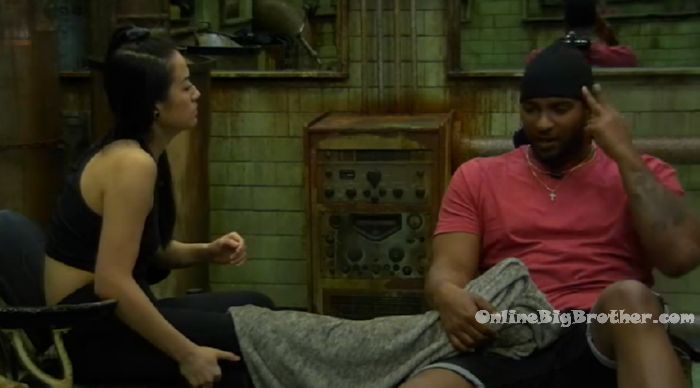 11pm Havenot room. Kiki and Anthony.
Kiki – I am really trying my best here. I don't want Cory to feel like I'm coming after her because I'm not. Its really difficult for me to campaign to Cory. I am not going to lie, I have a really difficult time with it. But I am not gunning for you. Anthony – here is the thing.. that night when we first sat down, I told you that I knew that you said my name but when you took yourself out of the box you had to realize what it was for .. if anything. Now I told you I am not an emotional person. If you had to say something, you had to say something. I know what it is, I know what we been trying to do. I get it but now if we're going to keep it.. 1 million. Mark, I think it is kind of weird that no one knows where his mind is at. When I talk to people I am very vague and I don't say anything incriminating. When I talk to people about Mark, no one has any idea. When I talk to Mark, he is like oh I'm a wildcard. I've been playing the game bad. No you haven't! Its just your social game is not good. If you're in jury, there are four other people you're going to choose over me. Are you going to choose Esti over me? Dane, nope not going to choose me there either. Damien, not not going to choose me. Kiki – I wouldn't argue you with that one.
Help support OBB by making your Amazon purchases through our link below. It doesn't cost you anything and we get a percentage of what you buy.
Amazon Canada
Amazon USA