Big Brother Casnada Spoilers – Dane will be using the Power of Veto on himself and Cory will be putting Sam up as the replacement. Sam is the target.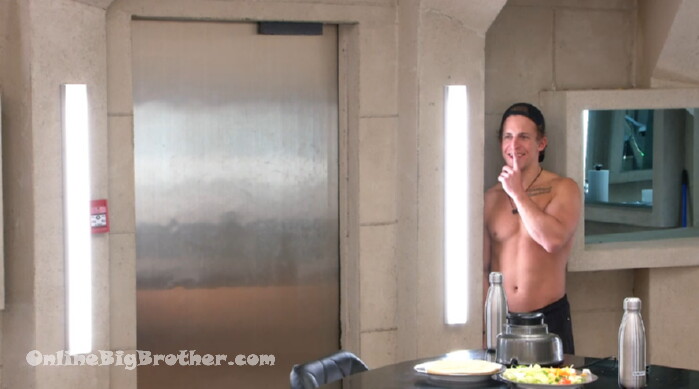 7:13pm Dane tries to scare Este…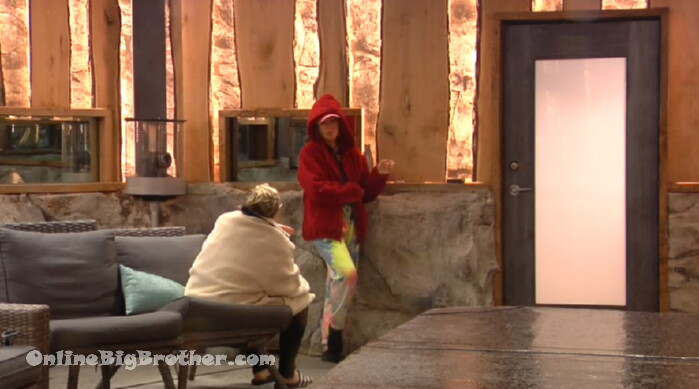 10:00pm outside Kyra and Sam
Kyra mentions how Dane is spending so much time with Cory he's coming off the block he must be trying to set someone up to go up.
Sam – I got to Chat to Anthony.. me and Anthony had some good chats about Dane ..
Kyra – Focus on Cory
Sam – OK
Kyra mentions how Dane is a hot head, "she's a f*ing Liar" (este)
Kyra – we can't trust anyone moving forward
Kyra – we will do everything in ourt power to help you stay off that bloc kif you get on there we'll do everything in our power to keep you here .. but we don't know anything yet..
Kyra – I don't know how close Adam and dane are
sam – real close.. Dane has been gunning for me real early on. Adam has been trying to keep me here balancing that relationship with dane.
Kyra – why were they gunning for you what did you do
Sam – he wanted me out to get Adam closer
Kyra – through you Adam is semi loyal to me so if he takes you out he has Adam all to himself.
Sam – YUP
Kyra – if she puts you on the block that's a tell all sign she wants to work with DAne.. That's stupid, She can't trust the guy
Sam – I don't even know how to act right now
Kyra – I'll talk to Cory again . .
Kyra about Cory – I'm so sick and f*ing tired of her trying to intimidate everybody she talks to.
Sam – I feel like her minds made up
Kyra – we dont' know that
Sam – my guts pretty good
Kyra – she could put up Adam ..
Sam – Dane's been gunning for Cory since Cory has gotten here.. you should chat with her sooner
Kyra – she doesn't listen to a word I f*ing say she doesn't respect me
Sam – have you talked to Anthony yet?
Kyra – I think Anthony is closer to Dane than we realized
Sam – DAne is doing his work
Kyra – you do not repeat that ..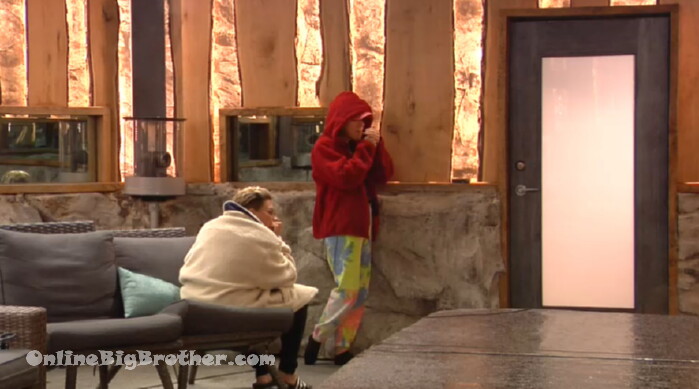 Kyra – I honestly think there's been a guys alliance this whole time
Sam – yeah
Kyra says they confronted Anthony about it and he said how come Damien went up week 1 and Maki left second week.
Kyra – Damien got pulled in and Maki wasn't involved because he spent all his time with the girls meditating
Kyra – my plan would have worked flawlessly if Dane hadn't won the POV
Sam – yeah ..
Kyra – I don't know who to f*ing trust .. nobody .. got to win HOH make a big f*ing move (if only you had a power that would enable you to do that… )
Sam says she needs to start thinking of what her campaign will be. She needs to get Mark, Damien.. or Anthony.
Kyra – You aren't going to get Anthony .. if Cory puts you up unless we somehow change Cory's mind
Kyra – for her Game why would she want to lose myself and Adam's trust that's two people
Sam – she's gaining Dane and Este
Kyra – Este is f*ingb useless
Sam – she's riding on the coat tails of Dane
Kyra – I wish I had the blood veto for two weeks (LOL)
Sam – oh my god ..
Kyra – should I plant seeds that I do .. I dunno than they won't make the move .. I dunno it's too late
Kyra – f*ing Chelsea wanted to take a shot at Cory week f*ing three we should have let her
Sam – when Chelsea left I was like If I win HOH who should I go for she said Cory and Anthony
Kyra – we needed to build with them we just went about it the wrong wayh
Sam – we tried.
Kyra – there was too much lying involved..
Kyra calls Este a idiot ..
Kyra – Anthony is such a f*ibng hypocrite some times..