Head of Household: Victoria
Nominations: Kiefer and Latoya
The Power of Veto Players are : Latoya, Kiefer, Austin, Ty, Jed
POwer of Veto Winner : Jedson
Power of Veto Ceremony : Jed did not use the veto
Have nots: Kyle, Ro, Breydon, Austin, Jed
Big Brother Spoilers – As of 1:00 pm in the Big Brother house Latoya will be evicted. There will be a blow-up after the eviction between Vic and Beth. Actually, Vic might be battling a bunch of people.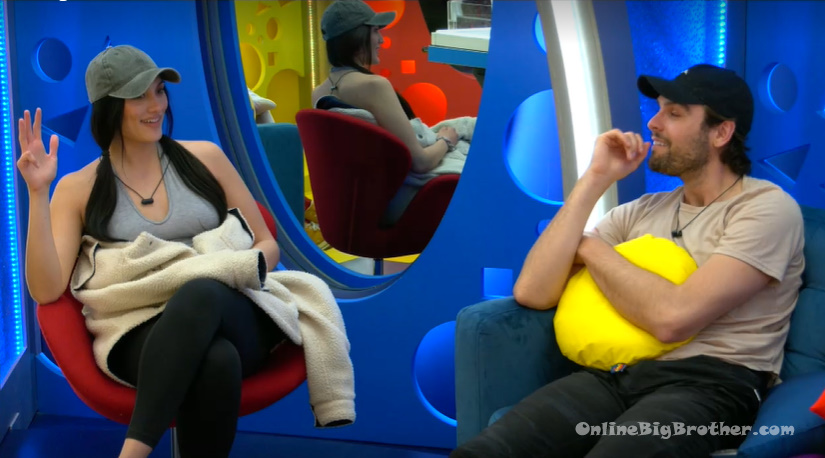 12am Austin, Kyle, Breydon
Kyle – I don't remember in the past a complete, complete blindside like this early. Austin – no. Kyle – maybe there has never been such a complete blindside. Austin – this is too much! Week one house flips. Week two house tries to flip. House meeting. Showmance love triangle. Pantry debacle. And then there is going to be a blindside. Breydon – its been three weeks! All in three weeks. Kyle – yeah I think you're right.. Big Brother blocks the feeds. I wish I could go back and blow up on Beth instead. I would love to go to town on Beth! Breydon – and not in a good way. Austin laughs. Kyle – I thought she was coming in to try an kiss me yesterday.. when I jumped over the couch. Breydon – what?! Where was I? Austin – Ok, so it was after she had kissed everyone and ..what was the context? Kyle – I had to drop some beats so .. they asked me to come up with a rhyme for someone in the comp so I was like he gave her an eight .. she gave him a seven. You give me a try, I'll show you an eleven. And then she started walking towards me and I literally jumped over the couch. Austin – he somersaulted over the couch.. I was like.. relax! Kyle – god things might get spicy here guys! Breydon – especially if Beth tries to confront her. Kyle – it might be a Victoria, Beth, Kyle, Ro…fiasco. And then just pray that we win HOH.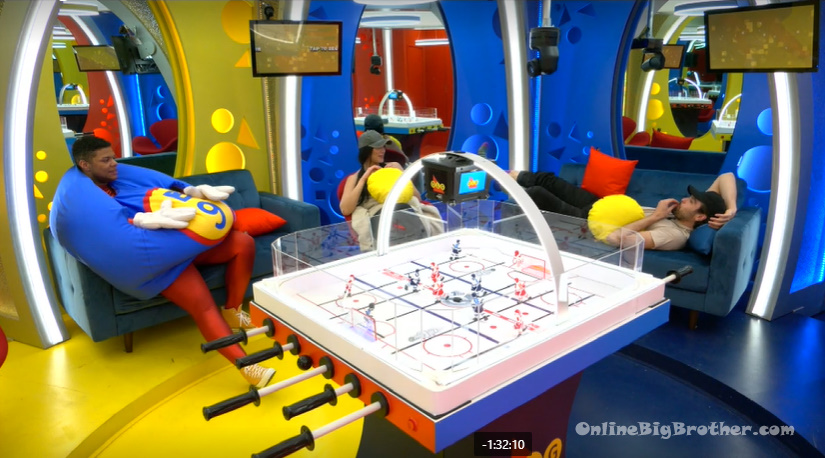 Bedroom. Keifer and Tera.
Tera – what do you think is worst case scenario? Keifer – Austin and Breydon from all of us. Tera – you think so? Keifer – well I don't know how much game you've talked with them? Tera – not much.. not a ton. Like if I were to win I wouldn't put them up. Keifer – I just don't know if they're ready to talk a big show with them. And I think we would be the easy people to put up. I think they would go for Jed and TY. Because Jed and Ty are coming for you. My worst case scenario.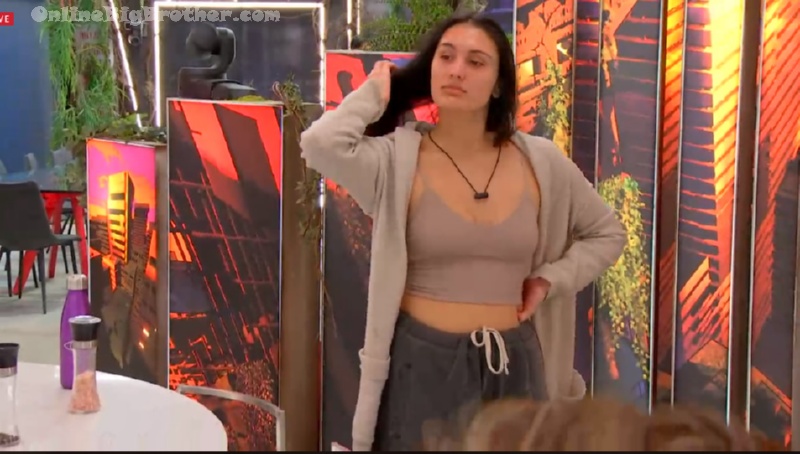 11:16 am House getting up milling around the kitchen/Bathroom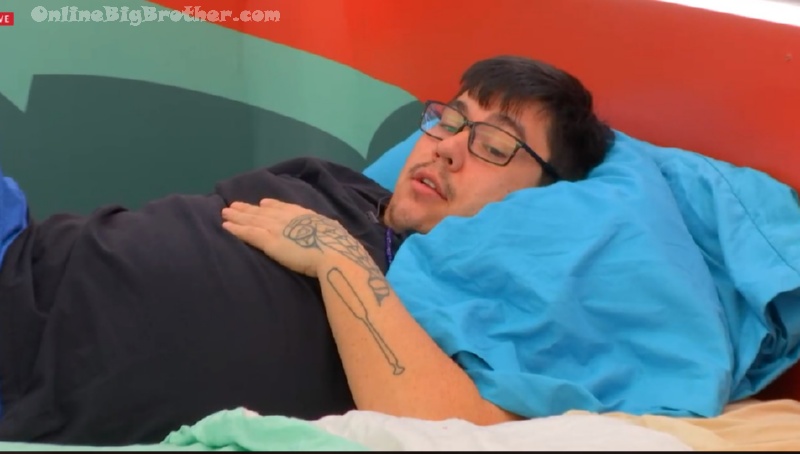 11:22 am Latoya and Kief
Latoya – you still think you are going home?
Kiefer – yeah
Kiefer mentions the comment on the couch about she's going to switch up beds with Beth was telling to him.
Latoya apologizes says she was just joking.
Kiefer – LT, it's all good my plan is to chill today it's all good.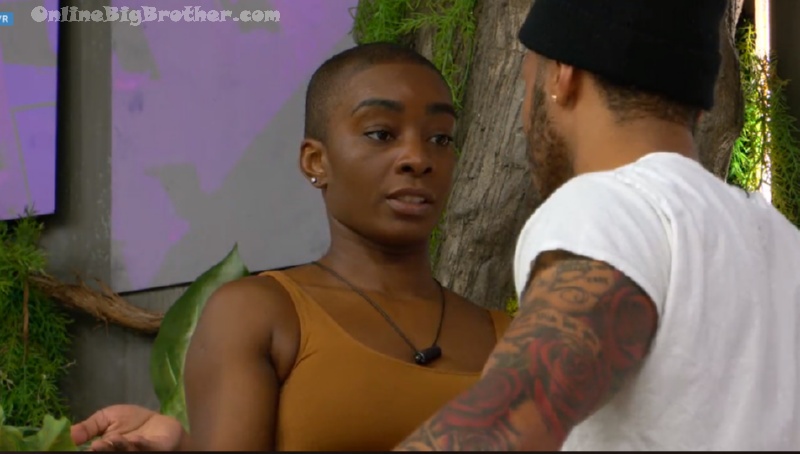 Latoya heads upstairs talking to TY saying Keifer is pissed off at her now.
TY says Beth mentions she was being a bit insensitive
LT – I can't trust anybody.. I could go home Ty.. The only votes I know I have for sure are you, Jed and Beth.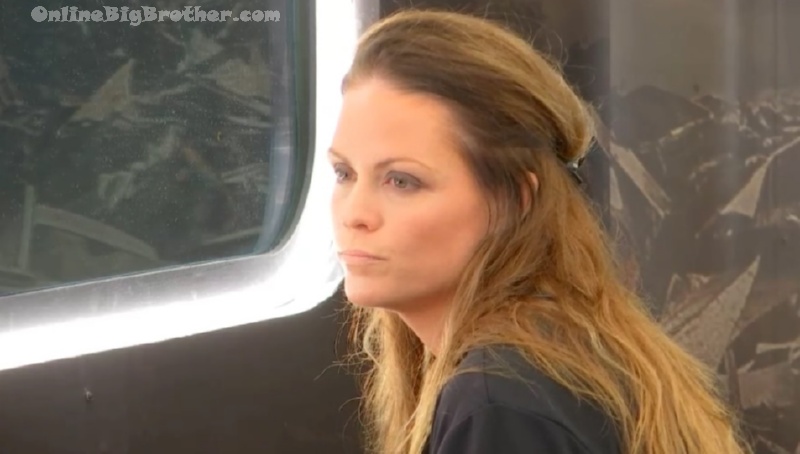 11:50 am Tina and Tera (backing out of the plan to put Jed and Ty up)
Tera – if we win we have to say Beth is too dangerous after everything that is going on.
Tina – she would be a easy one to put up who would you put up beside her
Tera – a pawn.
Tera says they can't put Beth up against one of the boys.
Tina – who would you put up as a pawn?
Tera – It would have to be RO. We would just have to say to him, no matter what we have the numbers. We can't let them know our four are working together. It's the perfect cover. You know that is the play they will pull. THey would put one of them and one of us.
Tina – yeah you're right
Tera – or it would be Austin/Breydoin
Tina – I think they are closer to Kyle and ro..
Feeds flip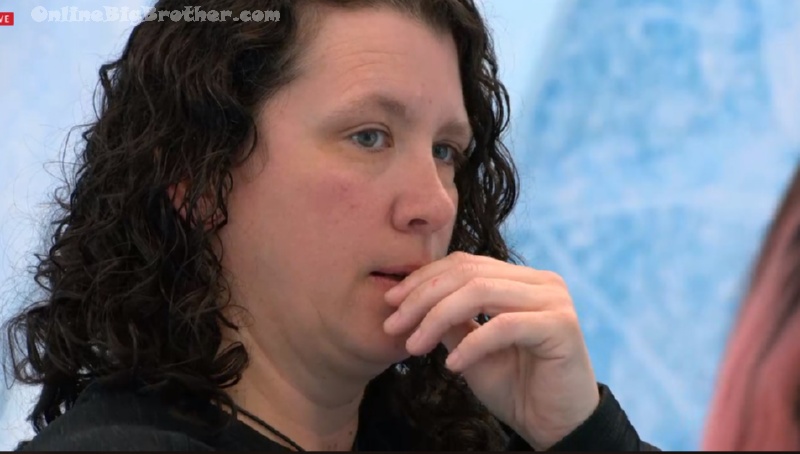 Noon Vic and Tina
Talking about what they should do if they win HOH. Vic says it has to be 1 of the four on the other side that goes. Can't be one of their own.
Vic – we need the numbers
Vic says she won't have HOH so she'll let them all decide
Vic – the boys will be scrambling they'll try to build last-minute relationships with all of us
Vic – you guys need to talk to Kiefer right away
Tina – look who had your back, Who threw you under the bus this week.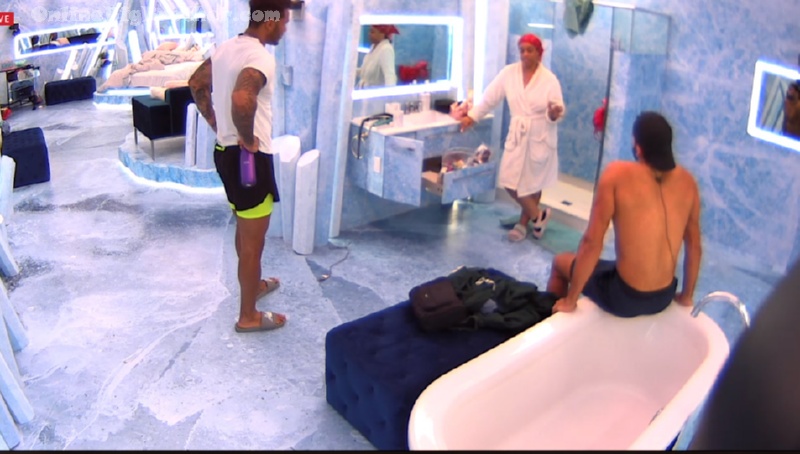 12:25 pm Ty, Jed and Vic
Vic said the plan is still to evict Kiefer
The boys are saying it's really sketched out there they don't feel confident.
Vic – that girl Beth she was trying to get Latoya out.
Ty – even this week..
Jed – after the veto and sh1t
Vic says she suggested Ty get evicted if the veto was used. "it was a resume move to get rid of Latoya"
Vic says Beth told Breydon and Austin as well as her at separate times.
Jed – Jesus Christ
Ty – the resume move.. the same language.
Ty remembers Beth saying that to him before.
Vic – you know what she said to Breydon She said I was jealous he was the ball
Vic – you f**iNg b1tch..
Feeds cut.. When we're back Vic is saying she's blowing up Beth's game after the eviction.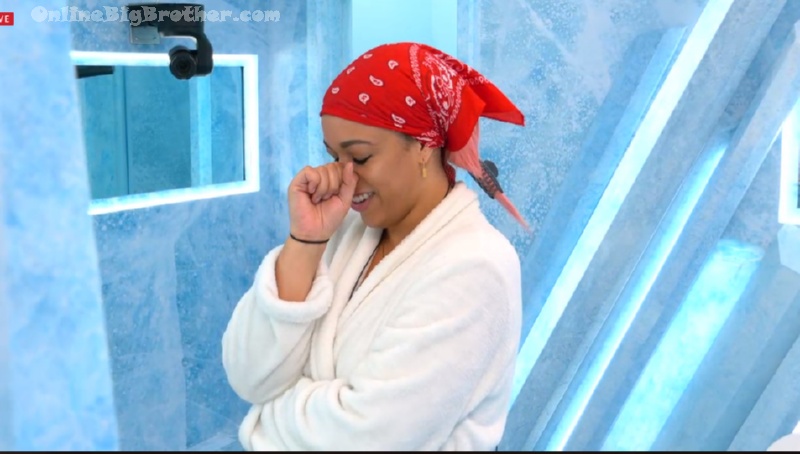 The boys leave. "thanks Vic we'll figure it out"
(Vic started the plan to blame the flip on Beth early before the flip happened.)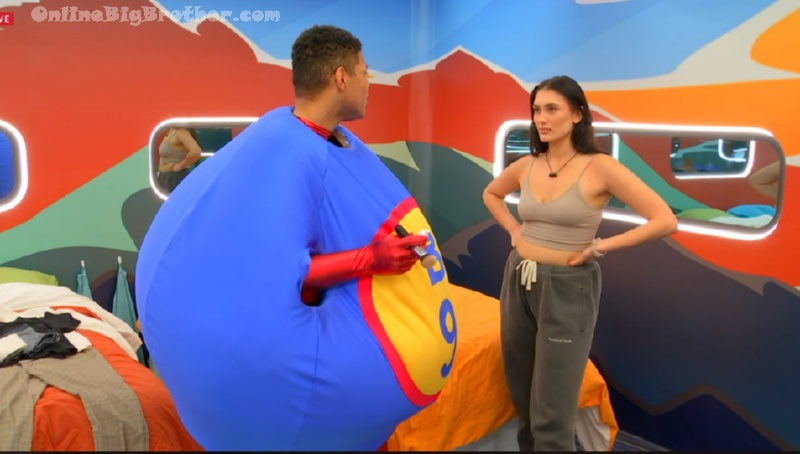 12:35 pm Austin and Breydon
Breydon filling her in that Vic told the boys.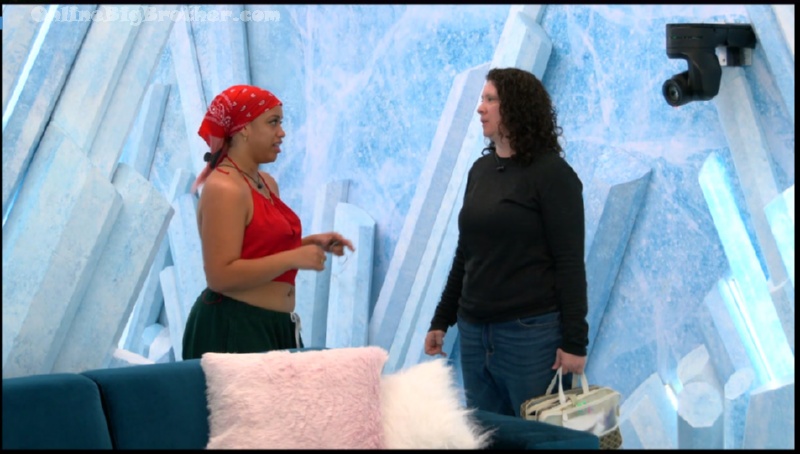 1:00 pm Vic and Tina
Vic filling Tina in on the boys knowing about Beth.
Tina – they came in with me and Tera asking about the vote.. we had to lie
Vic says she had to tell the boys otherwise they would have been going to every single person drilling them.
Tina – we just had to defuse the situation. we were like just worried about a secret power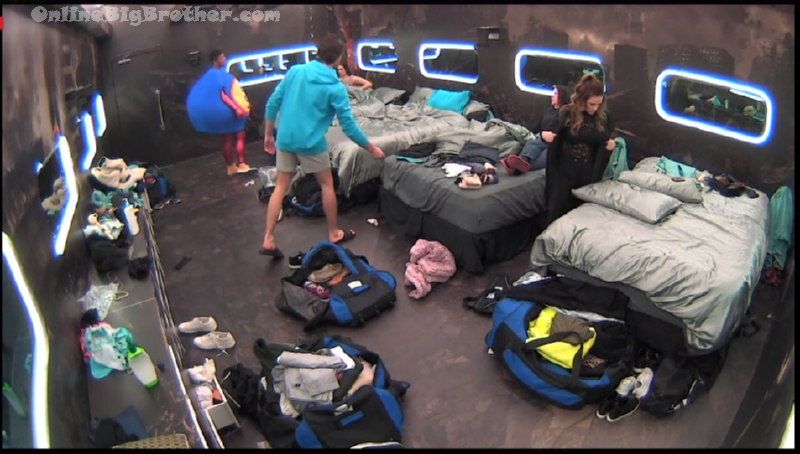 1:10 pm Kyle and Tina
Talking about winning HOH and taking out one of the three, Jed, Ty, Beth.
Breydon, Austin, and Vic join them. Vic fills them in that Jed/Ty came to her and said they saw Tina and Tera talking and are now worried about a flip/
Vic – I told them the person they need to be worried about is BETH so they would go to her. So after the eviction, I'm f***ing laying it out.
Tina – we should try and not be alone
Vic leaves.
Breydon – I think Beth knows, she's not talking to me
Breydon says Jed pulled him into the room saying that Vic said that Beth had mentioned a flip to get Latoya out
Kyle – Vic said that to Jed.. why would she say that?
Breydon – exactly
Tera comes in
They brings up Jed and Ty cornering them earlier today
Tina – I don't like how they do that
Kyle – never an easy eviction day
Breydon – it's already starting
Tina – we need to stay in pairs
Tera – I hate how they do that (Jed/Ty talk to them 2 on 1)
Kyle – do what corner you?
Tera – right before an eviction you come get in my face. You've had 3 days to speak to me.
Breydon – every time
Tina – not once have they come
Breydon – every time..
Tera – you guys have pitched absolutely nothing
2:00 pm Feeds down.
9:15 pm Feeds down