Head of Household: Victoria
Nominations: Kiefer and Latoya
The Power of Veto Players are : Latoya, Kiefer, Austin, Ty, Jed
POwer of Veto Winner : Jedson
Power of Veto Ceremony : Jed did not use the veto
Have nots: Kyle, Ro, Breydon, Austin, Jed
Big Brother Spoilers – As of 10:03 pm in the Big Brother house Latoya will be evicted. There will be a blow-up after the eviction between Vic and Beth. Actually Vic might be battling a bunch of people.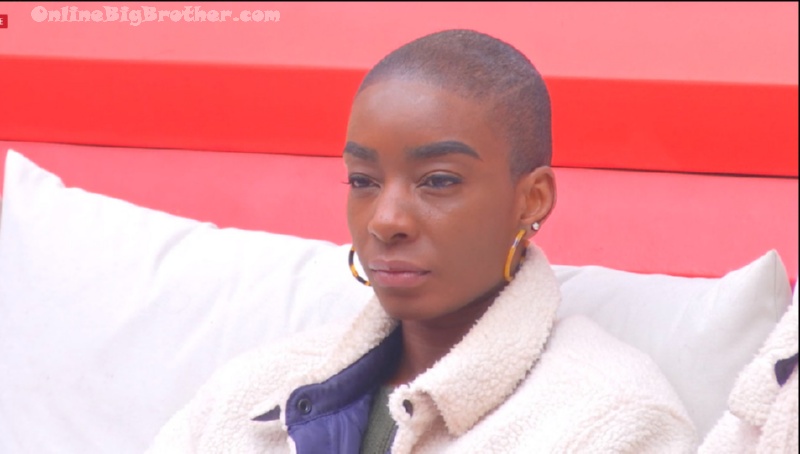 10:10 am Latoya and Ty
Latoya says she's been sleeping better lately.
Ty has been to he brings up how he's not "Overthinking situations" before bed anymore.
Latoya – replaying everything in your head
Ty – every interaction.. everything
Latoya says she's relaxing now whatever happens happens.
Ty – people plant seeds in your mind you don't know what to do. I've never seen anything like it.
L – do you think the people that are in here are like lying.. lying.. Like Lying that they are going to go out and develop a habit of lying (ZOMG)
Ty – start a habit.. they see what they can get away with from lying in here
L – yeah
Ty – I don't know I don't think so
Ty – for a lot of people it is just a game..
Ty – let's be real I feel like everyone is a super fan besides you me and Jed
La – you think so
Ty – it seems that way
La – yeah right.. before entering the process I watched the show but not like WATCHed the show..
Feeds cut.. When we're back.
They talk about winning HOH putting two targets up and through some power neither of the targets go home.
Ty – could you imagine?
L – that's the game though.
L – The lines have already been drawn I don't know why you are trying to save face..
They start fantasizing about putting Kyle and Ro up.
L – without hesitation
Ty – over vic
L -potentially backdoor VIc
Ty – why do you prefer Kyle and Ro
L – It guarantees one of them goes home. If the opportunity arose I would backdoor Vic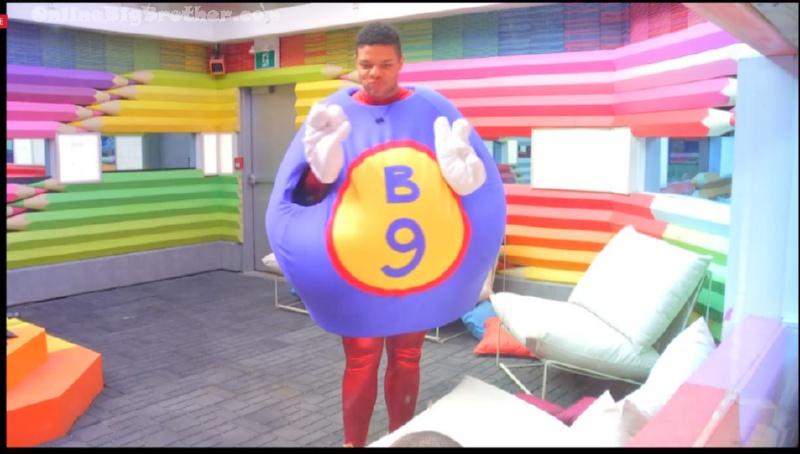 10:55 am Breydon and Austin arrive. (He's a giant purple ball aka a grape. something to do with some sponsor comp yesterday)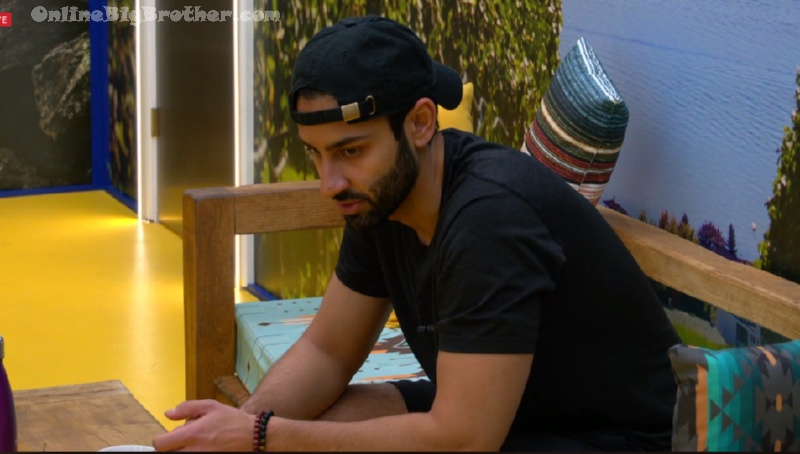 11:14 am Kyle and Ro
Kyle says Tera/Tina told them LT said she's going after them and Vic.
Kyle – BYE
Ro – I feel more comfortable with blue now that a few days ago (blue – Tina)
Ro says it's better to take Tina/Tera to the final 4 because they would have a better chance to win.
Kyle agrees says Tina/Tera would be easier than Austin/Breydon
They talk about putting Ty and Jed up if they win HOH.
Ro says he'll go to Jed saying "the only way you go home is it Ty or Beth win POV and take Ty down"
Ro asks who they take out if Beth is on the block against Jed
Kyle – Beth
Ro – if we send out J, Ty and Beth are weaker. Beth is not convincing anybody in here. everybody knows she's pretty fake. Jed is influential
Kyle mentions one reason to keep Tina and Tera around is Jed wants someone to win that is more like him "into sports.. doesn't want a floater to win"
Kyle – BReydon wins puts up both of them. They are pissed at Breydon now
Ro – that would be the best case.
Kyle – would he do it?
Ro – I think so
Kyle – I think so to
Ro – that would be pretty perfect. Say Jed wins HO the next week he puts up Tina/Tera or BReydon and Vic.. I don't think he puts us up.
Kyle – he won't put up Austin
Ro – not a chance now that he knows he's her type
Kyle – did you hear what he said after that .. lets be real proximity wise.. I'm in Alberta and he's what 40 minutes?
Ro – he's not even 40 minutes from her..
Kyle – 20 minutes
Ro – they're right next to each other
Kyle – ohh..
Ro – they are probably 40 minutes from me.
Ro – good for her thinking on her feet. that was a strategy move. Do you think when BReydon said Jed's his type to was that honest?
Kyle – I think maybe it is.. I didn't understand it.
They talk about Latoya calling other people bullies but she really is the bully.
Ro – she tried to bully you, she went 4 on 1 against Vic and was cutting her off in the conversation, She talked shit about vic while vic was sitting downstairs, in the bingo competition when they got the switch your clothes thing she was making subtle comments about BReydon.. she was like.. oh no Breydon can't do it he has thunder thighs and like apparently he's really self-conscious about them which I didn't know and she didn't know either. YOu can't make comments about people's body like that. She was the one saying for my swimsuit line
Ro – like why are you making comments about other peoples body's like that.. yeah you're fit that's fine. You can't make comments about other people like that. Austin was triggered by that comments. She (LT) was making comments about Kief. how when Kief got the card she was like nobody will be able to switch with Kief.
They agree Latoya isn't a "nice" person.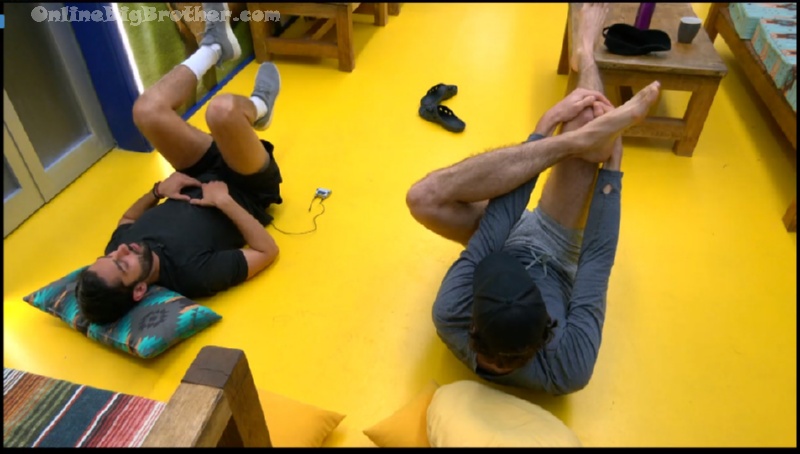 They practice some possible goodbye messages.
Ro – Hey Latoya that's that's how you orchestrate a flip. Sorry things didn't work out for you bye. That's what you get when you mess with SHOWTIME
Kyle – Hey Latoya, That's what you call a flip. Say hi to Josh for us.. SHOWTIME
Ro – say something about her game to.. this might be too much but if you really want to stick it to her.
Ro – Latoya you might go down as one of the worst players in Big brother history .. bye
They agree that's too much. Ro mentions how the other side has no idea Latoya is leaving. They laugh if the vote comes out 7-2 and Latoya stays "We have no idea what the f* is going on.. " They bring up production laughing at them if that happens.
(Showtime is their alliance. F2)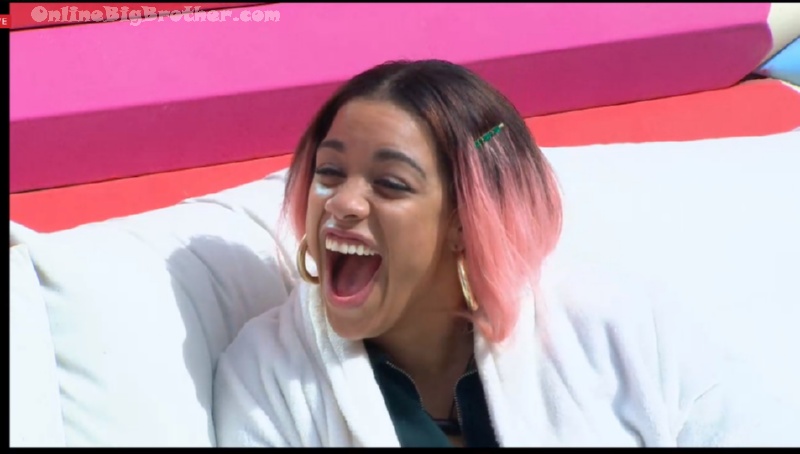 12:11 pm Breydon, Austin and Vic
Vic mentions that Kief told Latoya she's the target so Vic is wondering why Latoya hasn't come talk to her.
Vic – Latoya needs to go then g**Ing Beth..
Vic backtracks on the Beth targeting. Says she's having second thoughts about Beth being her number one target after Latoya. She thinks The boys are a bigger threat.
Austin brings up how fake Beth is.
Vic thinks telling the boys about what Beth said will cool them down when Latoya leaves. She'll say Kief was the target until Beth told her that then the house started to flip.
Austin mentions how Kyle didn't like Beth from day one he had a good intuition about her.
Austin – she's a girl that doesn't like girls..
They continue talking about Beth
Breydon – she was like are you guys not upset that I might be going on the block..
Victoria brings up it's funny now Jed, Lt, Beth, and Ty want an alliance with her now.
Breydon brings up Tera saying if someone on the other side wins HOH they may have to say goodbye to an oddball "but that's ok"
They laugh.
Austin says Kyle and Ro winning HOH would be best for them.
Vic says she's worried about how many people came to her saying that Kyle talked Sh1t about Vic.
Austin and Breydon say it's all lies because the other side wanted Kyle out.
Austin – I never heard him say anything.. other than he can't stand Beth.
Austin points out how tough it's been for Kyle, "he's not bad at all.. he's such a sweetheart"
Breydon – I was expecting some douchebag
Vic – I had a dream last night that the two of us made out..
Austin – if I had to guess kyle would be better (kisser),.. he's passionate.
Vic – I like my white boys I'm not going to lie
They laugh.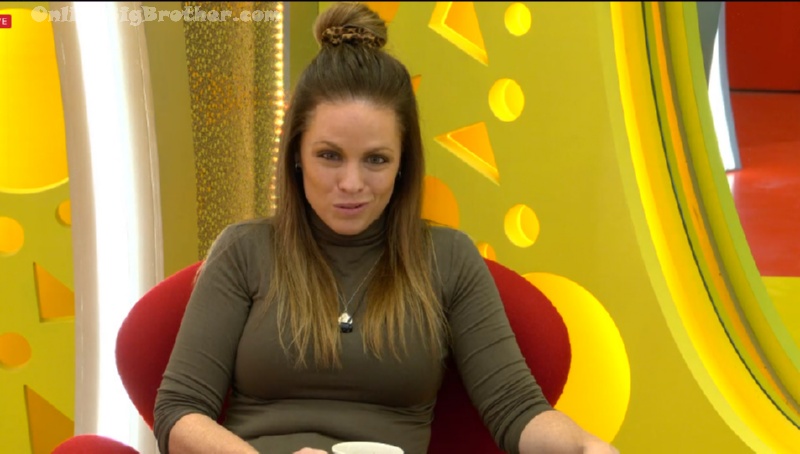 1:52 pm Tera, Tina and Kiefer
Kief – they're talking about how Vic is ignoring Beth now..
Tera – it's because they don't trust her
Kief – they said Tera might have said something to Vic
Tera – there was something that happened that made Vic pissed at Beth what was it?
Tina – I dunno…
Tera – shit that's going to bother me..
Tina mentions how nobody from that side has come to her about a vote it's like they are assuming.
Kief says LT is getting Sketch right now.
Tina – LT has been talking a lot with TY
Kief – with me coming in here with you guys she's going to be sketch. It's Big Brother I'm here to play my game not Latoya's. It's horrible I'm sitting next to her on the block.
Tera – it would have been Beth it wasn't going to be Ty.. then Beth would have left. Then Jed and Ty Swered Latoya.. again.
Kief – who knows I still could go home. How do you know Breydon and Austin are going to vote
Tera – I don't know 100% but I know enough to trust it if you do go home it'll be from that.
Kief says Jed and Ty are going to work Breydon and Austin hard.
Tera agrees.
Tina is bent out of shape about not having them come to her about a vote. "bottom of the barrel obviously I have been fighting so hard emotionally where I was going to go and not one of them approached me"
Tina and Tera tell Kief him staying is better for their game it's no question.
Tera – Latoya said Breydon had thunder thighs to the entire house..
Kief – yeah..
Tera – it's not a good look
Kief – my thighs are bigger than Breydon's
Tina – so are mine
Tera – you never know what baggage people come in with
Tina points out that Jed, LT, and TY haven't included any of them in talks "That is a sign"
Tera – you can't play too pissed at them either
Kief – after this week the people I only trust are you two.
Tera – if I'm going to work with them they'll need to tighten up and to tighten up one of them has to go
Tera – totally depends on who wins POwer
Kief – Jed is putting in WORK with Austin and Breydon.. I mean WORK
Tera – sure Jed is putting in work but if she's not. Latoya is strong as hell. HAve you seen her in every comp?
Kief – she said she's not campaigning
Tera – Latoya is the Jed and Ty for the girls. Her body also looks like it's sculpted out of marble.
Tera says there is no way she can physically beat Latoya in a competition says she's never seen a body like that before.
Kief – my whole game is resting on Breydon and Austin
Tera – nows the time to take the shot. I don't think the boys should trust Beth.
Tina – I just found it amusing they just assumed (to keep Latoya over Kief)
Tera – Jed and Ty have made it very clear that Latoya is their girl
Kief – I've been wanting to talk to Vic and tell her what I've been doing with Jed and Ty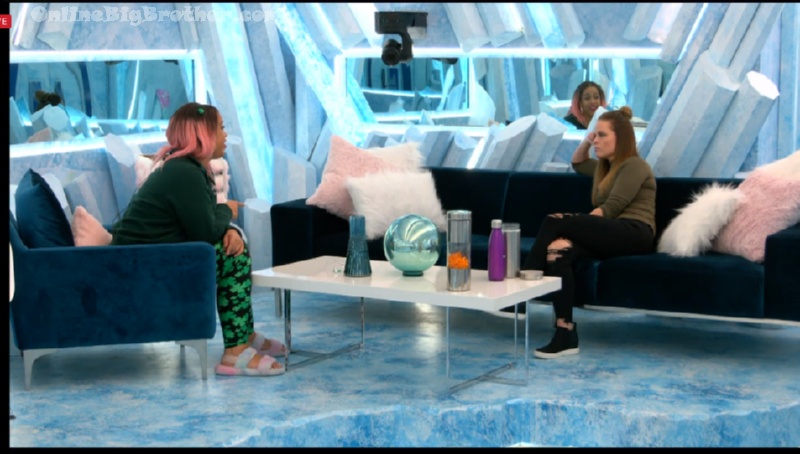 2:30 pm Vic and Tera Comparing notes.
Tera says Jed is trying really hard to get close to Breydon/Austin.
Vic – they can't be swayed especially everything that Latoya said about his Thighs. It was an innocent mistake I get it but three in a row.. damn .. to say one thing ok but to say.. oh my god
Vic says "no offense" but it's pretty dumb of LT, TY, Jed to think they would take Kief out over Latoya.
Vic brings up with the four of them were up in the HOH trying to get her to target someone else (Tera and Kyle). Beth was running the conversation asking for them to start an alliance. The day before Beth was saying that LAtoys has to go.
Vic – she is such a good liar..
Tera "she lied straight to my face.. I knew it was a lie but if I hadn't I would have trusted her"
Vic – she's my new target
They talk about next week. Putting both boys up. Vic now saying it's better to take a Jed or Ty out and to keep Beth around for awhile
Vic – she's a social player and a liar if we have that in our heads..
Vic – she lied straight to my face, To Auston, Breydon all of us.
Vic – goes over Beth saying to her that Latoya needs to go
Vic is going to let the boys know right before HOH.
Vic – Hey I know you guys didn't expect her (LT) to go..
Vic – she was planting some good seeds. (Beth went to Austin, Breydon, and Vic on separate occasions pushing Latoya)
Vic – A blindside like this is going to be HUGE. Canada is going to love it
Vic – the boys will be shocked but once they hear Beth was in on it everyone was in on it.
Tera – Latoya is talking to no one
Vic – that is not good game
Tera – she said I'm not campaigning against Keifer. I said you don't have to campaign against you can campaign for yourself.
Vic – good thing I won HOH it brought people together.. this was a good reset.
Tera – we have a chance.. I want this room next week
Tera – if it happens we all have to sit down what is the best play
Tera – either put up the two boys together or you put up Beth and a pawn from our side
Vic – we have the numbers now so it doesn't matter
Tera – we'll have to see the backlash from the flip and see how bad it is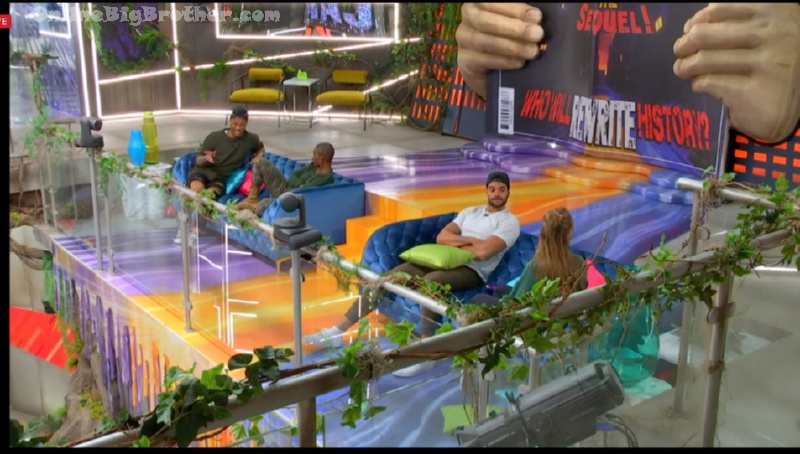 2:45 pm camped out in front of HOH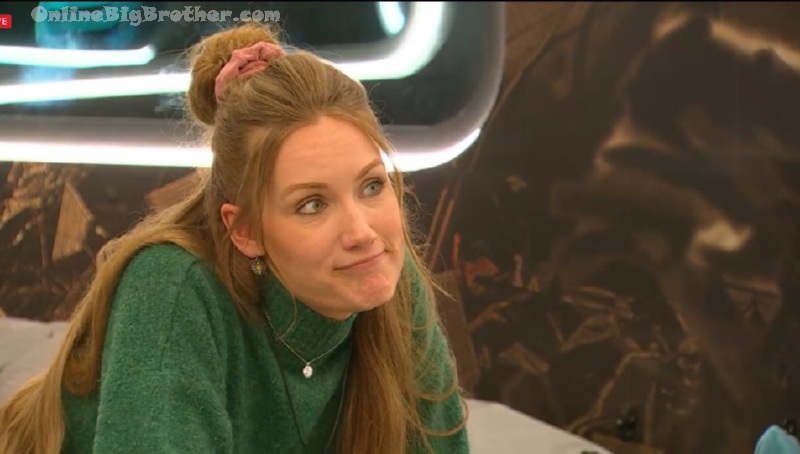 4:25 pm Beth and Ty
Beth says she "kinda" believes that Kiefer is Vic' target.
Ty – what is weird to me is she says Kiefer is her target and she says Tina and Tera are votes for her for sure but they are not revealing who they are voting for.
Ty – we're all on the same page Kief going home why won't they say it?
Beth – in my head.. Yeah Kiefer is going home. Kiefer was like OHH I hope I stay.
Beth – I'm like WHAT.. I sometimes forget he thinks that.
Ty – why wouldn't Tina and Tera reveal their vote if we were all on the same page?
Beth – maybe because they are both close to those two?
Beth – I will call Vic out .. if she tricked us for 7 days straight mad respect but f***
Ty – they're voting with Vic.
Beth – I think I'll call vic out in front of everybody.
Ty – It'll be bad.. it'll be ugly
Beth – I wouldn't even be civil in this house. At least for a few days, it would be silence.. no you are written off.
Beth – that would be f**ed if she tricked us for 7 days. Mad respect but F***
beth – I would laugh.. ohh sh1t you got me you got me good
Ty – she would need 5 that would be Austin and Breydon.
They're pissed at Tina for not revealing her game to their alliance.
Beth – you left the alliance without saying anything.
Beth – you boys will have to put her up
Ty – yeah
Beth- I don't think any of us put Vic up next week but she's the replacement nomination 100%
They don't want to put Vic up right away because of all the "chaos" she will cause.
Beth – we have so much on her.
Ty says it will take him so much for him not to put Vic up after she jerked them around in the HOH.

5:00 pm
Austin, Breydon, and Vic
Breydon mentions Beth saying that Vic is a jealous girl.
Vic says she's telling the guys tomorrow that Beth planted the seed about Latoya.
Vic asks them what should she say about Beth saying it to them.
Austin suggests she says "multiple people"
Vic – doesn't matter who wins this week the three of us are good I think
Austin – I just pray Kyle and Ro win
Austin – I actually love Kyle.. he's a sweetheart
Vic – and he's cute.
Breydon leaves and later Kyle joins. they play "blind catch"
9:00 pm Tera, Austin, and Breydon
Tera – you're still totally on board with the plan, right?
Breydon – Ohh yeah
Austin – absolutely
Tera – they have no idea
Tera – has anybody pitched to you
Austin and Breydon say the pitch was "do whatever you want. what's best for your game"
Austin – the rest of them haven't (said anything) they just assume
Austin says they come up to her and act like Kiefer is going.
Tera – they're going to be super blindsided
Breydon – I think so to
Austin – Beth came to us and Vic saying it would be a Resume move for Vic to Backdoor Latoya
Tera – I heard that
Austin – when the boys come talking.. Beth literally told everyone
They talk about Latoya's comments from yesterday about Breydon's "Thunder thighs"
Austin – it gave me chills I wanted to vomit. She said it again this morning
Tera – no…
Austin – I've lost a lot of weight in my life so stuff like that triggers me so badly. When I hear it makes my skin crawl
Tera – that was me when Jed called me a 13 year old. I don't understand why they keep doing it.
Breydon brings up the comment Latoya made about Kiefer, not fitting in some clothes.
Tera – running into Vic's room 4 on 1. I'm sorry what kid of response do you want from us?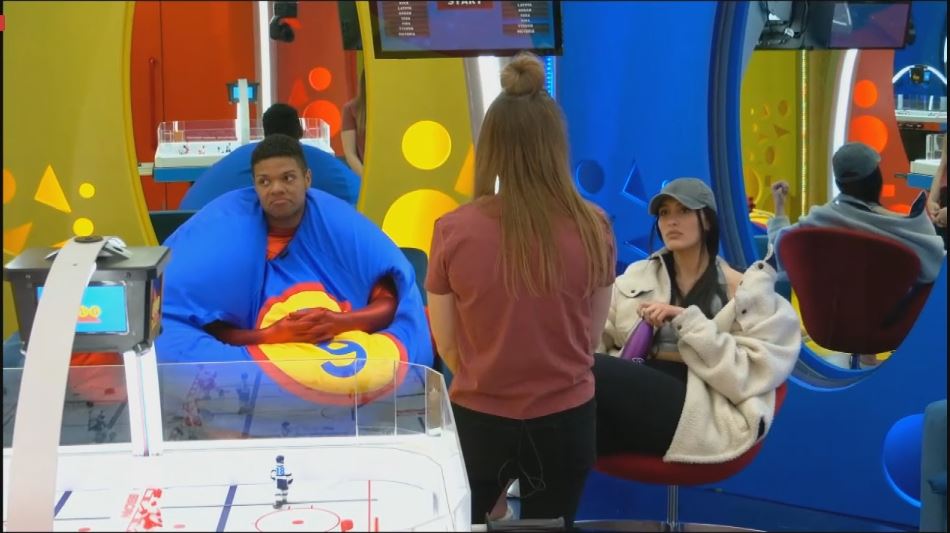 Tera mentions how Latoya isn't campaigning not even for herself to stay.
Tera – if they are all shocked and shakened.. like what do you expect was going to happen
Austin – how stupid would we be to leave her here
Tera – she's one of their strongest players
Austin – we would be literally moronic
Austin says sure they are scared what will happen if Jed, Ty, BEth win HOH but this is a game "IF you are going to play, PLAY HARD"
Tera – if one of them wins.. we'll be like Beth said
Austin – that is what we're all saying get on message with that
Austin – Beth told everyone it will be a big resume move get Latoya out. I don't know if she was insecure because the four of you are together and Latoya is IN (Damn)
Tera telling them Jed is saying to her and Tina the reason Vic wants Kiefer out is he always talks about his kids.
Breydon asks what will Kiefer do if he wins HOH?
Tera – Kiefer is a wild card.
Tera and Austin say when Kiefer sees the vote is 7 to 3 he'll know they saved him.
They talk about how Keifer is talking to Ked, Ty, Beth, Latoya all the time
Tera points out they are treating him like a sacrificial lamb
Tera – they think we're all chess pieces.
Tera says she's not after them because they are athletic and comps beasts.
Tera – your game is sloppy.. I Don't know who is running your ship but it's sinking fast.
Breydon and Auston bring up that Beth was saying Jed and TY knew each other for years they played basketball with each other.
Tera brings up the other day she saw Jed go up to the HOH with two smoothies. Tera thought the one was for Vic but it was for Ty
Breydon points out Jed always makes smoothies for Ty he never once brought one up to Vic.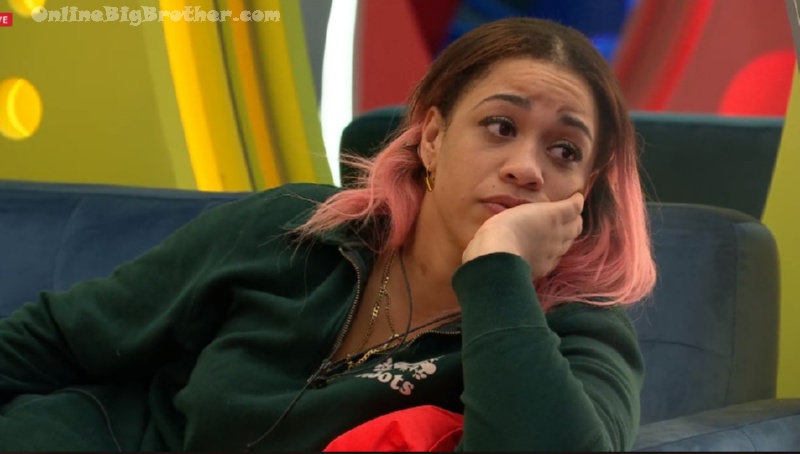 9:21 pm Vic and Tera
Vic – I just hope it all goes as planned.. I saw blue line and Latoya talking.. (Blue line – Tina)
Tera says Tina is close to Latoya but she knows Latoya is with the boys. "She's at the bottom of the pecking order she knows that"
Tera goes on about how powerful Vic is and how she's setting the game up with this move.
Kyle joins them.
Tera – we've decided to vote our Keifer
Kyle – no
they laugh..
Tera – Latoya has been campaigning hard. She's being nice to everyone.. she's complimenting everyone
They laugh
Tera – as a fan I would love to see this
Tera – they have no clue
Vic – GOOD this is what they tried to do with Austin last week…
Kyle – I don't know if it's their own arrogance or we're doing that good of a job (It's arrogance)
Kyle says they need to grab Kiefer right after he stays and points out that the people he trusted voted him out
Tera – people campaigned so hard for o to go.. how could you not put them up
Vic – good advice
Kyle – look at the 6 that kept you look at the three that didn't
They laugh about the alliance Jed and Ty will create when Latoya leaves.. "6 pack.. stacked pack"
Vic – I think it'll be fine there won't be a blow up.. what are they going to do 2 against 8?
Vic points out their game suffers with Latoya in the game
Tera – I feel like Beth will blow up
Vic – she will after I expose her.. f*** you Beth
Vic tells Kyle Beth is going around saying Vic wanted to be the ball.
Tina joins them..
They talk about Beth saying Victoria wants Kief gone because all he does is talk about his kids
Vic – that really bothers me .. if this was real life
Kyle – I would snap
Vic – the chick would be dragged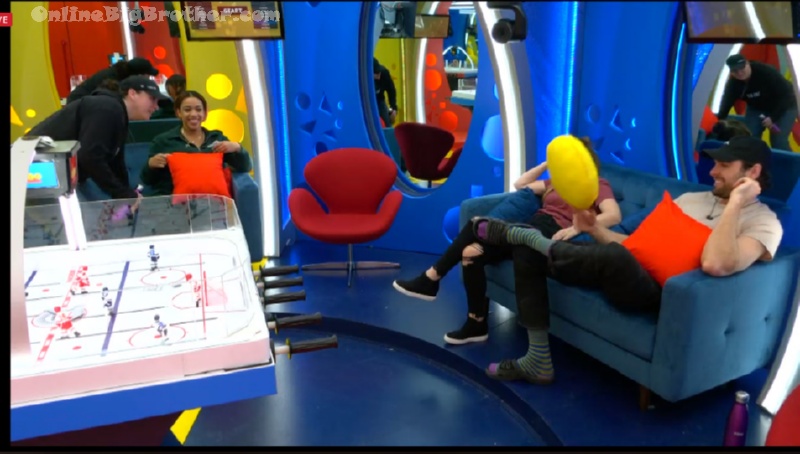 Kyle – I kinda want to look at their faces when the votes are read I kinda want to look at my feet (LOL)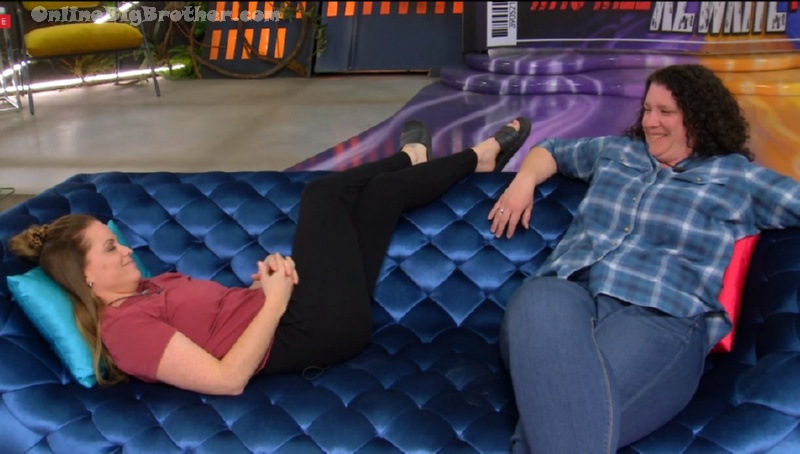 11:02 pm Tina and Tera
They note the ball pit has more balls.
Tera says it's freaking her out how calm "they" are.
Tina is hoping they can fade into the background for a bit
Tera – no way I want to win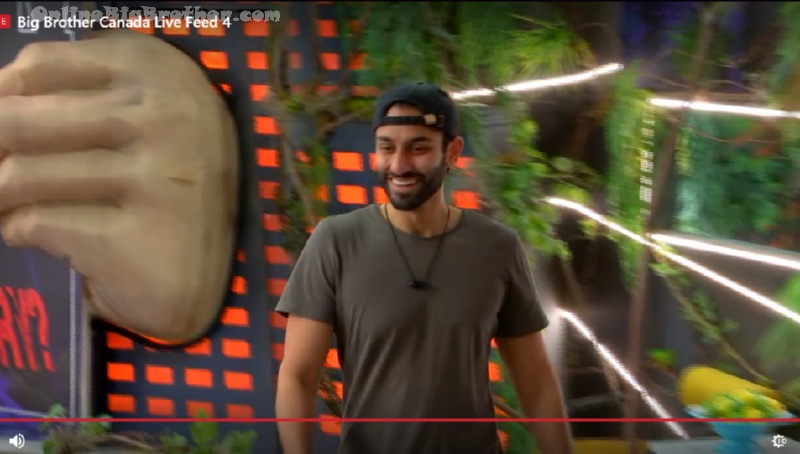 Rohan walks by
Tera – is it weird they are so calm now?
Ro – no, they have no clue
Tera – does one of them have a power?
Ro – no I just don't think they have a clue
Tera – it's starting to get weird.. are they clueless or are we clueless.. if it's us I'm going to be so embarrassed,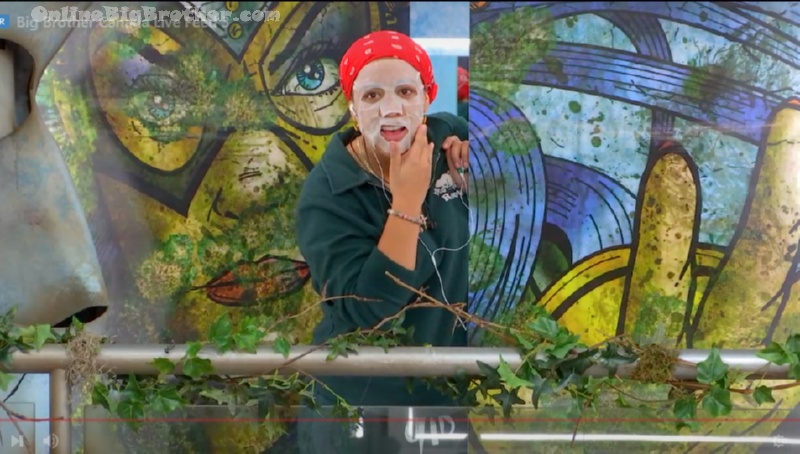 Vic opens the HOH door
Tera – "it's the silence of the lambs Victoria is killing people and putting their faces on.. it' places it's lotion in the basket"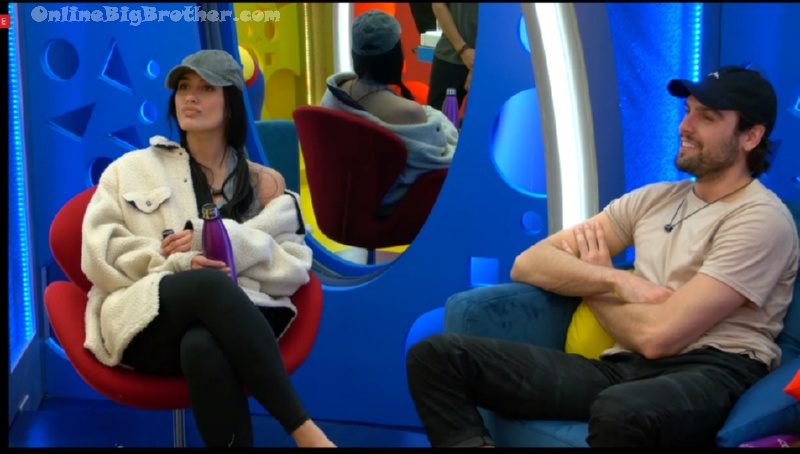 11:30 pm Ro, Kyle and Austin
Ro – oh my god what goes on in Beth's head..
Austin – she thinks she's a wizard
Breydon says she does what Kiefer does, "Just doesn't get caught"
They think Kiefer doesn't know he's staying. "he's going to be so shocked"
Ro – you know what Arisa is going to do.. By a vote of 6 to 3 Kiefer you are safe.
Kyle – what your goodbye message going to be?
Kyle – since you flips so much we decided to show you how to really do one
Austin – that's what I was going to say
Austin – Queen of the flip this is how you do it
Ro – IO was going to say. Hey Latoya didn't you learn anything from Josh Keep our names out of your mouth sorry you don't like me.
Ro – put my sunglasses on
Ro – just trying to block out the haters
Breydon – Stop
Austin shakes her head.. (LOL)