HOH: Xavier
Nominations: Azah and Kyland
Power of Veto: ?
Power of Veto Ceremony: ?
Big Brother 23 Houseguest Rankings – – RANK THE HOUSEGUESTS –
View the previous day ranks on the – Ranking Grid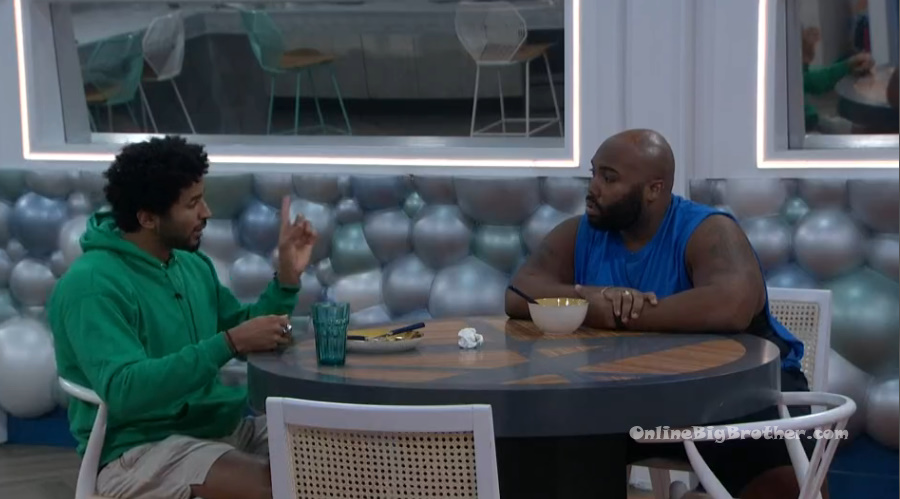 7:52pm Kitchen – Big D and Kyland.
Ky – so now what is the move that happens now.. now it is that element of like.. like there is a concern right now like what do you do with the veto but honestly very little. I have much more concern over what he does with the veto, than what you do. Because … because from a game stance and from a family stance ..where he (Xavier) is at with his brother passing and his nephew and stuff its like nobody.. not even me is going to be mad at him if he is like hey right now .. I have a 80 – 90% chance of winning that final HOH… he does. If he brings me, it turns into 50/50. Why bring me? So that is terrifying to me! Because he has also played the game in a way that … well he hasn't shown his cards but that was kind of the role for him. So that makes sense but as far as the six he showed zero sort of .. he hasn't had the opportunity because I won the vetos… both of them. I have virtually no concerns about you not taking me… like I believe you. I believe you are like me and you will make the hard decision because even though you asked about it and thought about it and stuff because think about it .. we get doubts and everything but whether or not Kyland takes me to two like I told him I would get him to three and I will do that. And I believe that you would do that. Big D – yes! Kyland – so whereas like Xavier… he isn't someone who we formed anything with so it isn't.. so right now he has full range. That is scary because he has a high probability of beating me in this next veto. Probably the highest! Big D – I get that. Ky – so I think that is where my head is at and so I can't even … it is like to have extra conversations about three and two with you is like.. like that is heavy on my mind right now. Big D – MMMmmhmmm. Ky – and the worst thing too is like everyone .. like I have told every single person that is in the jury house like hey I want to go to the end to the game with the people that have done the most to get there. Big D – yeah I know. Ky – Like who have shown that. Every single person knows that. He has not said that to a single person in that house. So he cuts me at four, like no one is going to look at it bad. If I, like if it was reversed and I was HOH right now, I would be locked in to bring both of you to four because everyone in the house knows that. I would be like hey, I have to bring the people that I think did the most for us to get to six. And so every single person in the jury would be like WOW Kyland was lying this whole time. And same thing for you, you were like hey anyone can get it. Everyone knows for you anyone and for him they have no idea. So anyone in that house will not look badly on either of you guys for making any decision. That is what I meant by I am locked so that is why I am terrified for him to win.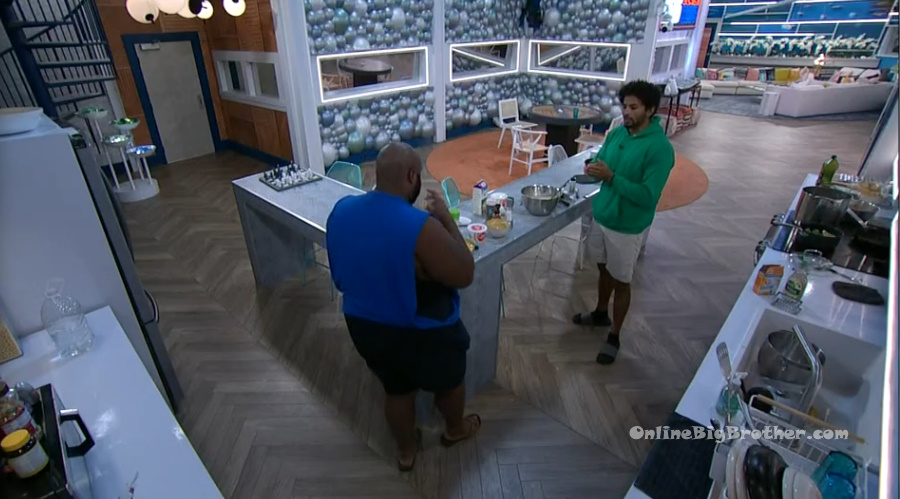 8:30pm – 9pm Living room. Big D and Kyland move to the couches. Big D talks about how he just wants to get this going.. there is only so much game that we can talk. Big D reminisces about the season. Xavier and Azah come down from the HOH room from watching a CSI show. They bring down their left over pizza and wings. Big D – I wish I didn't eat! Big Brother blocks the feeds again…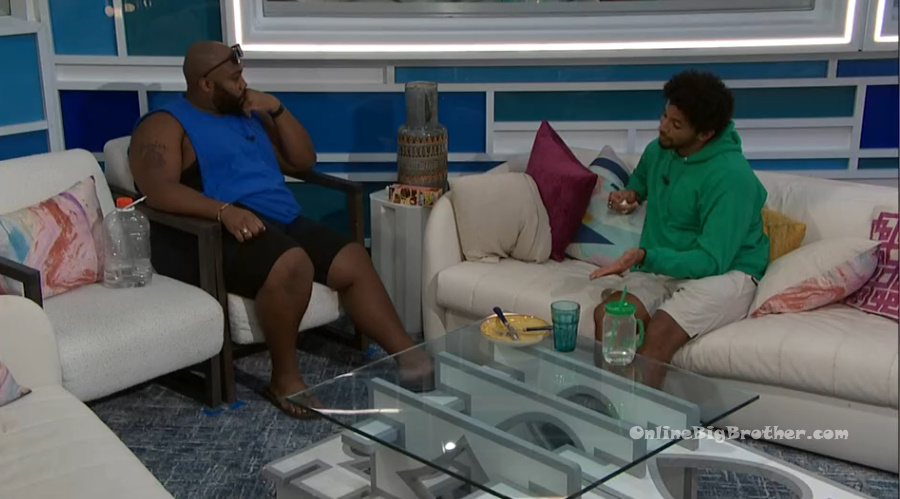 9:06pm – 9:37pm Big D, Kyland, Azah and Xavier talk about how nasty the floor is and how they realized early you can't walk around bare foot or their feet are super dirty.
Big D puts on the bucket hat and says that he looks like Paddington Bear.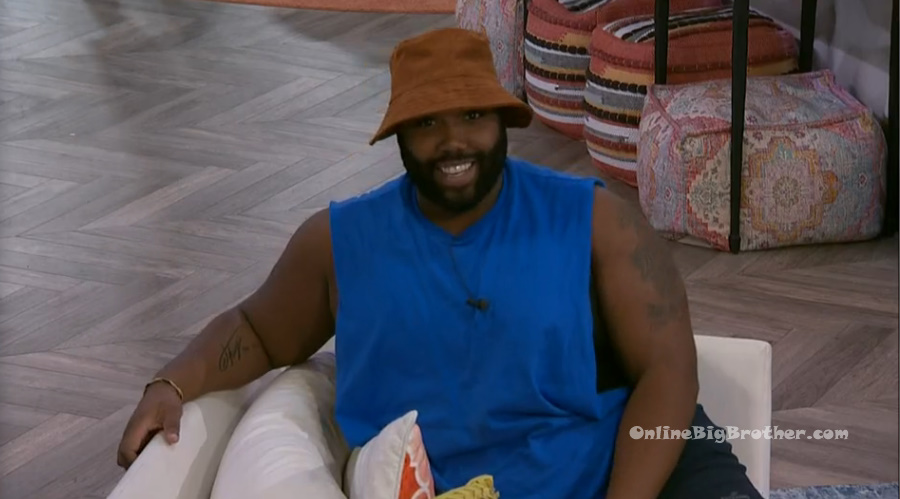 They tell Azah that she has a permanent stank face… (lol) Azah – some times I'm just deep in thought. I wear my emotions on my face so when I am listening.. its listening face. When I am listening to someone and I am taking it in I am processing.. that is processing. That is just my processing face. It literally has no emotion because I am just processing everything. Ky – yes. I am processing now.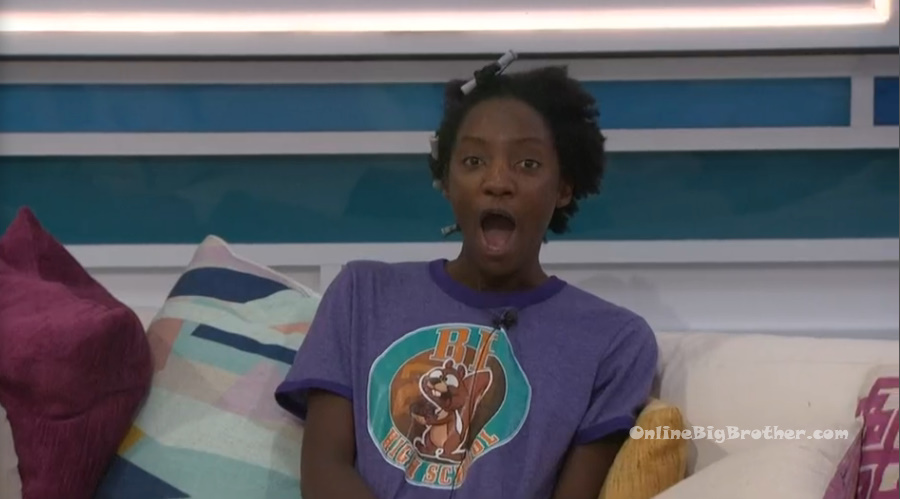 10pm – 10:25pm Kitchen Table – Xavier and Big D playing cards. The others join and the final four play cards together.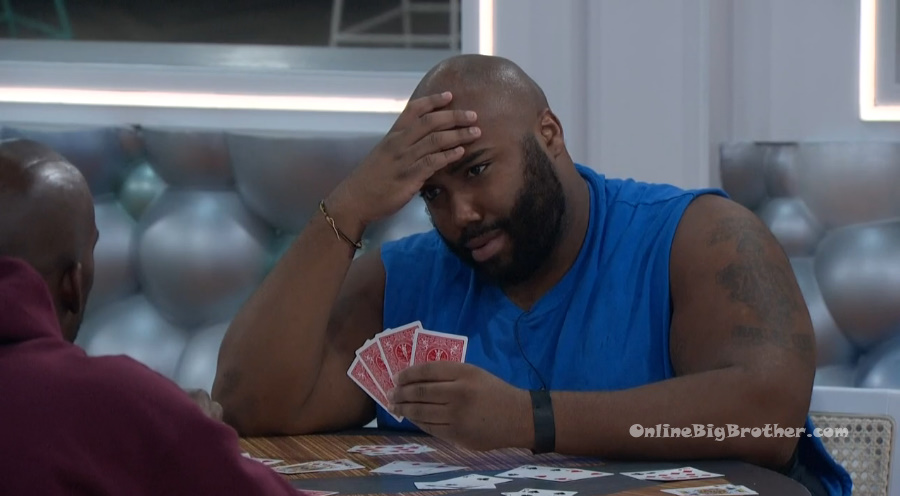 10:43pm – 11:05pm Bedroom – Azah and Xavier.
Azah – Well first, I apologize that if I come off as rude to you. That is definitely not my intention. Xavier – I know its not. Azah – I usually try to make a very concerted effort to not come across as rude or dismissive or mean ..especially to people that I care about so if that is how I have come across to you then that is definitely not my intention and my bad! Xavier – I wouldn't say any of those things. I don't know for some reason whenever I say anything to you .. you get very defensive. Umm.. I am not quite sure why. I never mean to say anything that would make you feel some way.. do anything to disrespect you or try to say anything that would disrespect you or intentionally try to hurt your feelings. I like to joke around and its all in good fun and if you've felt offended by any joke I've said then I apologize. The thing that I've noticed is if other people say the same thing you're fine but if I say it you're immediately defensive and I don't know why that is with me. Its something I've noticed for a few weeks now. I guess I will try to be more careful of what I say to you. Azah – I don't want you to do that and I didn't notice that I was that way so you telling me that I am that way I am like okay lets think. Maybe I think that I am joking with you and we have that back and forth. Xavier – no we can joke back and forth and its not that. Xavier brings up a couple instances that happened recently. Azah – I was pretending to be angry as a joke because I thought you thought it was funny. I don't want you to feel like you feel like you obligated to check on me or see if I am okay. Xavier – Anytime I've asked you it was genuine and sincere. I am a genuinely caring person. I will just be more mindful. Azah – I don't ever want you to change yourself or think like that.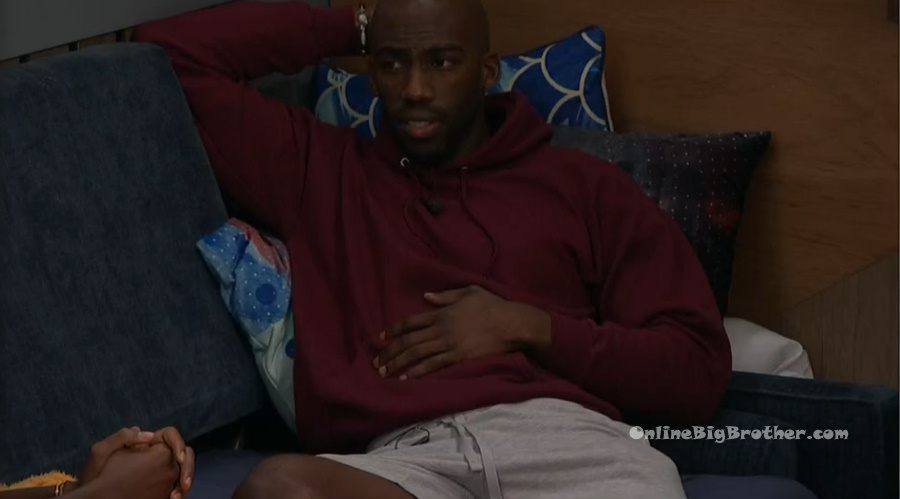 11:30pm HOH room – Xavier pacing and talking to the cameras
Xavier – Like Big D, what the hell are you doing man!? He needs to just stop talking. Just stop talking!! He is making this so much more difficult. Now you're telling Kyland, Hey get X to use the veto. What?! So now you want me to pull Ky off!? When you know I have already had a discussion with you about me and what to say and I've told both of them that. And now all of a sudden you're flip flopping? Why because you don't want to get any dirt on your hands?! Come on dawg?! Come on now! Just stop talking! Just stop talking! I literally said don't say anything prior to the veto and then he freaking continues to speak and its causing me so much grief! I am like BRO!?!
11:40pm – 12am Havenot room. Kyland studying the days / events of the season. Ky – Why did I save Xavier with that veto? I didn't trust Derek to keep him. I know Derek would keep me. I didn't trust Derek to keep him. Ky goes back to studying.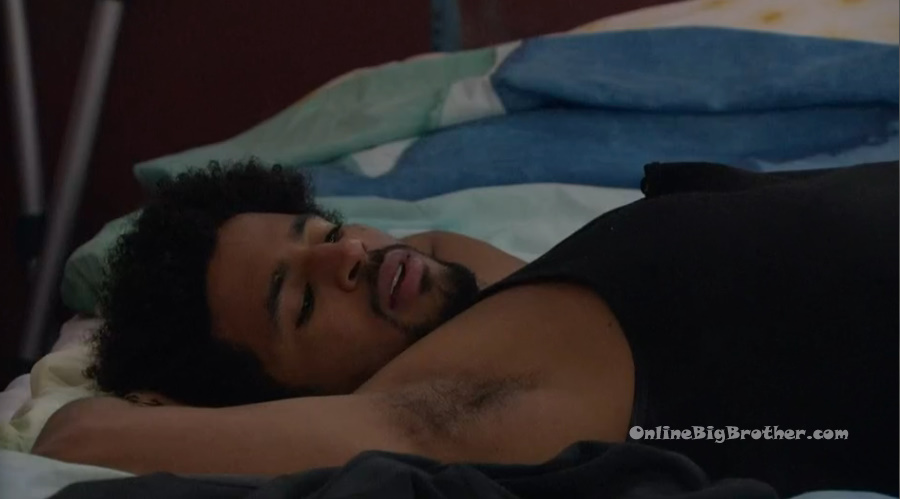 Midnight Zzzzz
1:15 am Azah up drinking tea
1:22 am zzzzzz
4:52 am zzzzzzz
9:25 am zzzzzz
Show your support :) Without your support this site and these spoilers wouldn't be possible.
Please consider a donation to keep the madness going.