HOH: Xavier
Nominations: Azah and Kyland
Power of Veto: ?
Power of Veto Ceremony: ?
Big Brother 23 Houseguest Rankings – – RANK THE HOUSEGUESTS –
View the previous day ranks on the – Ranking Grid
Big Brother Spoilers – Kyland and Azah are on the block. By the way, the houseguests are talking it sounds like the veto competition is today. Kyland and DF have had a bit of a falling out. it's consuming most of the conversations this morning. The gist of it is DF went to Kyland and asked about their final 3/2 and Kyland's reply didn't make DF feel good about it. Starting to sound like Kyland is the preferred target this week. BIGD is starting to spiral camera is spending a lot of time on him..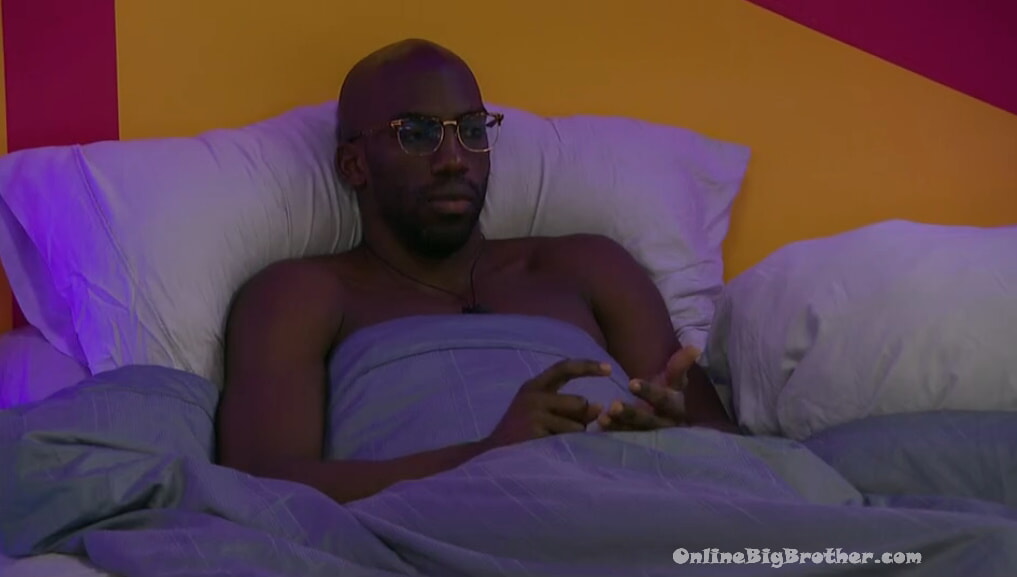 9:40 am Xavier up Studying days.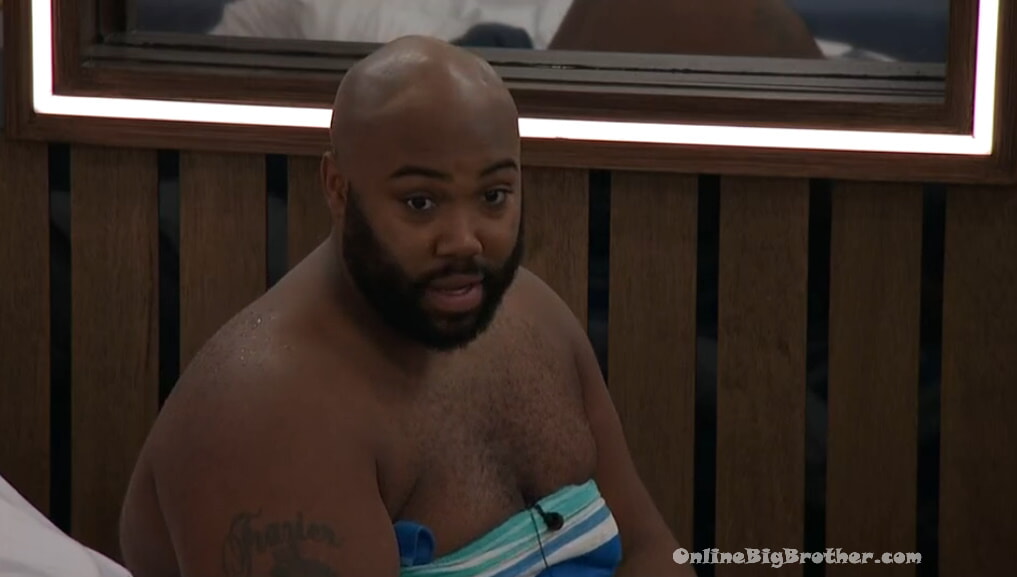 10:23 am BIGD and Azah are now up
BIGD – once again Kyland can't win.. Feeds cut. When we're back DF is talking about having a really good "Face day"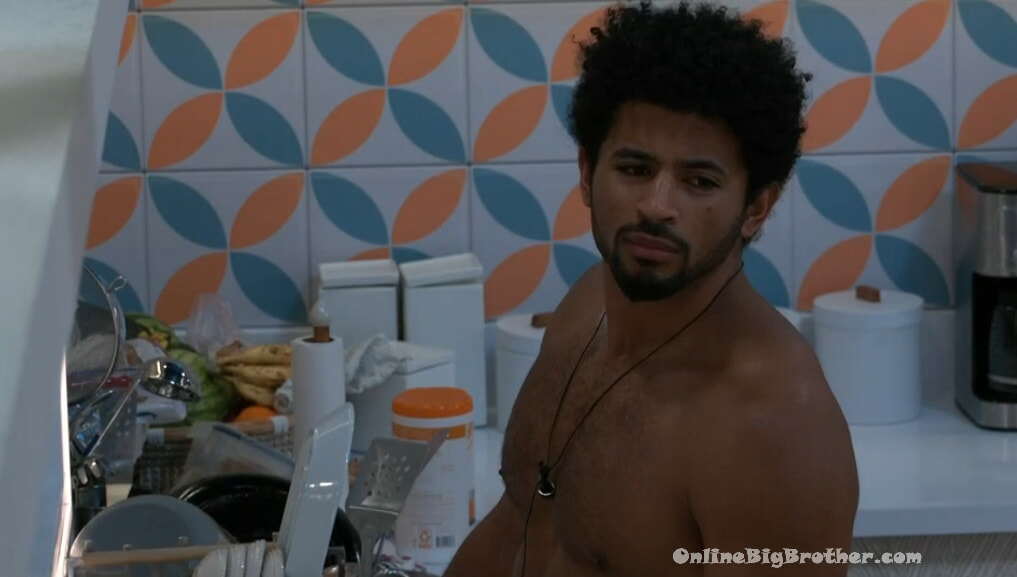 10:40 am BIGD and Kyland
Ky – I'm just going through days
BIGD – That's fine I just want to make sure you're ok you know.. I still bad and what not.. you know
BIGD – It's hard when the person you care about you hurt them and WHAT NOT ..
Ky – I want you to feel good
BIGD – I'll be alright it just feels weird cause I have such big trust with you and WHAT NOT. You know I shouldn't have never.. It's a sucky feeling when you're intentions weren't supposed to come out I guess a threat.. it's just like, me just trying to follow up .. In that moment I shouldn't have done that.. that's all
Ky – we're all good.. I appreciate it sincerely and greatly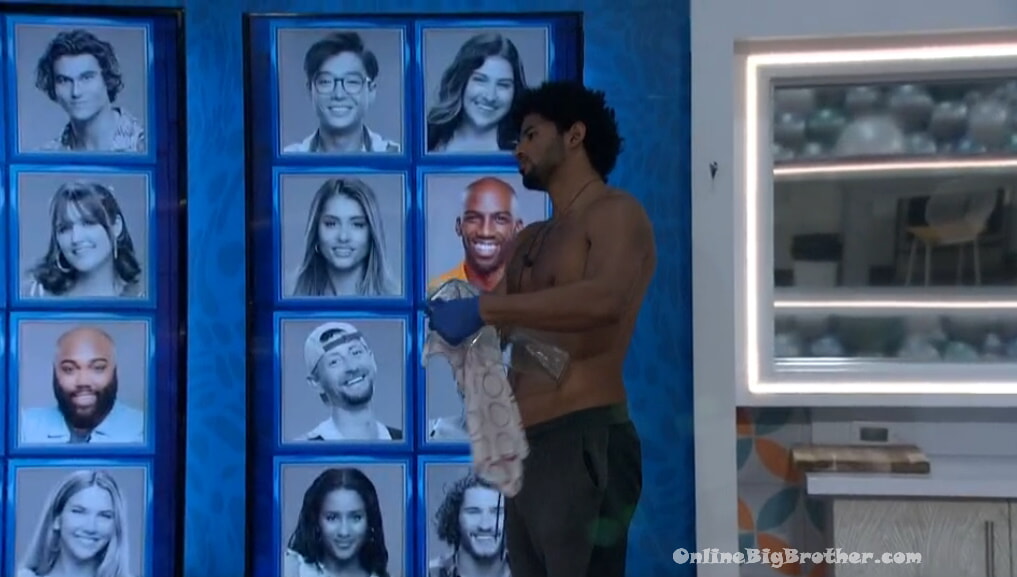 11:15 am Xavier and Kyland
Talking about how they haven't done the face swap competition since season 17.
Xavier – my prediction today's competition has something to do with days.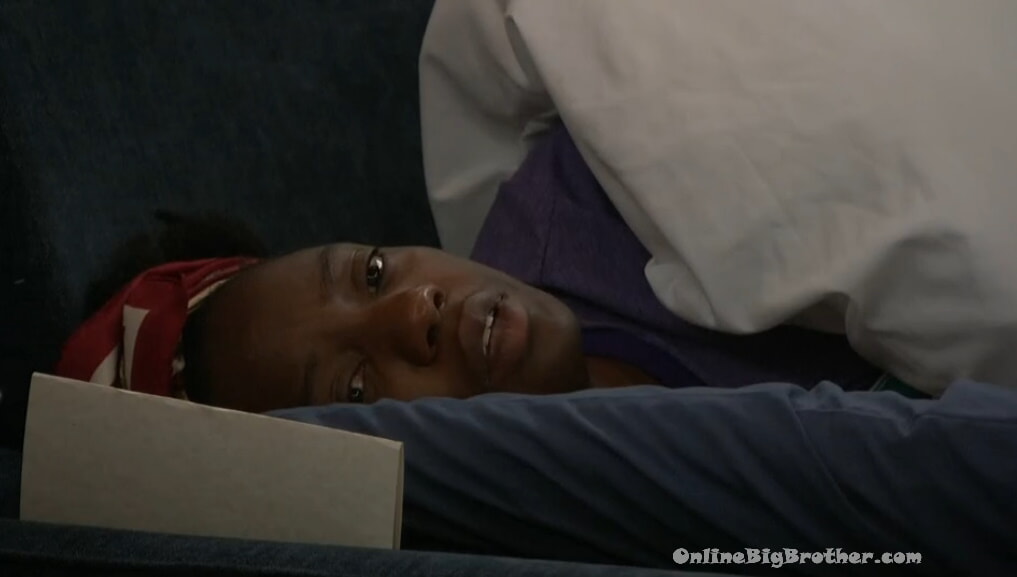 11:24 am BIGD and Azah
BIGD is talking about some issue he's having with Kyland. The feed cuts and BIGD generally not making sense make understanding a challenge.
BIGD says he asks Kyland "What are you going to do when you get down to the three.
Azah – that should be easy for him to do
BIGD – he gave me a .. .like I feel like I really can't answer that question because of… you know you're catching me at a vulnerable time.. Like how is that fair. Like I'm on the block and I have to GUN for this veto and you're having this conversation before we've had this veto comp.
BIGD – I was like this makes no sense you and I were just on the same page a week ago. Shouldn't I be the one that feel vulnerable? You used the veto and I end up on the block.
Azah – if we're honest the position Kyland is in is similar to me and I'm at peace with that. I know if we got there X has your back and Kyland has your back more than me
BIGD – NO.. GIRL i'm telling you.. You talk to him today and watch what I say is true.
Azah – that is a question he could have answered.. instead of beating around the bush I'm vulnerable
DF – it was a simple question.
DF – am I going to watch this back and be like DAMN I got rid of my best friend. and now I have to watch that. Over and over again. Or do I get rid of someone that is playing the game and willing to do whatever and don't care about how I feel? Where I can get rid of someone that really cares about how I feel. I had to sit back and think about that multiple times.. I said F** that.. Azah is more Happy for me to win the game than her own self.
DF – I'm going to pick a MAN over my friends.. NO you never do that. So for me I was just trying to do what any other game player would do.. Hey he's a deal man he plays the game.
DF – hey, I'm thinking about we made a deal I'm thinking about getting rid of my NUMBER 1 ally in order for you to advanced in this game.. What are you going to do when you get to three…
DF now impersonating Kyland 'uh uh uh I'm very vulnerable that you would ask me that before we even play the veto and that just makes me feel like in a way.. uhh uhh uuhh how I was with Tiffany and uhh she was uhh… at the point of uhh.. she was asking me questions like that.. "
DF – he talked to me in the storage. I said look you don't owe me anything you can do whatever it is you want. When you win the veto I don't expect you to take me with you and he's like Laughing.. I was like why are you laughing.. He's like it's not smart for my game.
DF – I'm like it doesn't matter you don't have to feel like you have to take me. If you win Veto and take Azah. that's fine like. I don't expect you to take me you know. You're going against your word but that fine. I don't want you to feel like you owe me anything.
DF – and that's what I told him last night. If I win or X wins it's one of those things.. I don't owe you anything remember. I feel so bad. and WHAT NOT..
DF – the problem is.. it sucks because I wanted to listen to you and I should have not blown up my game and I blew up my game by asking that questions
Azah – when did you not listen to me?
DF – learning to not shut my mouth.. you said I was in a good position and now I'm not for doing that.. I'm at peace.. I tried.. If he wins My A$$ goes home.. So I did that to myself.
Azah – if he wins we're separated.. 3 against 1 .. it's always the underdog
DF – Kyland is the underdog.. he's in that kitchen studying his a$$ off. If I had kept my mouth shut I would have been cool he would have taken me. Now he's not going to take me. ON top of that. he has X.. do you [x] and Derek have a final 2 he's like NO We don't have a final 2. We just had something in the beginning where we wouldn't target each other.
DF – I'm back on teh island blew my whole sh1t up on one conversations
Azah – we can pray this comp has nothing to do about days.. He's studying days, right?
DF – he's studying everything
DF – I told Ky me and X had an agreement but not a final 12 like you and I have an agreement.. Ky might see that as a threat.
Azah says Ky was doing his own damn thing he was the first one of the cookout that was supposed to go out.
DF – I blew up my game right before three. I asked a simple question with someone I was supposed to be working with
Azah says Kyland overthinks and analyzes everything you say
DF – I don't think I did anything the f** wrong. He makes me think I did something wrong
Azah – it's part paranoia part manipulation
Azah says making the vote unanimous to evict Tiffany was a game choice for her. She told Tiffany. "From a game perspective, it's best for me to do given the relationships I have in the house. She said don't worry about it it's fine.. it's okay."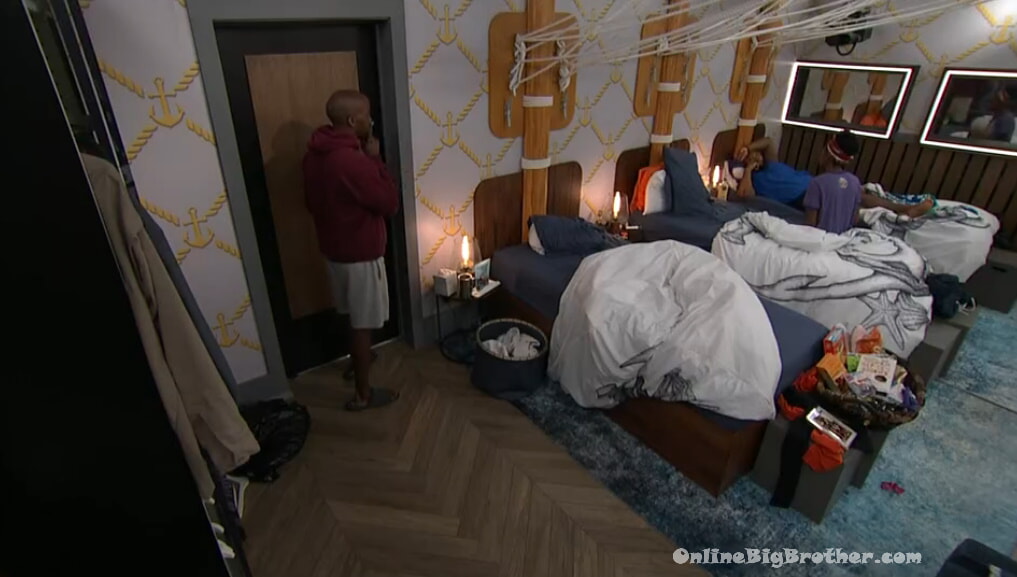 11:41 am DF, Azah and X
X comes in says hte brekfast is ready.
DF – I had a conversation with Azah.. I told her I'm not getting rid of her. I'm sticking to our final 3.
DF says he can only talk to her in here because he wants her to act like he's sending her home. "The other is dead to me"
Xavier puts his finger to his lips to single DF should be quiet. X leaves.
They go back to talking about Kyland wanting to control everything.
DF – I have done everything Kyland wanted me to do. I've been there for him, Covered his tracks, Lied, manipulated, whatever to set him up.
DF – the thing for me is like I ask one simple question in reality if you have someone's back and you are working with them then they would say OHH what the f** you think why you asking me that questions it's stupid.
DF – like.. that was me trying to also just like.. my thing was I didn't make up my mind I was voting you out because you asked me to no Alyssa/SB you. There was a possibility because I made a deal but I don't know yet. I have to make sure that deal I made is solidified. So when I had a conversation with him it was like.. I'M VULNERABLE.
DF – like what the f** you mean..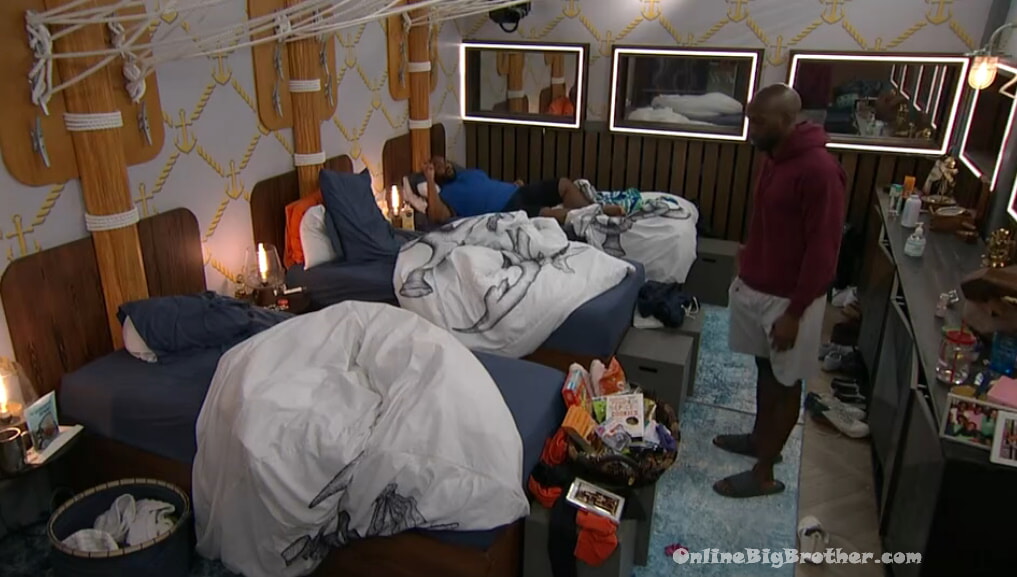 11:48 am Xavier and DF.
X – why would you tell her that before the veto?
DF – She knows I had to
X – why would you tell her that before the veto..
DF – Listen the reason why I told her that is because I want her to go for it.
X – she's going of rit no matter what.
DF – I need my conscious and because of how you checked me last night I did something wrong.
X – what happens if KY wins what do you think she will tell him?
DF – she's not
X – if you are confident in that I am to
DF – she's not Keep in mind Ky knows about our final 3.
DF brings up how Kyland said in the storage room that when he was in the same spot DF was he waited until after the veto to ask him about their agreement.
DF says he did nothing wrong
X isn't happy with all the talk DF is doing pre veto.
X – in the future when we say stuff it has to stay here..
DF – is he still about the holy BB or no?
X – I believe YES. Right now you are overthinking and you are talking like we gotta.. I'm telling you. we said it last night talking too much game can backfire.
DF – I know
X – you are getting caught up in that we have to stay calm and see how this veto goes.
DF – I was in such a good position then him got me scrambled he got me all over the place.
X – breathe.. let's see how the veto goes. You are not going home this week but talking too much game is how yo might end up going home and I don't want that to happen.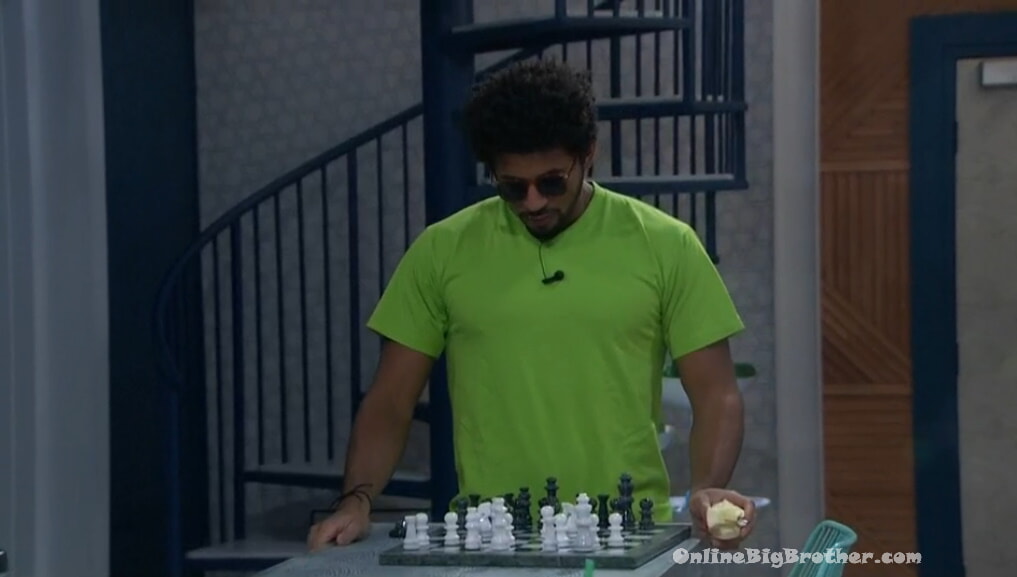 12:22 pm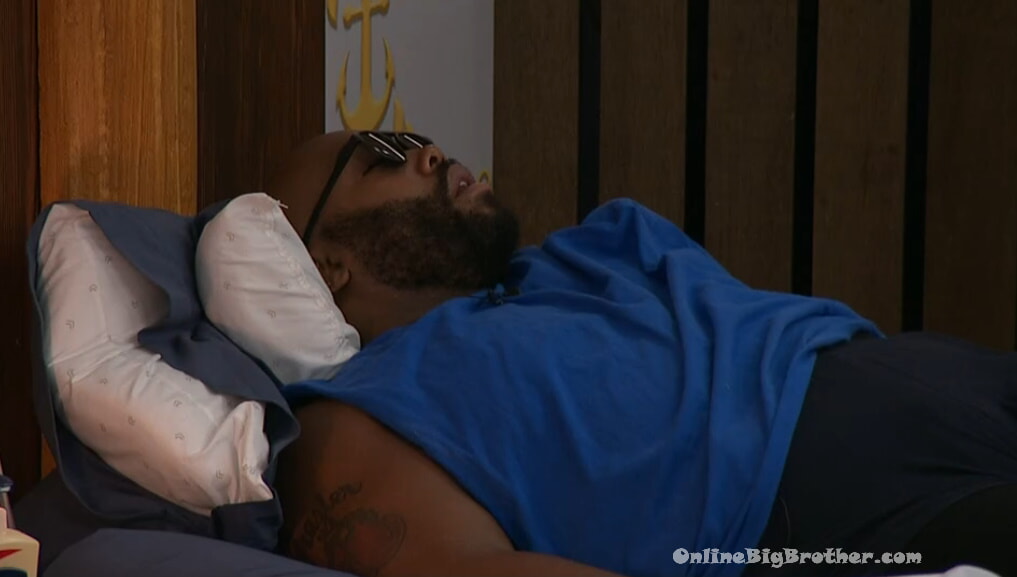 1:08 pm BIGD is possibly the most active all season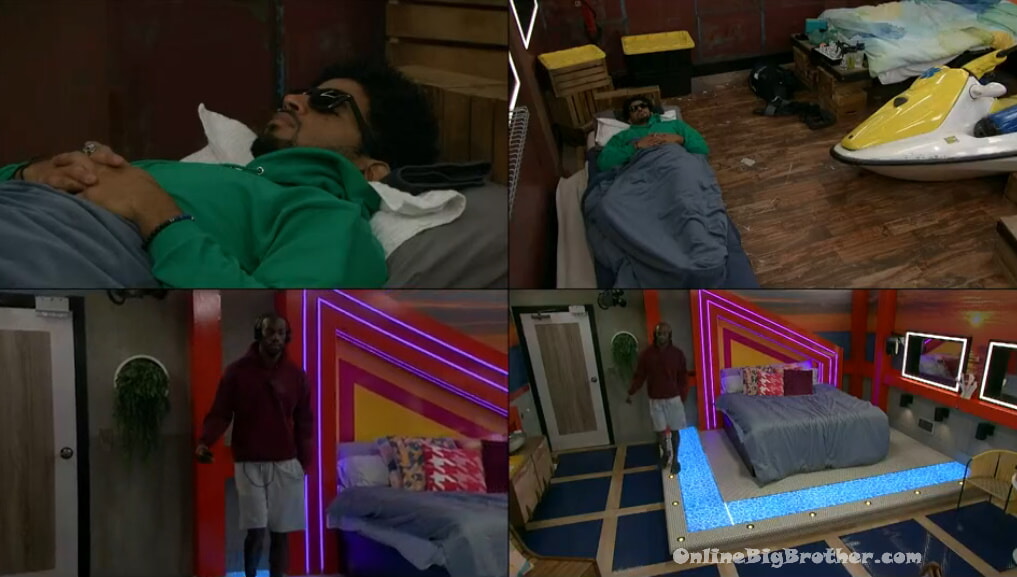 2:10 pm Study/sleeping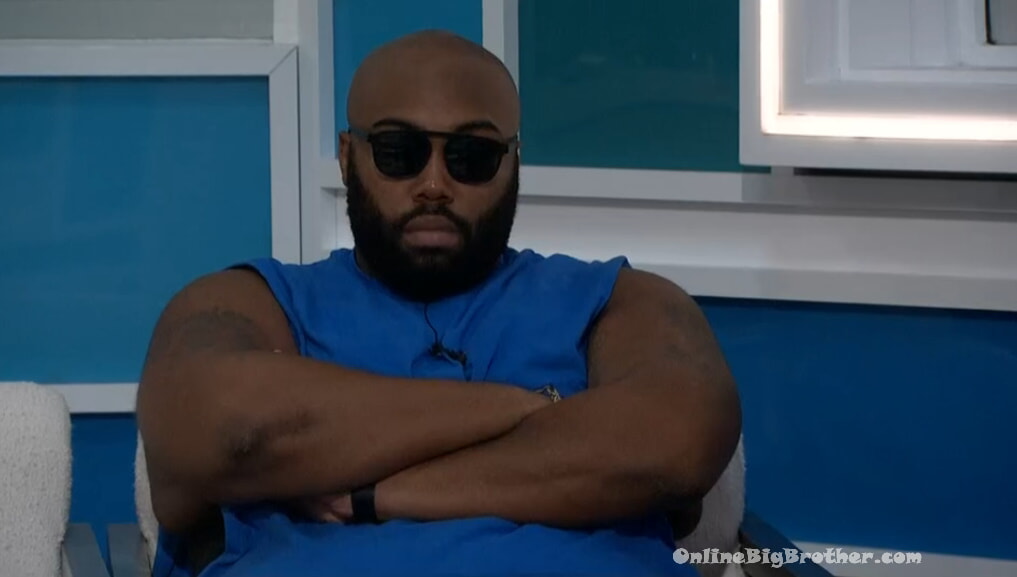 2:41 pm Trying to play cards and study days.
DF – he's (Ky) is just hanging by himself
X – go up there and bring him down here.
DF – I'm trying to give him time
X – what do you mean give him time
DF – usually when he was by himself I would check up on him and make sure he's ok
X – so do that
X – you got to remember that he could win veto..
DF – I know that.. I'm just trying to give him time
X – I think you have though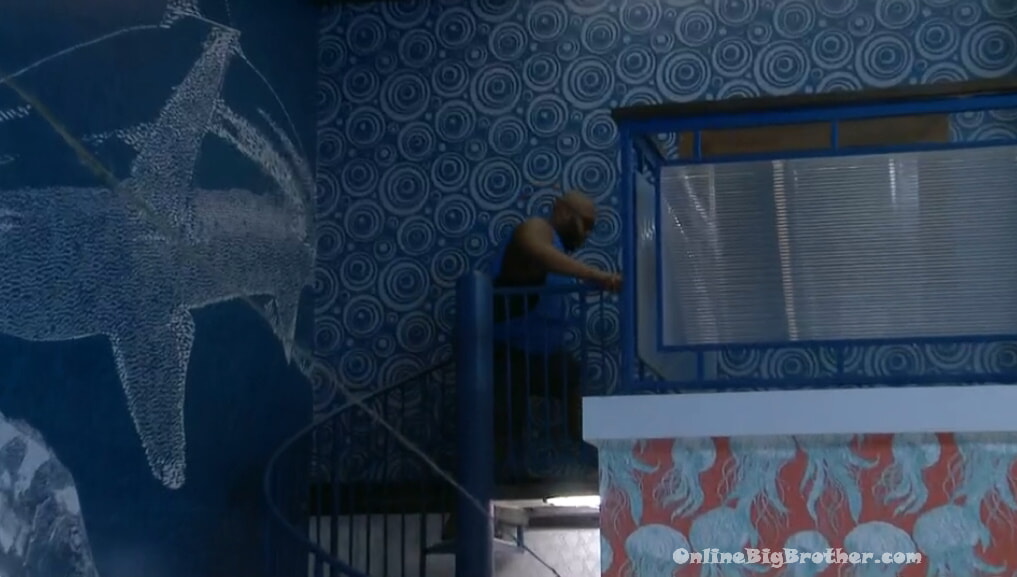 DF makes the epic journey upstairs to talk to Ky
Ky – how are you
DF – I'm okay.. I'm better.. feel a little weird.
DF – I want to give you space and not bother you and WHAT NOT
DF – the number one person I trust I like thought I hurt their feelings.. it sucks
Ky – I'm sorry you feel upset.. it's okay
DF _ I feel like shit.. I feel like you trust me and now you don't.. damn the number one person you trusted with your game like you just slapped them in the face you know
KY – I think that.. I think intention still matters I understand where you are coming from. I don't feel.. I dunno I just don't hold onto things that way..
DF – I get that.. I don't want it to come off as selfish or if I'm trying to game you by making you feel some way. If the kid wins Veto and he decides to take me THANKS. If he doesn't it's fine. like I don't want it to feel like it's uhh .. uhh you have to do this .. you know.. that's whay I didn't want that's what I was getting at.
Kyand stretches.. Says his sleep was deeper than he planned.
DF – it is what it is.. we'll leave it alone. All our games are in each other's hands.. until someone wins the golden power of veto and whatnot..
Ky – FACTS.. very true..
DF – my mindset was.. you know that's why you know .. even though I'm keeping Azah calm and WHAT not I'm setting her up to know. Hey, there is the possibility you know.. if I receive the power of veto then I'm sending you home. My mindset has always been the holy BB is going to the final 3.
DF says a problem he's had with his friends is he'll give them ultimatums. "it's been a problem in my friendships in the past years"
DF – I end up on my part ruining a friendship because of things like that
Ky – gotcha.. gotcha…
DF – instead of not looking at how this might come off or how this might say… excuse me Sound
Df – you know when you do that with someone you've trusted for so long it's like F***K like what are you saying what are you doing.. it's like me not thinking of your feelings when you always think of mine. That was selfish of me but I'm going to leave it alone cause we have a veto comp at some point today. I just want to see if you want to study. If you are where if you have anything you want to vent.
Ky – I just want to stay feeling good I'm sorry you're not feeling good.. I want to think more in terms of the comp umm.. I would like to say I also.. I want to make some toast do you want to go downstairs to make some toast? (WTF)
Ky gets up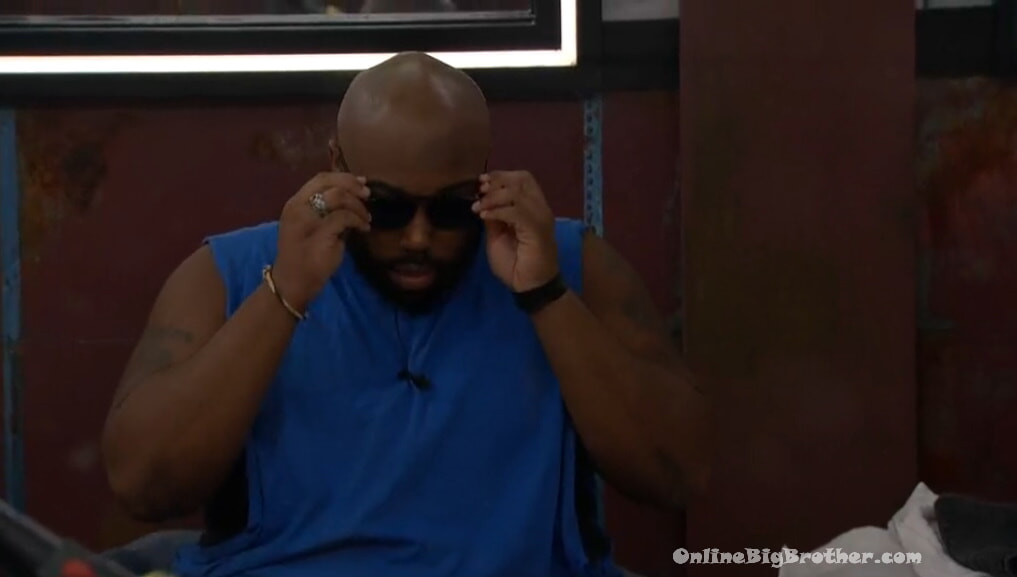 DF puts on his sunglasses.. "you want to make some toast get something to eat.. I'm trying to figure out my card game so I can possibly play some cards..
Ky – A card game by yourself?
DF – NO.. I'm getting spades and rummy mixed up.
They head downstairs..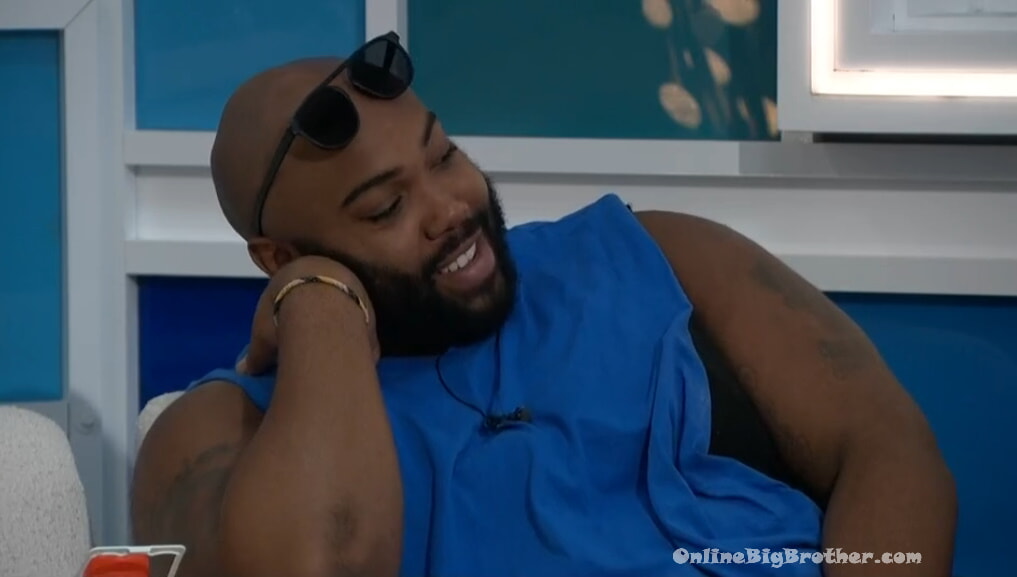 3:37 pm DF to Kyland
DF – Ky area we still going to hang out with me afterwards?
Ky – YEAH. What do you mean?
DF – I don't know if you were done with me completely
Ky – I don't know why you would say that..
4:06 pm
Azah spills protein all over the couch
BIGD shakes the protein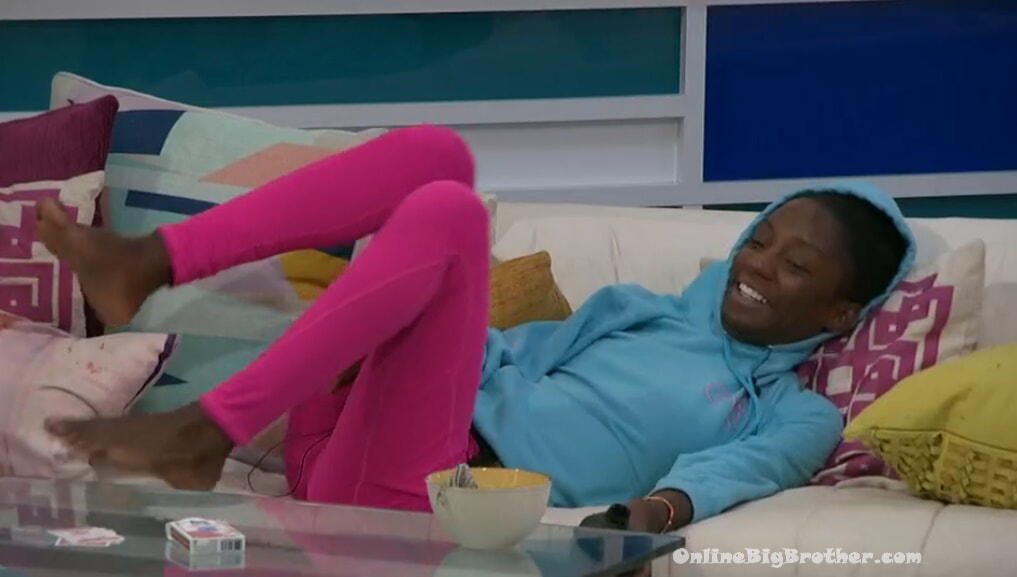 4:25 pm They've realized no Veto today.
DF – damn I thought it was today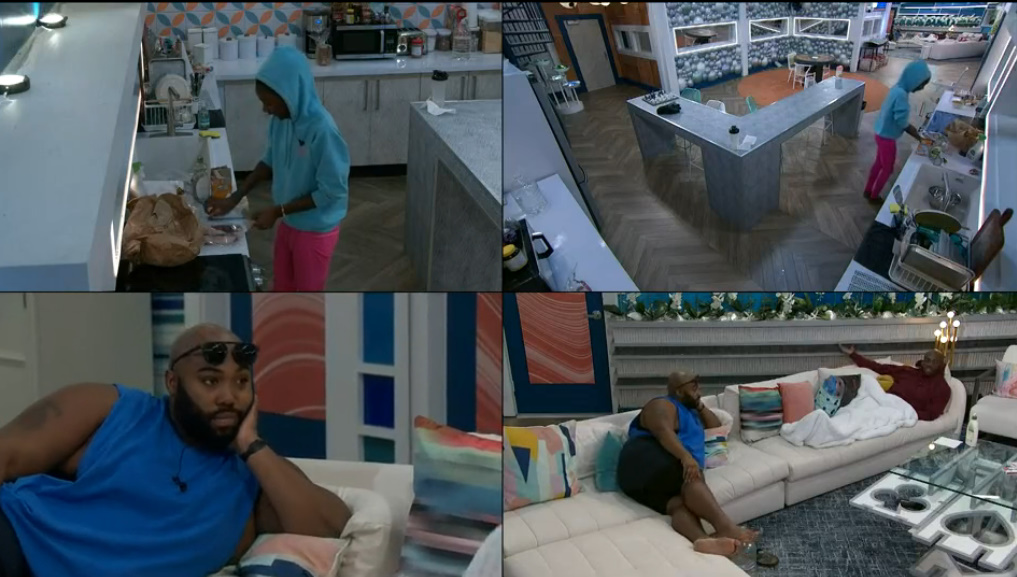 4:36 pm
Azah is making food for everyone as the cookout guys talk about WHAT NOT
5:10pm Living room. Azah, Xavier and Big D are sitting around chatting about past events of the season.
Azah – he is going to take the person that he feels will like yeah will go on with the deal with him that will take him if he presents that option to them. So that still leaves the … between me and you to win that veto. Big D – and I am telling you now straight up ..he is going to pick you. I promise you. I promise you. Xavier – so he picks her and its me, her and him in the final .. who is she taking? Big D – you. Xavier – you think he don't know that? Big D – no. Azah – unless he would offer me a deal. Big D – correct. Azah – and unless I don't take that deal.. then he would take you. Big D – correct. That is what I am getting at. I can't take no deal from him because of the fact that he …because he probably feels as though .. because me and X made an agreement in the beginning that we would .. we were going to you know… look out for each other. He can't risk that. He needs to take someone that doesn't have any deals. Xavier – I truly think its a toss up. Big D – okay.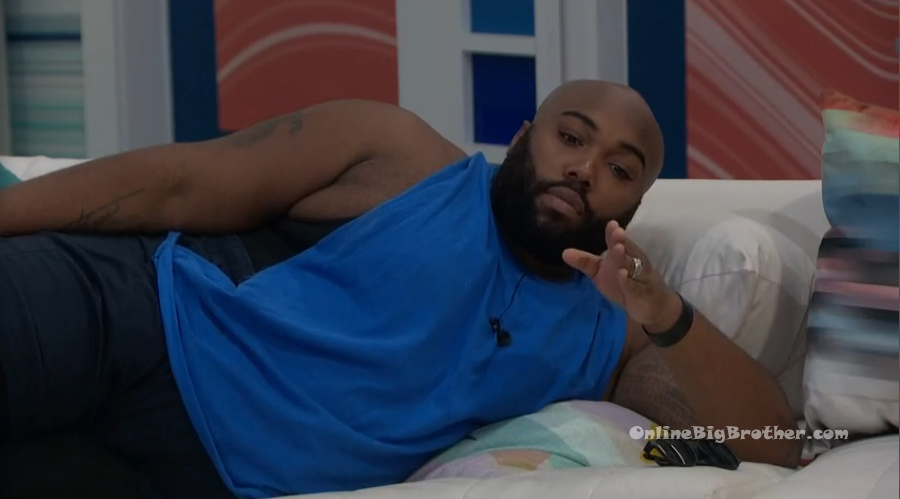 5:50pm Azah is now back to cooking dinner.
6:20pm Havenot room. Kyland talking to himself about how they got to this point in the game. We all had to bring each other to the six .. and at six I had a choice. I had two choices.
6:40pm – 7pm Bedroom – Big D and Xavier.
Big D – X, I am losing it! I am deteriorating. I am falling a part! X – what do you mean you're deteriorating? Big D – I see my game literally going… I've put in so much work! X – you've got to stop talking! Xavier – I think you got caught up this week talking way too much game. You're saying things and doing things that you don't have to do. And I don't know why you're doing it but you don't have to. Big D – I just went upstairs and talked a little bit with Ky. I had it setup perfectly where both of those two were going to take me to the final two… and now I don't know what the f**k she is going to do and what he is going to do. And now I feel like F**K! Xavier – That is why I've been trying to figure out why you've been doing so much god damn talking. Big D – I am so mad at myself. I put in so much work and now it comes down to.. do I have potential with you .. yes. But now I am f**ked! Xavier – Don't say sh*t until after the veto. You were having conversations as if we had already had the veto .. I am like what are you doing? You're smarter than this. Xavier – like I am truthfully waiting to see what happens with the veto. You just told her that you had spoken with me and you had spoken with him. How would that make her feel more comfortable? Big D – I know that.. because I had said that I was going to prepare Azah for a potential chance for me to vote her out. Xavier – you're taking yourself into a hole and I don't know why you're doing it. Game talking .. you just need to take a break. Its not helping.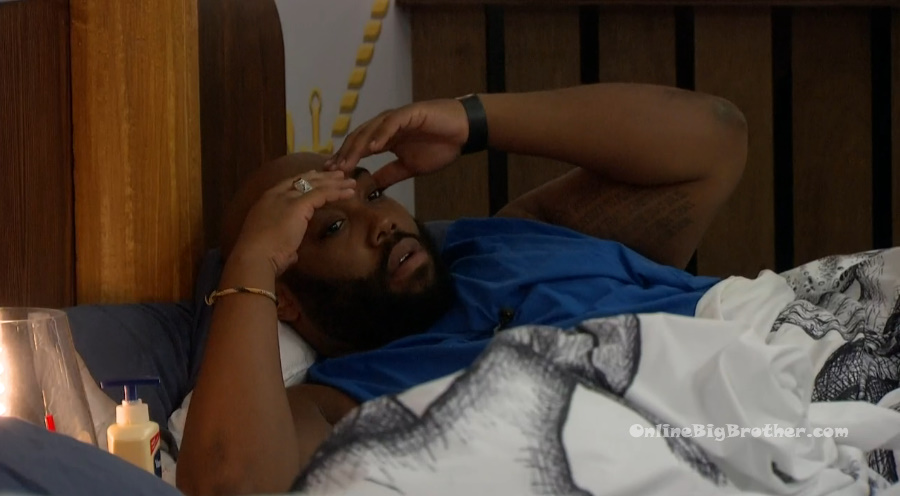 7:05pm Big Brother blocks the feeds.
7:30pm Still blocked..
7:43pm The feeds return with Ky and Big D talking at the kitchen table.
Please consider a donation to keep this site running. Thank you to all those that have contributed ;)