HOH: Tiffany
Secret HOH : Claire
HAVENOTS: None
Nominations: Sb and Ky via HOH, Xavier Via punishment
Coin of Destiny Coup D'etat: Claire won and kept noms the same
Power of Veto Players: SB, Claire, Hannah, Kyland, Xavier, Alyssa
Power of Veto: Hannah
Power of Veto Ceremony: Hannah used the power of veto on Xavier. SB and Kyland remain on the block.
Big Brother 23 Houseguest Rankings – – RANK THE HOUSEGUESTS –
View the previous day ranks on the – Ranking Grid
Big Brother Spoilers – Sb going to be evicted very little is going on in the house. Gaming out the potential of a battle back and the boot order over the next 2 weeks rounds out the majority of game conversations.
10:30 am Wake up call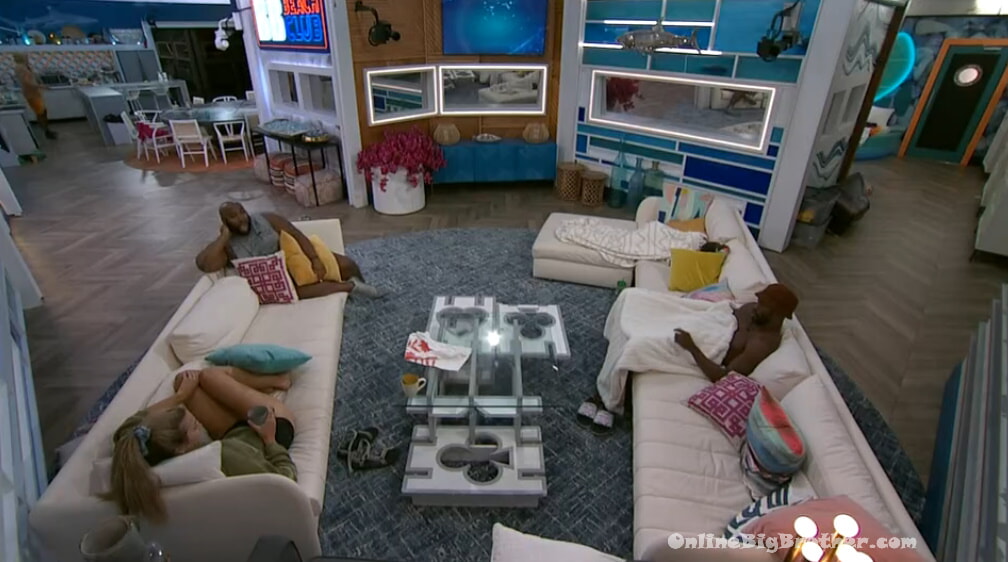 1:00 pm Chit chat about shows like "Loki" and "Too hot to handle"
2:24 pm Sb, Alyssa, Tiff, KY, Claire (Chit chat)
Chit chat.. Laughing about Brent thinking he was going to stay.
Hananh – his one on ones took less than 15 minutes he would just look at us and go (See image)
Tiff – he would go up to the room and was like.. so what are we going to call it..
"Call what"
Tiff – he was like we gotta name it.. what was it mafia?
Ky – the mafia..
They go through the motions for the mafia where they are smoking a cigar (looks like a joint)
Ky says brent would start the conversation with "I can offer you my protection"
Ky – in his most Italian voice
hannah – with zero comp wins
Tiff – I was loyal to Frenchie I can be loyal to you
SB – he wasn't loyal to Frenchie he threw him under the bus week two
Hananh – he was loyal for 2.2 days
Claire – Frenchie had no idea what he was doing in this game. I stand by what I said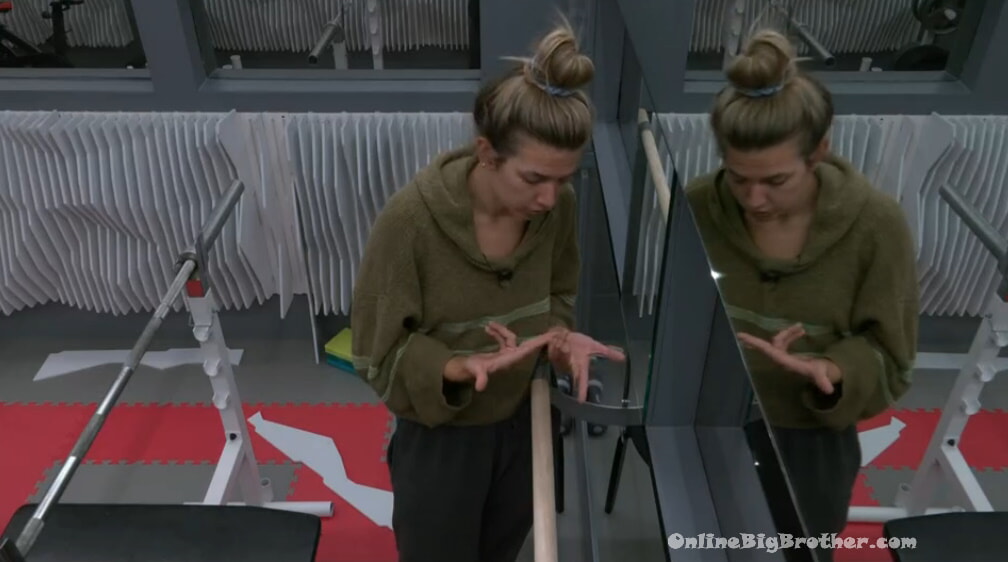 2:34 pm Claire to the camera
Claire – I would like X to leave next week If Alyssa leaves that's okay. I do want one of X or Alyssa to go
Claire says her conversation with Hannah was good yesterday got her thinking about X and BIGD potentially.
CLaire – Could hannah be playing me? potentially. I really don't think hannah wants to take X out but she knows it's a shot that needs to be taken.
Claire – Hannah is really smart I don't think she's playing me but she could be
Claire mentions that X might put her up as a pawn against Ky.
Claire – I'm worried that Azah and BIGD could be feeding each other information. They spend a lot of time talking and they do just have each other.
3:30 pm Xavier and ky are working out. Alyssa and DF watching
DF – you are using your cores cause those abs are popping.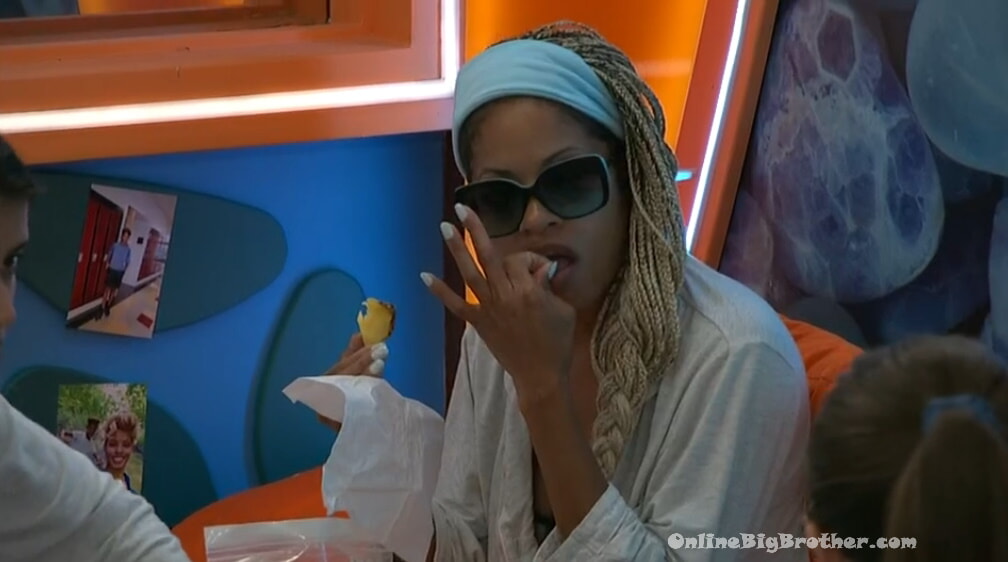 3:34 pm Alyssa and Tiffany whispering about Sarah Beth while smacking on food hard to hear the complete conversation.
Alyssa – Shelly lives in Orlando
Alyssa says last night Sb and Kyland were whispering "She went into the coral room my eyes were open she saw and turned right around..
Tiff – where was he (ky)
Alyssa – didn't see him
They talk about wanting to read the letter SB got when she won HOH.
Alyss a- I want to read it so bad
Tiffany – me too
Alyssa – it's in the closest right there
Alyssa – there's no way it was sexual.
Tiffany agrees. SB joins them Chi chat.. Hannah joins them says her parents are 60's.
Tiffany – I got a hangover.. I'm just high on life..
Chit chat…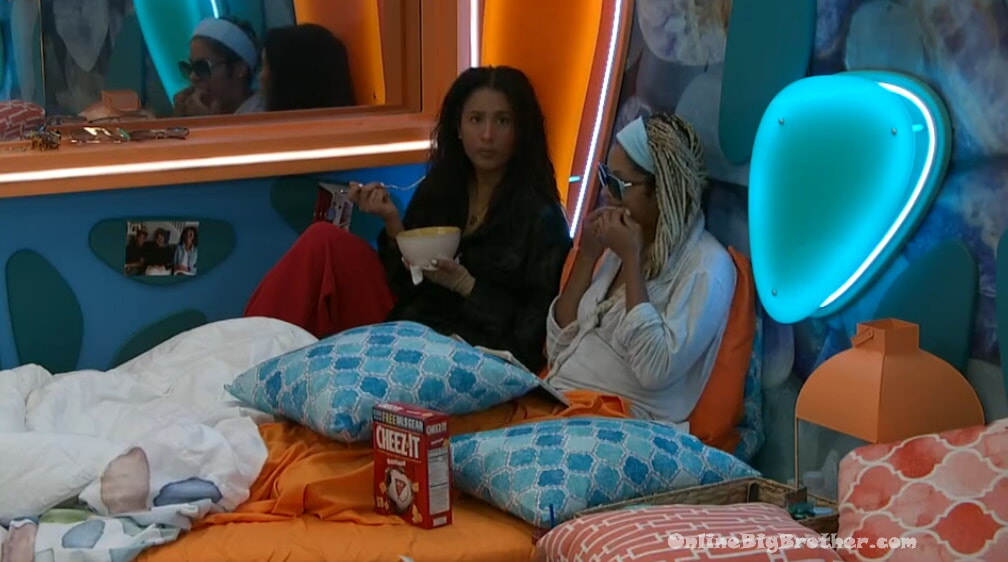 3:57 pm Tiff and Hannah (Hannah continually speculates about the battle backs)
They talk about if they all had Covid they should just complete the season with them "Coughing and hacking"
Hannah says if she wins the next HOH she'll do Alyssa. Even if Claire wins she's not coming after her, Tiff, or Azah.
Tiff – the guys must know their odds are better if they keep Alyssa over Claire but our odds are better to keep Claire over Alyssa
Hannah – my only fear is that battle back
Tiff – we still don't know
Hannah – the last thing I want to do is send out Alyssa and DX comes back and they end up taking two of us out before final 6
Hannah – if Brit comes back I don't see her targeting Claire It will be Ky
Hannah – Sb is the only person that could come back and target Claire
Hannah – if Claire or Sb come back I see them both going after Alyssa and Vice versus.. which means Alyssa would be our shield, Weapon, and buffer.
Tiff – then maybe we should keep her
Hannah – if the 6 of us can't beat her for that HOH then she deserves to stay
Tiff – I think so, Yeah
feeds cut.. when we're back more endless speculating who to put up next to Alyssa, X or Ky.
Tiff – Claire will wonder why Ky is going home
Tiff asks her how she feels about sending someone to the jury via a blindside
hannah – SB?
Tiff – Alyssa, SB isn't going to feel blindsided. she'll figure out she doesn't have the votes to stay. When she starts to figure out it'll be a split vote..
Hannah doesn't think they should blindside Sb. Hannah says Alyssa likes straight-up gameplay so she will respect you telling her straight up she's going home. If you blindside Alyssa she'll be bitter.
They continue to discuss every permutation of battle back, order of people leaving, blah blah…
Tiff says she can't win this next HOH.
They now talk about throwing the HOH to Ky so he can put up Claire.
Hannah says Ky is unpredictable she doesn't want him to win that final 7 HOH "I believe he's committed to the cookout if Ky is that last HOH and Lyssa comes down anyone is fair game"
Tiff – ok it needs to be this HOH ..
Hannah – remember the final 4 HOH is always a memory one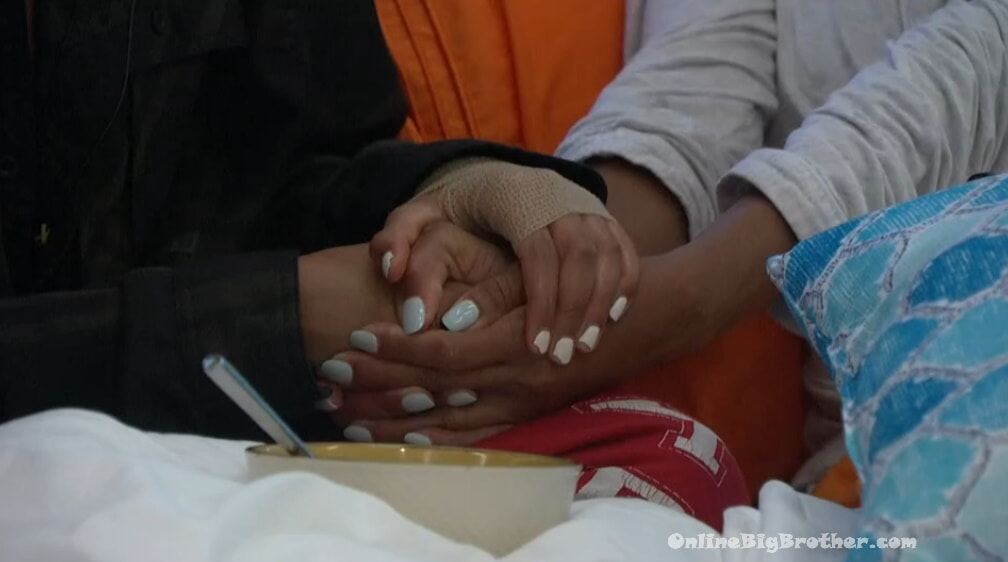 Hannah – it'll be great if we take out BIGD first
Tiff – he got his MOney
Hannah – exactly that's all he came for
Hannah – what will be ideal if one of us wins we take out BIGD if X wins that next HOH he takes out Ky. He's then illegible to play in the final HOH. It would be you, me, and Azah in that final HOH.
Tiff – we need to do that
Hannah – the first part of that HOH (final hoh) I will throw it to you. You can win endurance.. I win the second part then it's me and you in the final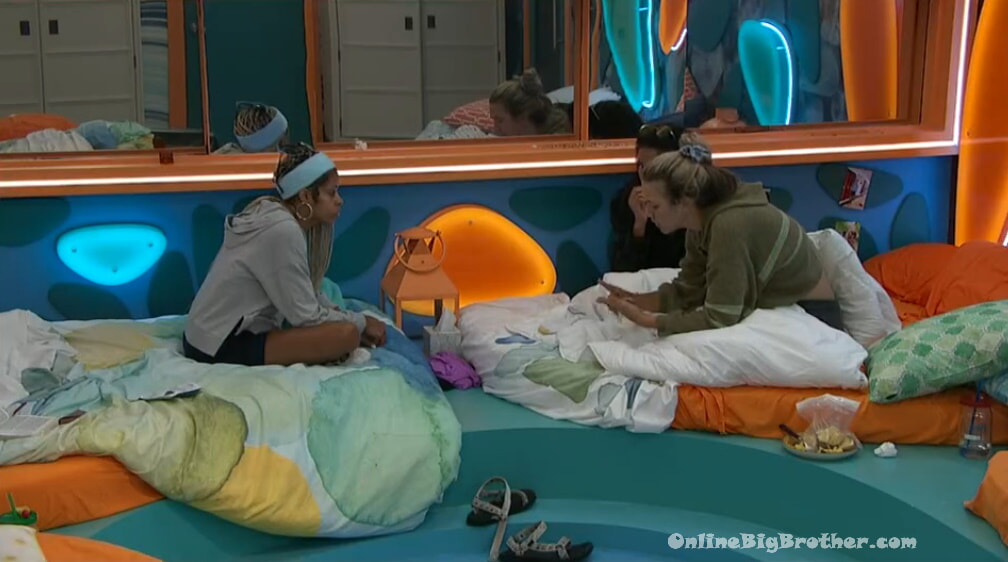 5:45 pm Claire, Hannah and Tiff
They will tell Sweet Sarah Beth that the votes just aren't there before the Vote on Thursday.
Claire saying that X will be way harder to get out than Alyssa.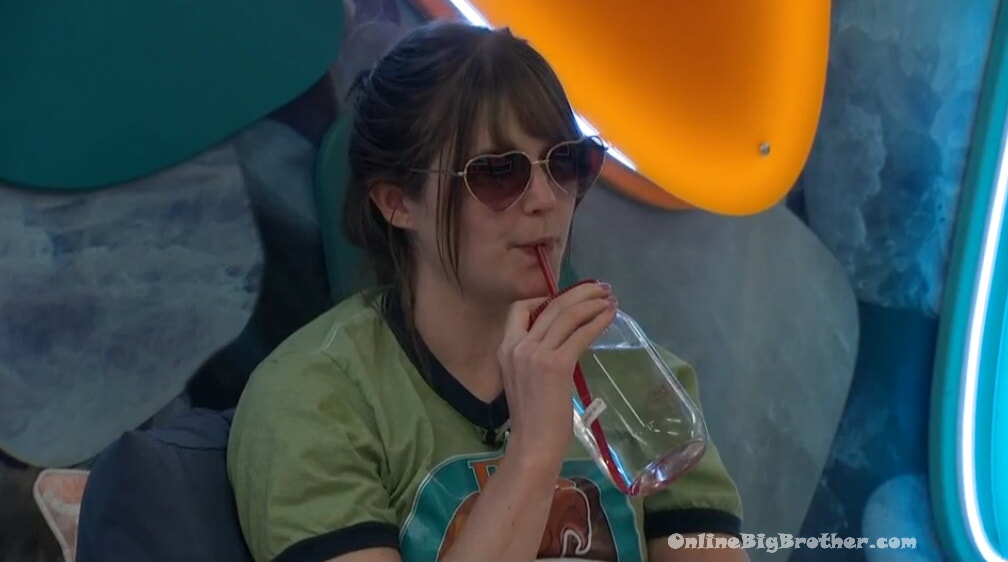 6:30 pm a
on one feed you have DF out of breathe while he makes dinner. on the other feed, you have SB saying this.
Sarah Beth to Ky – YOu have your retainer in?
Sarah Beth – it's so cute..
Alyssa – what's cute
Ky's – retainer
Alyssa – his retainer's cute?
SB – Mmhmmm
6:31 pm Feeds cut..