HOH: Kyland
HAVENOTS:
Nominations: Claire and DerekF
Power of Veto Players: Kyland, Claire, DF, Alyssa, Azah, Brit
Power of Veto: Kyland & Alyssa (Two Vetos)
Power of Veto Ceremony:
Big Brother 23 Houseguest Rankings – – RANK THE HOUSEGUESTS –
View the previous day ranks on the – Ranking Grid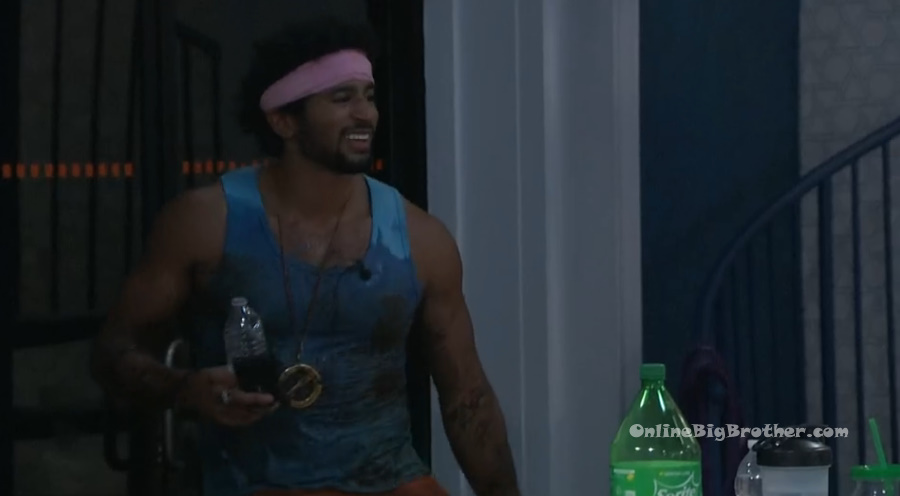 4:25pm – 6:22pm Big Brother blocked the live feeds for the OTEV veto competition.
KYLAND and ALYSSA BOTH WON a VETO!!
SPOILERS
Kyland plans to take Claire off and put up Britini. Alyssa plans to not use her veto. As of right now, Britini is the target to go this week..
*** AT the veto ceremony KYLAND will have to decide to use his veto first, then Alyssa will decide to use hers or not. Tiff "Alyssa won the real veto"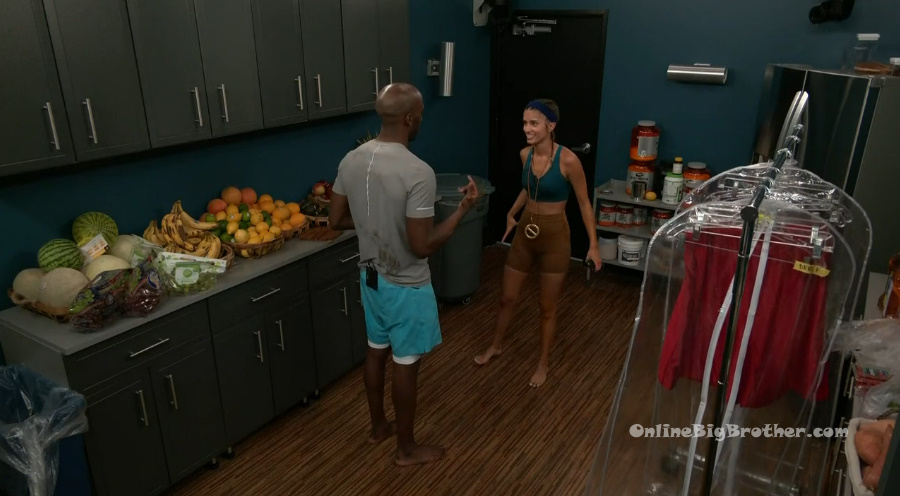 Storage room. Xavier and Alyssa
Xavier – girl you got a win! OTEV! OTEV! Alyssa – that was literally best case scenario! I don't know if he threw it or not .. he asked me if I wanted it and I said go for it if you want. Xavier – who gives a f**k. You got a win! Take your win! And it was OTEV! Alyssa – I was so nervous because I didn't know if I had the right one. Xavier – girl you were crushing it. Xavier – so now you have a veto so none of the kings are going up.
Bedroom – Azah and Big D.
Big D – I didn't even say nothing. I didn't even acknowledge her. She was whispering to Derek the answer. That's why I don't like that B***H! This whole season I have been calm but with her I can't be calm no more! I do not like her. Azah – I know she is going to tell Ky. Big D – I'm not worried about that punka$$ b***H! I really cannot stand her.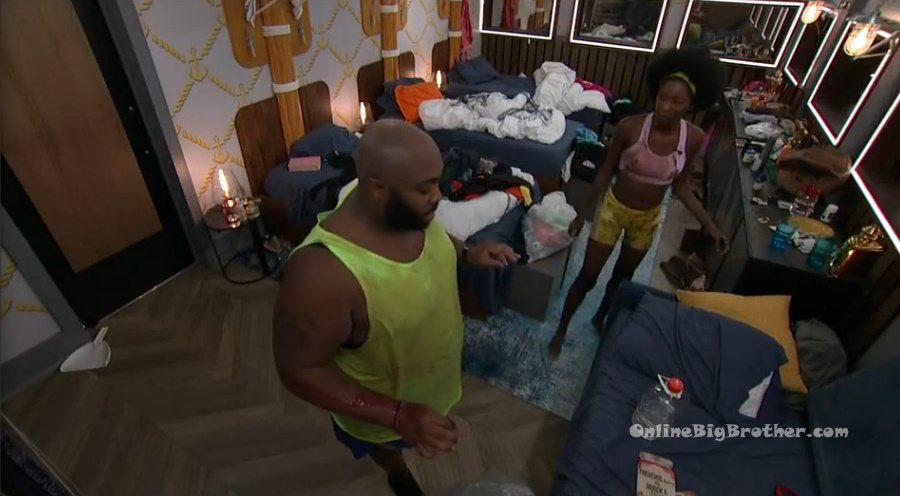 Claire and Derek X.
Claire – I did not throw that. Derek X – you do not have to convince me …he threw that. I am trying to wrap my brain around it. I am going to ask him. Claire me too. Tiff joins them. Derek – why did Ky throw that to her? I am pissed! Claire – he didn't try .. he went over and stood there. Tiff – you right .. on the last one ..all of a sudden you don't know. He is a terrible liar. Claire – he doesn't want me to come off .. that's it period. Tiff – so you need to get to Alyssa. You need to talk to Alyssa! Claire – I do not trust Ky in this game! Derek – he is playing a good game .. for himself. I am pissed! Tiff – of course he is. And Azah should feel like a dumba$$ too. Derek – I hate this comp its so luck based. Cliare – did you see Ky went for my pile too .. I said get the f**k out of here! Derek – f**k this dude! Claire – he didn't want me to be in the three. Tiff – so why do you want her to talk to Ky first instead of ALyssa? Derek – because right now.. Tiff – because if you get her to promise you that maybe she will feel like she can't go back on it. You need to make her say. Claire – I don't want to pin her down. Derek – right now we are assuming a lot about Ky and it is probably true BUT get it from him! Make him give you a reason. Make him lie to you. Claire leaves to go talk to Ky. Derek to Tiff – we have a full day tomorrow and tonight. Tiff – who bet on Azah? Sarah Beth? Sarah Beth was PISSED! Derek – oh my god I forgot about that. That is why Azah didn't want to win. Tiff – Because Azah doesn't care if Claire goes home. She is more concerned that Brit will be on the block. That is why she took her thing out and gave it to him. She should have just stayed in the game. I don't know why Azah thought Brit could do better than her. I still think Claire is going to come off. If we are going to lose anybody I would rather lose Brit than Claire. Derek – oh of course! Tiff – if the veto is used hopefully Brit goes up because I don't want to lose Claire… Because I don't know where Ky's head is at right now! Derek – of course, of course! TIff – but he goes first so it doesn't matter .. Alyssa goes second. Alyssa won the real veto. If Ky uses his veto and puts up someone Alyssa doesn't approve of she will just use hers to take them down. Derek – I want Ky to use his, I don't trust Alyssa to use hers. Tiff – that would be ideal! But Ky doesn't like to get his hands dirty. If he was going to use it he would have won it! We told Alyssa we would work with her.. so if Claire is on the block maybe she will use it on her. Derek – did she seem receptive of it? Tiff – she is the one that told me she would use it on Claire. Derek – okay. Tiff – that veto showed A LOT!!! I am just very cautious with Ky. He is playing a very good game. He definitely got a lot of information from everyone with the candy game. I just wish Claire had won it.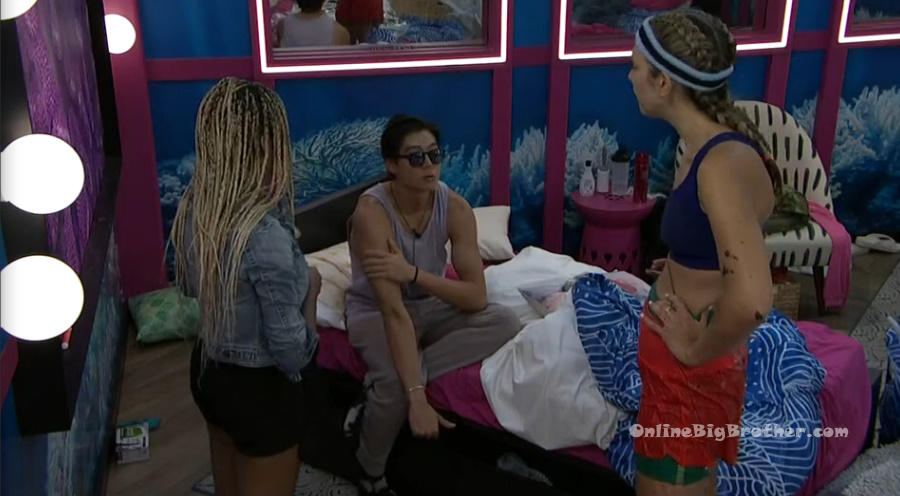 HOH room. Kyland and Xavier.
Xavier – I think that was best case scenario. Kyland – I want her to feel good and I want Claire to feel good because Claire is a little bit nervous so if I take her off she will feel good. And Alyssa is said that she just won't use it. Xavier – yeah we're good. So Britini! Kyland give the nod yes. Xavier – we have to separate those two from her. Ky – how bad did it look?! Xavier – it looked like you threw it. Ky – and that is why I am pissed. Xavier – its okay, just get clean.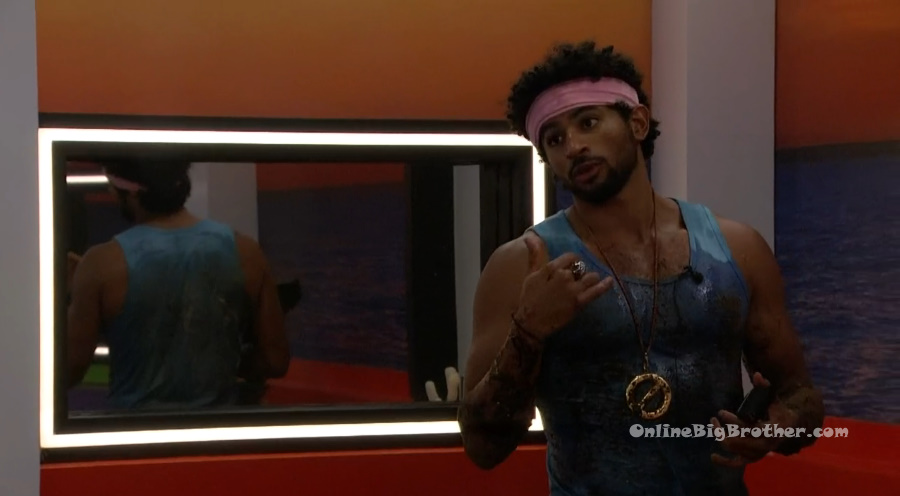 6:30pm HOH bathroom. Claire and Kyland.
Ky – another reason .. I felt when you picked me and you have to be honest with me about this .. when you bet on me it was out of fear that if I won it, I wouldn't use it on you? Claire – yes. Ky – okay, I want to make sure you know that you can trust me. Claire – okay. Ky – that is number one. Number two, building trust today.. no question I am using it on you. Claire – okay. Ky – zero question, this WILL be used on you! I know it sucks in terms of the game but you can I can promise you zero question! I can say it to whoever you want. Claire – just say it to me. Ky – I know you are scared until it happens but.. Claire – it is the paranoia. I trust you. I will be honest with you. Ky – that's all we can do. You can play it however you want. You can play it upset or whatever that is up to you. I don't know what makes sense .. we can talk about it.
Bedroom – Derek X, Claire and TIffany.
Claire – he said I threw it because I knew when you picked me you didn't trust me .. he was like were you hedging your bets and I was like basically yeah. I just wasn't sure what you were going to do. He was like this is to build trust and I want to show you that it will be used and you will come off the block. Derek – his will be used or it will be used? Claire – it will be used. Derek – f**king a$$!! Claire – he was like its all about trust … I know you will be paranoid until you have the necklace around you but we got to build trust. Hannah joins them.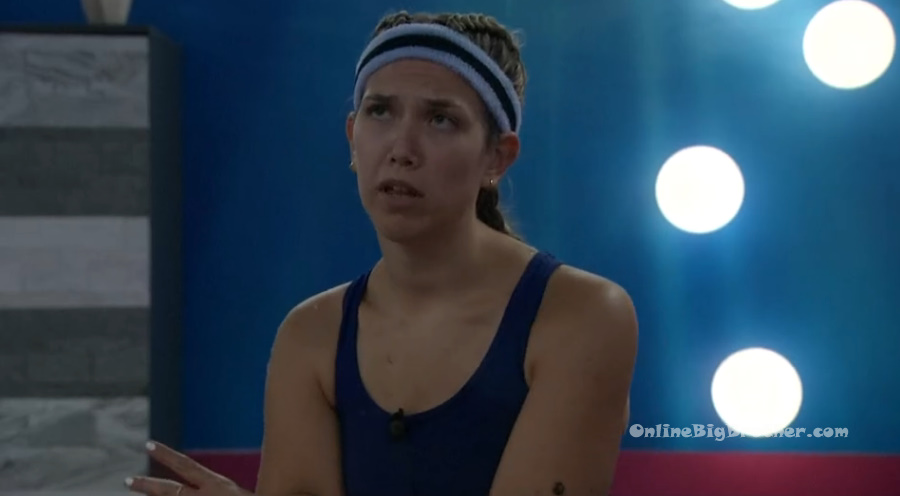 6:41pm Storage room. Xavier and Britini
Britini – I am pissed! I could have saved us all today! Ky stepped in front of my face and gone up before me … I was like I am not getting up there. That was fun ..It was OTEV.. it just sucks! They have that whole damn squad on that side of the damn house and I don't know how this vote works. In my head it goes 4 – 4 and then he breaks the tie… and I don't think he breaks it for DF so I am pissed. I don't think the vetos will get used. I know kyland won't use it unless he is planning some master maniacal plan that we don't know about. I don't think there is a need to use it for either one of them. I am just pissed! Fricken pissed! Xavier hugs her.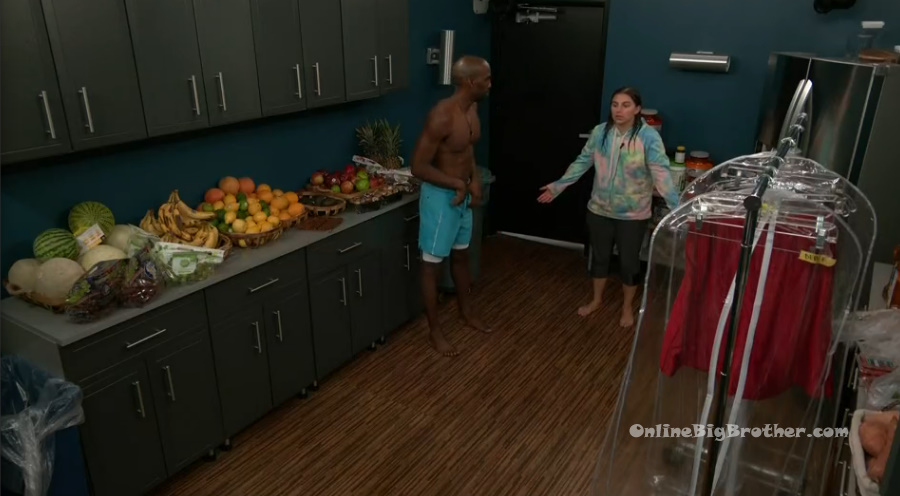 7:25pm Bedroom. Big D, Derek X, Azah, Sarah.
Sarah to Big D – I am here if you want to talk … I just know that the toughest part was losing the veto. Not knowing what was going to happen. Big D – My thing is yeah I lost it but the thing is the person I am up against didn't win it either. So that makes me feel like there is a possibility that like I have an argument against the person.. but you never know there could always be a backdoor and someone else comes up there .. right now it is kind of even.. Like me versus Claire is even. Because I am next to Claire I feel good but if I was up against anyone else I might feel like ohhh.. I might not be able to win this argument or fight or.. Azah – well we will see what happens .. we don't know. They talk about the competition. Big D says that he almost broke the log. It was fun but it was definitely not easy. Alyssa being small she could just fly up there. She wasn't even getting dirty. She was finding all hers in that pond. Derek – yeah there are definitely going to be some conspiracy theories on that one. Big D – if its my time, its my time .. I have no problem going to slip on liquor..
7:40pm Bathroom – Hannah and Xavier.
Xavier – ..two if he (Ky) knew the answer he is smart enough to throw it better. What was all that?! Hannah – I am telling you when he doesn't give the rest of us credit he takes us for fools. He thinks his intelligence is so much higher than the rest of ours and when you are that over confident … it clouds your judgement and you start to miss things. So that is what makes me nervous about him. Xavier – but now he is pissing everyone off! Hannah – that is what I am saying. Xavier – like are you not picking up that it looked very obvious and and now one you kind of put my buddy in a tough spot because it looks like you threw it to her… and now I am wondering did you guys have a deal .. if they had a deal and I didn't know about it .. but I know they didn't because ALyssa would have told me. Hannah – are you sure? Xavier – no 100%! I literally asked her. Hannah – because I was upstairs in the HOH room and he was like I'll throw it to you at the end. Xavier – beforehand he was like do you want it. Just work on your acting skills because that was painfully obvious to the ENTIRE house! And now no matter who wins especially people outside the six, people are going to wonder why his (Ky) a$$ is not up. Hannah – he would have to go up next to SB. SB has to go home. Xavier – everyone is the house is looking at him and wanting him to at least see the block because he can't win.. he is like the house target right now. Hannah – do you think he knows it? Xavier – I don't think so. If people want a reason to put him up.. go for it!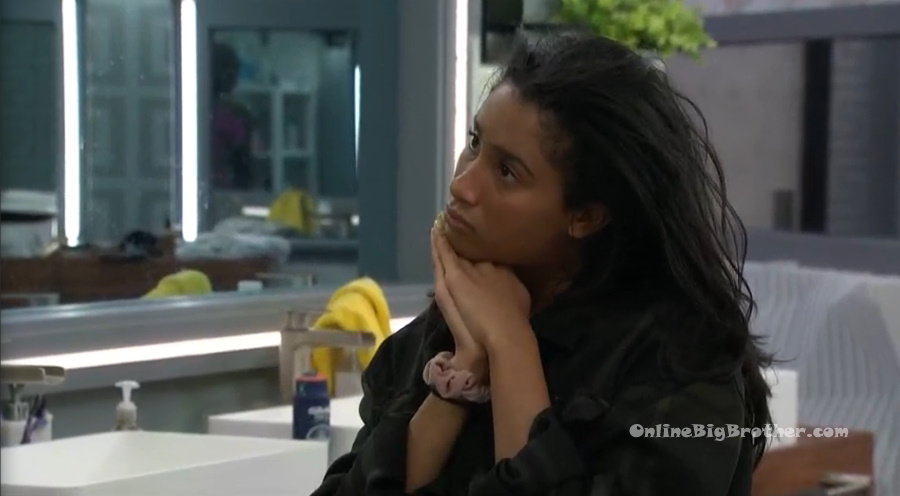 7:56pm – 8:22pm HOH room. Alyssa and Kyland
Alyssa – so what is the plan STAN!? Kyland – what would you be interested in being the plan? Alyssa – Honestly, I know that Sarah Beth is safe with you being HOH but as long as SB and X are good.. I am down to help you out to make your HOH as smooth as possible so as long as they're not up there I am open to whatever you're thinking. Other than them two.. with Christian leaving I don't really have any ties with anyone. Because you do yours first (first veto) ..so whatever you wanted and then I will just seal it in. You know what I mean? Ky – yeah, that is why I wanted this outcome. You can't build trust without actions. This week I would be taking action and I am sure its not your idea action.. not something your against but not something you're for. I am guessing you would have other preferences. Alyssa – honestly other than X and SB since Christian left .. no one has spoken game with me so if you're not talking game with me .. I assume you're against me. I know people will now. If its not SB or Xavier .. I am approving of it. At the end of the day you're HOH so its what is best for your game. Are you wanting to keep it to yourself? Ky – I wonder if you even want to know beforehand so if someone asks you ..it is harder to say no. Alyssa – so you think its beneficial I don't know. I assume I don't have to worry about SB or X? Ky – correct. Alyssa – okay. Ky – do I need to worry about SB? Alyssa – no.. and you guys are good in my books too. I am a bit of a loner so anyone I can align with to show actions with I am for. Ky – I don't know if it builds more trust with you knowing but also if you know it gives you chance to do something with it.. I don't think you would but theres the chance. Alyssa – I think we're on the same page with who you are not putting up .. and that way if someone questions it I can say I don't know what you're doing. They agree that if anyone asks what Ky is doing she will tell them that Ky wants to keep his thoughts to himself and that we'll talk on Monday.
Show your support 🙂 Without your support this site and these spoilers wouldn't be possible.
Please consider a donation to keep the madness going.