HOH: Kyland
HAVENOTS:
Nominations: Claire and DerekF
Power of Veto Players: Kyland, Claire, DF, Alyssa, Azah, Brit
Power of Veto:
Power of Veto Ceremony:
Big Brother 23 Houseguest Rankings – – RANK THE HOUSEGUESTS –
View the previous day ranks on the – Ranking Grid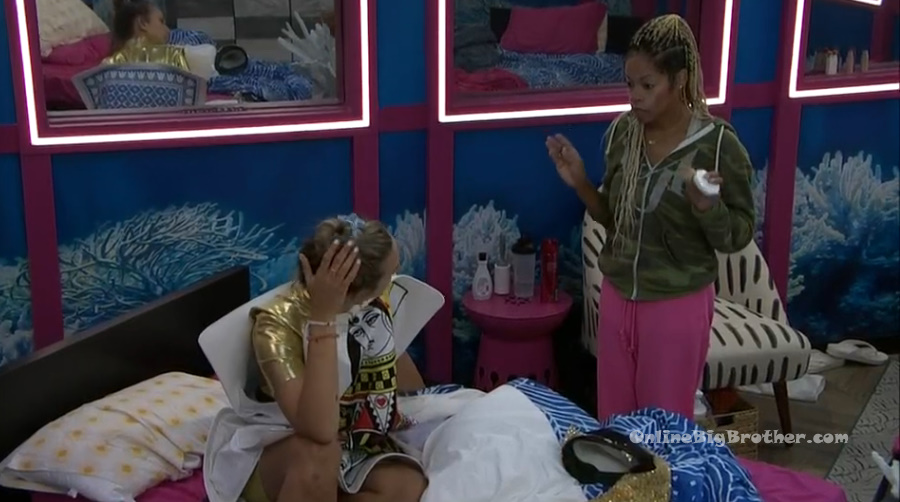 12pm HOH room – Alyssa, Hannah and Kyland
They're planning out their strategy for the upcoming OTEV competition. Hannah – Correct me if I am wrong but if you, (Alyssa), you (Ky) or Big D were to win this competition the outcome would be exactly the same but then the power would no longer be in play. That is why you two have to win but if Claire or Big D win ..its not the end of the world. Ky – exactly, if any of the four win we are okay but the top top preferred is us two. I am trying not to be selfish but I want to win it. Alyssa – if you want it go for it. Hannah – you two should just duke it out and let the best man win. ALyssa – obviously I would feel better winning it than throwing it. Like I would feel better if I won it fair and square. If you want to go for it, f**king go for it! They figure Big D will be following them for the right answer. Ky – if you find two .. me and Claire but if Claire and I are already up there you can give one to Big D too. Hannah and Ky disguise a plan for Hannah to signal the answers to the OTEV questions from the sidelines using her fingers to represent the evicted house guests.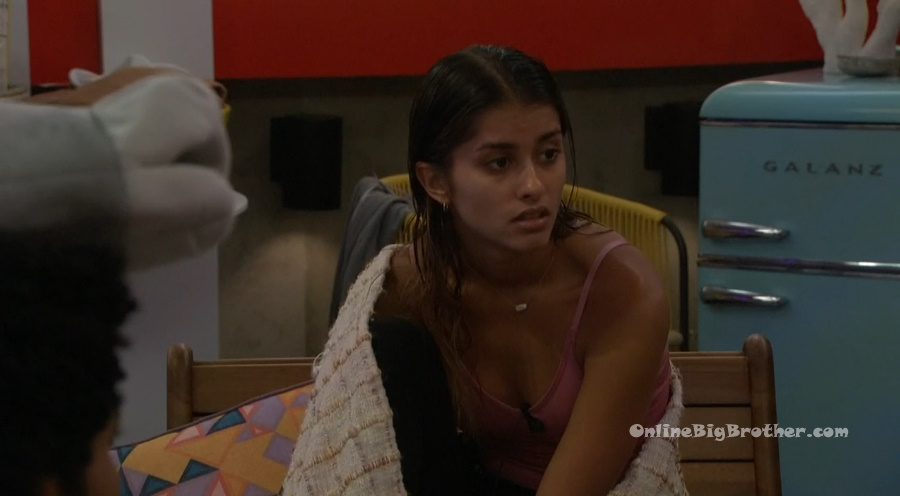 12pm Bedroom – Claire and Tiffany.
Tiffany – They are tight, they are tight! You've got this Claire! This is your comp! GO out there and focus on you. Don't focus on anyone else. Claire – you focus on what he (OTEV) says because that is always a question later in a vote. I'm sure SB will be doing that. Tiffany – Okay, I will. This game is so damn crazy Claire! Just go win it. Claire leaves. Tiff to the camera – Hi America, I don't want to lose Claire not right now. Not when there are other people in there that can go out before her. Claire is working very closely with me. And I know I can stop her from putting any of the six on the block whereas the rest of the others I don't know about. Ky is playing a very good game. He is trying to pull me back in closer. I am going to continue to work closely with him but I will still sleep with one eye open. I am not a fool. I know that Ky is going to play for what is best for his personal game. And he knows that I am best for his personal game. Big D is not in jeopardy of going home so the only person that is in jeopardy is Claire .. and with these powers I don't know. This is hard. The reality is at some point all of our pawns have to go home. If I have to lose her, I have to lose her. Derek X, I love Derek X. I really want him in this game for as long as I can keep him. He is very smart and he is going to start catching on. He can never catch on to the fact that I know everything that is going on and that I am just not telling him. I don't want to see him going on the block either. And X doesn't want to lose Alyssa either. Brit joins them.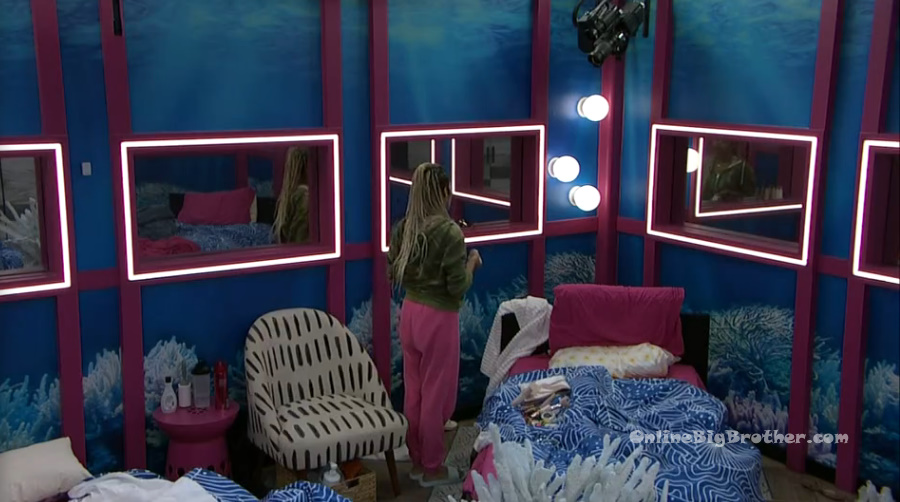 12:25pm HOH room – Britini and Kyland.
Brit – the only time you're going to go for it is if you're nominated. Kyland – I don't think anyone beyond the noms would use it. Brit – I mean I am going to be honest with you .. it looks really appealing. Ky – well if you're on the block. Brit – correct but the other part of it is if you win, you're safe. Ky – oh you're safe no matter what. Got it! That is a factor. I didn't realize that. Brit – I am going to be honest with you I looked at the veto derby and then I looked at my left. You are guaranteed safety with that one. Because you're not safe with the coin flip. Ky – yeah but no one knows you did the coin flip. Brit – correct. Even winning the coin of destiny does not mean you're safe. Ky – I didn't think about that.
12:30pm Bedroom – Tiff, Hannah and Claire.
Hannah tells Claire that ALyssa & Ky are thinking of handing pieces to each other and Azah so that Britini doesn't win. Claire – okay. But not to me? Hannah – I think Kyland wants to pull you in on the plan so that you can also do it. Claire – yeah, okay. Hannah – Alyssa is going to hand her pieces to Ky to hand DF or Azah if she finds two. Claire – okay.. so not me. So they want the second veto to be used? Hannah – yes. Claire – so I am the only person going for myself.. fair! F**k maybe I should have picked myself so people would have an incentive to help me win. Hannah – but if Ky wins that good at the same time. Claire – it is. Hannah explains how the others will be gathering piles from back to front. If Alyssa wins, then Brit would have to go home.. its not like we could weigh out our options. Claire – Ky would rather her (Brit) go home than Azah? Hannah – yeah. Claire – So Ky's best choice is Alyssa winning. Hannah – but then he has such a big ego he is going to try to win. Claire – I am going to try and win this.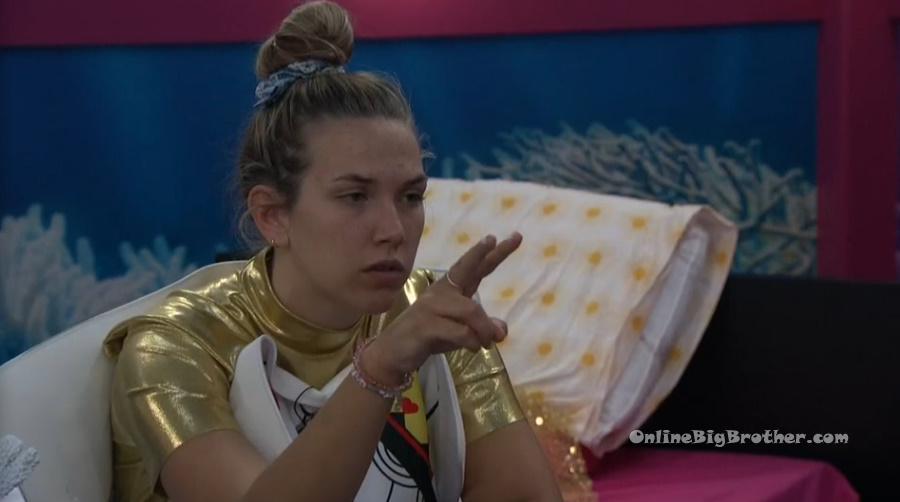 1:15pm Bedroom. Xavier, Azah and Big D.
Big D is sleeping. Xavier ties Big D's shoe laces together.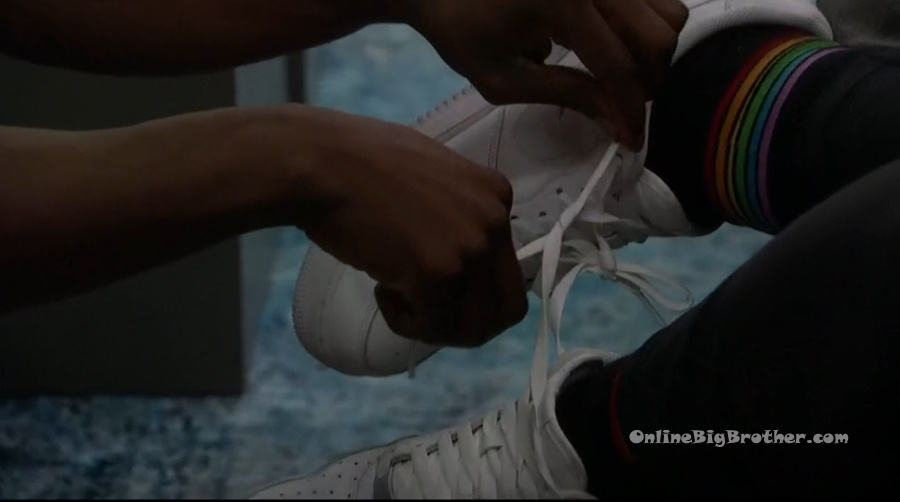 1:25pm Bathroom. Xavier and Hannah.
Hannah – I would prefer if Claire or Big D did not win because if Ky and Alyssa win .. same outcome and the power isn't up for grabs next week. How do you feel about Ky? Because I stopped talking game with Ky .. I just talk game with you and Tiffany. Xavier – I feel like the whole house is growing more and more suspicious of him. Like people in the six are becoming more suspicious of him and people outside of the six are suspicious of him. I am like dude you are putting yourself in a really difficult spot. Hannah – but because of his ego he doesn't realize that. Xavier – you giving him Derek was too much. Hannah – he is trying to play a Derek game but he is more of a Devin.. and he is also trying to play a Tyler game in the sense that he wants to be a okay with with every single person in the house. He said this morning that he thinks people would target you before they would target him. I just thought that was interesting. Xavier – do I think that is the reality .. probably not. He is bringing to much attention to himself. Hannah – he is a liability .. but on the other hand he is a shield because the longer he is in the house the less people are looking at you. Xavier – yeah. 100%!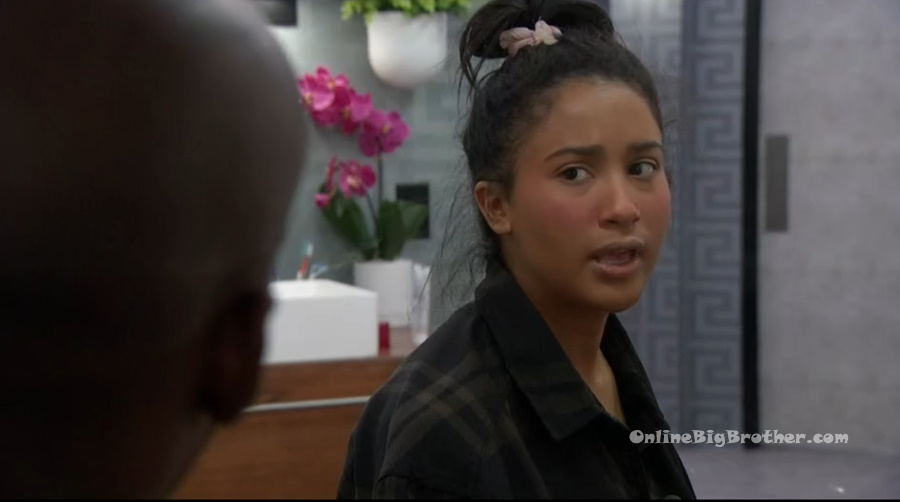 1:40pm HOH room. Kyland, Derek X, Alyssa and Claire are going through very specific plans on what they will do in the OTEV competition.
2:08pm Living room – Alyssa, Brit
Brit – ..so he can't put me up after. If I win, I am off .. I am not a person. And unless he wanted me to use my veto it wouldn't make any sense for Azah to go up if Big D came down. Alyssa – right. Brit – because he knows for a fact that I would take her off. Alyssa – right. Brit – so he wouldn't want to piss off more people. Alyssa – right.. and then if I win it that means Kyland has the other one. Brit – yeah he goes the first one and then you would get the second. These two veto's are confusing the sh*t out of me. Alyssa – I totally forgot that you couldn't even go up .. if you have the other veto. Brit – correct. Alyssa – he would probably put up me. I am a lone wolf. Why wouldn't he put me up. I don't have anyone. Brit – but that is a reason not to put you up. Alyssa – but think about how much blood he's gotten on his hands.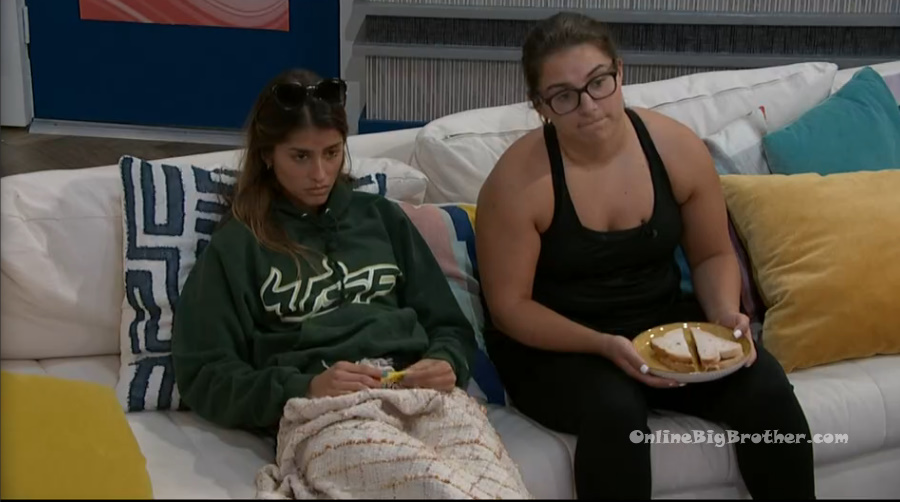 2:27pm HOH room. Derek X, Kyland and Claire.
Claire – okay, veto derby for next week. Okay there are two trains of thought for who people would put up next week. Put up people who don't have money so they're non-incentivized to do roulette right?! Who would want to do roulette… for sure the nominees. Or you can assume roulette is being played no matter what. In which case you would just put up two big threats. You would just put up two people that would just go home and that way the random doesn't matter .. the person will always go home. Derek – Interesting thought.. do we have to big threats that we're not working with though? Ky – you would put us up? Claire – potentially or you and X. Ky – I think me and X before us two. Claire – yeah I think probably. Derek – that is actually a good thought.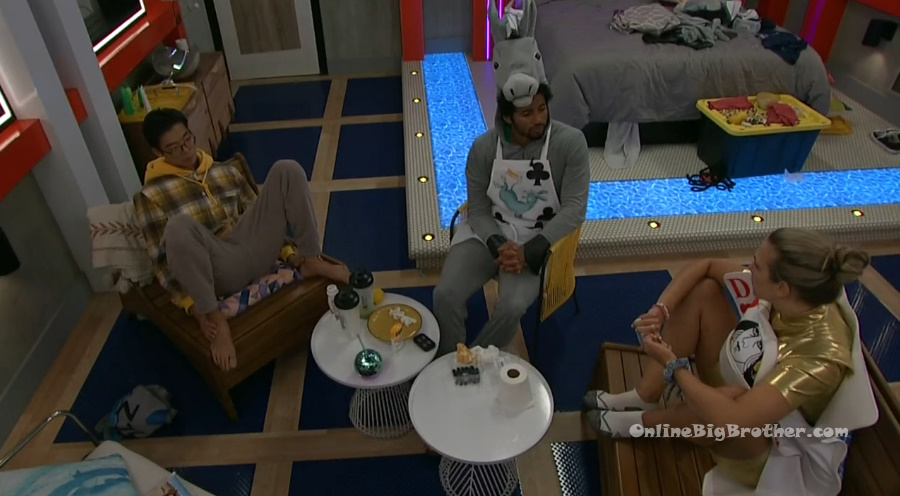 3:13pm Bedroom – Sarah and Kyland embracing..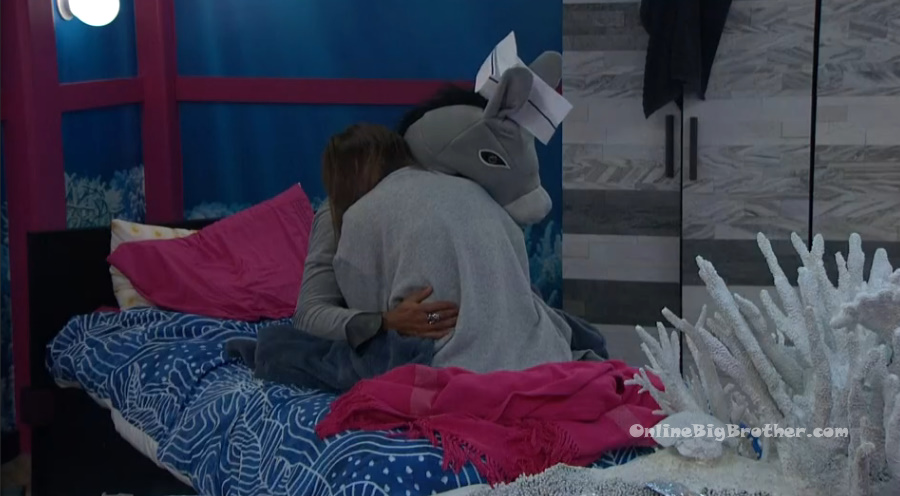 3:34pm Bedroom – Tiffany and Hannah.
Tiffany – He wants to leads me to believe that we are close. He pretends that that he wants us closer than we are together. He is trying to position me to be his Victoria but its only because if I get close enough to him and anybody else .. he wants to make sure I feel close enough and bonded enough to choose him. But I know he would choose Derek X. He does not want to sit next to me in the final two even if he has won 7 HOH's and 10 vetos. He doesn't want to sit next to either one of us because the jury would be full of women and we would all vote for a woman and I didn't think about that until Claire said that. He doesn't want to take you, me or Azah. He would not take X. He would lose. He has already sealed his deal with Derek X. There is one thing he has not told me about and that is his deal with Derek F.. that is his true final two.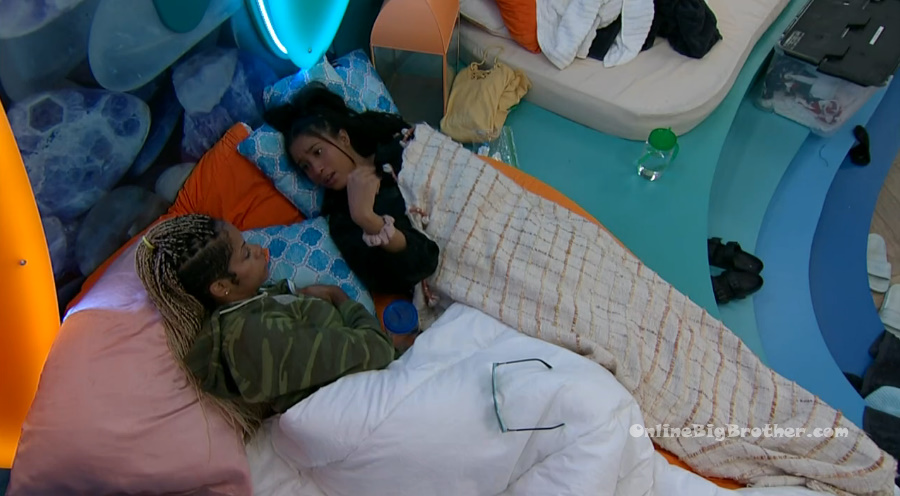 4:25pm Big Brother switches the feeds to the kitty cams. The Veto is starting now!
6:16pm Still blocked..
6:22pm The feeds return … KYLAND and ALYSSA won the vetos! (two)
Show your support 🙂 Without your support this site and these spoilers wouldn't be possible.
Please consider a donation to keep the madness going.