HOH: Xavier
SAFE: Christian, Alyssa and Sarah Beth
HAVENOTS: Claire, Kyland, Tiffany
WILDCARD Competition Winner: Tiffany
Nominations: Brent & Britini
Power of Veto Players: Xavier, Brit, Brent, DF, Whitney, Christian
Power of Veto:
Power of Veto Ceremony:
Big Brother 23 Houseguest Rankings – – RANK THE HOUSEGUESTS –
View the previous day ranks on the – Ranking Grid
Big Brother Spoilers – Brent knows he's the target but for some reason thinks he has the votes to stay. If the nominations stay Brent will be evicted. If veto gets used Whitney will be the replacement. In the event it's Whitney/Brit it's more of a toss-up who goes. If it's Brent/Whitney Brent gets evicted. The only people that would use the veto are the two nominees on themselves.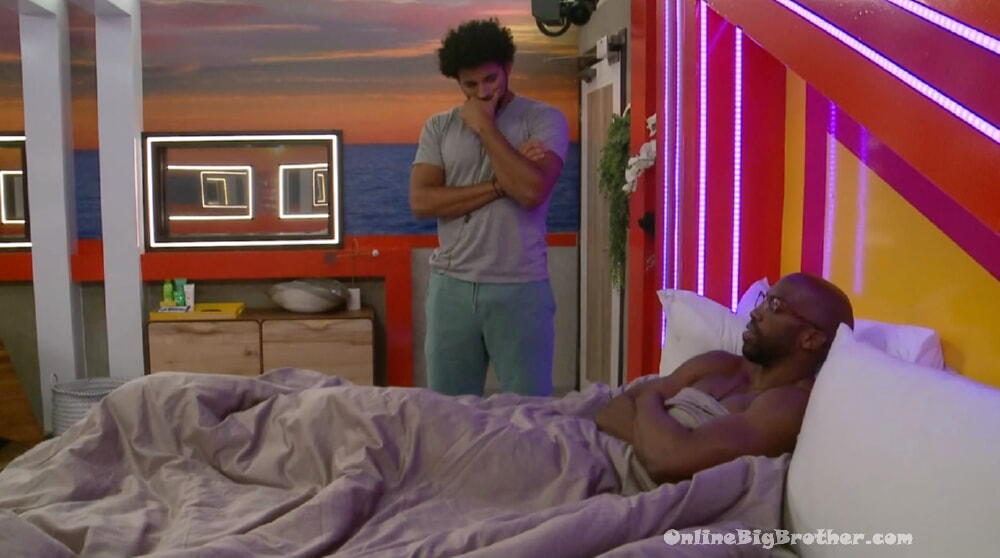 8:18 am Xavier and Kyland
Ky – I'm scared right now with the level of hostility between Azah and Tiffany.. like Hooww
X – agreed. the only reason why there is hostility is because Tiffany said something to Brit before the wildcard competition that she probably shouldn't have
KY – I'm hearing it both ways
X – What Brit said either way there was some understanding that Britini and Tiffany were going to go for DerekX
X – right not there might be some tension between, Azah, BIGD, and Tiffany and that needs to be squashed
Ky – BIGD at least he said At least I"m playing my roll I'm supposed to be mad.
Ky – the whole point of the groups we are making is to get all of us further
X – If everything goes as planned this week and Whitney sticks around I don't want her coming guns blazing after anyone on our team. Right now I haven't given her a reason
X – if she wins she should be taking a shot at the other teams and hopefully, it's not a member of the cookout
X – her reaction VS Britini's would be two different levels. You have to not only play the game but understand who you are playing the game with. That is why Brent went up as the "pawn"
Xavier says he was putting Brent 'in a box' making him think he is the pawn. Even if he doesn't believe it he will be working behind the scenes which will give X a reason to take him out. If he doesn't do anything about it everything runs smoothly.
X – He told Alyssa if he puts me up we're going to war.. If you are going to war you better make sure you have an army first.
Ky laughs – He really thinks he does
X – I've told everyone. Everyone in this house is on the same page. He's going to get fully blindsided on eviction night. If he wants to be pissed at me.. Dude that's the game.
Ky says Brent told his whole team "I am the target"
Kyland says if Whitney was on the block she would have acted like Frenchie and Scrambled "we don't want a house where people are scrambling"
X – it was the lesser of two evils.
Xavier says if he gets houseguest choice he's picking Christian.
Xavier says after the veto players are picked he'll have a meeting with everyone. Once Brent is knocked out of the veto they can all throw it to him. He'll keep the noms the same and take all the heat.

8:34 am Brent and DerekF
Df – have you talked to everyone else so you have the votes in case?
Brent – this is Big Brother. Anything can happen. If the rest of Slaughterhouse doesn't agree what X did I should be fine.

DF – you should be if I'm correct you will have Whitney.. (counts on his fingers)
Brent – 6 votes I would have 7 votes..
Brent – it would be 7-4 or 6-5
Brent – you, Alyssa, Christian, Whitney, Ky
Brent – I would get DerekX, Hannah
Brent – I wouldn't get X, Azah
DF – you won't get Claire and Tiffany
DF – he said in his speech he wanted you to go for the veto
Brent – what does that matter he could have picked two girls
DF – maybe he's backdooring somebody he doesn't want
Brent – It's a shot at me dude.. Azah and BRit are going to be up your a$$. All I can over is protection long term.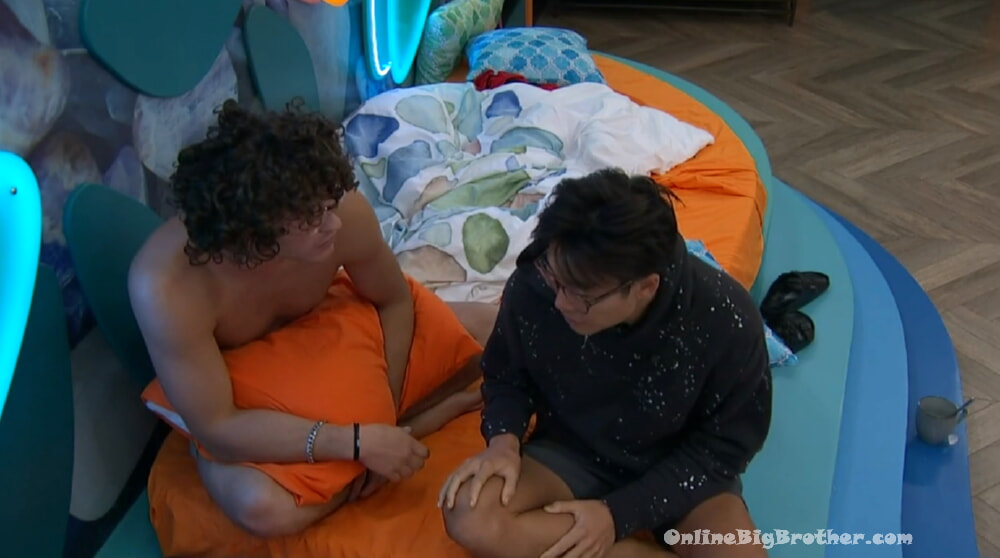 8:38 am Chrisitan, Alyssa and DX
Alyssa – He (Brent) really has no idea.
DX – I need a F***ING daytime Emmy
Alyssa – he said you guys had his back because he's the leader of your group
DX says Whitney is "evil" she said "I want to get picked to play so I can win and look him in the face"
Whitney joins them. They go on about Brent being clueless right now.
DX – he has so much pride..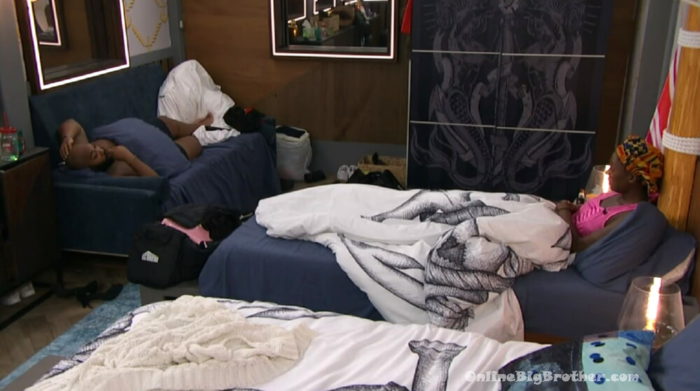 8:43 am Azah and DF
DF – I'm thinking about the game. How am I going to get far in this game.. how am I going to.. I'm I goign to get to the point where I feel like I need to manipulate or am I going to sit there and let the game go as a ghost. If I don't do certain moves somebody is going to do it to you or me.
Azah – at this point our team has been a punching bag.. I don't feel bad for whatever I do.
Azah – Even though we have……
DF – mmmhmmmm
Azah – People are working with People still which is fine.. but they ain't keeping it 100 with me.. that's my thing
DF – here's my thing if Britini comes down he's going to put up Whitney I told him to his face.
Azah – I might be off but Kyland , Tiffany, DerekX, maybe Hannah .. there's something there.. and Whitney
DF – if that's the case we'll find out
Azah – when they take away Britini the first two on the block are me and you
DF – I don't agree with that
Azah – yeah
DF – that's not the case
Azah – they would rather put a pawn up on our side than put two people on the block on a team that has none of our alliance in it.
DF – Ky is close to DerekX
Azah – why is he letting DerekX keep his shield and letting us out in the open like this. he puts a lot of stock (in this theorized group) and Tiffany does too it's good I know that now.
DF – My plan is. I'm looking at four girls, Whitney, Alyssa, Claire, and nessi (? Sarah Beth?) that's the four right there.. Brent is going home.
DF – I'm going to see why to put them on the block or a reason not to

Britini joins them.
DF – when we win HOH we do whatver the f** we want..
Brit – ohh honey I got more to do whatever the hell I want..
Brit – I'm going to say this right .. I want to speak it into existence.. if the three of you get picked to play this veto I'm going to die
Feeds cut..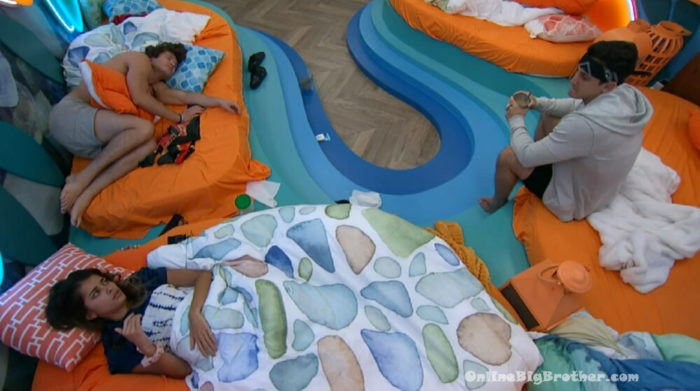 8:57 am Brent, Christian and Alyssa
Brent – I'm chilling. Like I said I'll be TOTALLY fine not winning that Veto (Yikes)
Alyssa – cause your regardless ou have the numbers
Brent – YUP and I just want to know that number
Alyssa – makes sense. Did Derek say if he won it he would take you off?
Brent – Yes, it's in everyone's best interest to keep me except X's
Alyss a- ok good
Christian – I thought he was smart..
Brent- I said that to him during our one on ones.. Dude I thought you were smarter than this.
Brent – he said is this something I have to worry about now. I said What do you think
Brent says he's targeting Xavier and Azah if he wins the HOH.
9:00 am Feeds cut for Veto player picks.
9:50 am Feeds return
Power of Veto Players: Xavier, Brit, Brent, DF, Whitney, Christian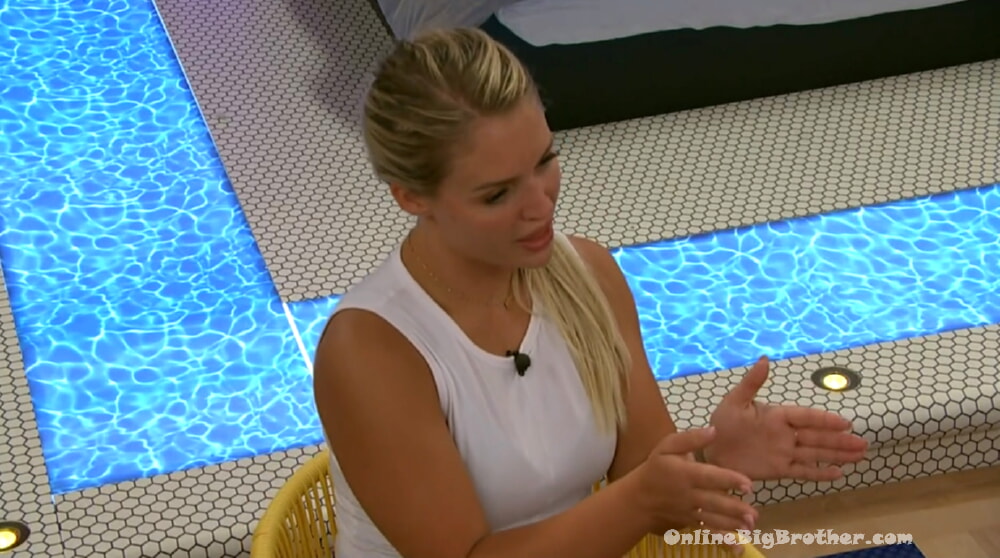 9:53 am X and Whitney
Whitney is asking what he would prefer her to win it and not use it or use it on Brit.
Xavier asks if she's comfortable not using it "he's on your team"
Whitney won't use it.
Xavier says if they're in a scenario where Brent has fallen off already then throw it to Xavier and Christian.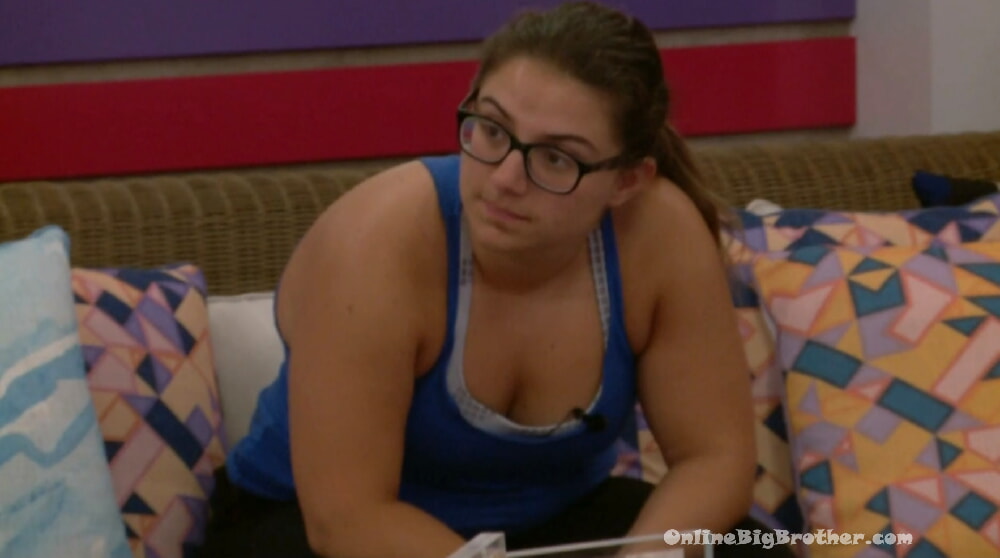 9:57 am Xavier and Brit
Brit – he's gotta lose.
Xavier – GUN FOR IT with everything you got.
Brit – I'm nervous I'm not going to lie.. I'm nervous because he knows
Xavier won't promise her he'll use the veto on her he wants to see how it all goes. Adds that if Brent wins veto he'll be putting up a replacement that is a bigger target than Brit.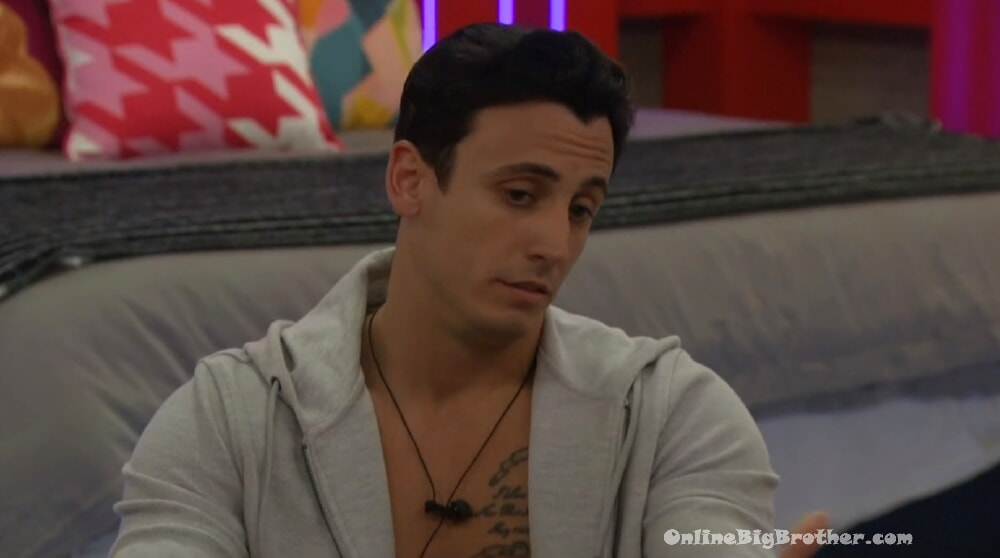 10:03 am Brent and Xavier
X – what on your mind how do you feel about the players being picked..
Brent – I'll use it on me, Whitney will use it on me, You are keeping it the same, Christian is keeping it the same, Big D is taking BReit down, Brit is taking herself down.. IT is what it is.
Brent – that's the game I hold nothing against you.
Brent – I'm faltered I've been the number one target since day one for every guy in the house. I haven't won a competition but I'm the biggest threat. For my Ego and pride I appreciate it.
Brent – there's no way in hell that I'm the pawn in this situation and I would like you just to admit it I just want you to say man to man that I'm not the pawn. I would just like you to say man to man that I'm not the pawn.
Xavier – when I made my nominations you were I was looking at you to compete alongside me now I don't see why that has to change..
They talk about Azah and how she's pissed at Brent. Xavier brings up how upset she was in the HOH yesterday when she got up and left.
Brent – Does she know Frenchie threw them all under the bus?
Xavier – everybody knows
Brent – I don't think she did.. she made it a point to say in front of me that she's been aggravated and distant because of the lying and deceit \
Brent – me I was just like.. So why are you guys hanging out with Frenchie then?
Brent – then she looked at me
XAvier – he was on her team
Brent – but he was the one lying and doing all that stuff. You would think with one vote to keep him the whole house was wrong?
XAvier – Right..
Brent – I don't like Hypocrites
They hug it out..
10:08 am
DX and Ky lifting..
DX – I'm just happy my name wasn't drawn. .when they said Derek I thought NO I can't do this.
They're excited with the exception of britini none of the veto picks have played before.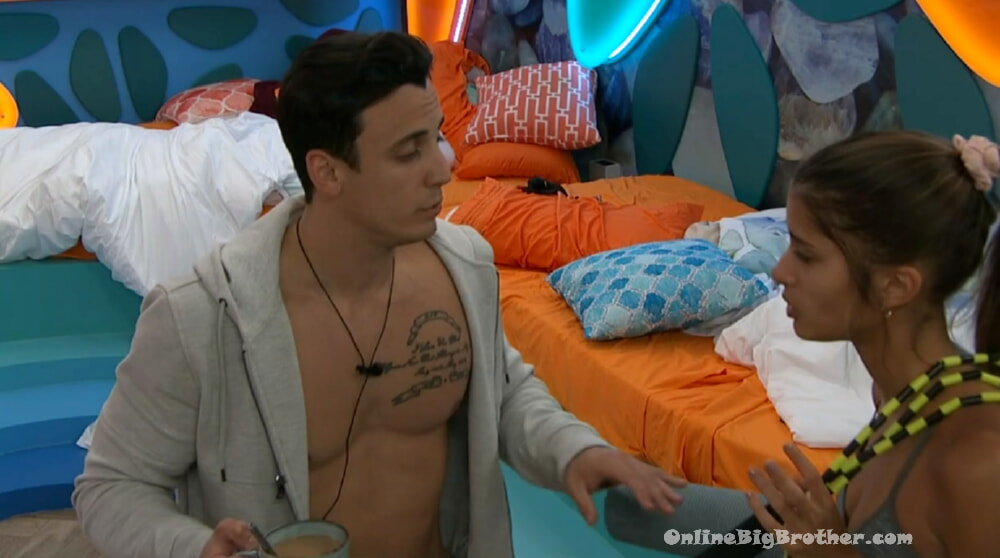 10:30 am Brent and Alyssa
Brent brings up Xavier telling him "man to man" when he was first nominated he was just the pawn. that's what I was telling you it's all f**ing lying
Alyss a- oh he's saying at first you were now you are not
Brent – yes
Alyssa – why is he telling you that and doesn't even tell his team that
Brent – I forced him
Brent – I really need your vote.. just know you are protected by me and my team..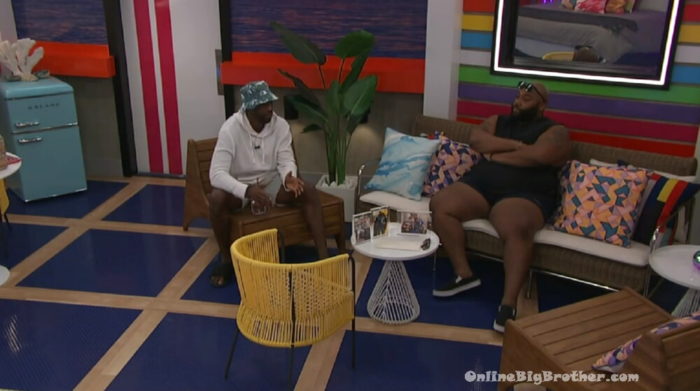 10:43 am DF and Xavier
DerekF is complaining about 'having to get my hands dirty" if he wins HOH next week or the one after.
DF – I'll have to make some BIG Moves and people … it's really gonna shake some sh1t up.
Xavier about Azah – She's gotta stop throwing so much HEAT at Brent cause he's noticing that.
DF – she's feeling that it's her teammate and she's allowed to be upset it's her teammate
X – he's under the impression it's being directed towards him
Df says Azah thinks if Brit goes home then they are the next two people on the block.
DF – when we start getting close to numbers we might have to reassess (Azah's spot?)
Xavier -oKay agreed.. I get what you are saying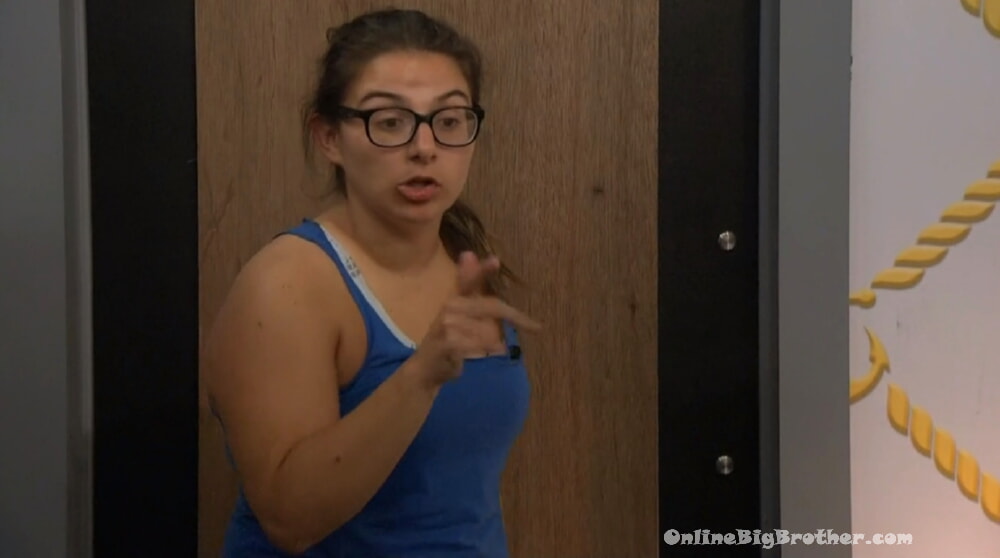 10:50 am Brit and DF
Brit – you know if I win HOH X is playing in the wildcard. He better be shaking in his damn boots. If he does win safety and he saves himself I'll look right at him and say I can't come for you but I need to weaken you because you had no sympathy for how I felt last week so unfortunately your teams getting hit..
DF – If you want to make a big move I would up Christian, X or Alyssa.
Brit – my first option is X and Christian that's my first option
DF – yup
Brit – they both get to play in the veto I don't give a damn
11:07 am Azah and DF
Azah says the queens and the aces are working together
Azah – Kyland doesn't want too many kings getting into Jury
Azah says the true test will be to see who puts up Christian and Whitney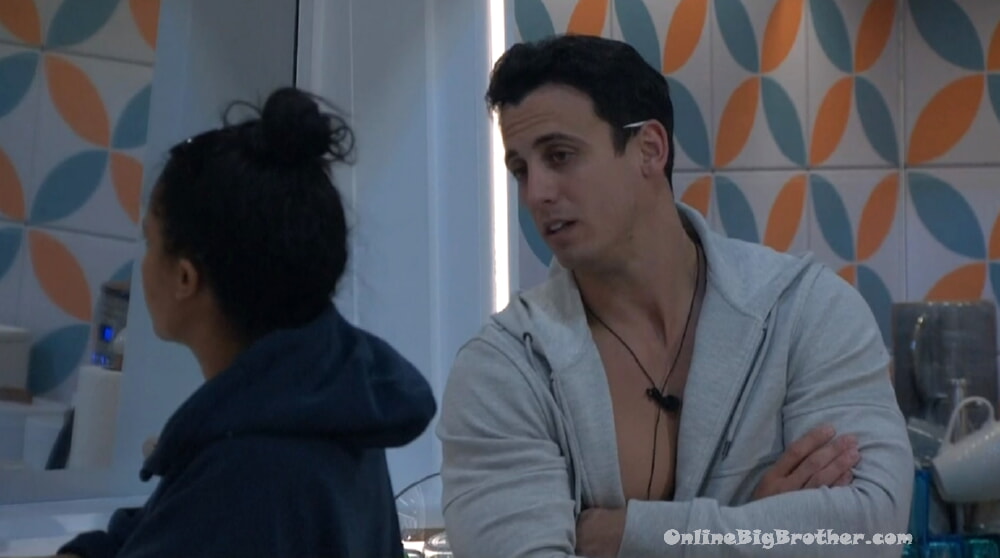 11:14 am Hannah and Brent
Brent – I think he might put up DerekX if Britini comes down. That's what I think .. he's not going to put up Azah who has no allies.
Hannah – if that's the case are you still comfortable having the votes to stay?
can't hear his reply
Hannah – so Brit can't win or DerekF
Brent thinks he can persuade DerekF to not use it.
Hannah – I wouldn't count on it.
Brent – he doesn't want to save Britini
Hannah – Are you sure?
Brent – he doesn't like all the guys going home.
Hannah – I didn't think he would target DerekX if Brit comes down.
Hannah – I would like it if DerekF doesn't win it. I feel like if DerekF does win he would become drunk with power and make all these empty promises.
Brent- yeah .. DerekF and Azah have no one once BRit is gone.. That's not true Azah has Xavier.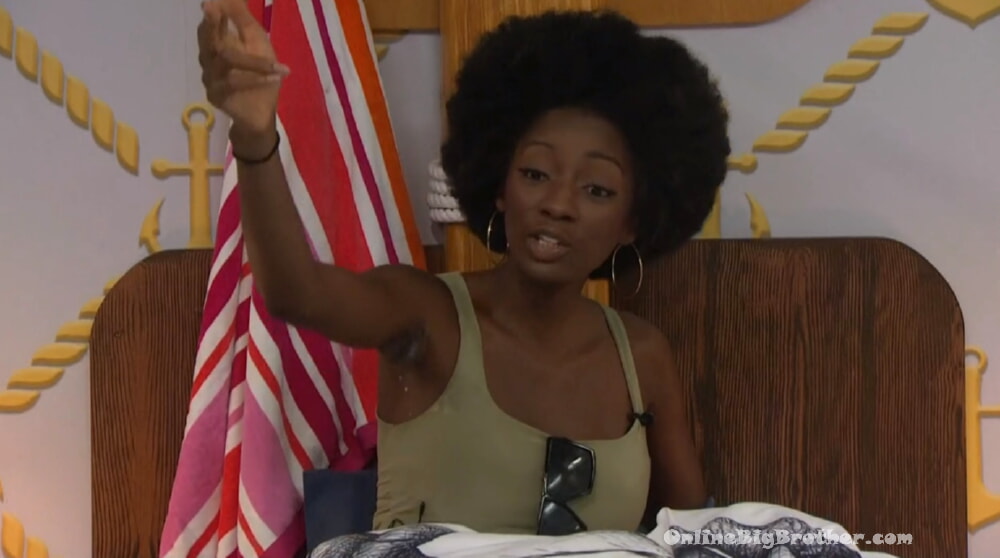 11:24 am Azah and DF
Azah – I don't like this new school though.. Fake fake fakeness
Azah – Back in season 6 YO I don't like you, Season 7 I don't like you season 6 You're going home
they laugh
DF – we'll get to that point
Azah – this game is going to be this.. long speeches.. shady quiet, go with the house
DF – I don't think anyone is going with the house
Azah – why is everyone saying it.. we're going with the house
DF – who
Azah – Kyland last week
DF – what did I do last week
Df – you know you are going to get your wish when I get on the block you'll get your season 7 season 8 I will curse everybody the f** out.. you'll get what you want I'll say everybody are a bunch of F**ign cowards and a bunch of F***Ing b1tches.. I'm not playing
Feeds cut..
DF – with Tiffany.. I'm playing nice with miss TIFFY TIFFY when I need to throw that shot against Tiffany I'll be the first one to go.. Got you first.
DF – This is a game we can be emotional, huggy, huggy .. cool.. this is a game
(I'm 100% for Azah and DF going Rogue glue clown style if they win HOH)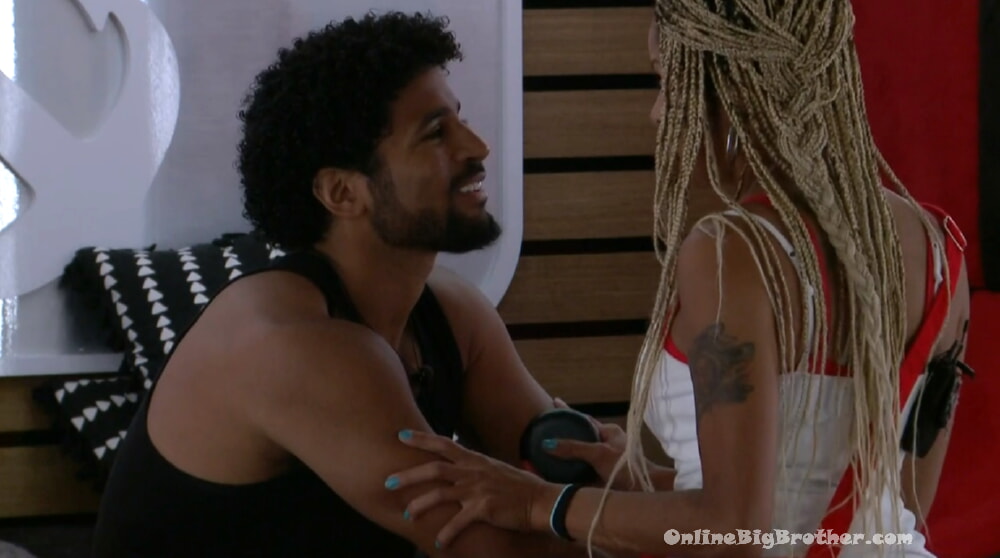 11:38 am Kyland And Tiffany
Trying to figure out a name for their final 2.
Tiffany – I have come up with 17 things what have you come up with Kyland
Kylan d- I told you, you're more creative..
KIllers, Brokers, Players, The commission ..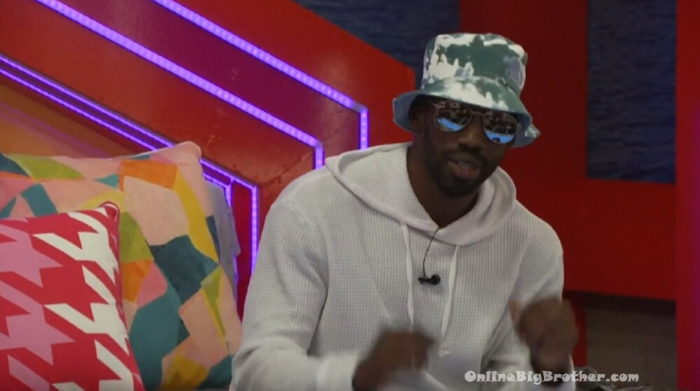 11:45 am Xavier is continues with the meetings. Unlike Kyland there's no upper time limit so there's lots of ramblings and circle talk.
If you like these spoilers please consider a donation to keep the madness going. We accept donations via paypal How to support OBB