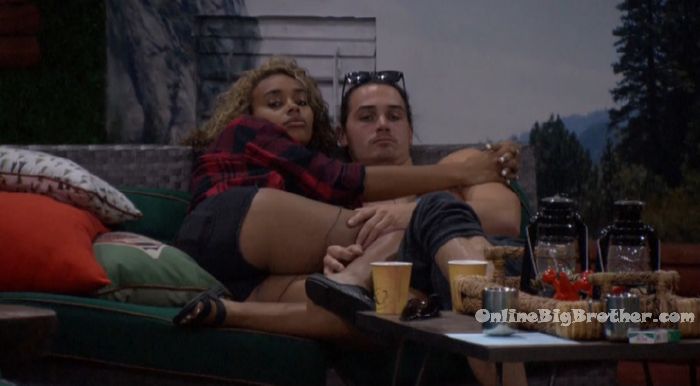 7:20pm Backyard – Shane, Danielle, Justin and Neeley. Danielle – hopefully we pick people from our side to play (in the veto). Shane – I swear to god if I pick Shelby, I'm going to be so pissed. Actually I would be so happy because she's not going to win it. Danielle – She might she was hitting them (golf balls) pretty good. Neeley – it is their going to be Scott or Monte that's America's pick. Justin – do we even have enough votes though to get him out of here? Danielle – yes we do. The house will be split 4 – 4. And America would hopefully vote out who they put up. Justin – I don't think you should be worried. You're gangsta at golf.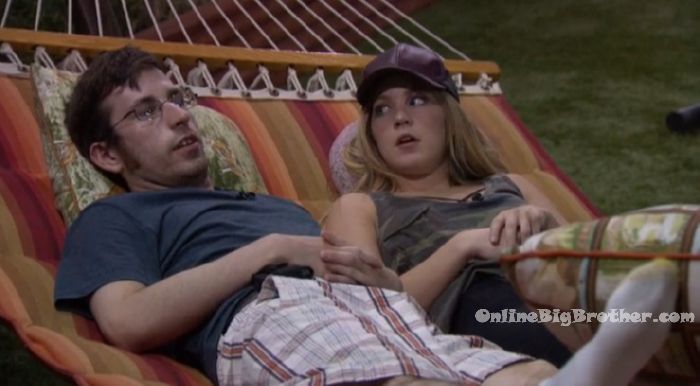 9pm Alex and Scott are laying in the hammock. Shelby joins them. Scott – I'm just as cool either way (Danielle or Shane going). Alex – we'll know more once we know America's nom. Scott – thank you for not nominating me. Alex – A lot of people thought I was going to. Scott – I know because my stock in this game has dropped. Alex – It just doesn't make sense for me to do what the house wants. I'm here to play my game. Scott – half of the people in the house won't trust me. Shelby – I feel like they knew they were going up so they started that whole thing in an attempt to.. Scott – I feel the most betrayed by Shane. Alex – was he the one that blew up everything? Scott – I think it was Justin. Shelby – Danielle went and told Justin that Monte was being racist towards him. And he freaked out and said its because of what Scott said! Scott – which I had nothing to do with. They're trying to pin everything on me now. Alex – of course to take the heat of them. Alex – how did that all start.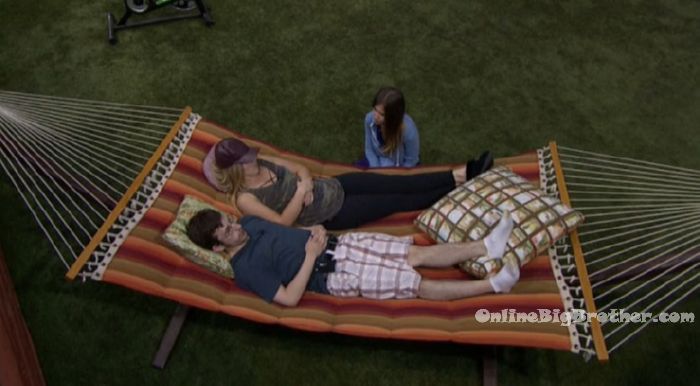 Scott – Kryssie and Jason were asking me about my vote and I said I promised my vote where ever you wanted if if you didn't put me up. And she was pissed about that. Alex – then the next morning everyone knew. Scott – I told here it was just a one week deal. I did it so she would get freaked out and save Jason and to make it look like we weren't so close. .. But that all blew up in my face. I feel the most betrayed by Shane and its not unrelated to why he drank the potion day 2. Its not okay for people to go up to you and make a deal and then go around saying you're the one that makes deals. When really they're the ones masterminding things. Alex – Shane's a snake too. Scott – you two are the ones I would never turn on in this house. Alex – I just need you to back me next week. Scott – I will, I have so many targets in this house .. but there aren't enough HOH's to win to get them all out. Alex – Danielle starts so much drama. Scott – should the veto not go our way, I'm going to have to make a deal with Jason. Shelby – do you think he will make a deal? Scott – I don't know. It will have to be a good deal.. like my life for your life. Everything I will do going forward I will bounce off you guys .. you're both way smarter than me. Like I was trying to figure out the parks puzzle .. and you figured it out in 4 minutes. Alex – I don't trust Shane.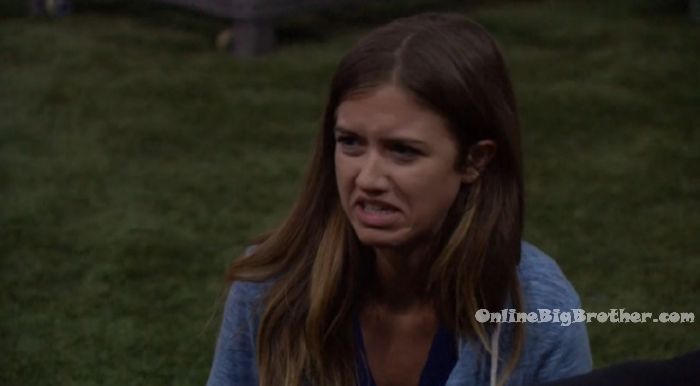 10:40pm Plastics (Morgan, Alex, Shelby) Alex – she (Danielle) is asking to be sent home at this point. Morgan – did you hear what she said outside? "I'll never be a havenot because I'm America's favourite!" Who told you were America's favourite!? I don't understand what Shane sees in that (Danielle)! Morgan – She (Danielle) came in the kitchen and said I'm just going to be dramatic and make it as uncomfortable as possible. She's just making herself look stupid. Morgan – well I painted her nails really poorly today. Shelby – good because she's drinking all your chocolate milk. Morgan – If I see her drinking the chocolate milk tomorrow I'm going to say that's mine. Alex – she acts so entitled. I cannot stand people like that.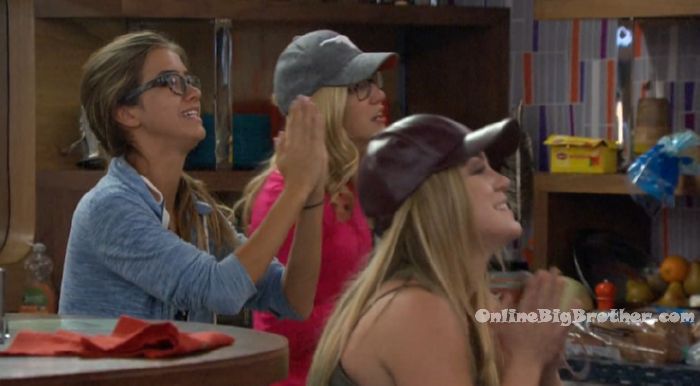 10:40pm – 10:50pm Backyard – Morgan, Whitney, Kryssie, Alex, Jason, Neeley, Justin, Danielle and Shane are hanging out on the backyard couch talking about random things. Whitney and Alex head inside. Kryssie – I cannot believe Monte told Shane he doesn't like me. Justin – why!? He just don't like people! Kryssie – he just doesn't like people that are different from him. He just doesn't want the world to look at him as something that he is not. But what he doesn't realize is if you continue to perpetuate that kind of thing it will make it look even worse. The fact that he said he purposefully tries to run over squirrels! What the F**K is wrong with you!?! He is insufferable! Every time he digs himself out of a hole he does something sh*tty. Justin – that's why his a$$ is a havenot. That's why he's eating that poor a$$ slop that smells like donkey d**k and monkey balls. You can't pretend to be someone you're not. Kryssie – f**k you dude .. you (Monte) don't like me because I'm different. I'm pissed. Justin – hopefully he goes up on the block this week. Kryssie – it can't be because we don't have the numbers to get him out .. it has to be Scott. Kryssie – you (Monte) have a problem with someone being sexist but you spend everyday in this house trying to f**k someone else's girlfriend. Am I wrong!? I'm sorry but you can't say someone is a womanizer and say someone else is wrong when you try to d**k some girl that has a boyfriend across the f**king world! Justin – he's just a b***h! He ain't got no nuts.. I let my nuts swing baby! Kryssie – she (Morgan) has a boyfriend in Japan and she has said she is 100% taken yet he (Monte) is going to sit here and say if a man ever treated my sister like that I would flip the f**k out.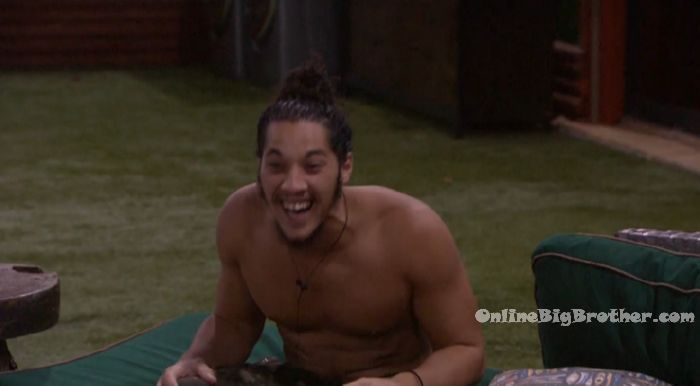 10:55pm Bathroom – Alex, Whitney, Shelby. If anyone starts calling me racist or homophobic I am going to be pissed. They're literally twisting everyone's comments to make us look like it. Whitney – If she (Danielle) is so holy why did she call out James for talking about the hibachi grill? Shelby – I literally turned to Morgan and said PC police?! Apparently there's no Asian in the house so its okay to say!? Whitney – I don't know but she said it. Alex – we have to get her out. Whitney – even if one of them does come down I think we still have the votes. Alex – when I talk to Justin I'm going to tell him that he was thrown under the bus. Alex – I need her gone. I can't live with entitled people. Alex – they wanted Scott up. They won't even look at him. Shelby – if he wins HOH next week that would be epic! Whitney – Justin knows .. he has been watching Shane and Danielle going around playing everyone.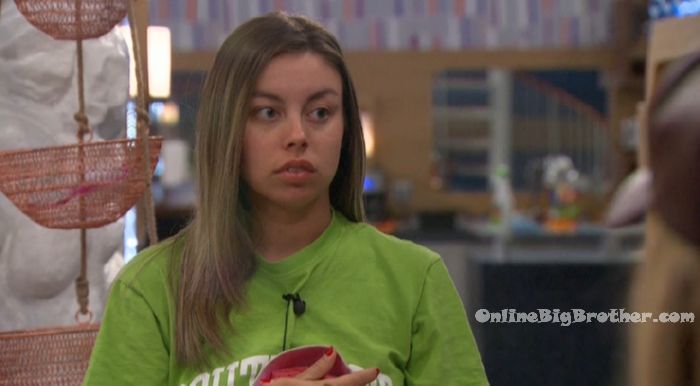 11:10pm – 12am Backyard – Neeley is talking to Jason. Neeley – I tried so hard to get Shelby up and out this week but it didn't work. Shelby is enemy number one for me. If I win HOH she is number 1! Jason – oh I want to nominate her just so I can tell her off in a big a$$ speech but I might not even want her to go home that week. She might be a pawn but I want to f**king read that b***h down. SO bad on sh*t that will for sure get aired!! Neeley – she was really trying to start some messy sh*t. Jason – like that squirrel on the road and the squirrel in your attic ain't the same.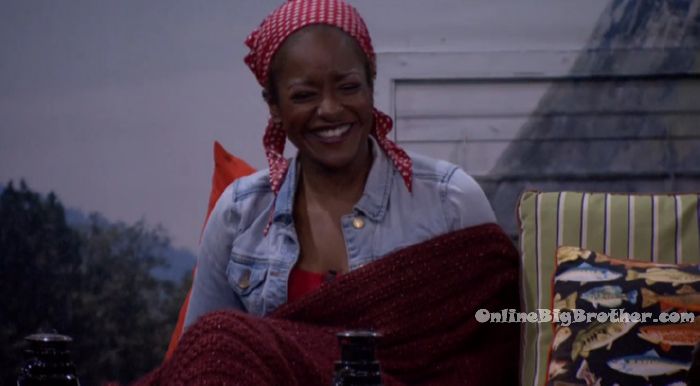 12:35am – 1:15am Justin, Jason, Neely and Kryssie talk about Monte running over squirrels. Justin – I was horrified. Squirrels ain't be doing nothing but get their nuts. Jason – that's like saying human beings that commit crimes .. and human beings that commit crimes should also be punished. The squirrel in the road is not the one that went in your attic. If you want to f**k with the squirrel in your attic that's on your property, I don't give a f**k what you do in your attic. You can be torturing damn squirrels … I don't endorse that but I don't give a f**k. But for you (Monte) to say that I purposefully try to smash squirrel's skulls on the street… after someone says I'll wreak my car so I don't run them over you're proud to be like "I kill squirrels!" Kryssie – I cry if I run over an animal that is already dead. I'm inconsolable. Jason – He is a terrible person. We just wiped everyone's slate clean … I'm not a homophobe or a racist but I am an animal killer. Kryssie – your actions are sh*t because your words are speaking louder. Kryssie – he is a f**king toilet. Jason – ain't nobody sticking up for the squirrels but I am. I heard a rape comment that no one even said anything. I don't even know what that was, there was so much else going on. Kryssie – what?! Jason – you weren't even out here. It was about the sexist thing and he (Monte) was like listen I've seen girls be raped. And I was like what!? He was like about to go down the reasons of why sexism is wrong. Why is rape one of them and where were you when you saw a rape!? It wasn't I beat the guy or I called the police .. no it was I seen a rape. Kryssie – he was panicked and started spitting sh*t out.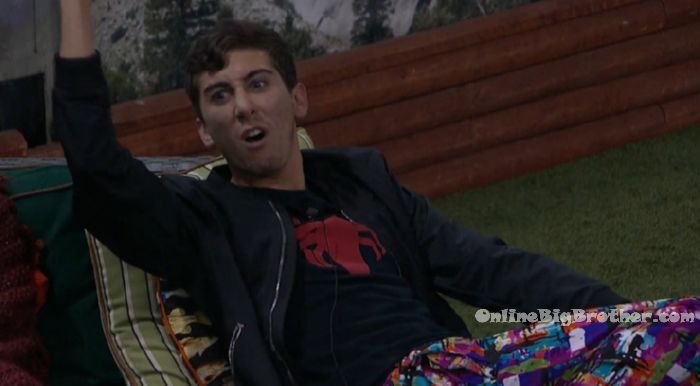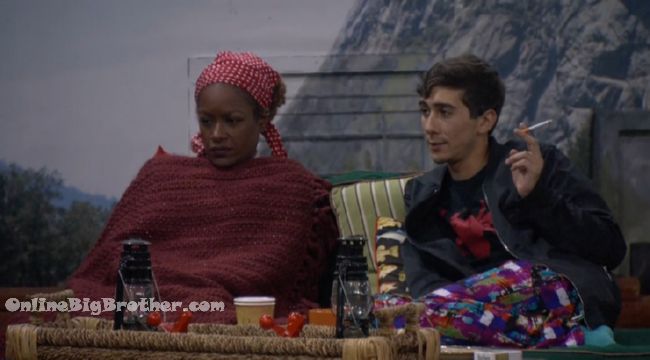 1:17am Jason, Neeley, Kryssie and Justin
Talking about Morgan having a boyfriend and how Monte is chasing her yet complaining about Justin's stories about cheating. Kryssie brings up how Monte would go on about having "Mad respect for Monogamy"
Justin – he doesn't have a religion.. he said he doesn't believe in that..
Justin says he can't deal with Monte he had to "get on his knees" pray to god to have the strength.
Jason – this game is originally based off a game called the Golden Cage.
Explains how people would just get into fights so they get the first person to swing removed from the game, Adds it filmed only 1 season in Italy and was a cludert f***. They talk about Monte trying to bait Justin the other day saying how he wanted Justin to punch him.
Jason asking for Feedsters, America, BB fans, BB alumni to nominate someone from the other side.
Jason says if America isn't over the other side he'll leave social media forever
Jason says the other side are the most terrible people they could have found
Jason – we were teh most fun people they found and then they found a bunch of terrible people
Justin – a bunch of racist people I can't deal with that shit ()
Kryssie says she can't stand 'Racist, Bigot, Homophobe"
Justin – all that sh1t
Neeley – Close minded and racist
Jason – MOnte ticks a lot of boxes.. Shelbey ticked a lotta boxes.. that's why they are here.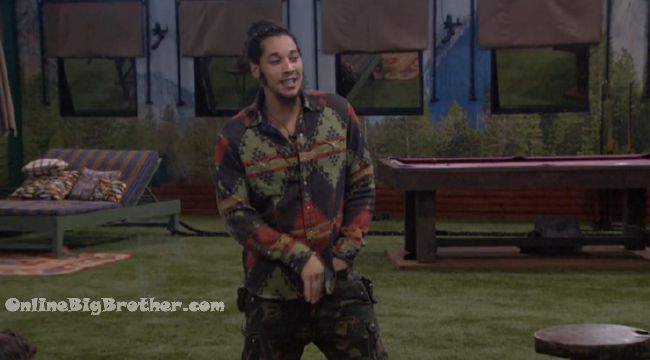 1:27am Jason, Neeley, Kryssie and Justin
Taking about America putting someone up first thing tomorrow morning at 10am then they have the veto at around 1.
Jason says that is what made Cornbread so sad he got put up by America then 3 hours later lost the veto.
Justin laughs says Monte and Cornbread will be "Best friends at this moment in life, they probaably be just sitting in a room toegether and be you know what bro… they be yelling White power … I dunno"
Jason says Monte takes offense when you call him Bro.
Justin leaves to bed..
[polldaddy poll=9545742]