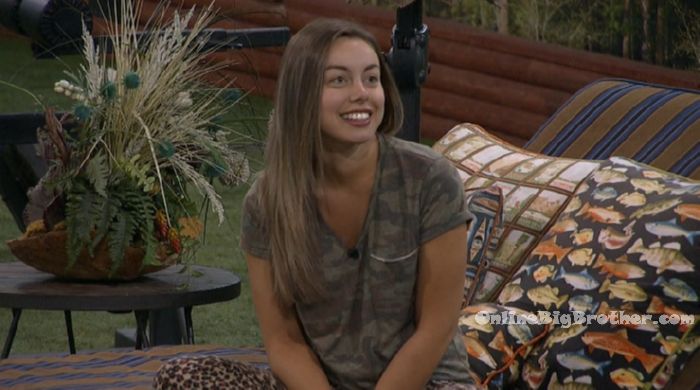 9pm – 10pm London bedroom – Jason, Kryssie, Danielle and Justin are talking about actors/actresses and movies. Justin and Whitney head out to the backyard. Justin – You're going to have to win HOH soon. Whitney – yes, I know that. Justin – I'm ain't going to be able to take care of you forever in here. Because my people think that you're going to choose me and Kryssie over them which is true. Whitney – which is true. Justin – they're starting to think I'm going to choose you over them and I've promised them I'm not going to do that. You've just got to win HOH sooner than later. Whitney – I know but what if I win HOH during the double. Justin – that would be great. Whitney – I told Jason I'm not coming for him. And that I would put up Morgan and Shelby and if one of them comes down I would put Danielle up there. And that's what I would do. It's not like I'm not trying. I am trying. Do you think everything is going to work out.. like for right now? Justin – yeah. Nothing is going to happen right now. Whitney – do you think he is going to put up Morgan? Justin – yeah. You're a problem for them down the line. They obviously know that your loyalty lies with me and Kryssie. SO that eventually is going to come to a head and you're going to have to win HOH. It puts me in a tough spot because they're going to expect me to put you up over them. Whitney – as long as you have other people to choose from. Justin – on some real sh*t.. I would really put Danielle up. Whitney – I would too. Justin – over you but that's only because she didn't choose me first. If she didn't choose me first she didn't choose me at all. She isn't going to take me or you to the final 3 because she knows she can't beat me. Whitney – is Danielle scared you're going to choose me over her? Justin – I just told her I wouldn't but worst comes to worst .. I am. Whitney – but going into the double eviction .. if Alex goes home. Justin – Alex is going home. That's the plan. Whitney – Shelby can't even compete in the next HOH .. so it will be me, you, Danielle and Kryssie against Morgan. Jason, Kryssie, and Danielle join them.
Watch the BBOTT Live Feeds FREE for 1 WEEK!
Click here for your: FREE Trial!
11am – 11:35pm HOH room – Shelby, Jason, Alex and Morgan. Shelby to Jason – do you think you're completely f**ked with Kryssie after this? Because Kryssie is all about her loyalty gaem. Alex – there will be no one left. You'll be who she comes back to. Jason – right but I will have just shown that her loyalty game is not my game. If Kryssie has to go, then she has to go. Morgan – we could always put up Morgan and Kryyyie.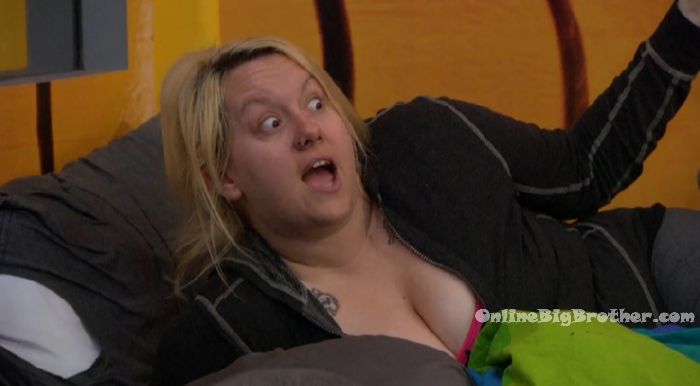 12:05am – 1:15am Bedroom – Justin, Jason, Kryssie and Whitney. Jason – they're buying it. Either I am a really good actor or they are dumb as sh*t. Whitney – I think they believe you 100%. Kryssie – I hope so, I can't wait for you to break their hearts tomorrow. Jason – I kind of feel bad. Whitney – I'm going to wear sunglasses. Kryssie – me too. Jason – its just karma coming all the way around. Kryssie – its because they didn't want to game with you or Danielle until right f**king now! Jason – well Alex did but only to f**k over her own people. Kryssie – so let her go home first… BYE! Jason – you've to to make sure this jabroni don't vote out Morgan. Jason – y'all b***hes better love me after this! … Because if I was a scumbag .. I might just accept their deal.. but I'm not a real scumbag. SO you better f**king love me more! Kryssie – I'm still waiting for my necklace. Jason – its right over f**king there… You want it right now c**t!? I'm actually going to give it to Justin. Kryssie – you guys both need to wear them under your shirts tomorrow and pull them out. Jason tells Justin that he told the others that Justin was going to try and fight him and they were going to have to protect him. Justin and Jason laugh.
Watch the BBOTT Live Feeds FREE for 1 WEEK!
Click here for your: FREE Trial!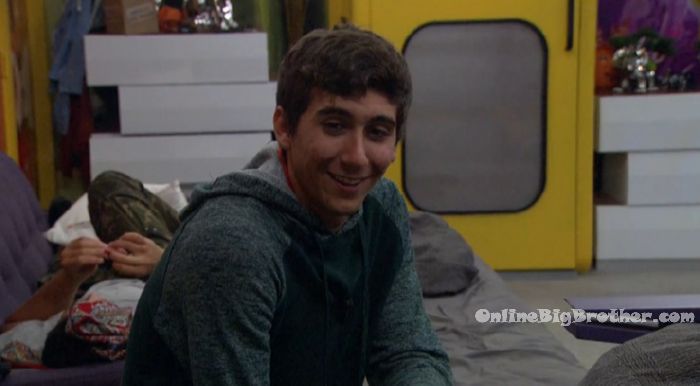 12:15am – 1:15am HOH room – Shelby and Alex. Shelby – I wonder if Jason is still going to tell us that you plot against us. Alex laughs .. I wanted y'all out. Fully he can stop with all that now. Shelby – its good you didn't call him out. So lets just not call anyone out until we know whats happening. Alex – yeah, I'm so glad when I talked to Whitney I could have said so much more about Jason but I skimmed over it. Shelby – yeah if it goes according to plan the people that opened their mouths too soon are going to learn a lesson.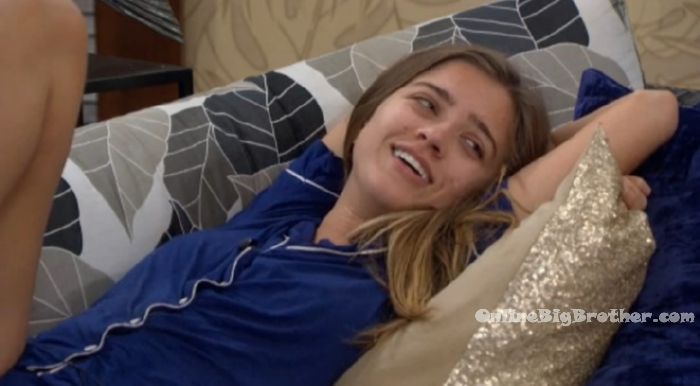 1:15am All the house guests are sleeping..
If you're enjoying the live feed updates this season, please consider donating. Any amount is greatly appreciated! Your donations go directly to paying the fees required to run this site.