Head of Household Winner – Memphis
Have nots – Cody, Christmas
Nominations – Kevin & DaVonne
Power of Veto Players are – Kevin, Tyler, Dani, Da'Vonne, Memphis, Nicole
POV Host: – Cody
Power of Veto holder – Tyler
Power of Veto Ceremony – Tyler did not use the Veto Nominations hold.
Powers – Christmas, Dani, David
Live feeds —-> Grab your Live feeds here. Try it free.
Rank the houseguests —-> Big Brother 22 Ranking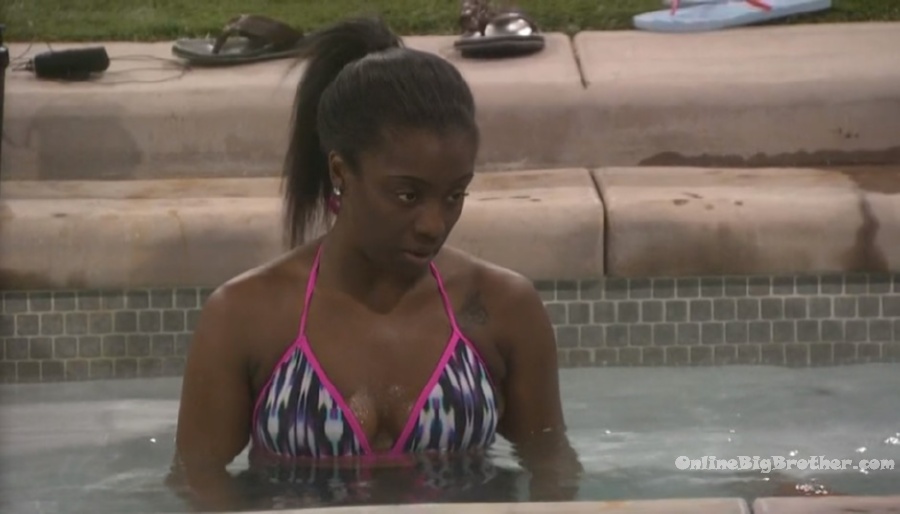 8:25pm Hot Tub. Kevin and Day.
Day is whispering (Can't hear her because she's whispering too quietly and isn't wearing a mic). Day – And he (Tyler) was like I don't know I wish I could tell you something. And I was like Okay BYE! Kevin – what did you expect him to say? Day – THE TRUTH! So I said the truth .. why am I on the block!? So guess what .. No vote for you F**KER! Day says at the finale she will go eeny meeny miny moe to choose the winner. Kevin – I think they're going to keep you. Day continues to whisper. Day – I know that you're going to stay because she told me that. I asked her to tell me straight up .. and she told me. Kevin – if its not me this week.. Day – no I think you have it. You need to figure some sh*t out. Seriously!! You need to figure some sh*t out!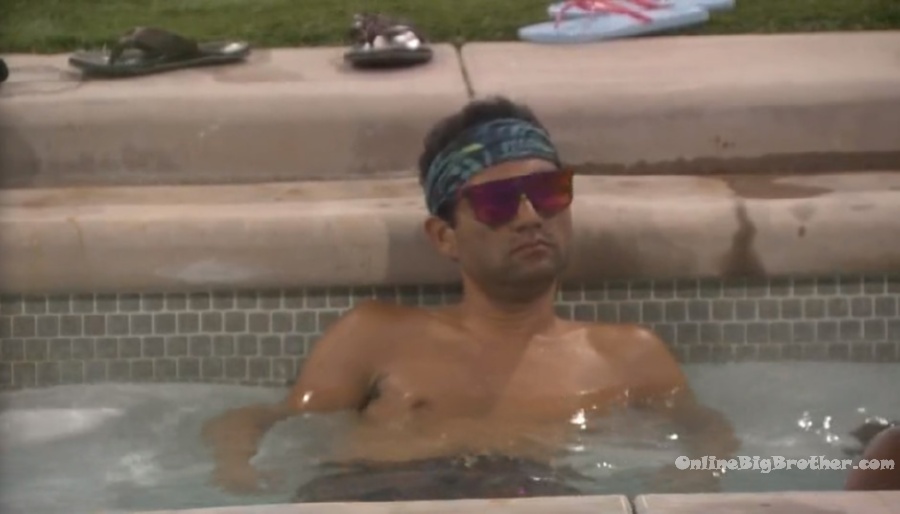 Nicole – is everyone still thinking Day? Christmas – I don't know no one has talked anything today. Nicole – I am good with whatever. I just want to be on the same page as everyone else. Christmas – same. Nicole – Now I am focusing on the double. Christmas – I wouldn't be surprised if they push it a week. But it would also be nice to go ahead and rip the Band-Aid off. Nicole – I feel like it is over due with the weeks and everything. I feel like if there is only one .. they might wait like how you counted. Christmas – oh with the half week.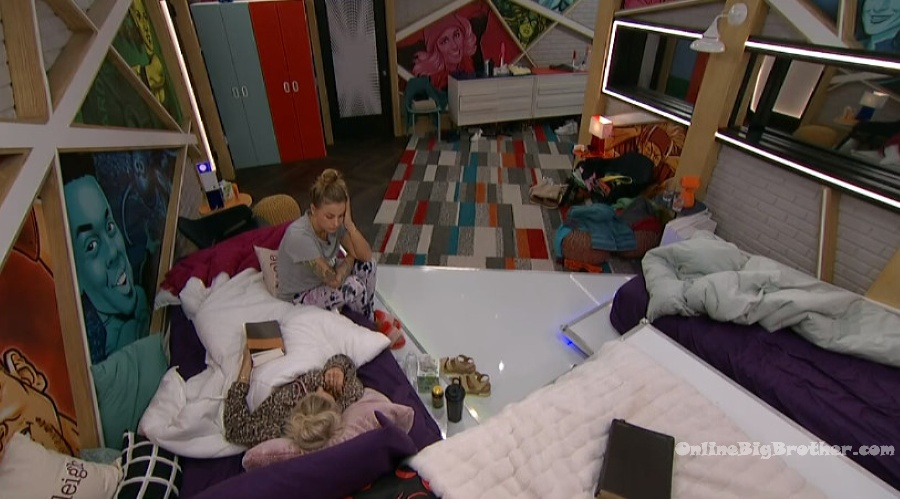 9:10pm Enzo and Nicole go into the storage room and see that Big Brother gave them alcohol. They hide 3 of the beer and then leave the room to let someone else find the alcohol. Nicole heads to the bedroom and smiles too much to Dani and then spills the beans. They run into the storage room. Dani wants to hide a bottle of wine but doesn't. They leave the room but then Dani tries to convince Dani to take it all and drink it between the three of them. Nicole – no we're going to get in trouble. Dani – no one is going to know. Nicole – we'll have red teeth and we'll be drunk.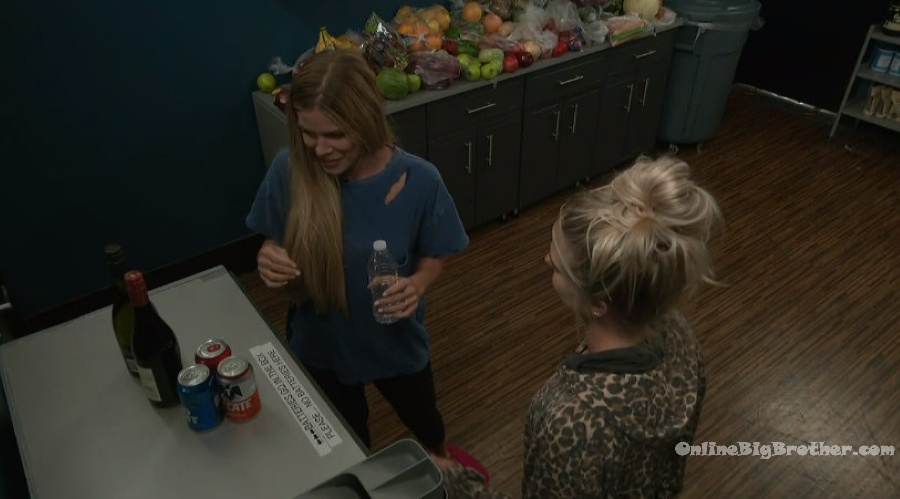 Lounge room. Day and Dani.
Day – I am going to tell you something but you have to keep your mouth all the way closed. Dani – swear. Day – I talked to Christmas and she told me that I'm going. Dani – what? Day – I'm leaving, this week. Dani – she did? What did she say? Day – I said I want you to tell me the truth. I am going to jury and I need people that are going to be honest with me with what's happening. She started balling. Dani – how does she have this information!? Day – are you blind!? Dani – She told you that she knew already!? Day – yes. Dani – no one had told me jack crap! So why was she crying? Day – She was crying because she was like I really respect you.. Dani – was she bring nice? Day – yes! Like scary nice. I was like alright. She was talking to me about how she wanted to be educated about the Black Lives Matter Movement. She was like I just want to do better and be better. So after she told me that I went up to Tyler and said why am I on the block? And he was like I don't know. He said I don't know. I was like TYLER why am I on the block!? I don't know. I am not working with nobody. Nobody tells me anything. I am in the dark. I just knew that if I used the veto it was going to put David in danger and I want to protect David. So I said ok! And so he said something about your speech might have you in this situation. And I asked what did my speech say? And he was like you were saying that I was coming after you and I've never tried to come after you. I've been your friend this whole time. I said that is not what I said. I'm my speech I said that you would be used as a weapon to come after me. They will use you as a weapon to shoot at me. Dani – what did he say? Dani – he was like well why didn't you just tell me that!? I thought you were saying that. I was going to do this and I was going to do that. And that is why I've been acting the way I've been acting the last couple days. Tyler being Tyler .. BULLSH*T! Dani – yup!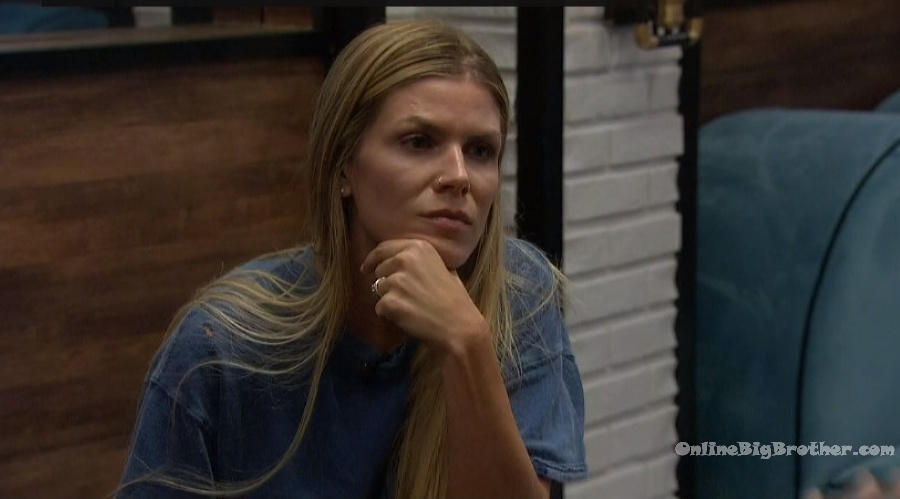 Day – and so I just walked away because you're not going to keep insulting me. Dani – you're (Tyler) working with nobody and that is why everyone wanted to keep you? Stop! Day – so I think from what Christmas said .. this can go either way and then when I gave my speech it was like okay Day can go. Dani – that is really frustrating. Day – So I asked why am I even here at all. And she said because I am a fan of yours. I want us to be friends. So I just want to know what was it that got me to this point. I am happy to ask David because when I asked Tyler he feed me sh*t! I am going to ask David he seems to be in with some.. Dani – so are you going to campaign still or no? Day – yeah I am not just going to die! Dani – good. Day – so I asked Nicole if its bad .. don't stick your neck out. And she was like Day I can never vote you out of this house. And I was like don't. Don't be crazy. At this point I feel like people are looking for anything. I am going to fish some more for some more information. If you can ask Cody why? Dani – I will. Day – when I leave sh*t is going to get out of control. I am a little confused .. Maybe I was wrong about you and Nicole's connection to them. Like why would I not know this. I told her I want to know because I don't want to see Julie in athletic wear. She said no wear something pretty. I just wanted to let you know so that you don't stick your neck out and put yourself in danger. I am not going to tell Kevin because then he will relax and not campaign. Dani – I will be really really sad if you go. Day – don't be next after me.
10:15pm Backyard. Dani, Memphis, Nicole, Christmas.
Memphis – I am so f**king confused .. I just don't understand why this season.. I am beside myself. I don't understand why when two people are on the block together they're inseparable. When me and anyone here is on the block.. You're not going to see me for a week! F**k you! I am out!! I don't understand! I really don't understand. Christmas – tell us how you really feel. Like Day did it with Bay and she didn't spend that time talking to anyone else. She just basically continued to put herself on an island. And Kevin even told me to my face .. I just want to spend all my time with Day. Like I don't get it! Nicole – yeah I don't know. Memphis – he was like I want to spend as much time with her .. and I was like you're about to spend a month with her.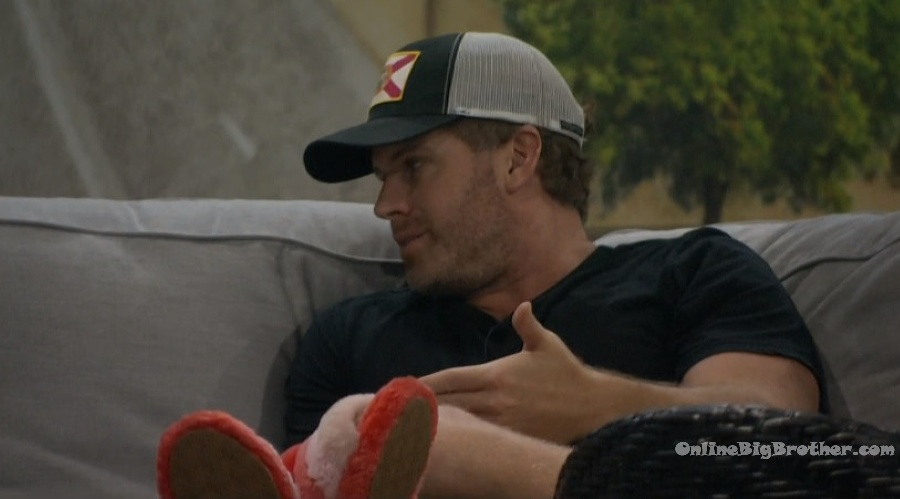 11:08pm Hammock. Kevin and David
Kevin – I know your relationship with Day.. so if you want to vote for her.. David – the only thing is Day will never trust me. Do you think she would come in this game and trust me? Based on what you know? Kevin – I will flip it back to you.. what is your instinct say? David – no. Kevin – has you instinct been wrong? David – no. Kevin – you know your instinct. You're asking me to say don't trust her. I don't want to get involved in that. David – ultimately I feel like she doesn't trust me. She always wants the full picture and I never have wanted to play that way. This Day situation is so hard. Kevin – you're telling me that your vote is leaning towards DaVonne. David – I felt that way on Sunday. I am sitting here telling you that is no longer the case. Kevin – I've had your back. I keep correcting her that there are four. How she doesn't understand that there are four.. and its not fair .. I am not Caucasian, I am not Pilipino, And I am not Latino. If my own people don't count me that is not fair. David – that is not a fair statement to make. Its not cool that you have to continue to do that. Kevin – and my value is discounted because I am only half. I do understand that half the experience is not the full experience. Big Brother switches the feeds.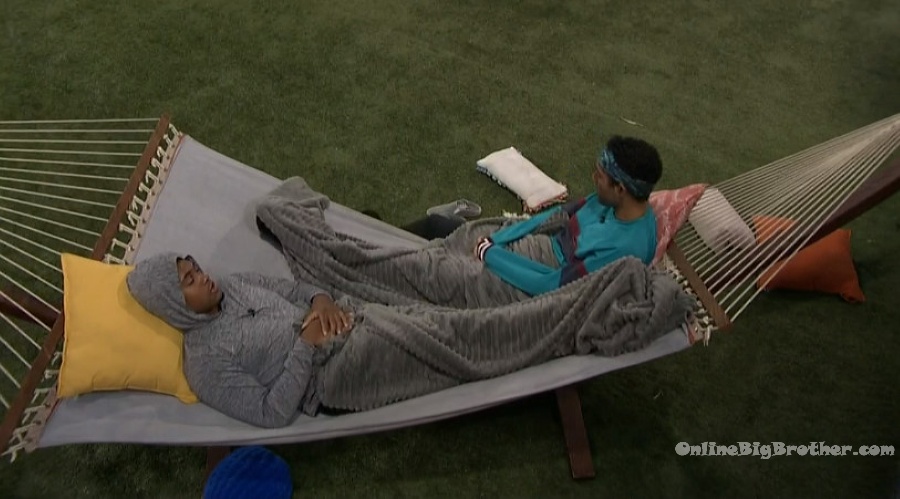 12:13am Big Brother blocks the feeds..
1:36am The feeds are still blocked.
1:56am Still blocked..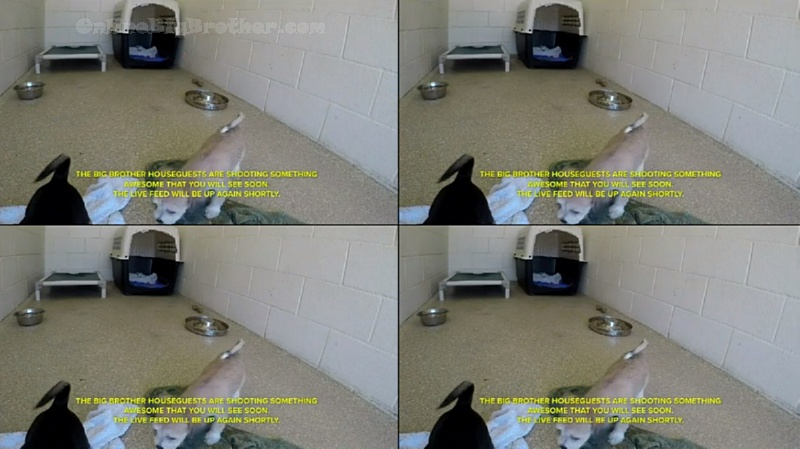 5:31 am no feeds yo
7:51 am no feeds yo
11:00 am no feeds yo
1:27 pm no feeds yo
4:14 pm no feeds and of course nothing from CBS .. standard
6:35 pm no feeds Don't care.
8:41pm CBS finally released that the feeds will be back at 10pm tonight..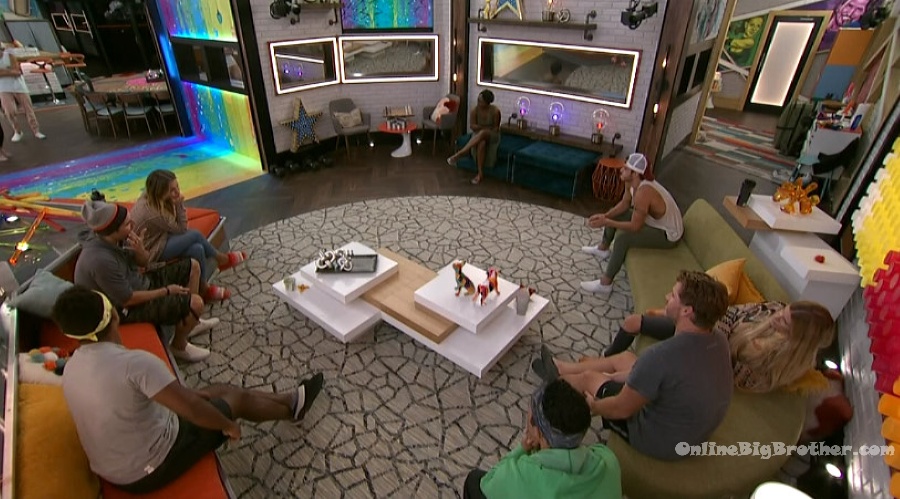 10:02pm – 11:05pmThe live feeds return after having been blocked since 12am last night. The house guests are sitting around the living room. They're playing charades.
11:30pm Bedroom.
Christmas reads her HOH letter. Nicole joins her. Christmas read her proverbs from the bible.
11:50pm – 12:05pm Kitchen. Dani and Day.
Dani – since putting him up .. I don't think he likes me at all. Day – he's possible. And I think the other two are tis the season and a liar. Big Brother blocks the feeds. When the feeds return .. Dani talks about how when you're evicted you see the four goodbye messages but after the show ends you see the rest of the house guests messages. She says that it didn't used to be like that like on her season but it is how it happens now.

12:18am Bedroom. Enzo and Tyler.
Enzo – there are too many scheming motherf**ker in here. Tyler – too many. We just got rid of sh*t. Enzo – Day I had a lot of fun with you in the beginning but sh*t got f**ked up. Tyler – just like her and her and her. Enzo – she (Dani) f**ked the slick six up. And Day fact checks too much. Let us lie a little bit. You can't not lie in this game. Tyler – no one can. Enzo – she's fact checking at 9 in the morning. Its 9:30 in the morning.. I can't be in an alliance with this girl. Bay did too. You can't do that. You have to come up with a lie for a lie.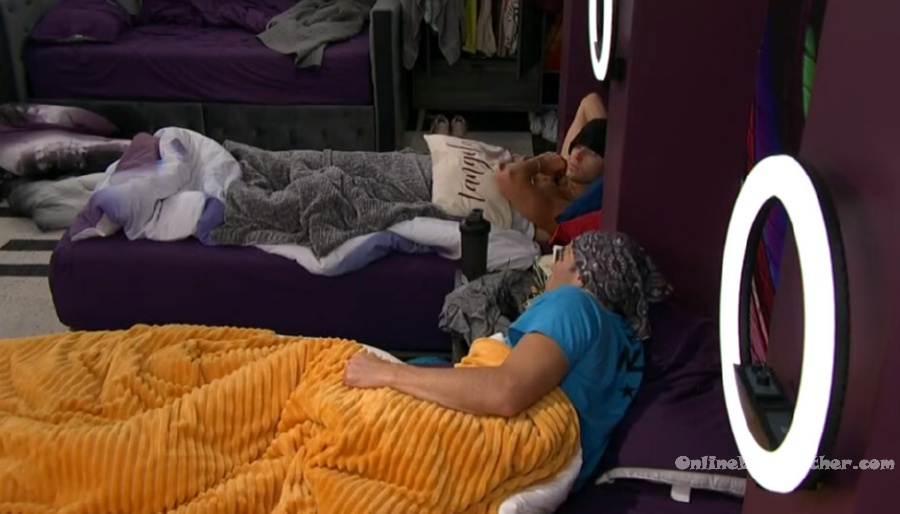 1:30am Lounge room. Day crying in the lounge room talking about this is the end and how she's a failure… "I just feel so bad because we (BLM) needed this so bad. But David is still here and David is still fighting. I just pray that he can get to his finish line and that his finish line is winning this whole thing. I feel like I failed Bay. I want you guys to know that I tried. I really did! I just hope that it is visible that I tried..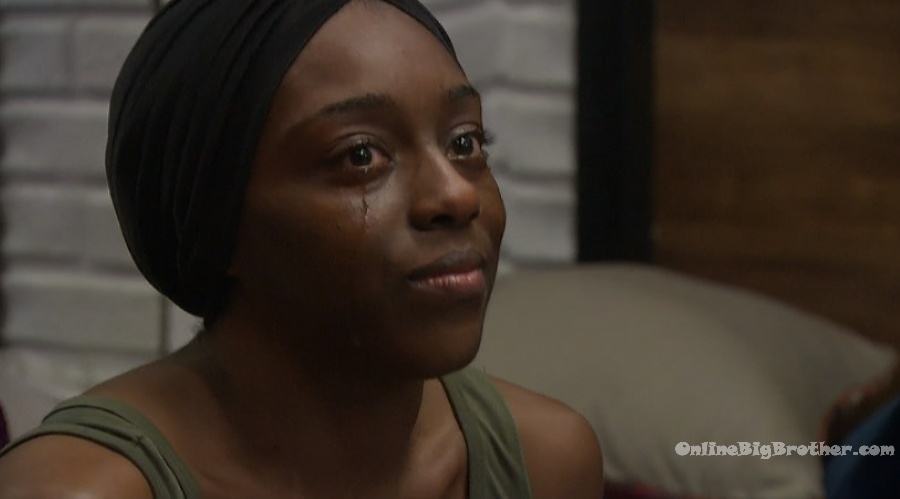 2:30am All the house guests are sleeping..
Show your support by making a donation.
If you're enjoying our live feed updates this season, please consider donating.
Any amount is greatly appreciated! Your donations go directly to paying the fees required to run this site.