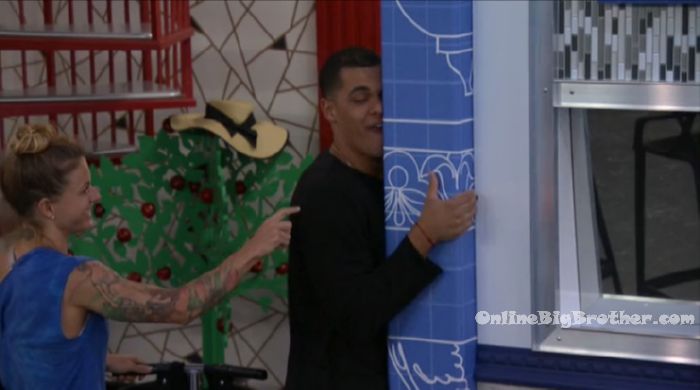 If you plan on buying anything from Amazon. Use this link Amazon home
Doesn't cost you anything and we get a small cut.
5:55pm Kitchen. Christmas has been bugging Josh. Josh – have you seen finding nemo? With the girl with the braces? She tortures the fish. DU DU DU at the fish tank! That's who you are right now. You're the girl from Finding Nemo that tortures the fish tank. Christmas – I'm not Dory!? Josh – no you're not! Paul then chases Josh into the living room and throws his flamingo named "Tray-ho" at him.

See what they can't show you on TV Try the live feeds for FREE!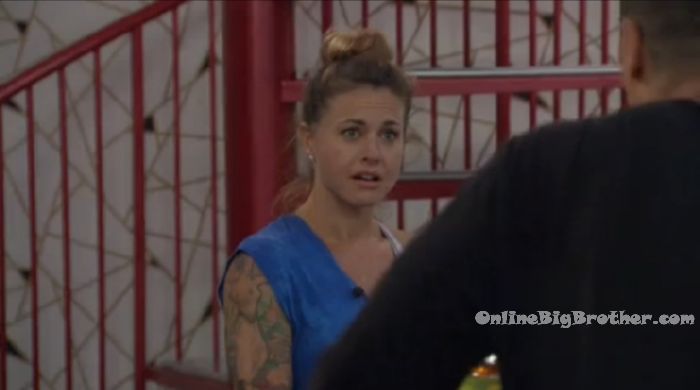 6:35pm Matt and Raven playing pool.
Meanwhile Paul and Christmas in the hammock.
Paul – If they were in the final two, she (Alex) would not win next to Jason. I would vote for Jason. Christmas – why would you vote for Jason and not Alex. Paul – So far he has won more competitions – A. B – he hasn't pissed anyone off. C – the baby thing kind of tugs at my heart. If we are all in jury – Alex has sh*t on Mark and sh*t Cody, sh*t on Elena, sh*t on Kevin. That's four right there. Matt won't, Raven probably won't. And me and Josh. See what I'm saying. Christmas – I think Josh would vote for Alex over Jason. I think you're right though. Kevin joins them.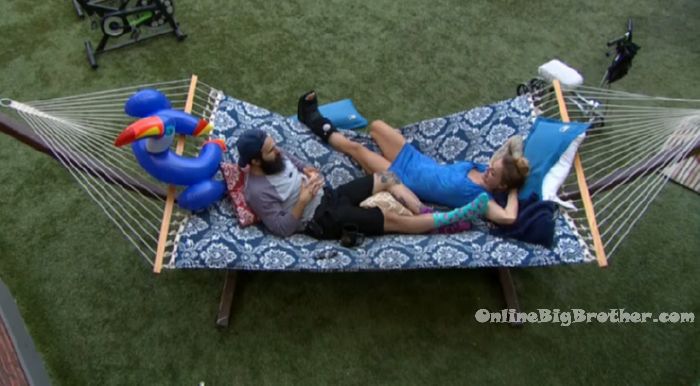 6:43pm HOH room. Josh and Jason.
Josh – I know this is a game and everyone has to go every single week but I really f**king liked him. I always looked at Kevin as untouched ..like that I wouldn't put him up if I was HOH. But the way that he has been acting. The way that he has been moving around .. he basically gave me no choice. I see what everyone is saying and now he is doing it to me. Jason – how long have people been talking about it. Josh – for awhile. Two weeks. Ever since he started messing around with Cody. Once he got caught up with Cody he started to change his demeanor. Probably not towards you because he was closer to you but he started changing. And people saw that now he is in a phase. Jason – do you think that there is anyway to get him back? Like dude you're wigging me out. Josh – you haven't told him? Jason – I've tried to subtlety. I am like Kevin you need to win something, you need to go on the block as a pawn, something.. Josh – everyone has done something.. its day 70. Jason – Matt and Raven have done nothing.. the only thing that Matt has done is won that POV. Josh – they haven't wanted to make enemies or stir the pot. Jason – they've definitely been instigating. Josh – oh 100%!
Jason – is Kevin really that big of a deal right now? Can't we just get him out next? Do you really think it matters? Josh – I don't get why he was trying to campaign for Mark or Cody. Why when we had our six. Jason – he is nice to me, so why would I put him up and send him home. Josh – his personality is rubbing people the wrong way. Jason – Matt and Raven naturally assumed I would pull one of them off and put Kevin up. They think I am going to pull Raven and put Kevin up. Josh – the way the weeks have gone there has always been a clear target the house wanted out. Josh – on a game level they are two votes in jury. Do you really want to piss them off. They are going to vote together. I am down with whatever you want to do but for your game think about the votes in the end. If you pull Raven off and put up Kevin .. then we vote out Matt. Jason – what if everyone votes Kevin out. Josh – I will give you my word I will vote Matt out. I can't speak for everyone else. Jason – as it stands right now I am keeping the noms the same. Alex has been really salty. Kind of a real di*k head today. I was going to ask her why.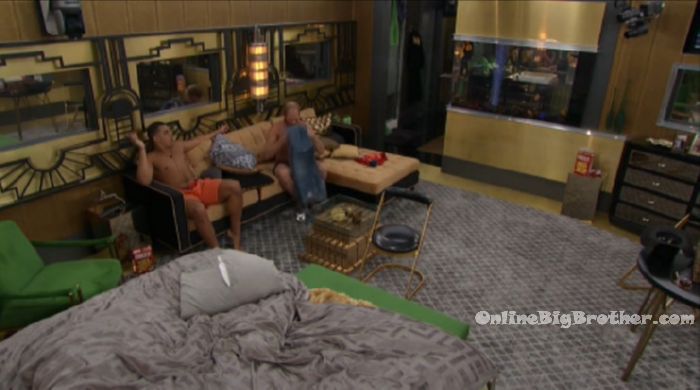 7:30pm Paul and Christmas in the hammock.
Paul – Did you hear Raven today in the kitchen? If he (Jason) doesn't use the veto on me I am going to rip him a new f**king a$$hole and make hell for him for no keeping his word. She said he hugged her and said he was using it on her. Christmas – he said he didn't promise anything. Kevin joins them and the conversation ends.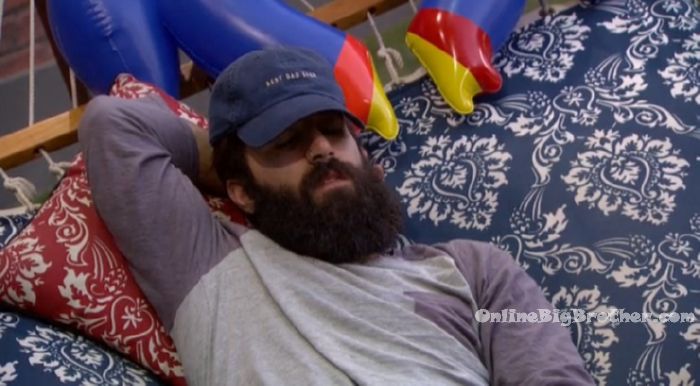 7:15pm Josh – its crazy how the house has cleared out Jess, Cody, Elena, Mark.. Josh – if Kevin makes it to the end he will win. Everybody loves him. He was the fun spirited until he switched. Josh – I think that you have nothing to worry about. Jason – I can't figure out what I want to do though. Josh starts talking about the veto comp. Alex joins them. Alex – if you're going to keep noms the same we should think about getting her out because he has already checked out. I think she will be the harder one to get rid of later. Josh – he is a better competitor than him. Kevin – what if that son of a b***h did have a wife, 7 kids and he got divorced 5 years ago. Josh – I don't think so. Alex – he is a very womanizing man. Josh – I think that he is a great father. He is very care taking. Alex – I've seen it since the beginning. Josh – exactly how Alex sees Kevin .. that is how I saw Elena and Mark.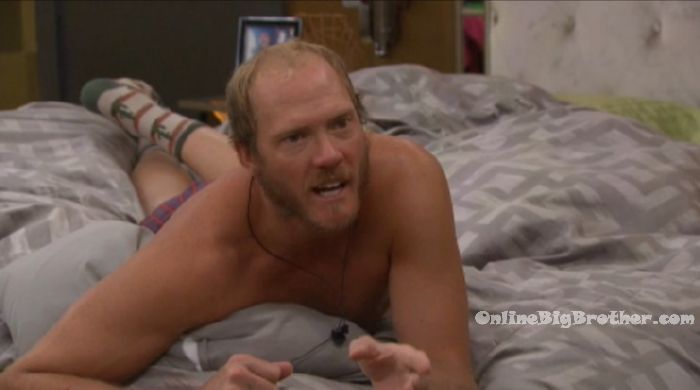 8:10pm HOH room – Josh and Alex.
Josh if he is checked out right now… Alex – maybe it would be better to keep him. Josh – yeah! Because she is going to wig the f**k out. She is going to wig out from when she sees that he doesn't use the veto. It's going to be 4 days of f**king hell! Alex – I am going to tell her I'm voting out Matt and then everyone vote her out. I am seriously considering voting out Matt. Josh – we'll get all five of us together and we'll talk about it. I am down for whatever you guys want to do. Alex – its whatever to make sure our 5 survive.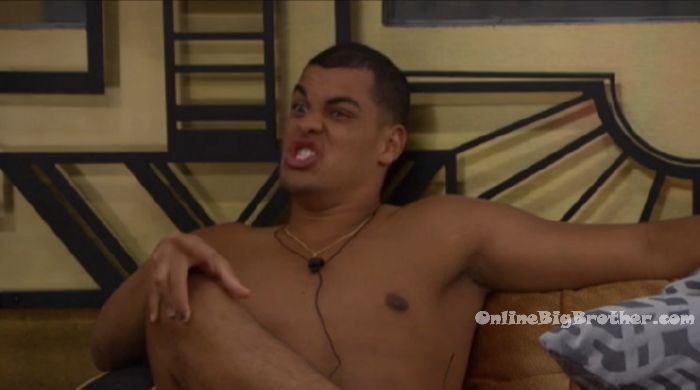 8:25pm Jason and Kevin playing pool.
Kevin – thank god they don't have machines to tell you what you're thinking. These motherf**kers would hate me. What's he thinking now? Press that button.
8:50pm – 9pm Matt and Raven are horsing around annoying throwing cinnamon and other things at each other. Josh is outside says to the camera that they are so f**king annoying!
Donations help keep the lights on. If you would like to support the site please consider donating.
Links to the ranking system
Rank your house guests here
For those of you that like Statistics here are some expanded reports.