POV Holder:
Godfrey
Next POV
April 24
POV Used
?
POV Ceremony
April 26
HOH Winner
Pili
Next HOH
April 29th
Nominations:
Sindy and Godfrey
Have Nots
Brittnee, Sarah, Kevin, Godfrey
POV Players
Godfrey, Pilar, Sindy, Willow, Bobby, Kevin.
Host is Sarah
(Godfrey will use the Veto to take himself off the block. Pilar is planning on putting Brittnee up as a replacement. Sindy is going to try and convince them to put Bobby up.)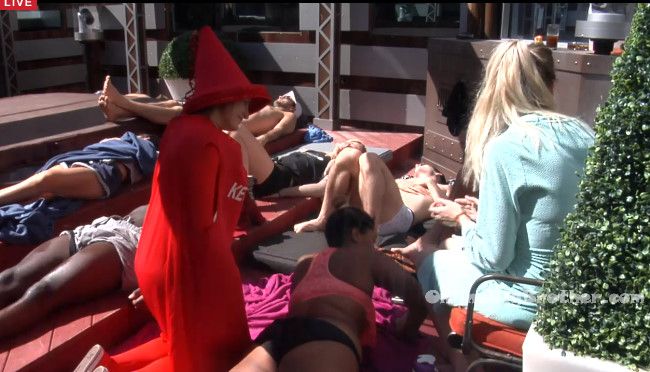 11am – 11:40am Hot Tub – Pilar, Willow, Bruno, Godfrey, Bobby, Ashleigh and Brittnee are suntanning (sleeping). Big Brother tells them to please wake up. Willow "ZACH do you want me to squirt a bit in your mouth?!" Willow brings up again how she isn't sure if she pee'd or orgasmed when she got the mystery card. Brittnee says oh yeah pee happens all the time. Willow brings up how Zach's birthday is on Wednesday. Zach says it sucks how its such a busy day. Willow says but maybe at night we can wind down. Zach says I'll dress up. Willow says yeah I will too, I'll wear this ketchup bottle.
Up in the HOH – Sarah tells Sindy that Zach doesn't think he (Bobby) has the secret veto so I guess don't throw that out there. I mean if you already said it then what if he does. Sindy says what if I say to them I know I'm going home I at least want to help someone … its up to you.. I'm sure you know that's what I think that Bobby has the secret veto. I know Bobby's gunning for you… I know you're working with him but I want you to be very very careful with him but I spent 24 hours with him in that vault. Sarah says you're a genius. Sindy says I'll just bring it back to sequester… a lot was said in sequester and Graig told me a lot of what Bobby had said. Sarah says say he is jealous of you and Ashleigh. Sindy says oh! Graig did say that.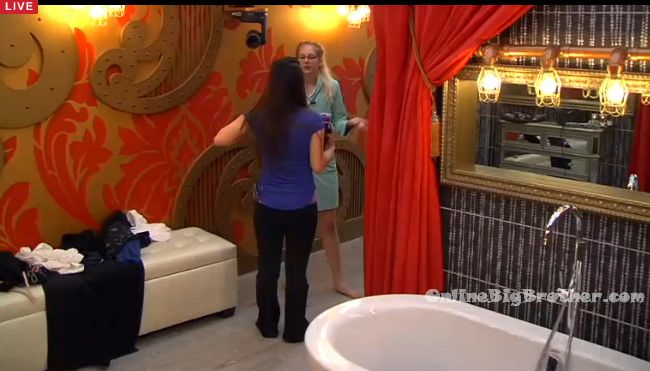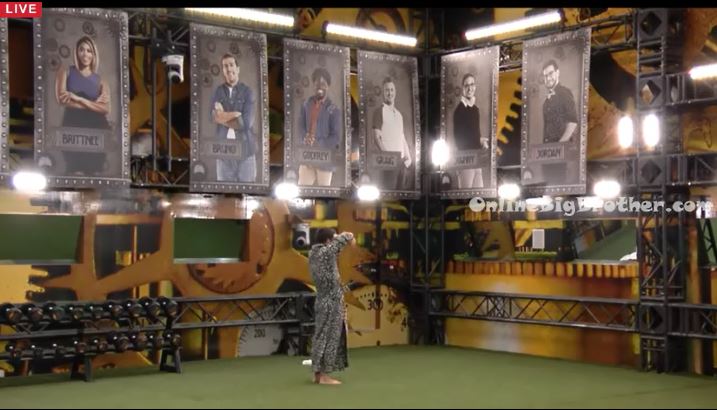 12pm – 12:30pm Kevin leaves the hot tub and in the backyard he gives "The Fortress" sign to Jordan's backyard photo. He heads inside and talks with Pili. The kiss and then head up to the chairs outside the bathroom. Kevin says if he wins he will get 5G's worth of $1 bills and lay it all out …then roll in it with honey. Kevin talks about how his respect and admiration for Godfrey has grown. Kevin and Pili talk about past comps and needing to study. Godfrey joins them. Kevin tells him how his respect for him has grown. Godfrey asks if he can talk to them in the HOH room.
Meanwhile out in the hot tub room – The house guests are "suntanning" aka sleeping.
12:35pm Godfrey says since I won the veto and it has changed the whole dynamic… Pili says I told you.. you were the pawn and I'm glad you won it. Godfrey asks if you were in my position what would you do with the veto? Pili says obviously I would use it on myself. Godfrey says the only reason it makes it hard for me to use it is that you make another enemy. Pili says oh my god I am going to hit you. You can't not use it. Don't, no! Don't worry. Godfrey says even if they're a pawn it kind of exposes where your alligence is. Pili says listen I don't know who I am going to put up but I would tell them they are a pawn. I would put myself up if I could. Godfrey says its becoming a numbers game. Godfrey says I had 4 people who voted me out .. do I go with the people that voted me out or the people that were going with the house? Pili asks who do you trust? Godfrey says honestly… I trust no one! At this point we really need to pick who do we trust and who we don't. Lets say things go to plan and Sindy gets voted out.. your side is hoping you win HOH and their side is hoping they win HOH. By making your nominations you are drawing the line. Keep that in mind. Its a dangerous line. Pili says I know who ever I put up the line is .. I mean I am marking it. A lot of people are in pairs … Zach & Ash, Sarah & Britt, Bobby & Bruno. Kevin says and me and Pili. Godfrey says the three of us can be a very powerful force. I want to stick with people that are going to be here and not go up on the block. No one at this point is considering you two as threats. I really didn't want to win this veto. Pili asks why not? Godfrey says because it paints a target on my back, it forces you to pick another person and risks you getting put up next week. I can guarantee you that I will not nominate you if I win HOH next week. I am close with Bobby and Bruno and it has not come out that they want you up either.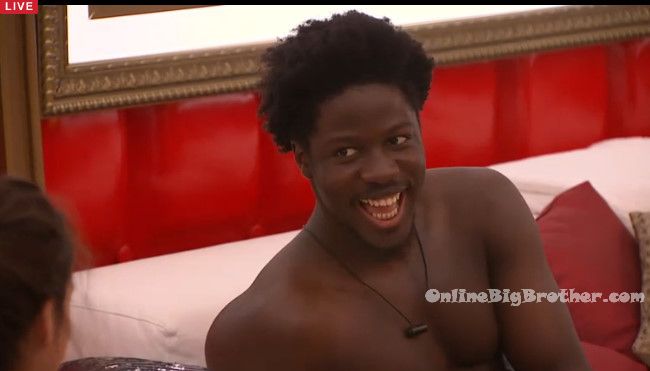 Keivn and Pili talk after Godfrey leaves. After Godfrey leaves Kevin tells her to just let it wash over your head. If we can use him in the short term we will. Kevin says when you nominate B (Brittnee) .. Pili says that I will just make her feel like she is safe. I'll tell her she has your vote and Ash… Kevin says just tell her she has everyone's vote. Pili says I'll tell her she is not going home… I just hope she understands. This is her third time on the block. Kevin tells Pili that he doesn't want her to think he is into what Godfrey is saying .. I just make him think I am. Pili tells Kevin he is so smart. Keivn tells Pilar when she tells Brittnee she just needs to do it like ripping off a bandaid.
1:20pm – 1:30pm In the storage room –
Sarah tells Zach about how Bobby said he doesn't talk game until Tuesday. Zach comments on how he throws comps. Sarah says he's obviously doing nothing for anybody right!? You can't work with people that are going to do nothing for you and feed you to the wolves like that.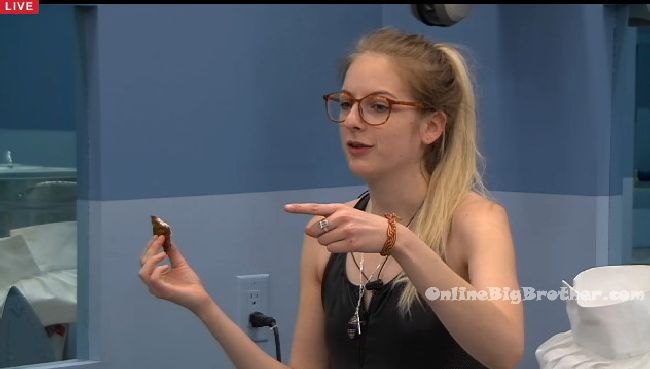 Bruno thinks Godfrey's veto could be another Double Veto: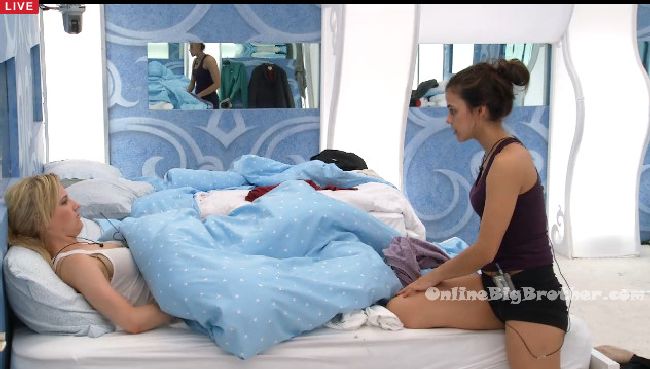 1:50pm In the bedroom – Pilar tells Ashleigh about how Godfrey wants to work with her. Ash tells her she can use that just like Zach and I have Bobby/Bruno. Ash says she is going to bring it up to Zach about how it could be fake (Bobby's secret veto). Ash brings up how Sarah asked her if she is going to go up. I told her I didn't know and she said she doesn't want to know. Ash says the people that turned on Jordan will never turn on you. AKA Sarah. Pili runs through what she'll tell Brittnee and says I can't afford to put up Bobby or Bruno in fear that the votes would flip. Everyone wants Sindy out. I wouldn't put you up if I thought you would go home. Sarah, Ash, Kev would never do that to you.
ALLIANCES IN THE HOUSE
There are always a lot of Alliance but we've tried to make sense of it all.. Read our alliance help guide
[polldaddy poll=8819718]