POV Holder:
Godfrey
Next POV
April 24
POV Used
?
POV Ceremony
April 26
HOH Winner
Pili
Next HOH
April 29th
Nominations:
Sindy and Godfrey
Have Nots
Brittnee, Sarah, Kevin, Godfrey
POV Players
Godfrey, Pilar, Sindy, Willow, Bobby, Kevin.
Host is Sarah
(Godfrey will use the Veto to take himself off the block. Pilar is planning on putting Brittnee up as a replacement. Sindy is going to try and convince them to put Bobby up.)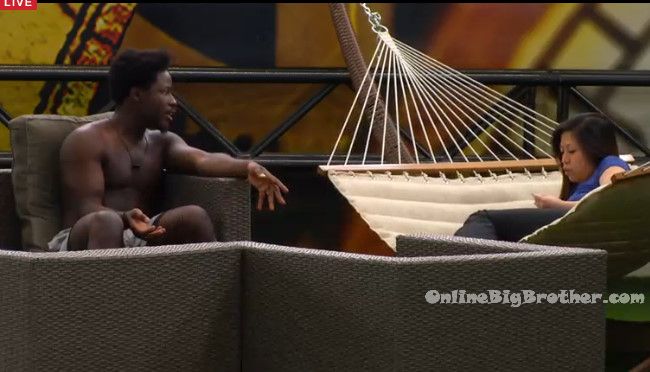 2pm In the kitchen – Zach is cooking pizza's. Bruno says I can't believe its day 38 already. Out in the backyard – Godfrey and Sindy are talking about cruise ships. Bruno joins them. Sindy talks about working on a cruise ship and all the games she created. Godfrey tells Sindy I couldn't even get her to tell me who she's putting up. To be honest I am hoping the veto I am holding is a diamond veto. Sindy asks who would you put up? Godfrey says Zach. Sindy asks would you vote for me? Godfrey says yeah. I hope that's the twist because there's not other way she is putting up Ash. Sindy says she wouldn't risk that. Godfrey says yeah she wouldn't risk putting up Zach either. The vibe I got from her is that she doesn't talk to those people too much. Sindy says we could work with Willow. Sindy says Bobby says he has a secret power of veto. Godfrey says he does yo! Sindy says if I was HOH I would put him up and let him use it. I don't think he has it. Godfrey asks you don't think so? Sindy says there's no way he has it. Why would you tell everyone you have it. You would keep it a secret. Put him up and if he doesn't have it then that's his penalty for lying. That's a huge lie. Sindy says that Zach and Ash are the two people that control. They have a chance to backdoor someone, why not take the chance. Godfrey says at the end of the day, everyone wants a smart decision. Find your chance and talk to them.
Godfrey talks to Brittnee by the pool. Brittnee says if you don't have the cahones to make a big move then don't win HOH. Godfrey says I go the vibe that she is done with the HOH and just wants it to be over. I am hoping I got through to her. Brittnee says as far as I am concerned its me, you and Sarah against the house. Godfrey says you and Sarah are the only ones I have confidence in if you win HOH that you would make a big move. Brittnee says she's (Pili) a good girl but I have no faith in her. Godfrey says I tried to get through to her. Godfrey says If she is so sure Sindy is going home why would you not put up your friend Ash to prove you're not being controlled. It was literally like talking to a five year old. I had to slow down my voice.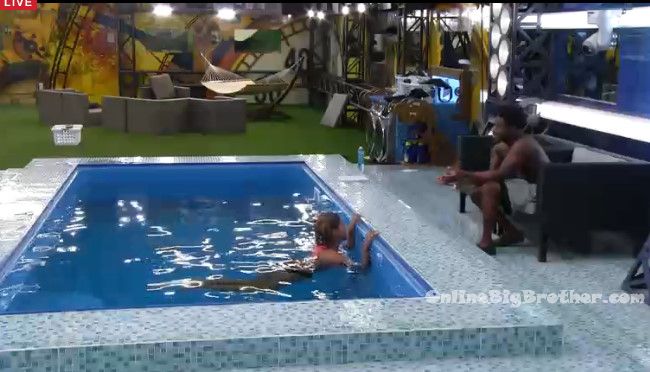 2:35pm In the bathroom –
Bobby and Bruno laugh about Bobby's bum veto lie. Bobby says I hope they believe I still have it.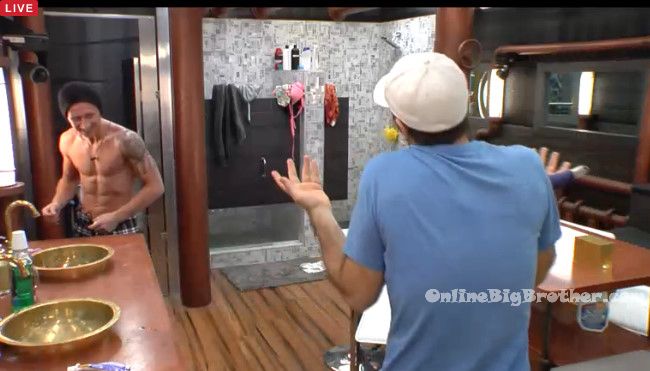 2:40pm – 3:25pm Out in the hot tub – Sarah and Brittnee talk about Godfrey wanting Pilar to put up Ashleigh. Brittnee says she's not going to do that after what happened with Zach putting up his best friend. SIndy joins them. Sindy says I just don't want either one of you to go up. Sarah says I think its 90% positive its one of us going up. But I'm not so sure talking to them will help. It's unfortunate that this is a b@ckdoor opportunity and its too bad she's afraid to. Brittnee says I like that part about being too afraid to do it. Sindy says its rare to get a b@ckdoor opportunity and both times it worked. It worked with me and it worked with Graig. Sarah says you haven't told them about sequester either have you. Sindy says no. Sarah says ask them aren't you curious about what happened in sequester. I will say it right in front of them. I have nothing to lose. Sarah says iceberg straight ahead for the SSB! This is our last attempt. Sindy heads inside and Sarah and Brittnee continue to talk. They comment on how disappointed they were in Jordan. Play your game for yourself not for someone else. Brittnee says we need a miracle at this point. Britt says Zach would be foolish not to put Bobby up there and I say Zach because lets be honest this isn't Pili's HOH. I don't meant to take anything away from Pili but it's true. Sarah says its Kevin, Ashleigh, and Zach's HOH.
Sarah "They better watch out if they put me on the block because I will have a lot worse to say than I'm disappointed.." "Once she makes her decision and puts one of us up promise me you will throw Sindy under the bus!" Britt says oh I will!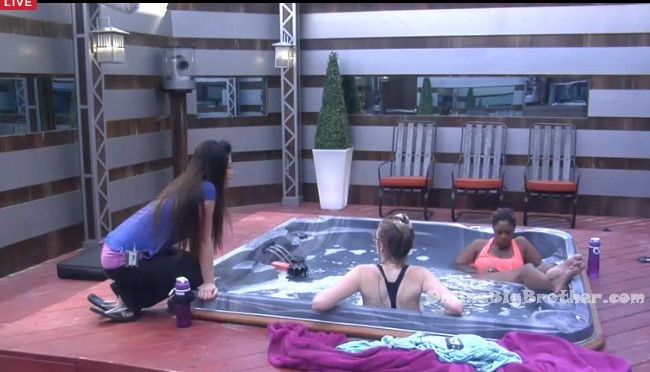 In the bathroom – Pilar tells Brittnee that she is putting her up as the pawn. Brittnee asks you're putting me?!!? I am not happy! Pilar says this is the easiest week to go up as a pawn. Pilar says Sarah won't do that to you. KEvin, Ashleigh, Zach… everyone wants Sindy out. Brittnee says that doesn't make sense to me. I've already been up as a pawn and I didn't come here to be a pawn. Pilar says I don't want to make you mad. The last thing I want is for you to go home. I know you're upset. I know for a fact that everyone wants Sindy out. I honestly don't want you to go. If I could go up as a pawn I would. Brittnee says I am not here to just look pretty. Pilar asks why would people want you out because I helped get JP out. I am not really mad at you because the is "the safest move". Pilar says I can't put either Zach, or Bobby or Bruno because then the house could flip. The house could easily flip with you up the house will not flip. Brittnee says that's not for sure though. Pilar says I know nothing in this house is 100%. I do not want you to leave his house. Brittnee says if I do then I just lost out on 100k! Britt says if this is what's best for your game then that's fine but I'm not happy about it. You need to be thinking about your end game and who is going to get you there or who is going to take it from you. Pilar says okay I will give it more thought. Britt says as your friend I'm telling you, you need to think about your end game. Would they put you up as a pawn? I know I wouldn't. I know how it feels.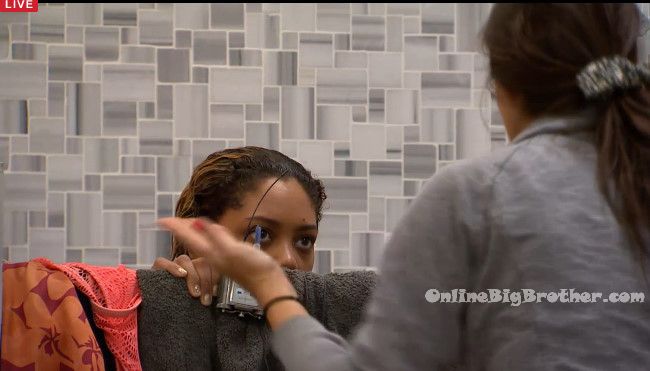 In the kitchen – Zach tells Godfrey if next weeks a Double (Eviction) .. you, me, Bobby and Bruno need to set something up. Godfrey says yeah we'll talk. Zach says figure out a plan for the double. Godfrey says we need to now right before the eviction. Godfrey says I'm telling you bro the girls are going to send one of us home. Zach says that's why we need to take one of them out. If we have a chat with Bobby and make a gentleman's agreement then we can lock it up. Godfrey says Bobby's got a secret veto. Zach asks does he? Godfrey says yeah he does. Bruno walks in and Godfrey says you, me Bobby and Zach need to have a talk about next week. Bruno says yeah I'm down with that. Zach says it would be bullsh*t for the coasters to sit back and watch us take each other out on a double eviction.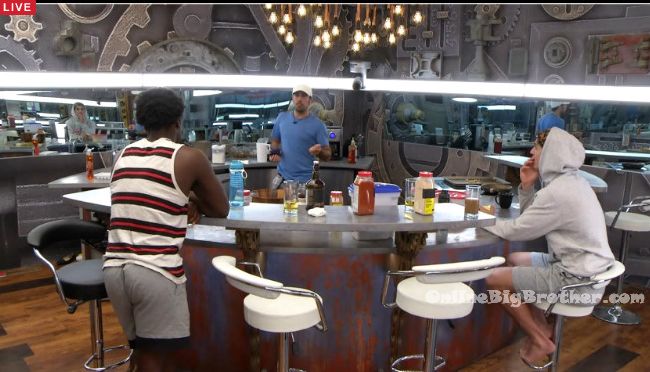 ALLIANCES IN THE HOUSE
There are always a lot of Alliance but we've tried to make sense of it all.. Read our alliance help guide
[polldaddy poll=8819718]