Head of Household: Victoria
Nominations: Kiefer and Latoya
The Power of Veto Players are : Latoya, Kiefer, Austin, Ty, Jed
POwer of Veto Winner : Jedson
Power of Veto Ceremony : Jed did not use the veto
Have nots: Kyle, Ro, Breydon, Austin, Jed
Big Brother Spoilers – Feeds were down for most of the morning. They had a special activity "skip the slop" Breydon won.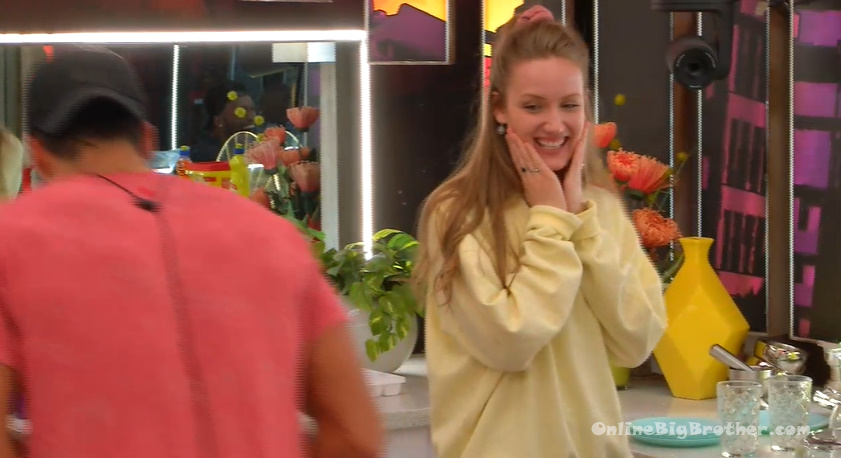 12am The live feeds return from being blocked. Most of the house guests are sitting around the kitchen table. Tychon, Jedson and Beth are cleaning. Latoya is doing dishes. Talk turns to talking about Beth kissing Jedson and Tychon. Latoya – so who's better Ty or Jed? Ty – well based on the first kiss, I got the higher rating. Jed – whoa whoa whoa!! You can't even compare. Beth – they weren't bad ratings. Jed – If I kissed you one on one in a normal setting it would be a 10… a 9 or a 10. Ty – I agree! My retainer was in my mouth. Beth – was it in every time? Ty – one time it wasn't. Latoya – if you were local would you.. Beth looks at Ty – I would try to pursue and Jed!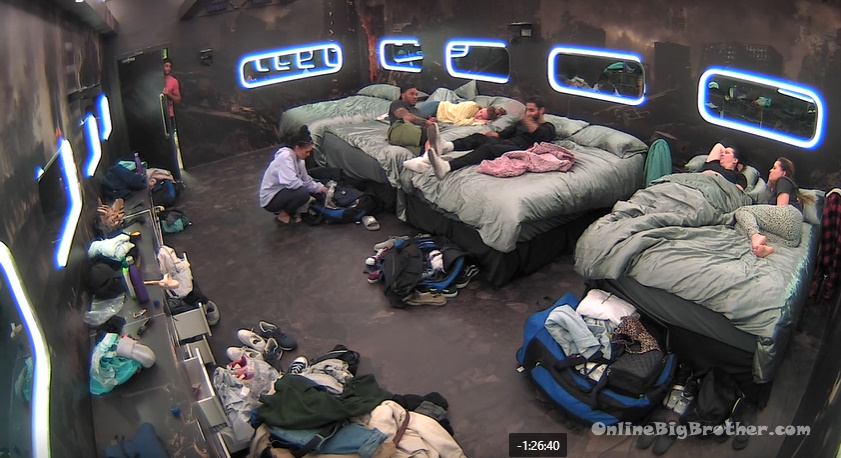 Hot Tub room. Tina, Tera and Kiefer.
Tera – oh they're going to be so mad! Keifer – I don't give a f**k! Tina – that's when we are going to need from you to deflect away from me and Tera. Keifer – oh 100%! 100% Tina – because they're going to be pissed!! Keifer – I would leave them if they put you guys up. It would be so f**king stupid! Lets be honest, the chances are a little bit lower than some of the studs.. you know what I mean?! Tina – yup. I want an average person to win this season. Keifer – oh yeah .. like a paris. Like they need to go after each other. Keifer – it just comes down to that final Comp. Tera – we just have to know our sh*t. We have to study. Keifer – I've got it all! Tera – and that is why I am so surprised that they think you're weak. I'm like are you nuts!? Keifer – they keep telling me that they're just saying that. Tina – it doesn't matter. Keifer – I know. I just can't wait until they watch it .. oh sh*t! Keifer was f**king out here. Part of me did think I was going to go home but part of me wanted to play it up even more to them. Tera – absolutely! Keifer – To give them a false sense of security. I was like I know you guys are going to keep LT .. I am going to leave here with my head held high. Like I played an honest proud game. Like I am even going to sauce it up in my speech I have to do on Thursday. It will be a good one! Tera – the more shocked you appear .. the better it is to you. Keifer – and I gave my pitch .. I am not going to talk game to anyone else but you two. Because it is starting to get to me that they're talking about next week without me. Tina – its bullshit. It really is. Keifer – they're going to be pissed because they think that Kyle is orchestrating the whole thing. Tine – and you need to let them continue to think that. Tina – we just have to navigate to where we're sneaking through the cracks. Tina – and those guys haven't approached me with any game talk in the last few days. Keifer – I know, they haven't approached anyone. They're just assuming.