Head of Household: Victoria
Nominations: Kiefer and Latoya
The Power of Veto Players are : Latoya, Kiefer, Austin, Ty, Jed
POwer of Veto Winner : Jedson
Power of Veto Ceremony : Jed did not use the veto
Have nots: Kyle, Ro, Breydon, Austin, Jed
Big Brother Spoilers – Feeds were down for most of the morning. They had a special activity "skip the slop" Breydon won.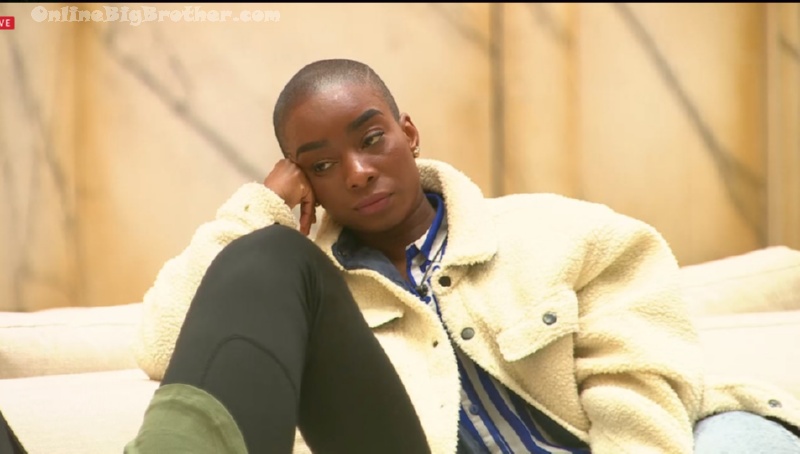 1:09 am Kief, LT, Ty
Kief – you have to plant seeds you have to say Kyle and Ro are telling us they want you two to go up
LT – Austin and Breydon to go up? that's a lie
Kief – LT everybody is getting lied on..
LT – I'm not doing that. That's not my game
Kief – it's a smart move
Ty – I haven't really lied nothing major..
Kief – that is how you crumble their alliance (or your game.. week 2 ;) )
LT – I know Kief I know but that's like a blatant lie
Kief – that's what happened to use who told people you said Austin?
LT – I know.. I know.. that's my weakness in my game.
Latoya says she told Vic Kyle ios talking shit about her.
Kief says they have to pull the other side apart.
Ty – bothers me people are going to float on through when there's a war
Kief – that's how it is
Ty – Is it though?
Kief – it is
LT – Vic is not my type of person she's not someone I will be friends with out of here. I don't gravitate towards her I am not attracted to her personality. .
LT – ti's too much
Kief – it's way too much
LT – she is not someone I would be friends with not at all..
They talk about Vic wanting a named alliance with them
Ty – we shouldn't have denied her.
Ty says they were just trying to no make promises they couldn't keep
LT – I know I was being real.. we kinda just left it and pretended it didn't happen. What were we going to do fake it and say Yes?
LT – I tried to be nice to her.
Kief – she can't sit in silence
Kief says if he leaves he'll say "it's all good I'm heading off into the sunset.."
They talk about fighting to keep Josh.
Kief brings up that Josh cursed him right before the eviction he told him "You're next"
Kief is going to do that to VIC – I'm going to hug her and hold her tight say they are all coming for you
LT – no say you're next
Ty brings up that Josh was smarter than everyone thought. They agree JOsh had one thing happen to him early on and it sunk his game.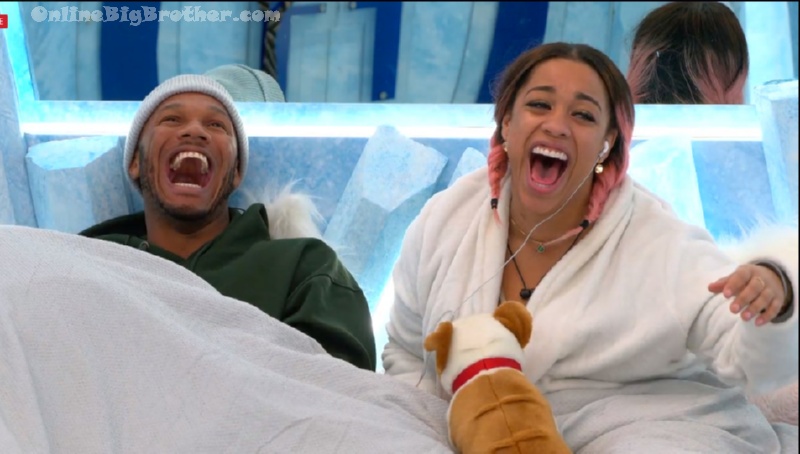 1:30 pm Ty and Vic
Talking about BReydon getting two meals this week
Ty – and he's Canada's favorite.. (feeds cut)
When we're back Jed is now with them.
Ty mentions his mom got married on the show "4 weddings" season 1 and won!
Feeds cut. when we're back they're talking about JED being on The Bachelor.
Vic says Beth came up to her and said the reason Jed didn't use the veto is because of her, "she plays the game too hard. She's playing both sides of the house"
Vic – she's trying to do the final 2 with everybody. Tried with me tried with Breyd, Austin. Ohh it's exhausting
Vic warns them "Beth can't be trusted.. She threw one of the 4 people HARD and 24 hours later she tried to form an alliance"
Vic – the things I say can be backed up by Breydon and Austin.
(Vic is saying that Beth threw one of Latoya, Ty, Jed under the bus. It was Latoya)
Vic – she is trouble..
Vic says she has dirt on Beth "She's trying really hard to fic her relationship with Austin and Brey"
Vic – I'm blowing up her game. I told Breydon and Auston and they told me to wait
Jed – will everyone know?
Vic – blow up something she did that she'll probably think she'll get away with but I'm not down..
Vic – I will tell you and you guys will be like are you kidding me
Jed – does it directly affect us
Vic – absolutely.. she'll have to explain herself
Jed – is it detrimental to us
Vic – no it's not detrimental .. you need to know..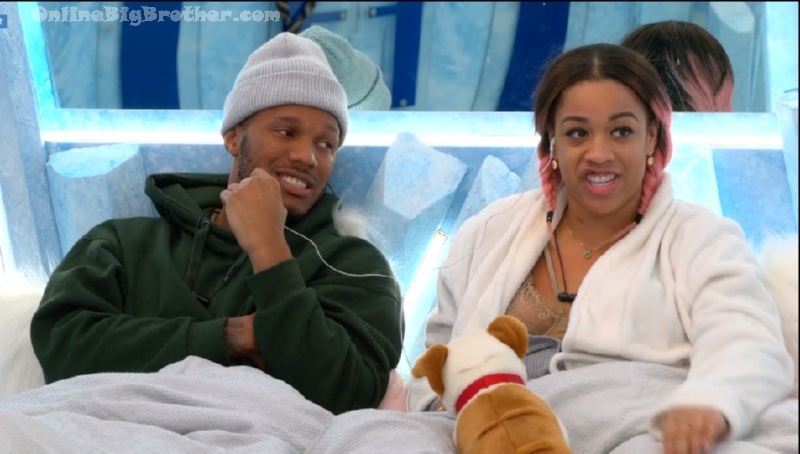 Vic – I made a mistake I should have put that b1tch up.
Vic about Beth – She's playing everybody
They ask Vic if Breydon and Austno are a duo.
Vic says they are. Austin was annoyed yesterday that Kyle and Ro wouldn't leave them alone.
Ty brings up Austin saying that Kyle was her type.
Jed – I think that was somewhat strategic. he's the type that would get cheesed if she doesn't say that you know what I mean he's that kinda guy
Vic – I think she was just being honest and ask that question
Jed – could have been a strategic move.. he she went JED then kyle would be pissed.
Vic – Breydon and Auston we do talk game but we don't Vibe like that.. it's hard to explain.
Vic says Beth told her, Breydon, and Austin her taking someone out of their 4 (LT,JED,TY,Beth) is a "resume move" to get out
Vic says she's not going to be surprised if Beth is working with Ro and Kyle telling them the same thing she told her, Brey and Austin.
Vic – I can't even be near here her voice drives me insane.. she is not one to be trusted and you will find more after eviction.
Vic – she's coming for me there's no way no one else knows what I know.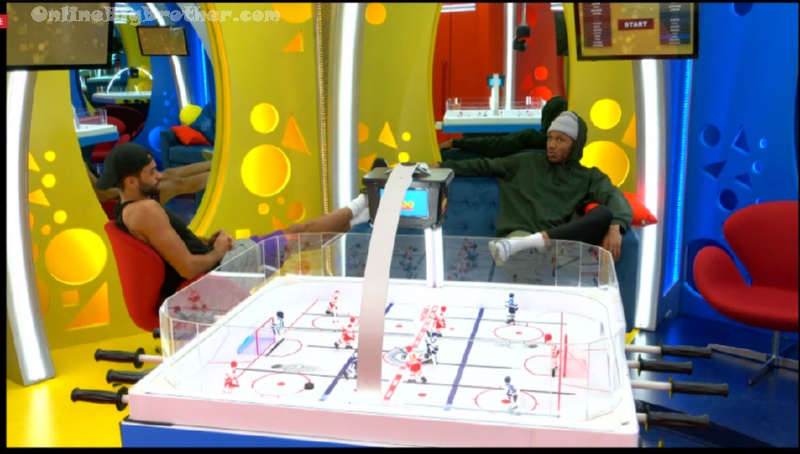 2:19 pm Jed and Ty
They are trying to figure out what Vic is talking about with Beth..
Jed thinks Vic is going to say Beth told her to put up Keifer and one of them.
Ty – why? to get back with Austin and Breydon?
Jed – Either she wants to get back with Austin and Breydon or she's working with Kyle and Ro
Beth comes in.
Jed – do you think he goes home this week?
Ty – yeah I think so
Jed – I wonder if Kyle and Ro will try and get Latoya out
Beth says Tina is not with them, "it's pretty clear.. I asked her where her heads at.. she said I refuse to say names right now"
Beth – I thought we were working together.
Ty – sounds like she's been coached by Kyel and Ro on how to answer questions.
Ty – she's (tina) is expendable to us
Ty – Kief is going home, Vic gave us her word.
Beth – Tera said whatever Vic wants and Tina said well we don't know what Vic wants.
Beth – she asked who would you put up and I said Kyle and RO. I'm so sick and tired of people playing the middle
Jed says he'll put up Tina and Tera if he wins HOH.
Beth – I can't imagine peacing out on you guys
Beth – it's because Kyle and Ro didn't know we were working together
Jed – let's blow her up
Ty – do we even need to blow her up.. She's just a number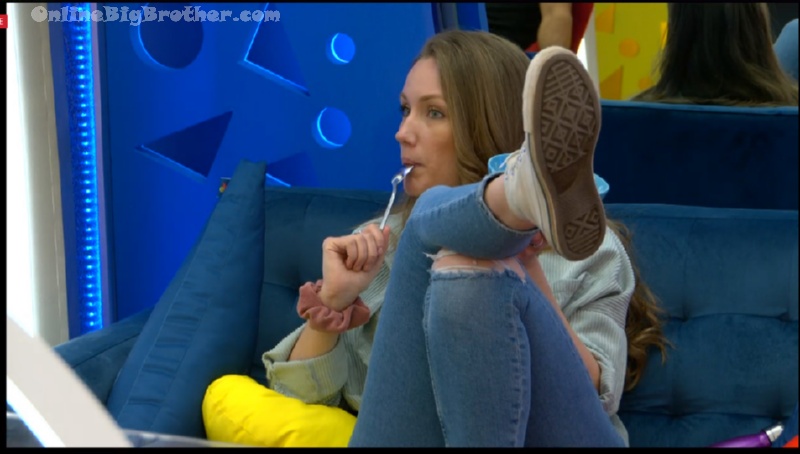 Beth – If Latoya goes this week I will Snap.. we were lied to by everybody.
Jed says he will flip out.
Ty – they will do that to us so easily because we tried to flip the vote last week.
Ty – I wouldn't believe that the side would want so much blood with us.
Ty – do we start with Tina/Tera, Vic, or Kyle and Ro?
Ty – if she really wanted Kief to go home she shouldn't put me up. Kief would go home against you (Beth)
Jed says he would have used the veto if had never talked to Vic.
After Beth leaves
Ty – how do we catch Beth in a lie?
They go around in circles trying to figure out if Beth is playing them.
3:18 pm
Ty – It has to be a lie
Jed – It has to be a lie..
They agree not to treat Beth any different they suspect Vic is lying to them.
4:34 pm Feeds down
6:25 pm Feeds still down YO
8:47 pm No feeds for you
9:40 pm Feeds return. They did some sponsored competition.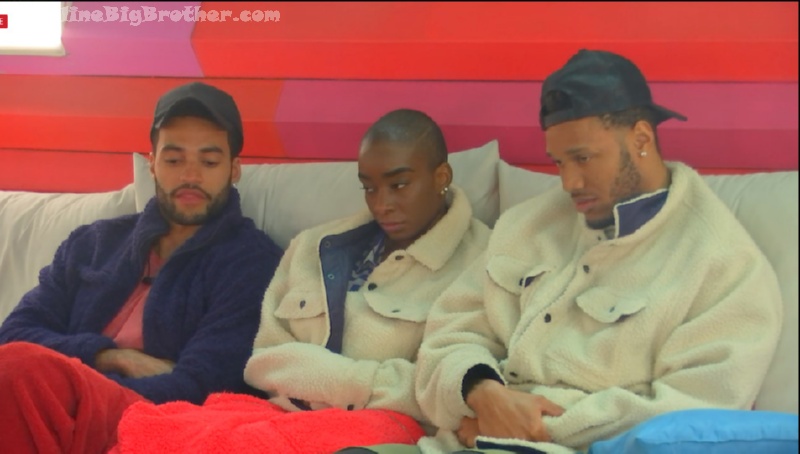 10:00 pm Latoya, Jed and Ty
Going back and forth about what was Vic meaning about Beth.
Latoya says when Josh walked out he told her to not trust Vic.
Jed says Tera is such a flip-flopper
Latoya – At the end of the Tera has not loyalty not even to Tina. Tina doesn't have loyalty to even Tera
They agree Tina and Tera will float to the power.
Latoya says "they" are all going to crumble when they go on the block. (They = Tera, Tina, Vic)
Latoya about Victoria – she's so annoying. she would never be my friend outside of here.. EVER.. our first night here I thought to myself Nicki is watching this right now saying Toya hates this girl.
Latoya adds she stayed as far away from Victoria.. you would never catch me with her in public.. Embarrass me.
Jed – you don't know in a restaurant. (something about Vic's loud attitude)
Latoya – they'll embarrass you
Latoya and Jed agree Breydon, Kyle and Ro would vote out Vic.
They talk about everybody will be "shitting their pants" when Latoya wins HOH.
Latoya – It's so hard (To be around?). Kyle, Ro, Vic … sometimes Austin as well I don't feel like I have anything in common with her. I can imagine sitting on a couch talking to her.. She feels a bit spacey to me.
Ty – when Brey's without her he's.
Jed – Very responsible.
Ty – when she is there. what are you talking about
They agree they prefer talking to Breydon
Ty – I honestly have no idea what she's talking about ever
Latoya about Kyle and Ro- the two of them are so annoying they should just date.
Jed says by themselves they are ok.
Ty – I wouldn't mind them in Jury
Latoya – I wouldn't either
Jed – they would be real in Jury for sure.
Jed – I wouldn't want Vic, Tina, Tera in the jury
Ty says the final 8 should be them, Breydon, Austin, Kyle, Ro.
Ty really doesn't want to see Tera and Tina float through.
(Back Vic's comments about Beth)
Jed – Vic sleeps in her bed all day coming up with these elaborate lies.
Ty – when we all went to talk to Vic.. Beth didn't want to come..
Ty says Beth hesitated when they asked her about going up to Vicotria's HOH.
10:32 pm Kyle and Beth have been dancing
11:00 pm Feeds down again.
11:45 pm No Feeds for you