Head of Household: Beth
Nominations: (Ro, Tera)
The Power of Veto Players are: Rohan, Tera, Tina, Tychon, Breydon
POwer of Veto Winner: Rohan
Power of Veto Ceremony: ????
Have nots: ?????
Big Brother Spoilers – From what I can gather Vic still going up. For the most part feeds have been off a lot.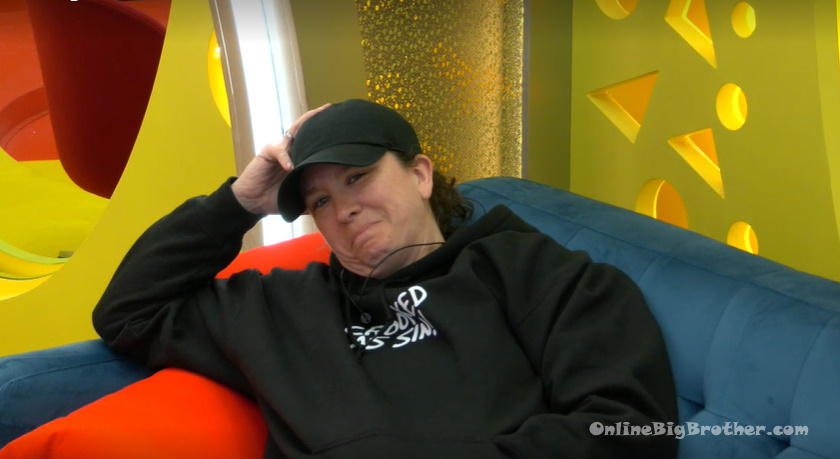 10:55pm Games room. Keifer and Tina.
Keifer – I am glad the POV (ceremony) wasn't today! Tina – why? Keifer – this place would have been a nightmare if it was. Tina – you still think that's the plan (to put up Vic)? Keifer – I still do, yeah. I think its making it easier to be the plan the longer away the POV ceremony is. Tina – oh really!? Why? Keifer – because it will be less nights of awkwardness and ruthlessness. Tina – good point. Keifer – you know what I mean. Tina – I'll be sold on it once its done. Keifer – me too. I'm pretty sure its going down though. I would be very surprised if it didn't. I really think that is the plan and its going to rock the house. But there is only one person that isn't going to see it coming. And if she's not in jury .. its probably good news for all of us. You know what I mean? Tina – hopefully so! We'll see. How do you see Beth riding through the game? Do you think the three of them (Jed, Ty and Beth) are going to ride it to the end? Keifer – they might. They have the best shot at getting there. And I don't know if Rohan takes a shot at them anymore. Tina – oh really?! Keifer – do you think he does? Tina – why wouldn't he for his game? Keifer – I think Rohan would put me up and maybe Jed or Ty. Tina – he could possibly see you as a number. Keifer – I could only hope .. but I doubt it. I really think I would be his target. Tina – I haven't had many game conversations with him lately.. so I can't say for sure. Keifer – you should try to see what he is thinking. If you can still? Or maybe he is just going to ride out .. until he runs out of vetos .. you know what I mean?! Tera joins them. Tera – did people catch my f**k up outside? Keifer – what did you do? Tera – I forgot that I was on the block for like 10 minutes when we were talking about the punishments.. and I was like stop! I don't want to be on slop next week. Keifer – no I didn't notice. Tina – no. Tera – I feel like Vic noticed it. Like I literally just forgot about my sh*tty situation. Keifer – I honetly didn't even notice. And probably because in my mind you're not going home. Tera – yeah but I have to act like I am. Keifer – well you're doing a good job at it.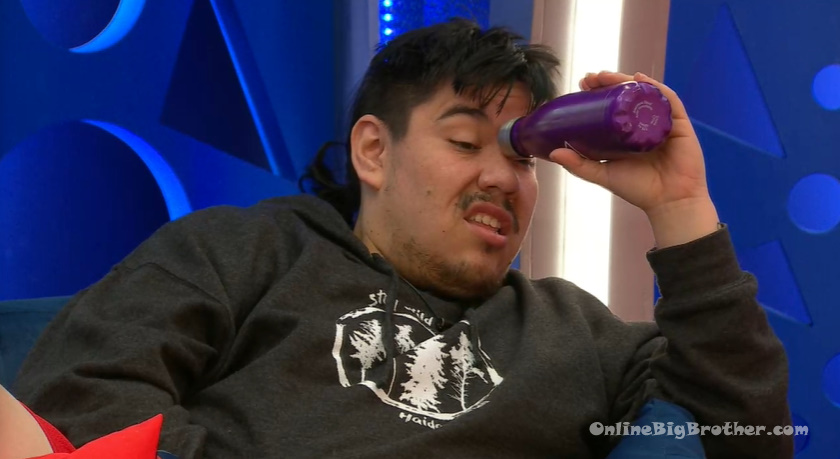 HOH room. Beth, Jed, Ty and Vic.
Vic talks about how someone boobie trapped the watermelon juice. She talk about how there is a hole in it and she shook it and it went everywhere. Jed – if you want to sewer someone (HOH) make it a tie vote so that they have to choose who goes and who stays.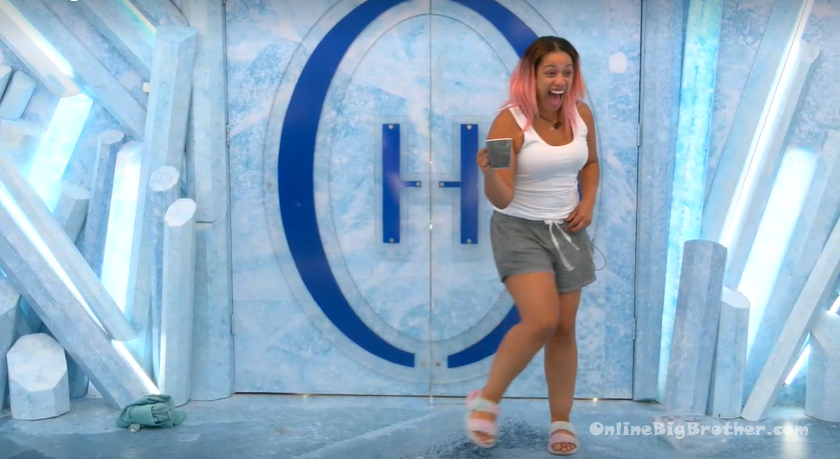 12:45am Bedroom. Tera, Tina and Vic.
Vic joins them and tells them about the watermelon juice. Vic – yeah I was just talking to the boys (Jed and Ty) and they're so curious as to where Rohan's head is at. Like they just have no idea what is happening with Roh. They're like what is his plan?! I was like .. like I f**king know!! Tera – what do you mean .. he said he was going to use the veto on himself. Vic – They're still waiting to hear a campaign from you guys. Its like scary at the same time.. I am like Yo are they backdooring me? Like I can't tell if they're being genuine with me or if I am getting backdoored.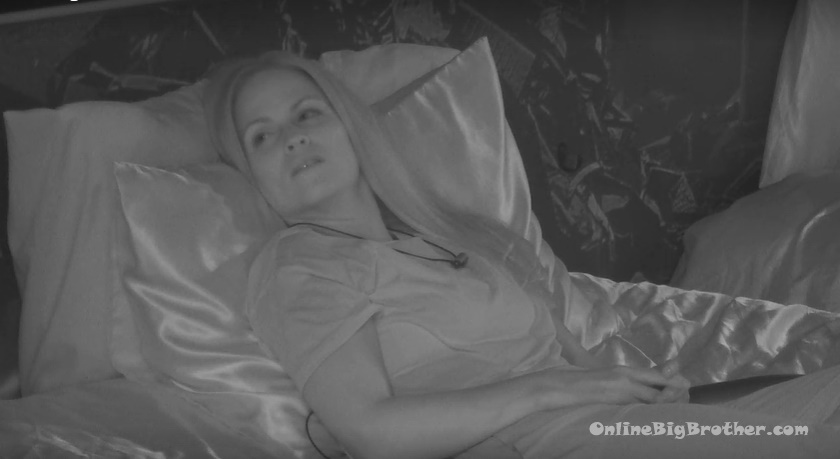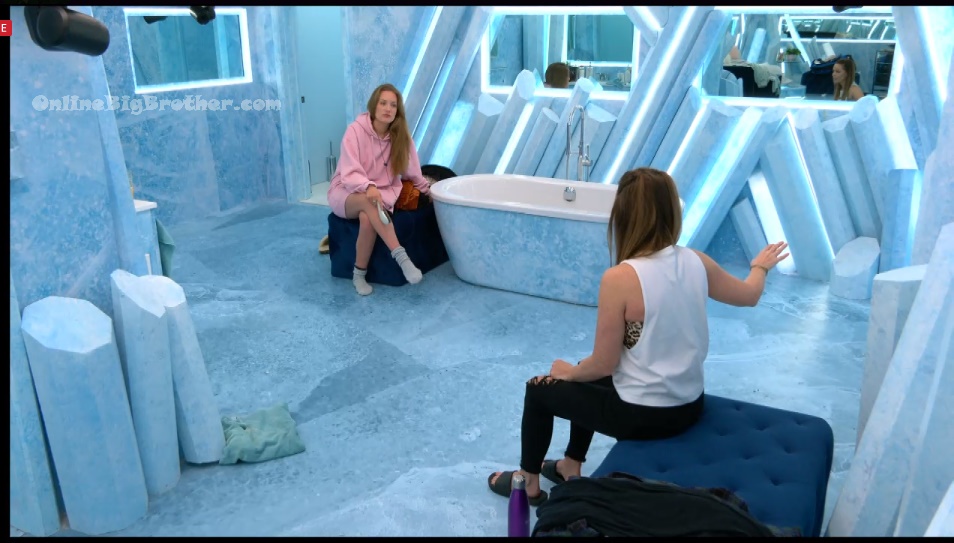 9:50 am Monday morning Tera is working on Beth to make sure Vic goes up..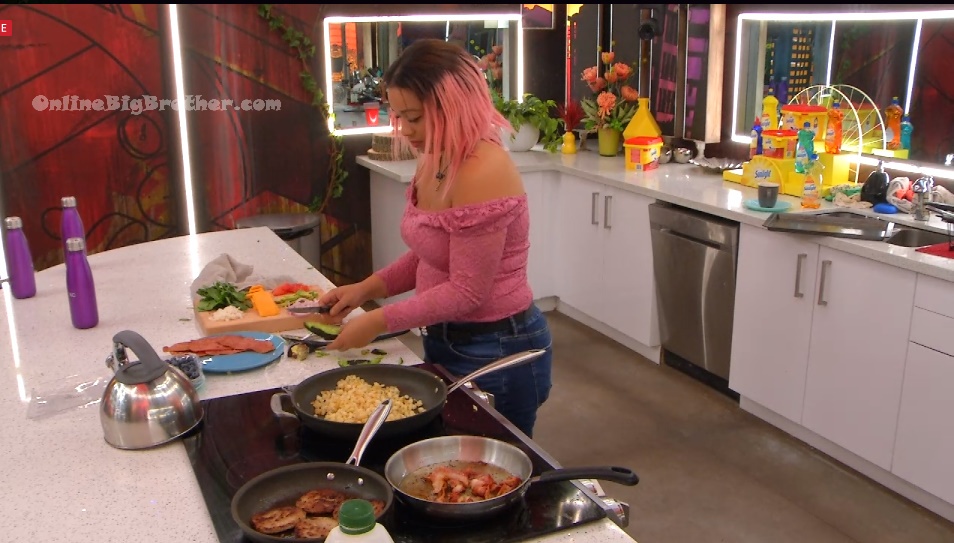 10:11 am Vic making a big breakfast for everyone…