Head of Household: Beth
Nominations: Ro, Tera, Vic
The Power of Veto Players are: Rohan, Tera, Tina, Tychon, Breydon
POwer of Veto Winner: Rohan
Power of Veto Ceremony: Rohan used the Veto Vic went up.
Have nots: ?????
Big Brother spoilers – Vic is nominated her campaign is strong.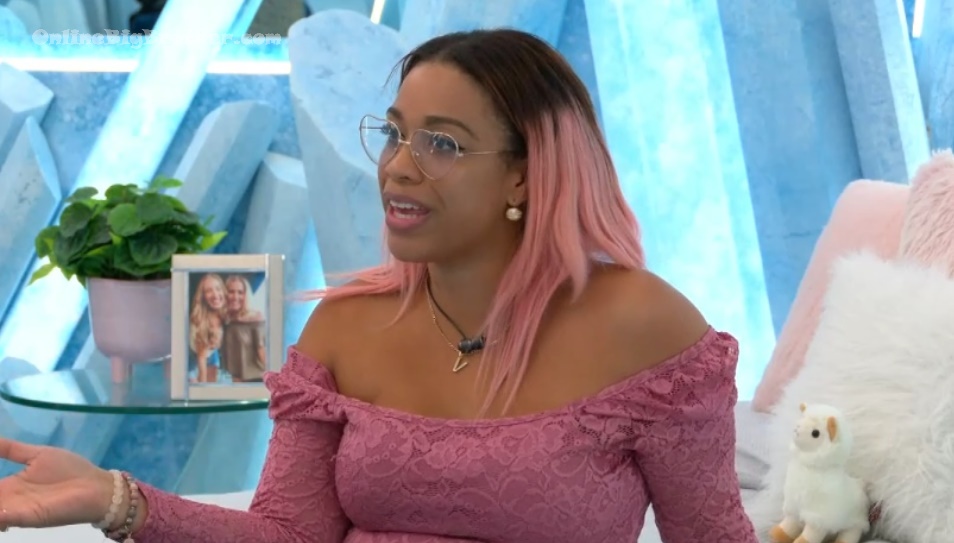 12:30 pm Vic, Jed
We come into this conversation
V – I could have been more up front with the things I was saying. I just figured that was part of the role of playing both sides and being with you guys
Vic – I was never coming for you guys I was prepared to play this game with you guys till the end and that is on everything.. Honestly, I swear to god this is so sad I was so serious about the ghost peppers and that is why I said it to you guys every single day.
Jed – we were serious too then we started hearing all this sh1t
vic – that is what happens in this game
Jed – I know but it's not coming from people we don't not trust at all. It's coming from people we actually trust.
Jed brings up Breydon telling them "What does he have to lose"
Vic – I was just trying to get his pitch why did he want to be here more than Austin.. I didn't even have a f**ing vote.
Vic – you guys were not big targets for me, especially after this week. I thought we were on a good page. I would never put you guys up I swear to god. If I would I would have put you up last week especially up against Breydon it would have been easy for me. I could have fooled more people by doing it that way I thought that was a good loyal thing.
Vic – I don't have it in me to do that type of backstabbing. I don't have alliances with any of these people
Jed – we know it wouldn't have made any sense it was a one-week move. You burn one of us and the next week you go home (Or you don't burn them and you go home anyways)
Vic – yeah like what the heck exactly.. I'm so happy to be on the right side of the house. this is what I wanted to find people that are cool and like me. that know what's up and lets go. never was I coming for you guys
Jed – we love you and we have from the beginning and we have been working with you closely it's literally just our.. our only reservations are the sh1t people are telling us when it comes to what you are saying and us not knowing exactly where your head at from moves you've made in the past.
Jed – that is where our fear comes..
Vic – All I wanted was an alliance to be loyal to from day one
Vic – I feel like I have that now I and was just friggin stabbed in the back.. thinking I'm killing it playing the house getting information bringing it back like.. God..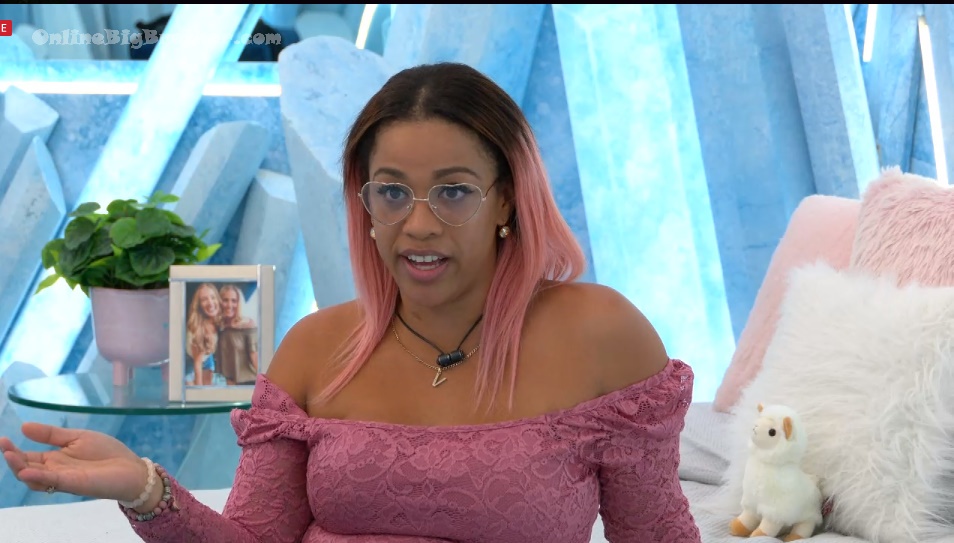 Vic says if she stays this week she'll be going for Rohan
Vic says she's not denying what was said.
Jed – did you ever say I'm going to throw Beth's bag off the balcony?
Vic – what the F*** no. Whoever said that is F***Ing lying
Vic tells them that the other side of the house is going after the "Trios" they don't think Vic is working with them. Vic says having four is perfect as long as only one of them is on the block they have the three votes.
Vic – I was always going to be loyal to the ghost peppers till the end.. when you won HOH I was happy. that was not one ounce of fakeness.
Vic says it's still early in his game and she still wants to fight with them.
Vic says if there are lies going around she's ready to call them out.
Beth and Jed say they plan on it.
Vic – In doing that it will come out that I am working with you guys so..
Jed – it's not the conversations it's more the talk about who started the conversations..
Jed says people in the house are saying that Vic started the conversations against the trio.
Vic – conversations were absolutely had.. but I always came back and told you guys
Vic – I have engaged in those conversations. All of them are coming for you guys.
They ask if Vic had an inkling she's going up.
Vic – if I did have a inkling it was because of bananas to be straight up
Jed – really, Bananas?
Vic – yup, They asked me a question.. and I was like why the f*** would you ask me that
Production – please stop talking about production
Jed laughs
Beth – thanks guys
Vic – yeah literally I was like OK so Beth's coming for me? I swear to god
Jed – that's insane
Vic – yeah
(So production told Vic)
Vic goes on about how she was just trying to make sure the other side didn't know they were working together.
Jed – we just wish you would come back about saying those things.. even Ty asked you yesterday if you've said our names as a smokescreen and you said not.
Vic – I said Big targets. When I say Big Targets I assume people think you guys
Beth – thanks for chatting and being calm
Vic – I'm still for the ghost peppers
Vic – I never meant the things I said to people I was just trying to get intel
Jed – you can't get to the end with them
Vic agrees not after what they did.
Jed – it wasn't us that formulate this plan
Beth – you know I wanted Ro out
Jed says it was multiple people suggesting they take out Vic. Before that Tina was the planned replacement nomination
Vic – I'm not mad I see where I went wrong in this game.. I'm a number with you guys this is the hot crew
Vic says she never meant what she said to the other people she thought it was a plan
Vic – I am loyal to this alliance I am sad I dropped the ball..
Jed – It's Ok.. I'm sorry you got blindsided no one deserves that. It took that type of shake-up for us to have this conversation
Jed – there's potential you stay and we can continue to run through this house.
Jed is happy she's not blowing up and going crazy
Vic says she's just sad
Ty – trust me we're sad too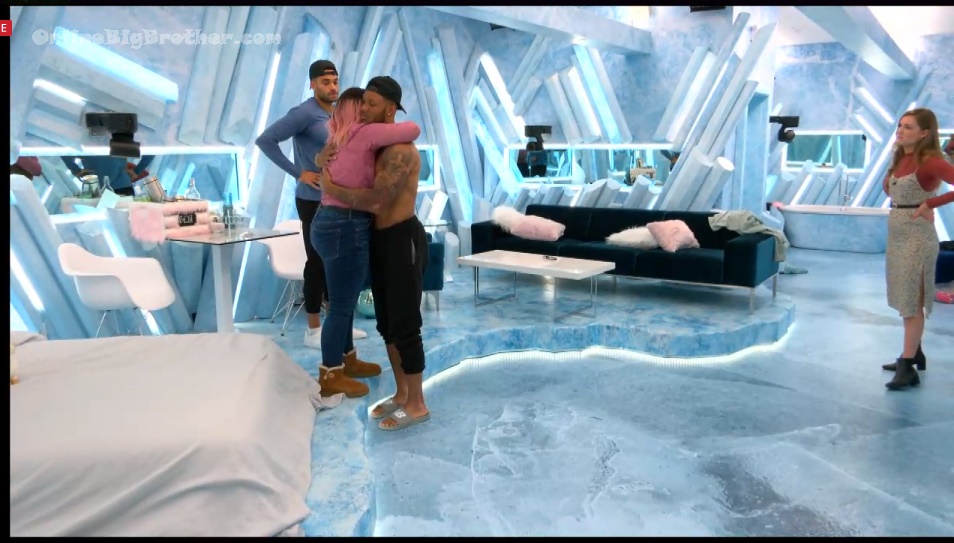 They hug it out..
Vic crying "This is what I want. I wanted this from day one. I'm really sad you think I am doing this to you guys.. "
Vic leaves.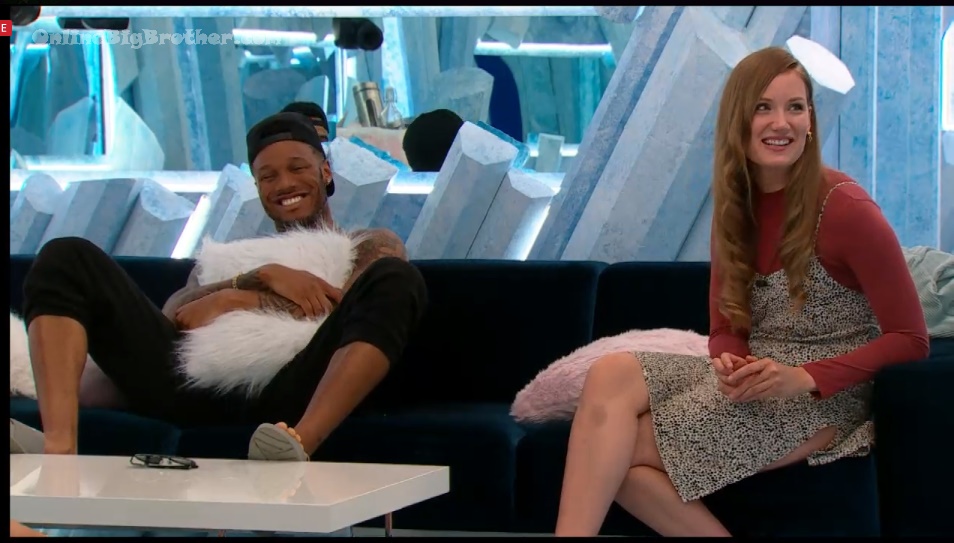 Beth is laughing .. "F** i knew she would be good"
Jed – you think that is all a joke?
Beth – there has to be a sit-down and Tera has to be targeted
Ty – what is you take away from that
Beth – I believe her I f**Ing believe her
TY – the problem is I gave her multiple opportunities.. Real ones I know what you are doing..
Keifer joins them
Beth – I've never believed someone more in my life ..
K – what happened ..
Beth goes over the conversations with Vic
Ty says they are not focusing on the reason why they want Vic out.
Ty – she's not there because of what she said..
Beth says the reason Vic was so calm was she knew she was caught. She knew she took it too far.
They talk about taking out Tina, Tera this week is a waste of a HOH. If they can't take Ro out they have to take Vic out. They agree if Vic wins HOH next week they are going on the block.
Ro joins them. 'how did it go?"
beth – very mature.. I think it's because she got caught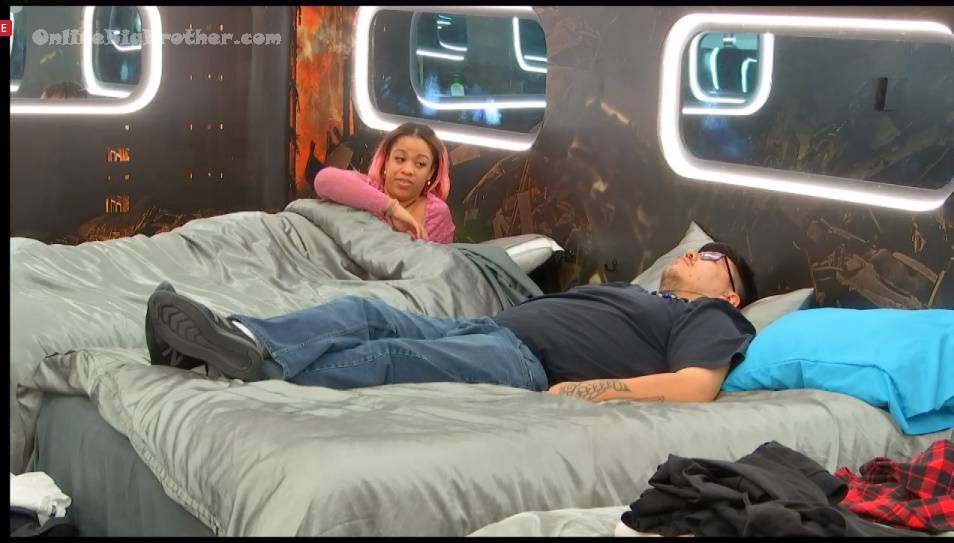 2:16 pm Vic tells Kiefer he's not as close to the trio as he thinks
Kiefer agrees.
Vic says Beth is ruthless.
Kiefer – It's not over yet Tera could say some crazy shit
Kiefer tells her she's better for his game adds that he's also close to tina and Tera. If he finds a power he'll love to shake the house up.
Kiefer brings up working on Ro and Breydon for Votes.
Vic – I doubt Breydon.. which is f***ed because Rohan was pitching me him Breydon thing..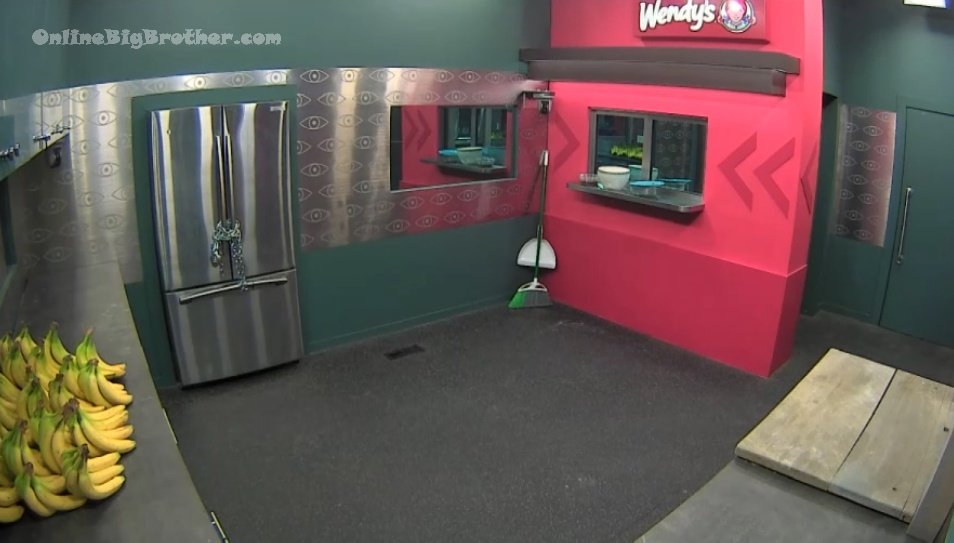 2:35 pm Production has locked the fridge and left them bananas to eat.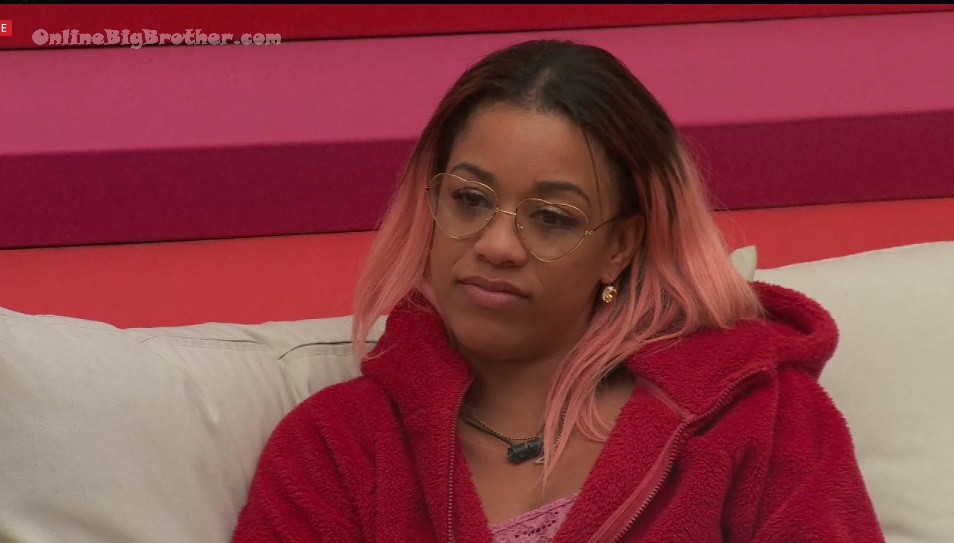 6:00 pm Breydon and Vic
Vic says she might have to avoid Tina and Tera, "I'm not going to roll over and die
Breydon – you shouldn't I would never expect that of you.
Vic goes on about how she had no idea she was going up she was giving Tina and Tera pep talks because they were worried.
Vic – I don't know what I was thinking
Breydon – you are just a kind person
Vic – TnT they really did me dirty
Breydon – that's weird that they almost asked for advice
Breydon – I think it came down to you and Tina
Vic – I can't believe I got picked over Tina.. there's two
Breydon – you are such a competitor whether you see it or not.
Vic says the comps coming up she'll "Sh1t the bed' she hasn't been keeping track of the days or any of the mental stuff, "I don't even know what day it is"
Vic – I haven't worked out once since I've been in here
Vic – you want me here right?
Breydon – obviously I want you here. I just like.. to be honest. I just like.. I just feel done dirty from last week
Vic – really?
Breydon – yeah
Vic – I didn't do you dirty
Breydon – yes and no at the same time
Vic – you think so?
Breydon – yeah
Vic – you were not my target
Vic says he only went up to take a vote from Austin. Says she cried about putting him up.
Vic – I thought it was the right move.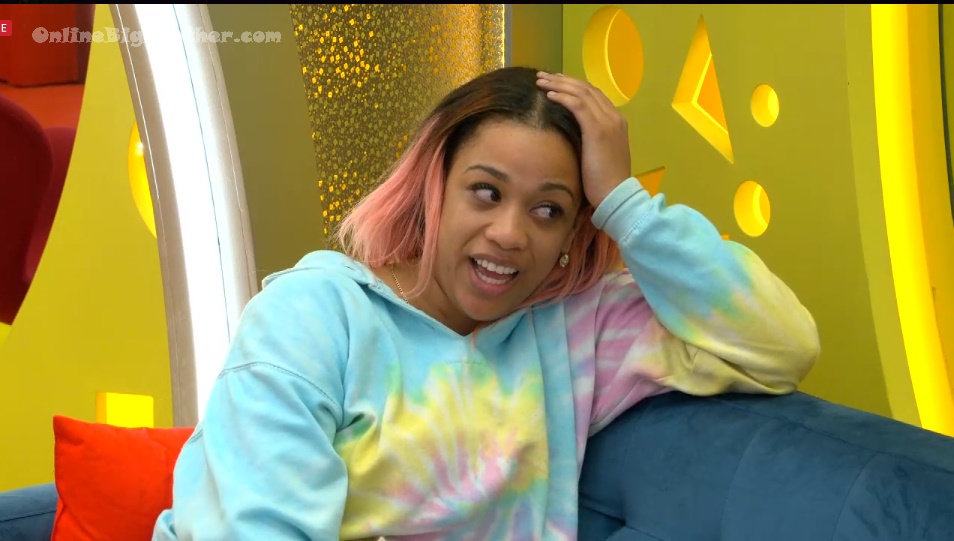 10:11 pm Vic and Jed, Ty
Vic still wanting to stay in the ghost peppers. She goes on and on saying she "F**ED up" and wants back in with them.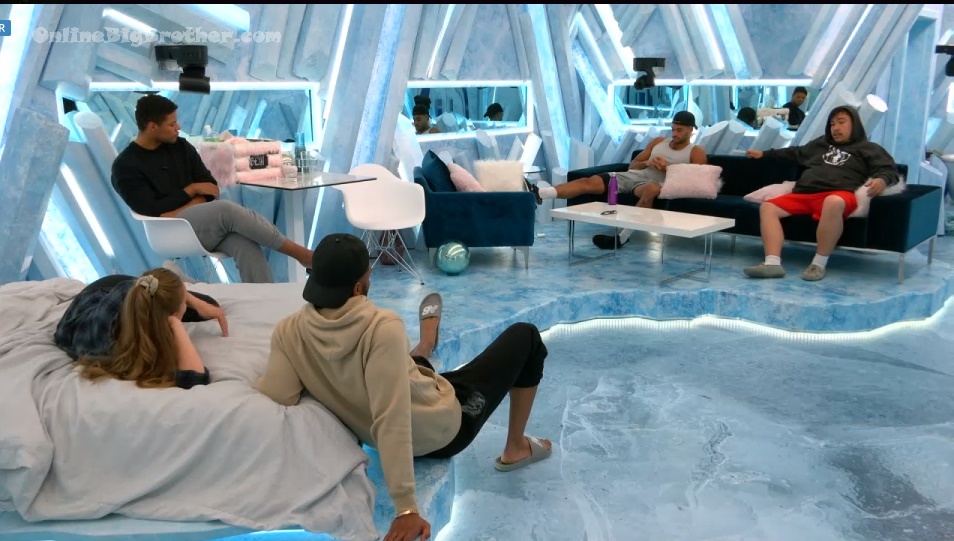 11:00 pm Breydon, Kiefer, Beth, Jed and Ty
Breydon – I don't know what getting Tera right now does for anyone's game.
Talking about there being a house meeting tomorrow
Kiefer- why is there s house meeting tomorrow
Jed – people need to get called out
Beth – We need to air some dirty laundry
Keifer – who needs to get called out
Beth – Tera.
Beth – you aren't into that?
Kiefer – what am I going to do to cancel the house meeting.
Beth – well no I'm just wondering. do you not like that?
Kiefer – obviously no. I'm against any house meeting
Beth – ohh I'm down for them
Jed – why are you against them?
Kiefer – I just don't like them I don't like being a part of them I find them awkward.
Jed – why
Kiefer – I feel like I'm in a house meeting right now, I don't give a sh1t whatever you guys want to do I'm game. I don't want to fight too hard for Tera to make you guys think I'm on Tera's side I don't care.
Jed – we've been looking at both options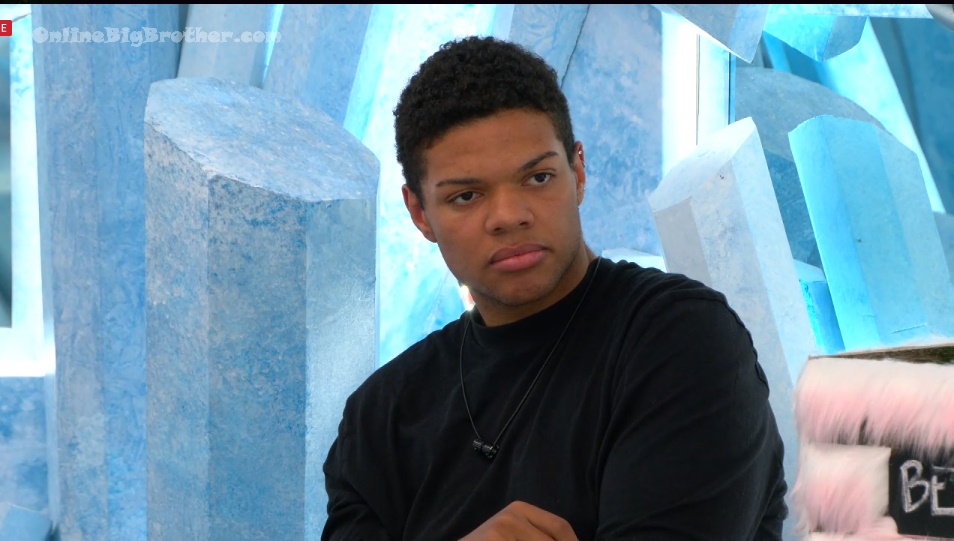 Kiefer says he doesn't like how this is unfolding "why can't you understand I don't like house meetings"
Beth – ohh we're not saying that.. maybe it's not an organized meeting
Keifer – it ain't me
Beth – not everyone has to be in the room..
Kiefer – I'll attend I might even put pants on
Beth – grab popcorn
Kiefer tells them Vic being in the house is better for his game "I don't see her putting me up"
They agree.
Jed – either one might put you up (to Breydon)
Breydon – of course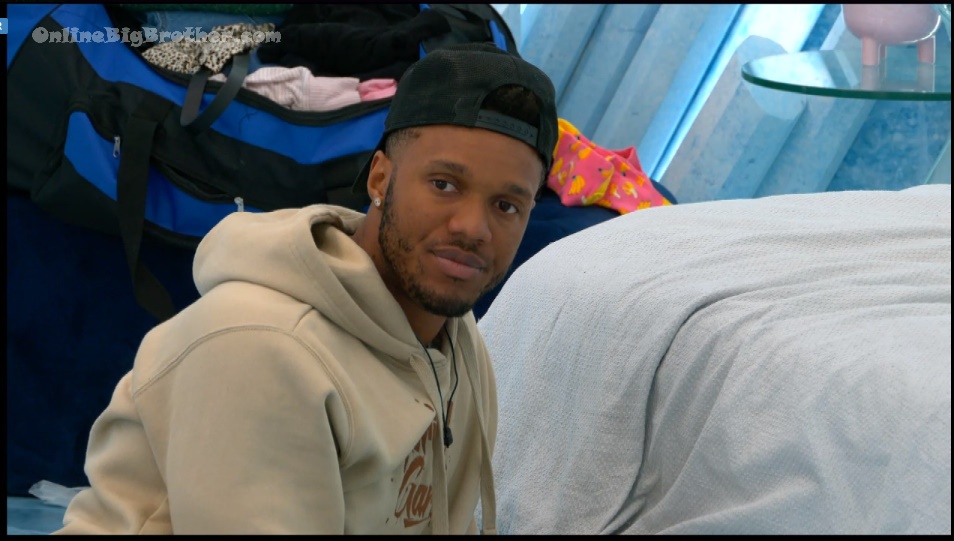 Ty – I think in the end obviously Vic's going to go home
Jed – you think so?
Ty – we're going to play it out.. as much as we're going to go back and forth we're not going to keep her. We put her on the block
Jed – yeah, you can't take someone like that off the block.
Breydon – that's my only thing .. why enrage her