Head of Household: Kiefer
Nominations: Kyle and Ro
The Power of Veto Players are : Beth, Austin, Jed, Kyle, Ro
POwer of Veto Winner : Rohan
Power of Veto Ceremony : ??????
Have nots: Ro, Tina, Tera, Victoria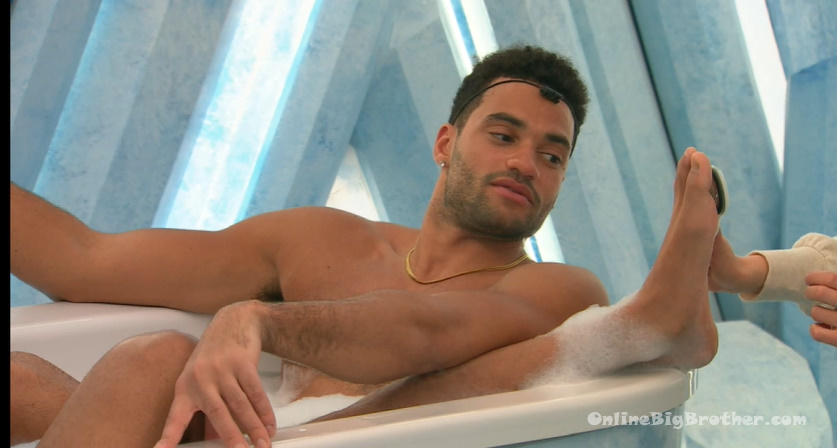 12am HOH bathroom. Keifer, Beth, Ty and Jed.
Beth is giving Ty a pedicure. Keifer – To be honest I was kind of happy to see Ro win that sh*t. Jed – it was literally the best case scenario for what we wanted to do so that we didn't have to be the ones to do it. Ty – he deserved it. Keifer and Jed – yeah. Ty – on an empty stomach.. he worked that hard. Keifer – and if he wins again. Ty – no, no he doesn't deserve that. Keifer – no I didn't mean that .. I meant if you win it and he's on it (slop) again. Ty – oh 100%! There is no doubt in my mind. Jed – he is close to snapping .. if he is on it again. holy sh*t! Ty – I just want everybody to just mentally break now! A lot of people are getting there .. and its making me really happy. Jed – this guy is turning into a savage! Ty – I've been a savage. Keifer – don't say I inspired you because you inspired me. Ty – I am low key a savage! As long as we stay in power, everyone has to put him (Ro) on slop again. Even Beth. Beth nods – I would. Ty – if Beth is standing next to me after she wins, I am pointing her finger towards him. Beth – shut the f**k up! Jed – so who would it even be next week then? Ty – on slop? Jed – yeah, Breydon, Austin.. Ty – Breydon, Aus, ..he (keifer) claims to volunteer but if he does I won't even look at him. Jed – we want to have drinks with you. Ty – so it would be Brey, Austin, Tera and Ro. Keifer – Tera might lose her mind! Ty – I don't care! I will just hug her after.. Momma T! I'm sorry. Keifer – she is already ready to crack on slop. Beth – Tina is handling it well. Keifer – I would volunteer over Tera .. I just don't want to see that. I'm volunteering .. you can't stop me. Ty – I can stop you.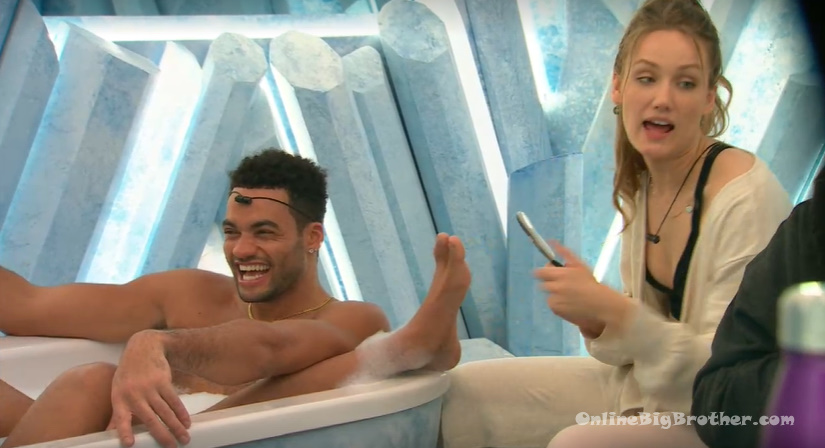 Keifer – I am surprised that Ro hasn't even come to talk to me yet. Ty – about what? Keifer – anything! I hope the noms are tomorrow so I can get it over with. I really don't want to talk to anybody else. All I would do is create more lies. Ty – Ro isn't worried about anyone else right now. He's glad he took himself off. I wonder if they're going to turn on each other. Keifer – once I seen Kyle falter I was like I don't care who wins. Ty – he looked horrible. Jed – that was a poor effort. Beth comments on how he hasn't been good in any of the comps but one. Ty – something is fishy about him. Beth – oh yeah from the start its been. Jed – in the comps? Ty – bad at everything .. mastermind though. Keifer – practicing his days like crazy though. Beth – he was trying really hard to get other people to do his dirty work. Keifer – he said names to me and I said I can't do anything with these hypotheticals. Ty – did you give him the who and the why? Keifer – yes. Ty – and he gave you names? Keifer – yeah. Ty – I love it. Keifer – Tera and Vic. Mainly Vic but he was like I think I would stay if Tera went up. Ty – turning on his people. Classic! Jed – I don't understand in what world he would stay against Tera. Keifer – he said I would piss everyone off I put up Austin and Breydon. He was like it just doesn't make sense. I honestly don't give a f**k! He is worried about me getting blood on my hands and I'm the butcher. God damn! Jed – yes sir! Ty laughs.
Ty – I can't wait for the campaigns. Keifer – I think Austin will campaign, I don't think Kyle will. You think they will campaign against each other? Austin and Kyle? Beth – yes! Ty – oh yes! Keifer – he is just going to be so passive aggressive to me. Like yesterday we were just walking by and he purposely walked in my path.. so I just stood there and he had to go around. I was like what are we going to bump shoulders like we're in middle school? Ty – who? Keifer – Kyle. Ty – he is still doing all that? Jed – intimidation. Keifer – trying to intimidate me. I ain't the one. Jed – he is the most unintimidating person I've ever met. keifer – I've been punched in the face so many times I ain't afraid to get it done again. Especially in the big brother house .. like what chu gonna do!? Ty – NOTHIN! Ain't going to help you inside of here. Ain't going to help you outside of here! Keifer – I was going to say Kyle .. I told you I didn't want to see you go on my HOH but apparently a lot of other people do. Austin please take your seat next to Kyle. Ty – I love it. Beth – I think its good. Jed – I love it. Beth – he is going home so who cares. Ty – at first I was like this game isn't for me .. and then now I'm like I love it. Bring it on, I don't care! I didn't know I'd find people like you.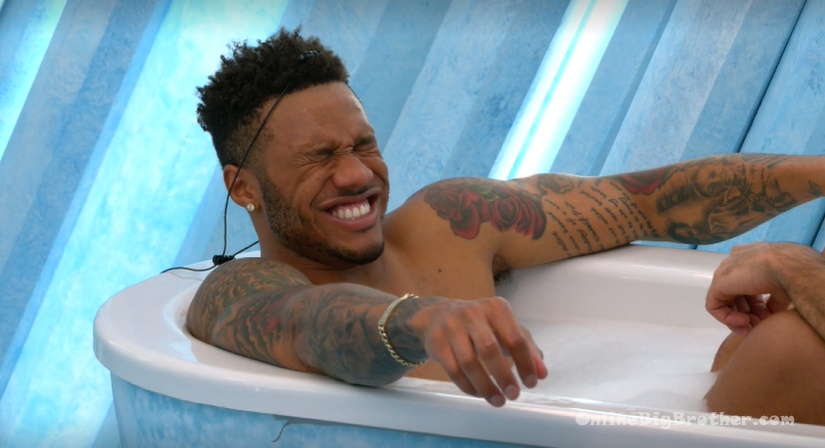 2:20am Kyle looking for diamond POVs and coup d'états. Kyle – I have no clue what this room's about. I'm bored .. holy sh*t! I'm not even tired!