Head of Household: Kiefer
Nominations: Kyle and Ro
The Power of Veto Players are : Beth, Austin, Jed, Kyle, Ro
POwer of Veto Winner : Rohan
Power of Veto Ceremony : ??????
Have nots: Ro, Tina, Tera, Victoria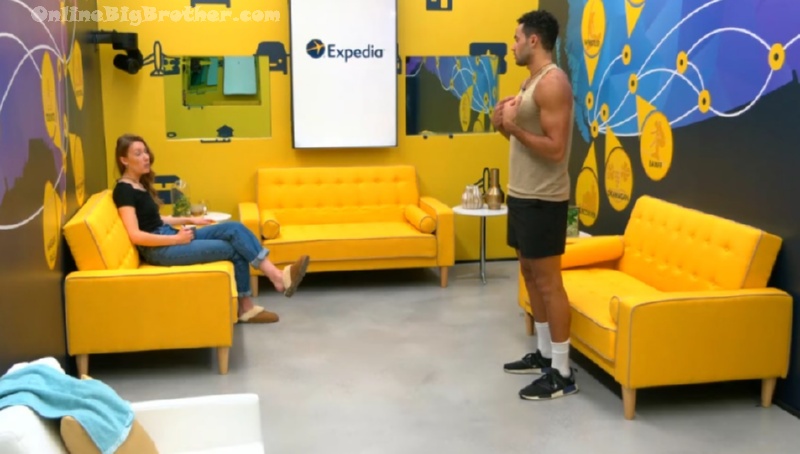 10:00 am Jed and Beth
They talk about cutting a deal with KyRo if they win the Veto. Or offering a deal to throw it to them.
Jed – I'll take you down if you don't target me
Beth – yeah
Jed – that would be perfect
Beth – what a week or two?
Jed – yeah
Beth – does the competition happen real quick after players are chosen?
Jed – umm.. a couple of hours last time..
Beth – I don't know what to do with Austin she's so hit or miss
Jed – I know
Beth – she was with Tera all of a sudden today. I think it needs to get to her sooner than later that Tera threw her name out
Beth – that sh1t needs to crumble that sh1t is getting really strong this week.
Beth – We needs BReydon by himself.
Beth says Ty or Jed need to tell Austin, Tera threw her name out as a target
Beth – I need to go as if I have no idea that you talked and confirm it
Jed – it will get back to Tera
Beth – she told Kiefer that (Tera told)
They toy around with the idea of getting Austin out.
Jed – either way, one of them from that side is going on.
Beth – if I were to win and take one of them down .. that is HUGE. It would be sick
Jed – it wouldn't be the worst situation .. If we did it would be bad.. me and Ty.
Jed – our only play is to throw it to them.
Beth says if she wins next week she'll put up Tera and one of the boys (KyRo boys)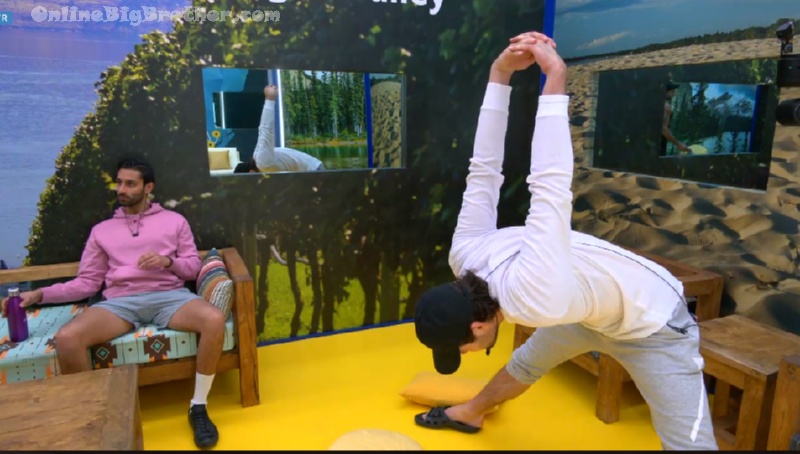 Noon Jef and KyRo Getting ready for POV
Talking about Kiefer not letting go of the pantry incident.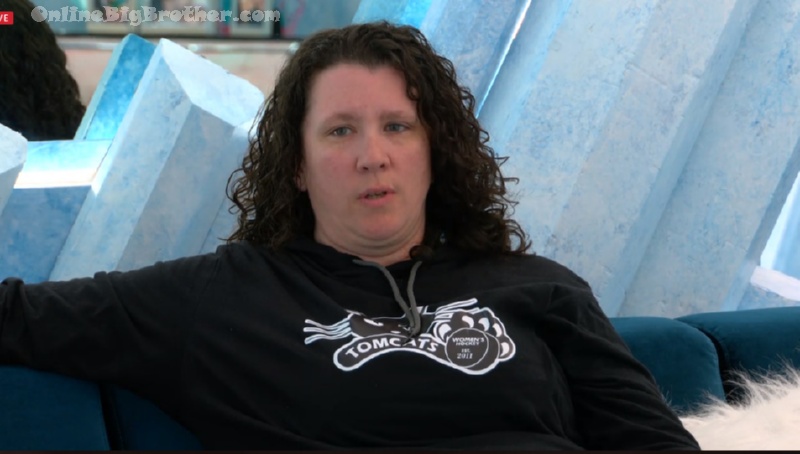 1:05 pm Tina, Tera and Kiefer
Kiefer saying they need to keep Ro and pull him in. Points out that Kyle has Breydon and Austin. Ro doesn't
Tima – smart thinking that's right.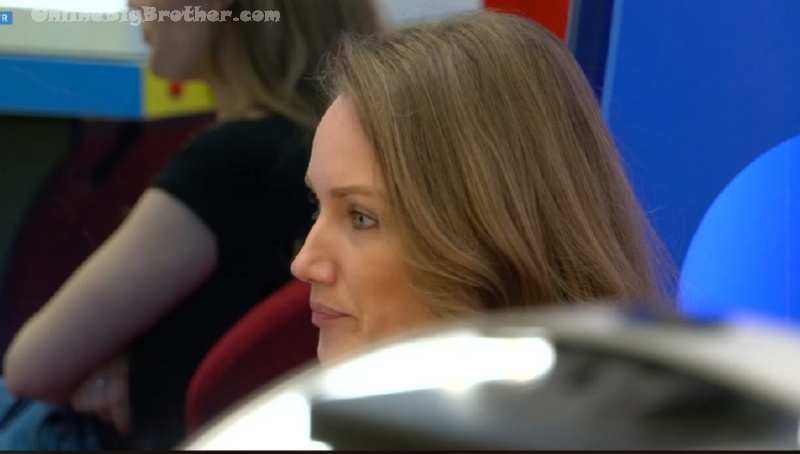 1:00 pm Beth and Kyle
Beth – We never talk game.. I look around I see duos. Everyone is in pairs. I'm a wild car.
Kyle – where do Jed and Ty stand to they believe what Vic said?
K – about the vote
Beth – about,… she's telling me she wasn't the one that started it
K – Vic? yeah she told us it was you
Beth – I owned up for that in front of everybody.
K – I just walked away from that convo..
Beth says Vic had no idea how to handle it because "beth shut it down'
Beth – it would be sweet if you and I and Ro had something. Some sort of mutual (4some?)
K – have you talked to Kiefer at all
Beth – not really.
Beth says with the POV she would be happy if Kyle or Ro won it. "So you guys can have some sort of fighting chance"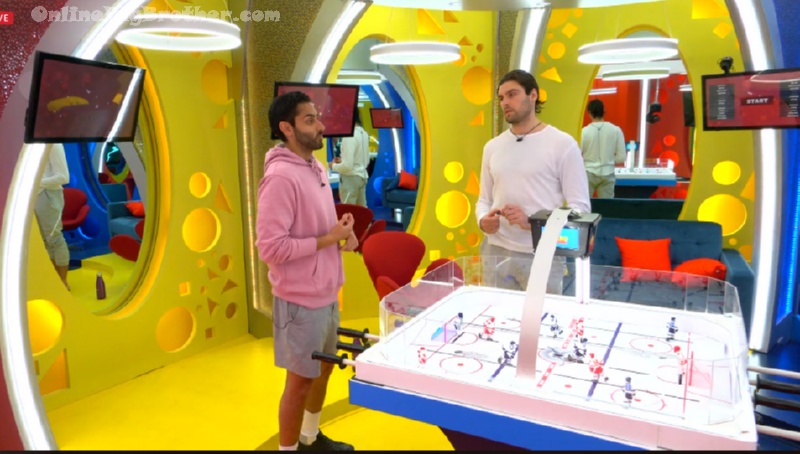 1:17 pm Ro and Kyle
Kyle – this may not be it for SHOWTIME yet
Ro – why
Kyle – they don't want to win
Ro – none of them, This is too good to be true
Kyle – are they saying that so we aren't as focused what's going on?
Ro doesn't know it's either they don't want them to try hard or this is a backdoor for Victoria.
Ro – what else would this be?
Ro – I almost think if these guys tell the truth to us I don't want Austin to win
Kyle doesn't think Austin wants to win it
Ro – we risk Jed and Beth are lying to us..
Ro can't understand why they would lie to them
Kyle says Austin won't use it because she's scared Breydon would go up
Kyle thinks perhaps Spicey V is the backdoor target.
Ro thinks Rina and Tera are in the HOH pitching Vic.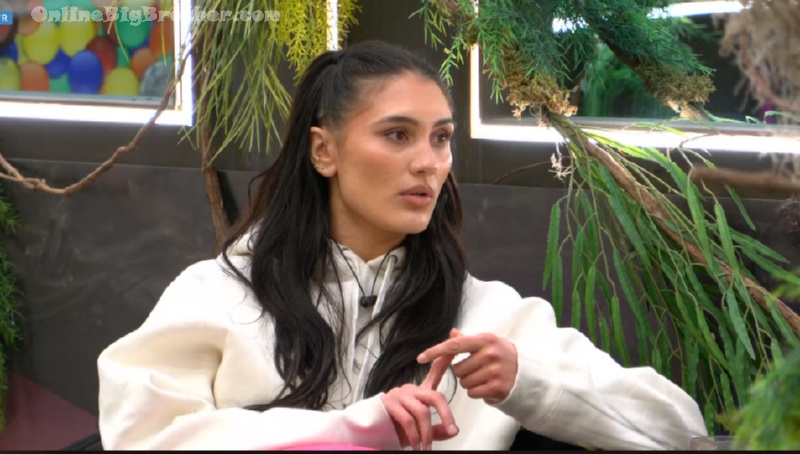 1:20 pm Breydon and Austin
Talking about getting closer to Jed, Beth, and Ty. Adding if the noms stay the same they want Ro out.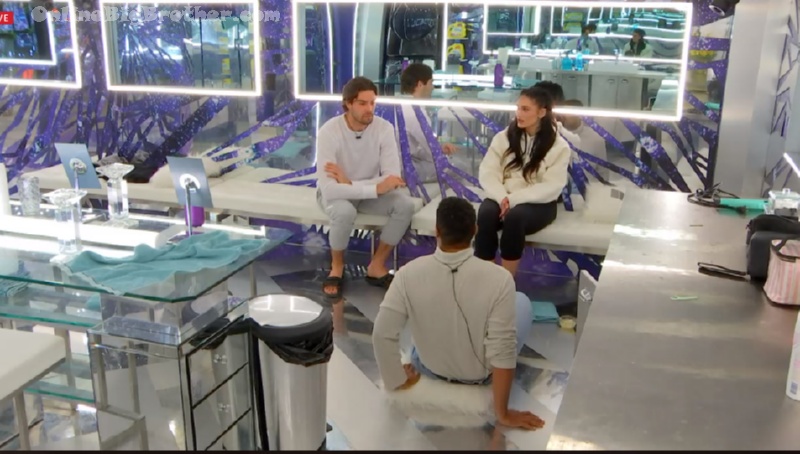 2:40 pm Kyle, Breydon, and Austin
Austin – apparenlty Tera's targets are me and Beth
Kyle – Tera?
Breydon – yeah that's what she told Kiefer
Kyle says Tera is saying that because Beth is pitching her name. "She's throwing Beth under the bus"
Kyle says Beth is saying Tina and Tera are pitching for Beth to go up.
They don't believe it.
Austin – you think Beth is making that part up about Tera coming after me?
Kyle – or someone else is.
Kyle – did I tell you what Keifer said to Ro? Every single person has pitched me to go up against Ro.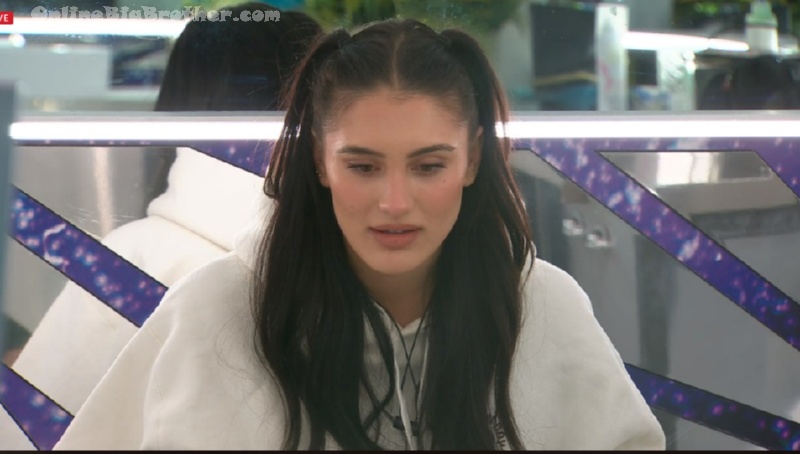 2:50 pm Austin and Breydon Comparing notes
Austin says "they" want to have fun in the jury house so this will keep them safe.
They talk about Vic being in a weird mood.
Breydon says he talked to Ro and the boys told Ro Kiefer wants to Backdoor Vic.
Austin – Kyle was telling me that apparently Jed and Beth told him they don't want him and Ro to go this week so they are throwing it to him. I think this was kyle's way of telling me to throw it.
Austin – I feel like I trust Kyle
Breydon – same
Austin – everyone is saying sh1t .
Breydoin – right that's why I don't know.. And I don't know if the ball thing triggered them.
Austin – the bingo balls
Brey – that we knew and didn't tell them
Austin – no it ended up being funny.. I wouldn't be triggered
Breydon – Beth and Jed to we tell them about it?
Austin – no we keep that sacred. that's why the bar cod anything I find I only tell you
Austin – I feel like we're fine
Breydon – I think we're fine to
6:06 pm feeds down.
9:22 pm feeds down yo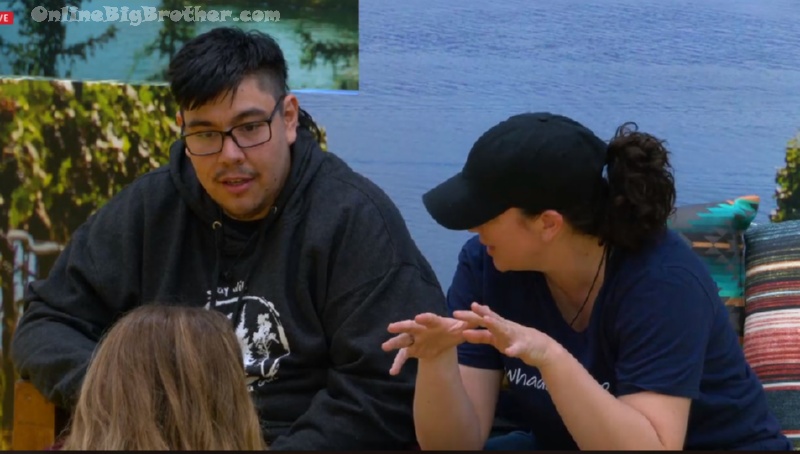 10:48 pm Kiefer, Tina, Tera
Kiefer is planning on putting up a pawn like Austin.
Kiefer – you want me to put a huge target up against a huge target?
Tera – how can we put us in a position to go far?
Keifer – we stick together and we never quit
Tera – I won't quit.
Kiefer – we know Vic is not afraid to take a BIG shot. Everybody is throwing Vic under the bus right now and Vic knows it
Tera – the fact they turned so fast on Vic sketches me out.. they didn't even let the blood dry
Kiefer – I told you that's the side I didn't want to be on.
Tera can't believe the other side isn't pitching the guys. The other week that was what they talked about.
Kiefer – that's not the case.. Tera.. things change..
Tina – if you took a stab at one of the big guys
Tera – would it burn the bridge of the other guy
Tina – the only people that will be pissed is the guy left and Beth.. would that benefit your game?
Kiefer- mhmmm.
Tina – I'm just throwing out ideas.. look at your resume
Tera says Ty and Jed are too strong together but on the flip Kyle Kyle is sketched.
Kiefer – I'm not going to put Vic up.
Kiefer – all I need is your two, Vic and Breydon.. we're fine the rest is added bonus.
(If Keifer puts up Austin)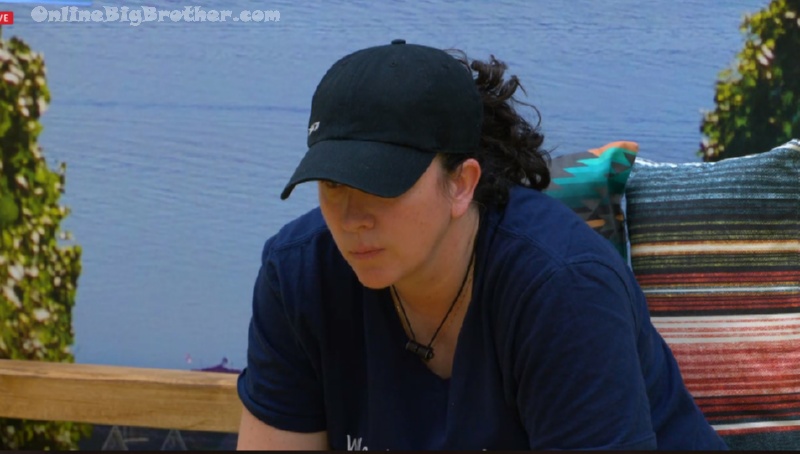 11:18 pm Tina and Tera
Tina says Kyle is way too close with Austin
Tera – if he puts up Austin we have to get tight with Breydon and Austin
Tera – We have to have conversations with Ty and Jed. As much as we hate it we have to have conversations with Beth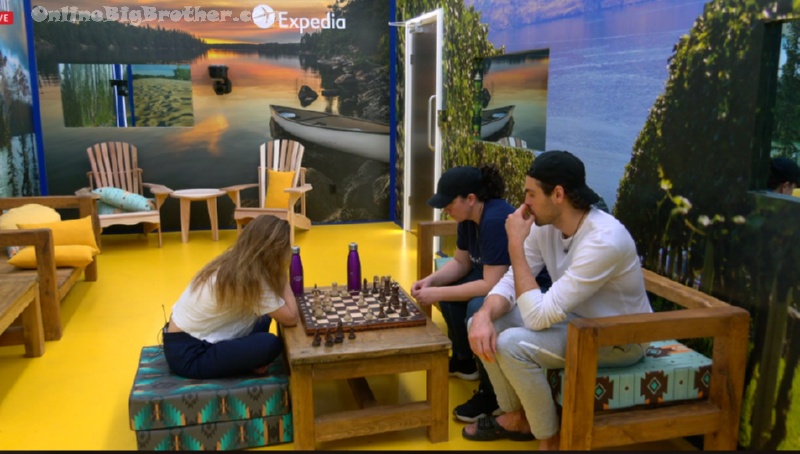 11:25 pm Kyle, Tina and Tera
Kyle – tomorrow I'm going to have to have you guys go to bat for me to get up Vic.. If you don't mind. Saves us four
tina – who knows what he's going to do
Kyle – he didn't give you anything?
Tera – not a thing.. I think Ro was his target.
Kyle – you're going to have to say Vic's game if you want me to stay
Ter – but if everyone is saying it.. it just feels grimy to say it to be honest.
Kyle – at the end of the day it's me or her.. it's us four..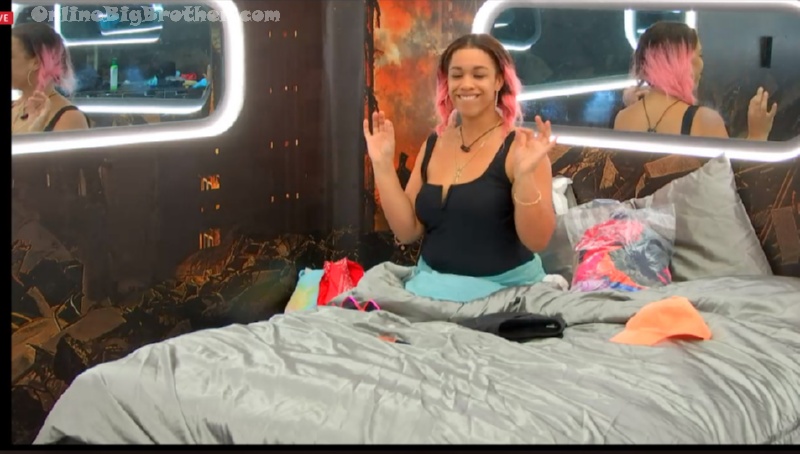 11:45 pm about 20 minutes of Smooshing with Jed, Ty, Kief, and Beth went on. Vic has worked her way closer to this group. They're not targeting her and she's telling them all sorts of great things like she'll throw the to Jed etc…
After they all leave..
Vic – holy sh1t that is crazy I am so good at this game. I literally just sent their biggest ally home..
Vic – take notes people that's how you play the middle of the house..
Vic – I'm going to win this game.. spicey V ..
"I'm going to win this game.. spicy V"#BBCAN9 pic.twitter.com/bECLMWh4j4

— OnlineBigBrother.com (@bigbspoilers) March 21, 2021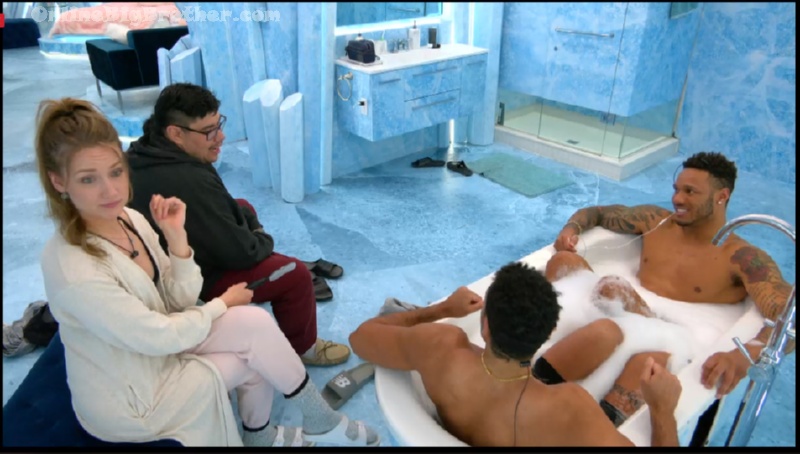 11:53 pm Sunsetters enjoying the good times.