POV Holder:
James
Next POV
Aug 1st
POV Used
No
POV Ceremony
Aug 3rd
HOH
James
Next HOH
Aug 6th
Original Nominations:
Shelli and Clay
After POV Nominations:
Shelli and Clay
Have Nots
Austin, Liz, Julia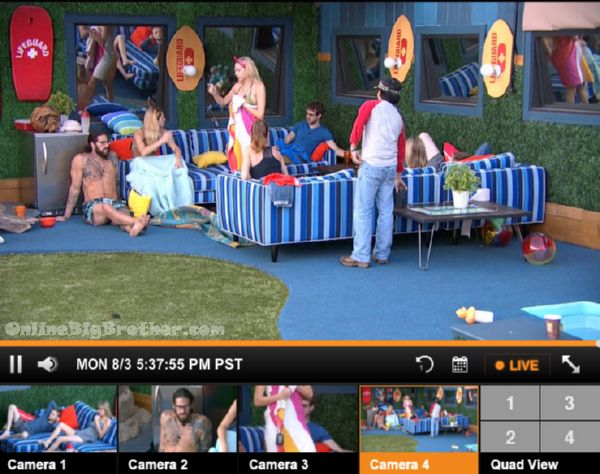 5:28pm Backyard Austin, Twins, Steve, Becky, Meg, Jmac, james
Austin telling them stories about "kwee wee" a gay bum that they had to deal with when he was a bouncer. The guy liked Austin.
Austin says he only had to hit someone once while being a bouncer most of the time you can yell at them and they stop.
Austin mentions a time when someone got killed outside the bar he worked. This guys got attacked there was 12 guys on this guy. His bouncer friend "harrison" jumped in to safe the guy but sadly he got curbed stomped and the paramedics took him away.
Julia – Harrison couldn't save them
Austin – he's not a super hero
Big Brother comes on tells them to enjoy their time in the Big Brother House.. "These are the good ol days"
Everyone starts freaking out.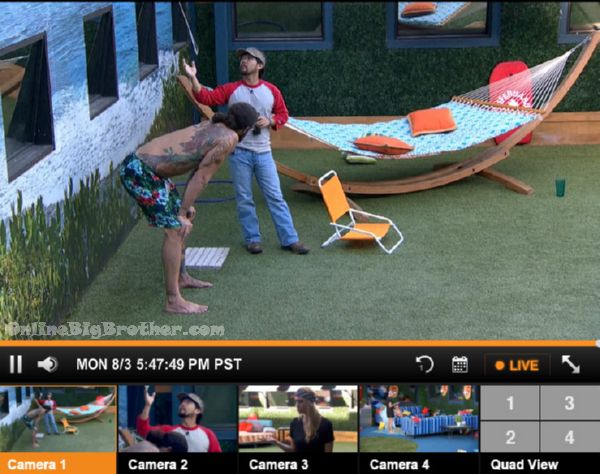 5:45pm Austin and James
James bringing up the things Shelli and Clay were telling him about Austin. They tolds him Julia isn't fond of Austin and Austin flip flops and moves towards power.
James adds they were trying to tell him Liz is fine if Austin goes home.
Austin – that's bullshit
Austin stresses they have to stick together to survive double eviction week. "You can't play" (Next hoh)
James – the first HOH
James brings up Shelli and Clay telling him about Judas and how the Judas character was voting it's own way.
Austin says the Judas Character is his wrestling thing..
James says he feels god about his decision to leave the Nominations the same
Austin feels good about that too.. Especially after they threw him under the bus all last night
Austin thanks james for not putting him up he knows a lot of people were telling JAmes to do that.
They agree Clay is really acting his age, Austin points out if he was in the house at 23 he would be a mess.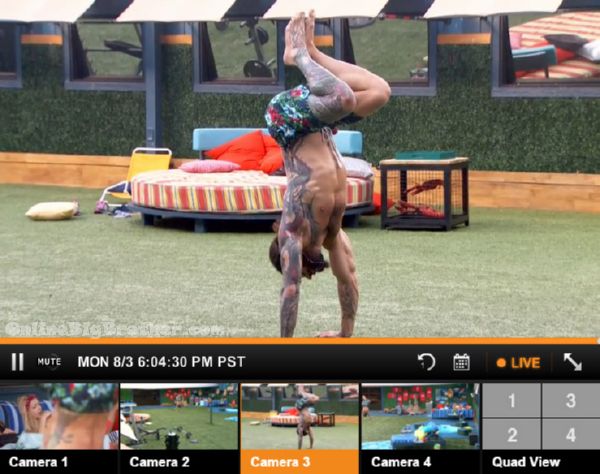 6:02pm Hanging out outside
Austin, james, Vanessa, Becky, Meg, the twins
Chatting about Austin's acrobats
6:06pm Liz and Julia Hot tub
[envira-gallery id="125960″]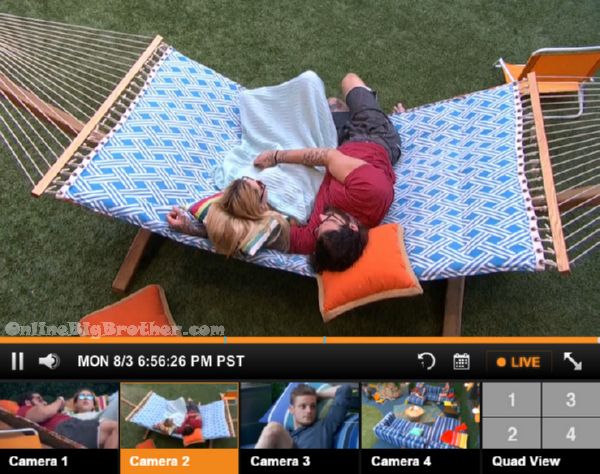 6:49pm Austin and liz Hammock chat
Austin brings up James saying Clay and Shelli are saying that Julia hates him and LIz doesn't care if he stays or goes.
Austin also found out from James, clay was saying Austin and the twins were planning on nominating James if they won HOH this week.
Austin says Clay and Shelli are dead to him he's good with James and the twins are good with James he made sure james knew that.
Liz is pissed that Shelli and Clay sold them out.
Liz – Shelli is dead to me that's disgusting.. what a f****g b1tch
Austin – They made a huge play last hour to get me out.. They're dead to me
Austin says it might be best for them to just take out Shelli "We don't want anything shady.. as far as they're concerned they both f****g lied to me (Shelli and Clay)
Austin – "fuck both of them" If it's going to cause a huge ruffle of feathers.. Vote Shelli out, I don't want to do it Jeopardizing going into double eviction.. go with the easy way out.."
Liz – f***g idiots I want to pop both of them in the f***g face
Austin says Clay is being a baby
Liz – being a little b1tch.. ohh things aren't going your way so sorry.. first time in your life.
Austin isn't going to talk to Clay, he's going to have to come to him.
Liz calls Shelli a dirty f*** player "You're 33 year old what are you doing you are acting like a toddler with a guy that's 10 years younger.. you've known each other for a month.
Jmac comes by says he's been sad..
They tell him to be happy he's not backdoored. Austin says shelli was throwing him under the bus hard. Shelli later came to him and apologized for it said she would clear it up because she didn't want to lose Austin's vote.
Austin – could have been me (On the block)
Austin – what more can I say one of them has to go
Jmac – so that is what happened last night
Austin – yup
Austin says they were trying to manipulate them to think Liz and Julia didn't care if he went.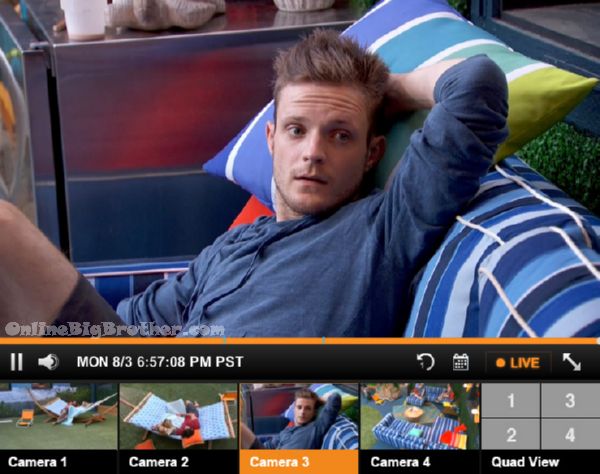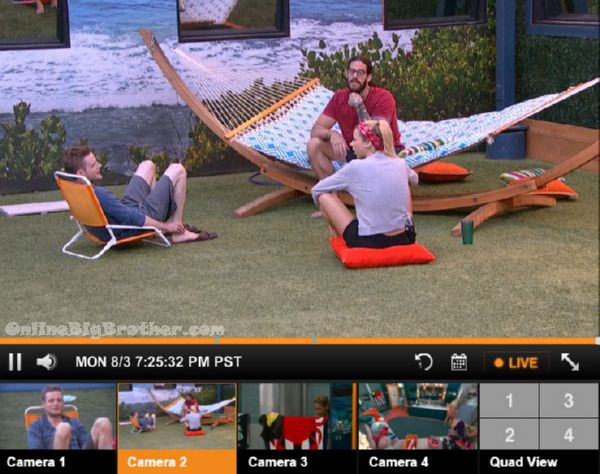 7:25pm Hammock Julia, Jmac and Austin taking about dental school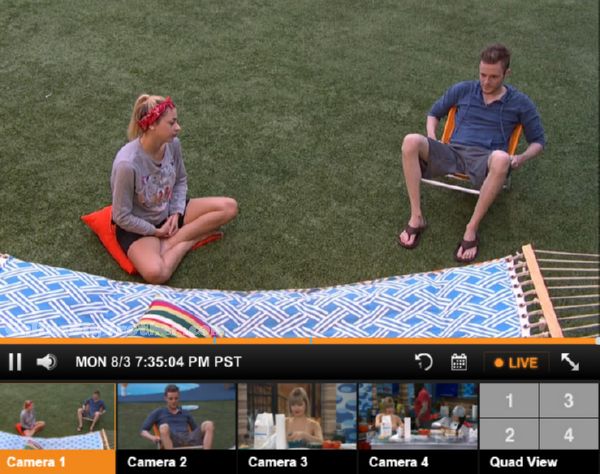 7:33pm Jmac and Julia
Jmac says he found out moment before Jason was going up.
She tells him production kept her in the dark last week about Liz winning the "BOB" all she knew is she was either going home or staying.. (Big Help)
Jmac – the house is going to vote Shelli out
Julia -YA THIIIIIIINNNNNNNNNNNK
Jmac – ya
Julia asks him to give her a racap about the week Jeff went
Jamc explains – Wrrrrarh Wrrrrarh"
Jmac- he threw everyone under the bus but me and you
Julia says she would rather Shelli stays in the game but she'll honor what James wants. Jmac is planning on voting out Shelli.
[polldaddy poll=9004995]